150 Dairy Free Diet Meals – The Ultimate List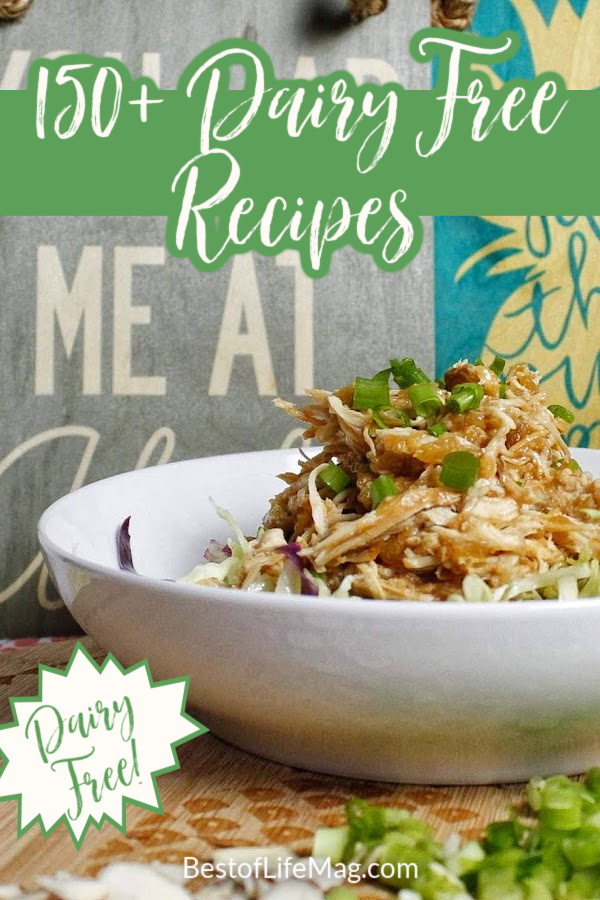 You may think there are no more exciting desserts, breakfast will get complicated, and you may cry at the thought of saying goodbye to pizza. The good news is that's just not true. Instead of limiting your food, a dairy free diet opens your eyes to a whole new world of food.
When you have to go dairy free you initially think that you will have to limit your foods. But get ready to open your world of food after closing the door on dairy. There are so many foods you need to avoid when you go dairy free.
Most people don't even realize the amount of food they eat on a daily basis that has some sort of dairy in it. But when you have to cut it out, you really start to notice that loss. But then something happens, things start to shift. You start to discover new foods that you didn't even consider before.
You can take ghee for example. Who knows what ghee is better than those who aren't on dairy? But ghee is a better option and it's healthier. This is only part of what you start to learn. These recipes are perfect for a dairy free diet, and you will love most of them.
Take control of your dairy free diet with the ultimate list of recipes for every meal of the day! Embrace cooking for food allergies with 150+ dairy free meals! A great place to start is right here on Best of Life Magazine with this Dairy Free Shredded Chicken Tacos in the Crockpot.
How to Go Dairy Free
First, you should know how to go dairy free. I had to make this change in my early 40's and share these tips to help those who are on a dairy free diet as well. Making the change later in life made me realize just how much I was losing, and it was scary.
But I started to learn something about the food I ate and the options that were available to me. I learned that while I must lose some things, I haven't lost everything I loved. There are still ways to make the things we want without using dairy. Not everything, but most.
Dairy Free Breakfast Recipes
Start your day off with a delicious dairy free breakfast. We have 35 fantastic recipes to choose from for every taste bud! Breakfast was the biggest issue for me. Pancakes, omelets, even just the regular glass of milk was no longer an option for me.
But that doesn't mean you can't enjoy breakfast without dairy. These recipes prove that. There are ways to make the breakfasts you love without dairy. But there are also a lot of recipes that already didn't use dairy. Your world is about to open up with new possibilities.
Dairy Free Lunch Recipes
A mid-day meal, also known as lunch, gets tastier with dairy free lunch ideas! These meals are quick, tasty, and can easily be used for dinner or a light snack as well. One of my favorites is this 20 Minute Shrimp and Sausage Skillet for lunch or dinner!
Things got easier for lunch and dinner. Though there are still some dairy aspects in these meals as well. The trick is finding things you like and then using them as meal prep recipes. Meal planning means you will not be caught off guard and then forced to find dairy free meals at fast food restaurants or sit-down restaurants.
Dairy Free Dinner Recipes
End your day with a delicious dairy free dinner and your body will thank you! This is one of the meals that I have learned to really love while being on a dairy free diet because you wake up the next morning feeling so good because you gave your body what it wants.
But you also have a feeling of accomplishment that most don't get with their basic meals. Not only did you enjoy your meal, but you did it without dairy and that is something you can be proud of. In fact, that deserves a reward in the form of dessert.
Desserts Without Dairy
Ok, let's be honest, dessert is really the end of your day. 🙂 And being on a restricted diet doesn't have to take all of the fun out of things. Enjoy these dairy free dessert recipes for the perfect ending to a long day. And always remember that glass of wine or strawberry margarita are completely dairy free as well and compliment dairy free desserts perfectly!
More Healthy Ideas
Will Intermittent Fasting Lower Blood Sugar? | Intermittent fasting is a wonderful way to customize diet plans with the goal of losing weight, even dairy free diet meals.
At Home Workout Equipment for Small Spaces | But dieting is only part of the battler, we also need to work out in as many ways as possible.
Easy Ways to do a Low Carb Diet | 9 Low Carb Plans | Low carb diets are fantastic for losing weight and can even be plugged into intermittent fasting.
Where to Buy Standard Process Supplements | Getting nutrients is still important though. In fact, we need nutrients to be able to stay active.
10 Exercises to Do While Brushing Your Teeth | Even if the only activity you have today is while you brush your teeth.