Crockpot Lasagna Soup Recipes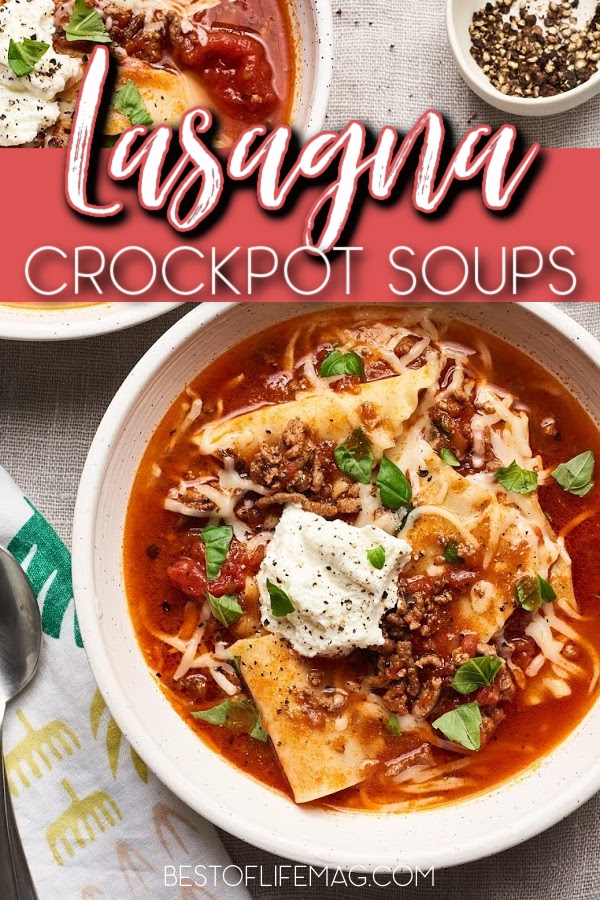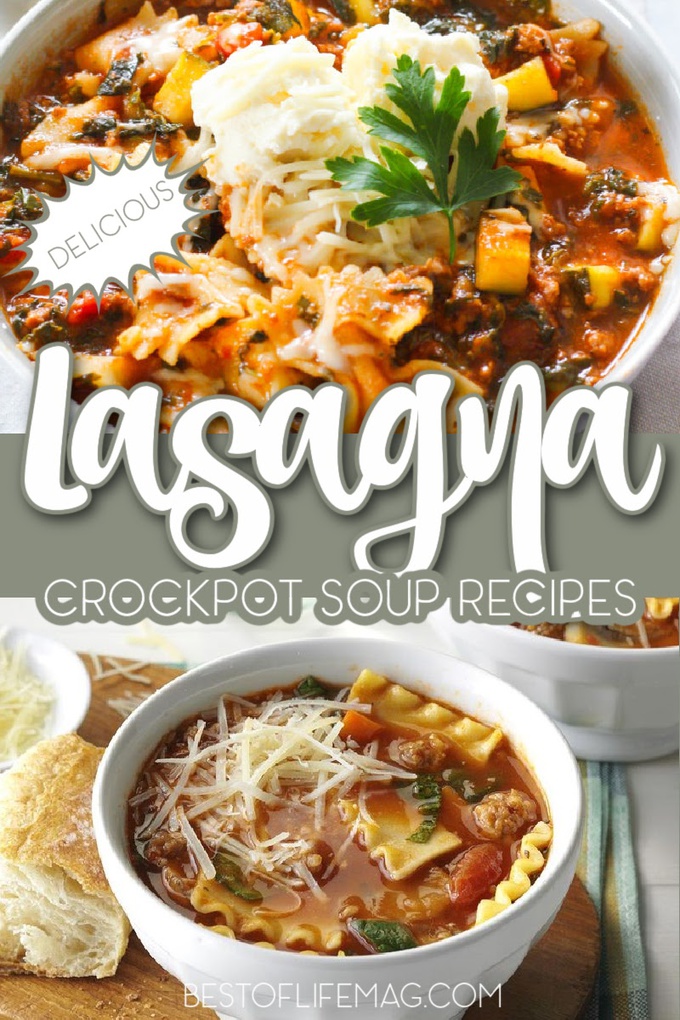 You don't have to be a pro at layering cooked pasta and other ingredients to enjoy that flavor. In fact, one of the best comfort foods can be turned into one of the tastiest comfort soups. Crockpot lasagna soup recipes make enjoying lasagna even easier.
Lasagna is easily one of the most popular dishes in the world. There are many different ways to make it and the flavor profile is amazing. Layers of pasta, meat, cheese, veggies and smothered in the sauce just sounds like a good time.
You can think about comfort foods and two things usually come to mind; pasta and soup. In fact, one of the most popular soups out there is chicken noodle soup. That dish includes a broth, pasta, and chunks of chicken with some veggies.
But that isn't the only pasta dish that can be turned into soup. Crockpot lasagna soup recipes turn another popular pasta dish into a soup. Unlike chicken noodle, lasagna soup uses a tomato-based broth. The cheese will often come as a topping to the soup but that is just the right amount.
Then you have strips of pasta and bits of meat or veggies or both. Altogether, lasagna soup could be the best soup out there and you can make it fresh at home. Unlike a normal lasagna, keeping it together isn't important. Crockpots make it even easier because all you might have to cook is the meat.
All of the ingredients meld together nicely as it cooks slowly for hours and hours. The garlic and basil will integrate into the meat and other veggies. Even the broth you choose to use will soak well into the pasta. It will be the most flavorful lasagna you've ever tried.
Slow Cooker Lasagna Soup | Dinner Then Dessert
3-Cheese Lasagna Soup | Spend with Pennies
Easy Lasagna Soup | The Kitchn
Shell Pasta Lasagna Soup | One Hundred Dollars a Month
Tortellini Lasagna Soup | Chelsea's Messy Apron
Making Crockpot Lasagna Soup Recipes
The possibilities seem endless when you turn lasagna into soup. You don't have to stick to lasagna noodles. In fact, you can turn just about any pasta into lasagna as long as it is in soup form. That is one of the beautiful aspects of lasagna soup.
That is not to say that some of the recipes on this list have classic lasagna noodles. However, even those recipes might be easy to customize. You can read the recipes through and then decide which action you want to take. But ultimately, you will have a dump and go recipe that is easy, delicious, and impressive.
Simple Lasagna Soup | Family Fresh Meals
Spiral Pasta Lasagna Soup | Complete Makeover Online
Turkey Lasagna Soup | Skinny Ms.
Ricotta Lasagna Soup | Cooking Classy
Weight Watchers Lasagna Soup | One of Food
Customizing Lasagna
You can also customize the rest of the ingredients with these soup recipes. Crockpot lasagna soup recipes have a lot of space to explore. You can choose whatever type of meat you'd like, any type of broth, and any type of cheese you'd like.
The structure isn't important because it is soup. That is why turning lasagna into soup is such a good idea. But you can also meal prep better. Have you ever tried to heat up a slice of lasagna? It is not fun if you plan on using a microwave. But a bowl of soup is simple to reheat.
Bow Tie Lasagna Soup | Zen and Spice
Campanelle Pasta Lasagna Soup | Damn Delicious
Italian Sausage Lasagna Soup | Taste of Home
Vegetarian Lasagna Soup | Foodie Crush
Vegan Lasagna Soup | Connoisseurus Veg
More Crockpot Recipes
Crockpot Salsa Recipes | Salsa Party Recipes | Another great use of a crockpot is to make dips, especially salsa. You may be surprised how professional your salsa tastes from a crockpot.
Crockpot Taco Tuesday Recipes filled with Flavor | You can use that salsa for your next taco Tuesday night with family or friends.
Dairy Free Beef Stroganoff Crockpot Recipes | But you can also switch things up completely and try a nice beef stroganoff recipe.
Low Carb Crockpot Recipes for Dinner | Ultimately, the crockpot is perfect for making dinner since you can start it in the morning and come home to a finished meal.
Beanless Crockpot Chili Recipe | Beanless Turkey Chili | Crockpots even make turning chili into blue ribbon chili with ease.