This site contains affiliate links. Please read our Policies for information.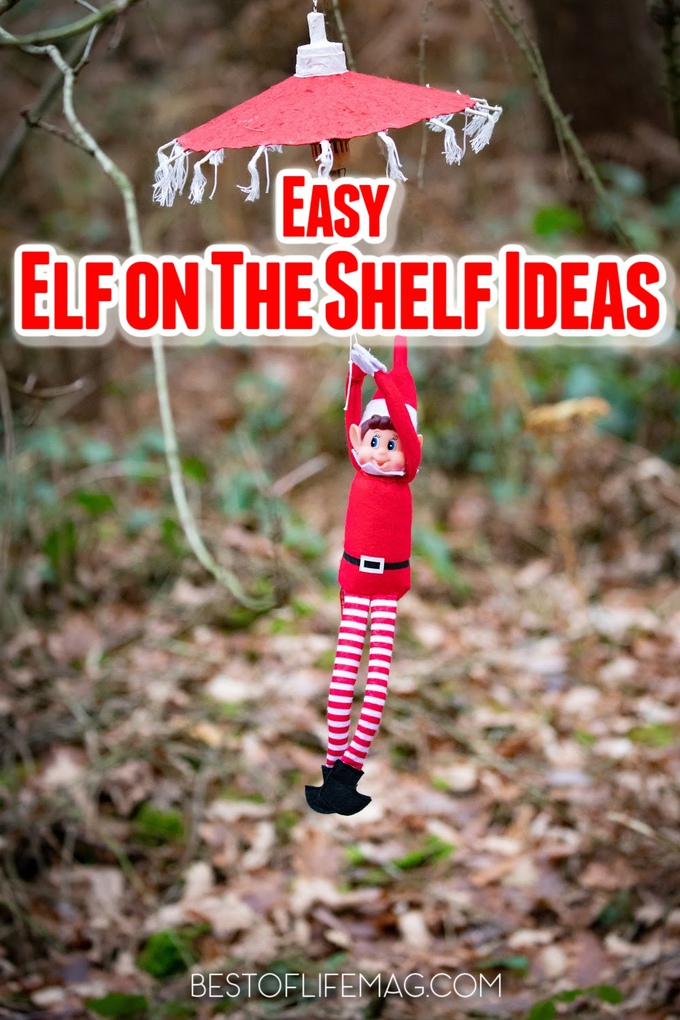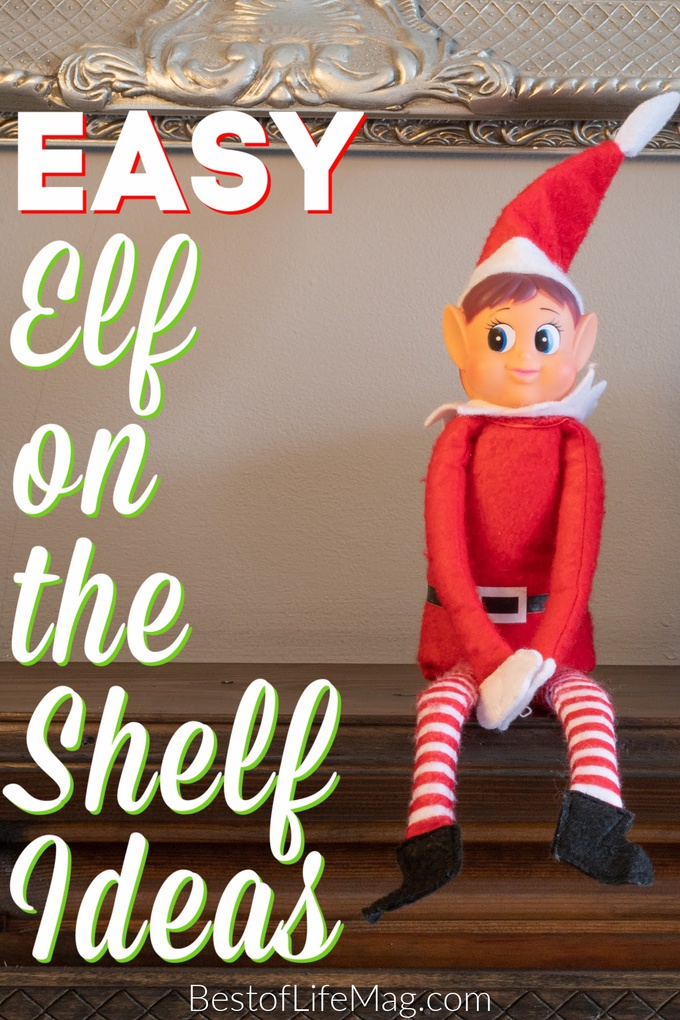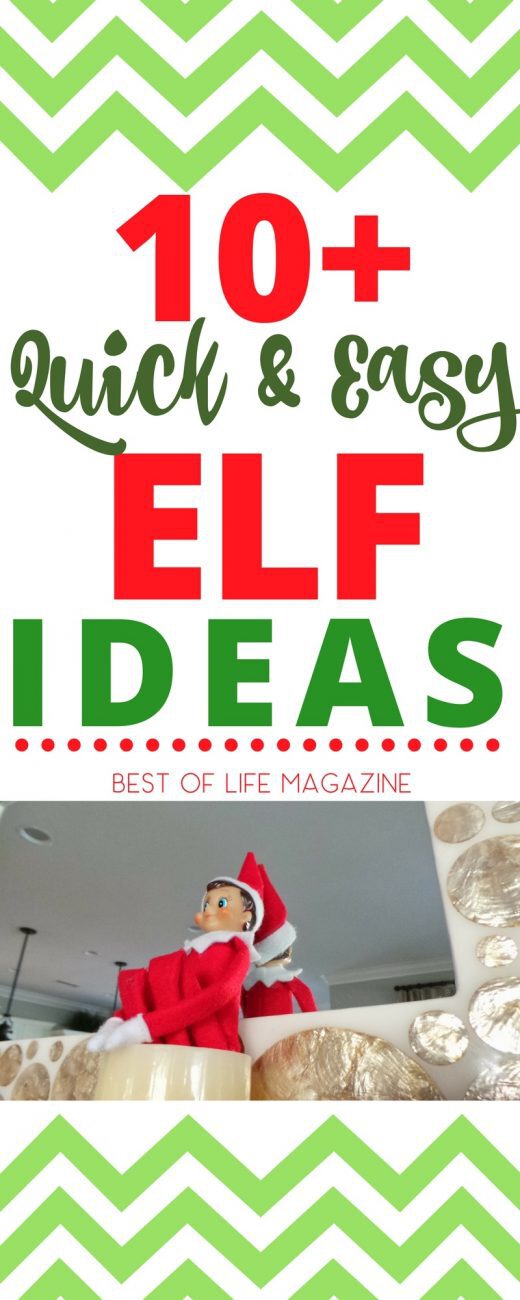 Whether you're new to the Elf on The Shelf, or you've been hanging with your Elf on a Shelf for years it can be difficult to come up with new ideas. It's crazy to think we have been doing Elf on the Shelf for TEN years. So when you think your Elf has run out of ideas, keep checking back here at The Best of Life because we are always looking for quick Elf ideas to help. Easy Elf on the Shelf ideas help regardless of how long your elf has been visiting you.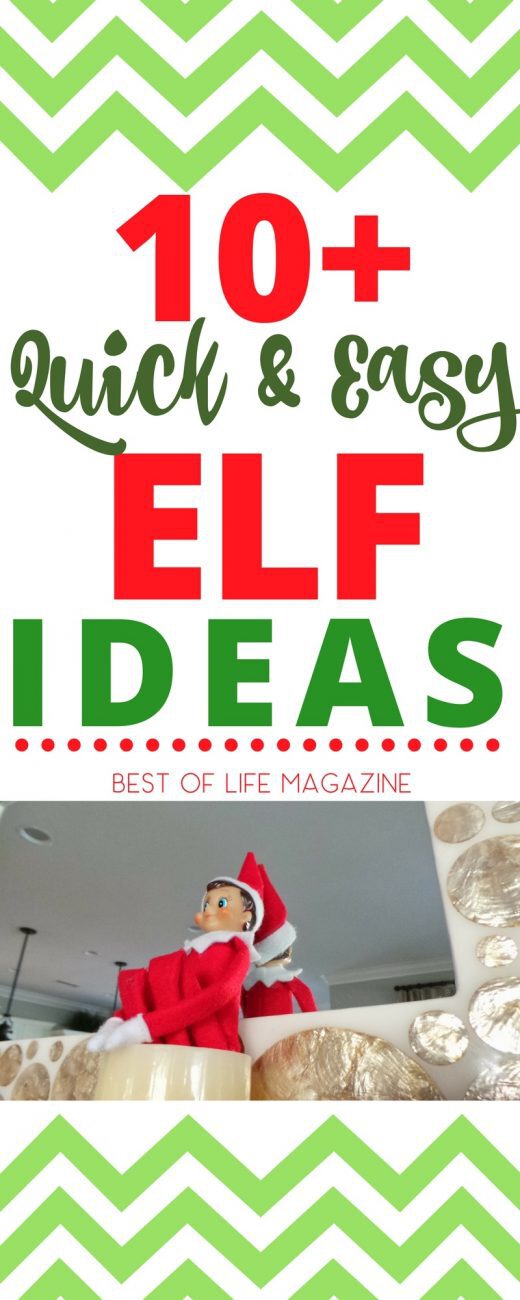 Supplies for Easy Elf on the Shelf Ideas
Elf on the Shelf Supplies are a must have once you begin but if you haven't started with your elf yet these are some options to get you going!
Easy Elf on the Shelf Accessories
If your Elf has been with you for a few years make sure you browse through these accessories. There are more and more fun accessories to choose from every year!
Carry your Elf on the Shelf with You
Your Elf on the Shelf wants to see everything going on, too! With the Elf on the Shelf in a jar idea, he or she can go everywhere with you and never fear for the loss of magic.
Cookie Jar
Everyone knows that Santa hogs the cookies to himself. While your little elf friend is keeping on eye on things, maybe he got hungry. Stick the elf half way into a cookie jar and let him/her get caught.
The Movie Stock
All you need to do is go to where you store your movie collection. Take a few DVD's out and scatter them around near-by. Then take your elf and stand them up looking towards the DVD collection, as if the mess was made while trying to find a good movie.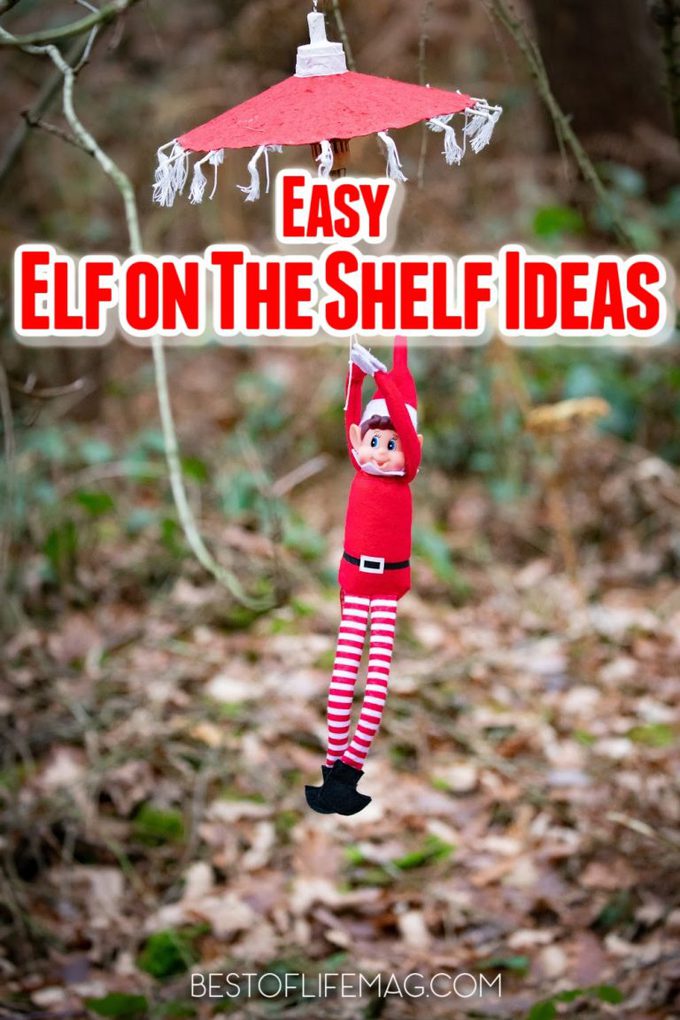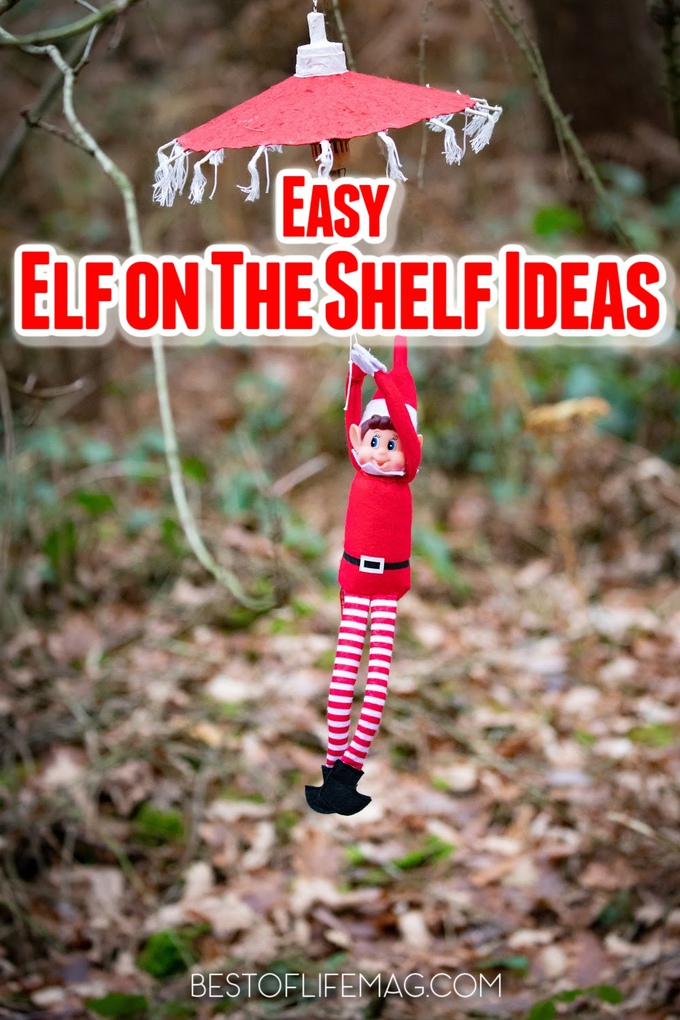 Video Games
This one is super easy, but you'll need to already have a video game console. Just sit your elf on the couch in front of the television with the video game controller in his/her lap. You could always use a television remote if you don't have a gaming console.
Graffiti Artist Elf
This could work with a sharpie, or dry erase marker. Draw a mustache or something funny on your children's picture. Place the elf holding the marker nearby. Before using either sharpie of dry erase marker, make sure it can be cleaned off the glass of the picture frame. Simply use one of them on a hidden spot and make sure it rubs off.

Computer Elf
Open up a browser with Santa's Facebook page, Twitter, or Instagram. Then sit your elf in front of the keyboard. Even your elf needs to stay up to date with the north pole.
Super Spy Elf
Take your Elf and stick him part way in your child's lunch bag or backpack. Make it seem like your elf is trying to go on a trip to school. Of course, you don't have to let him/her go.
Elf Captured
This one requires the use of some lego or army men toys. Tape your elf at the wrists and legs, and surround him/her with the toys.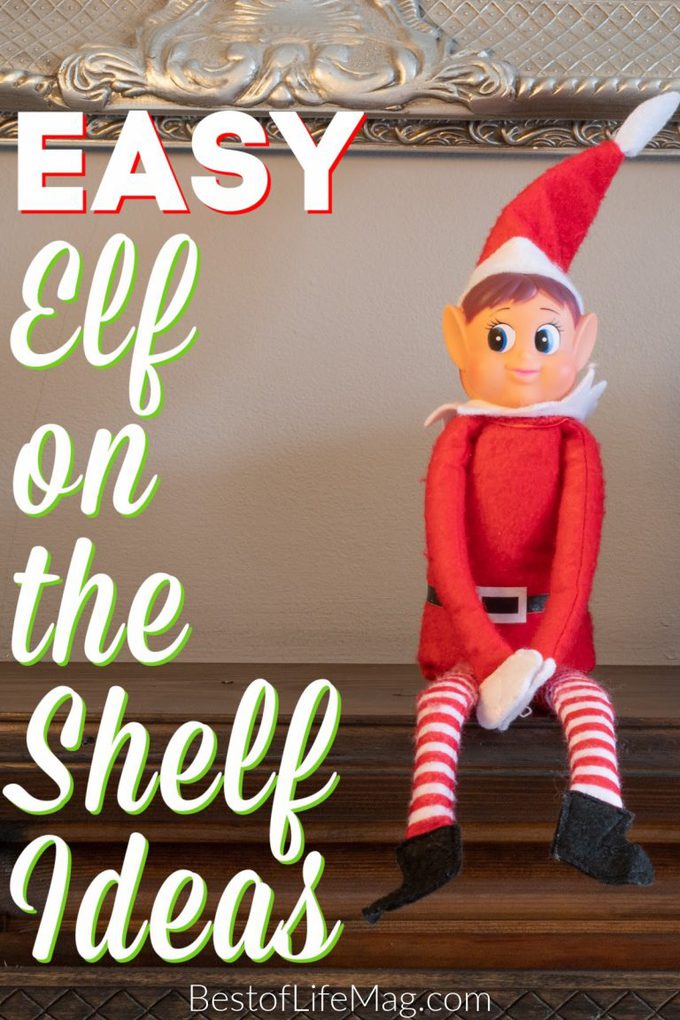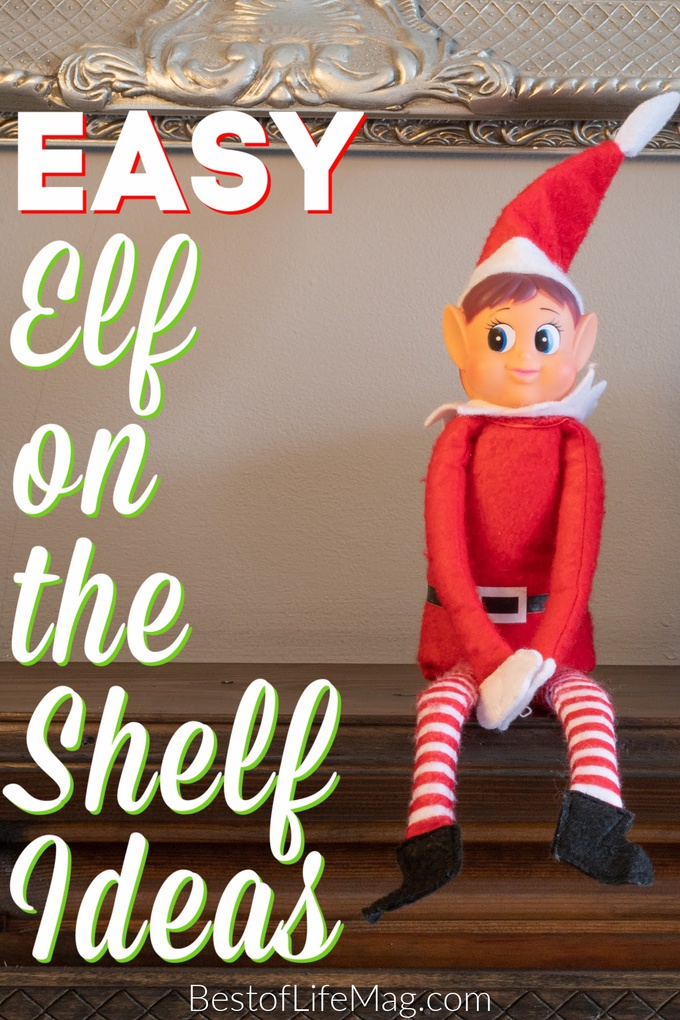 Elf Vandal
Wrap your Christmas tree in toilet paper and place your elf in a toilet paper roll nearby.
Nap Time Elf
Place your elf in a tissue box with about ¾ of the tissue still in it. Use a few pieces to make a pillow and done.
Artistry
Color in some of a coloring book page, and place the crayon in the elf's hand.

There are so many more ways to have fun with your Elf on The Shelf. Don't let the name fool you, your elf will love to travel around the house, and your kids will too. Don't be afraid to give your elf a personality, a jokester, an artist, a spy, whatever you'd like. Just because easy Elf on the Shelf ideas are quick doesn't mean they aren't the best!
All of your Elf on The Shelf Resources:
How to Introduce your Elf on the Shelf
50 Elf on the Shelf Names
5 Days of Activities for your Elf on the Shelf
Forgot to Move your Elf?
How to Say Goodbye to your Elf on the Shelf
You can't go wrong with these scene setting supplies. Your little Elf will have fun putting them all to good use this holiday season!
Just be sure to have fun, and Merry Christmas!
Save