This site contains affiliate links. Please read our Policies for information.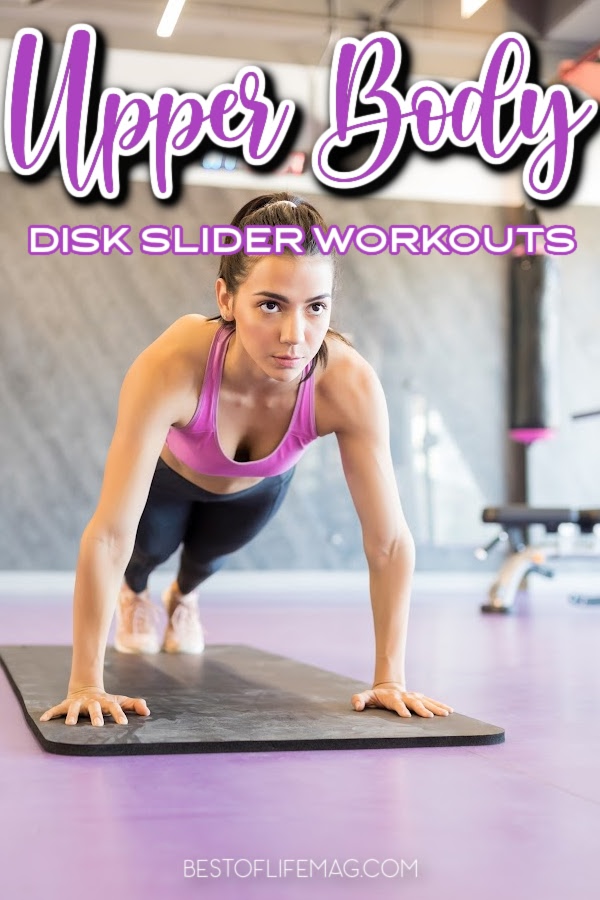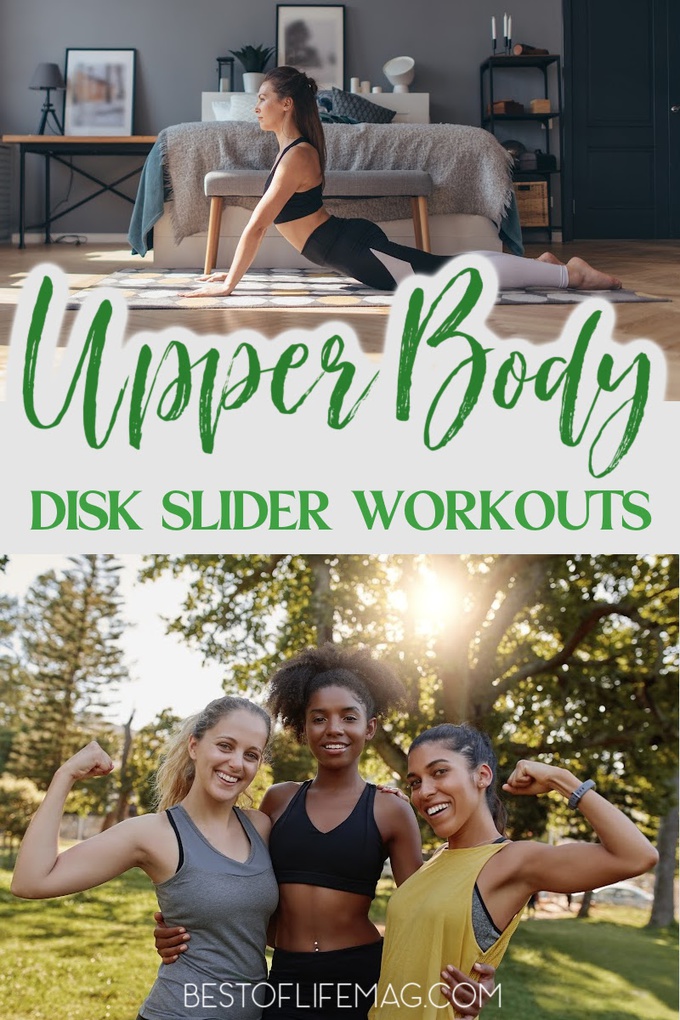 Disk sliders allow you to enhance the difficulty level of some basic bodyweight exercises very easily. The idea is to make you utilize your core strength and the muscles involved in the workout to keep you stable while doing the exercise. This is why upper body disk slider workouts are perfect if you want to save some money.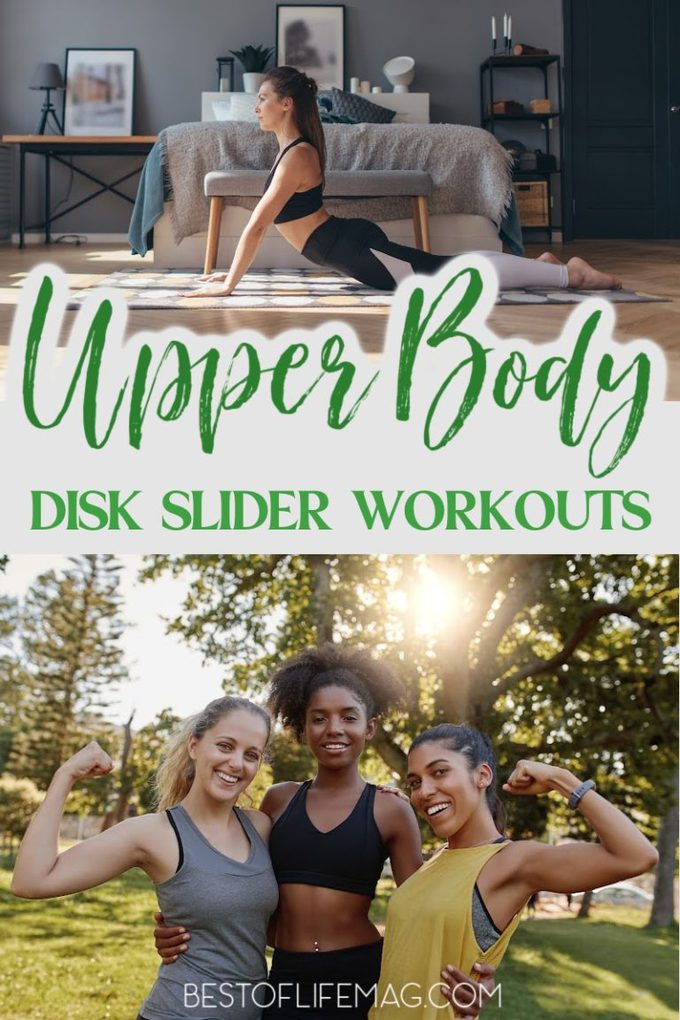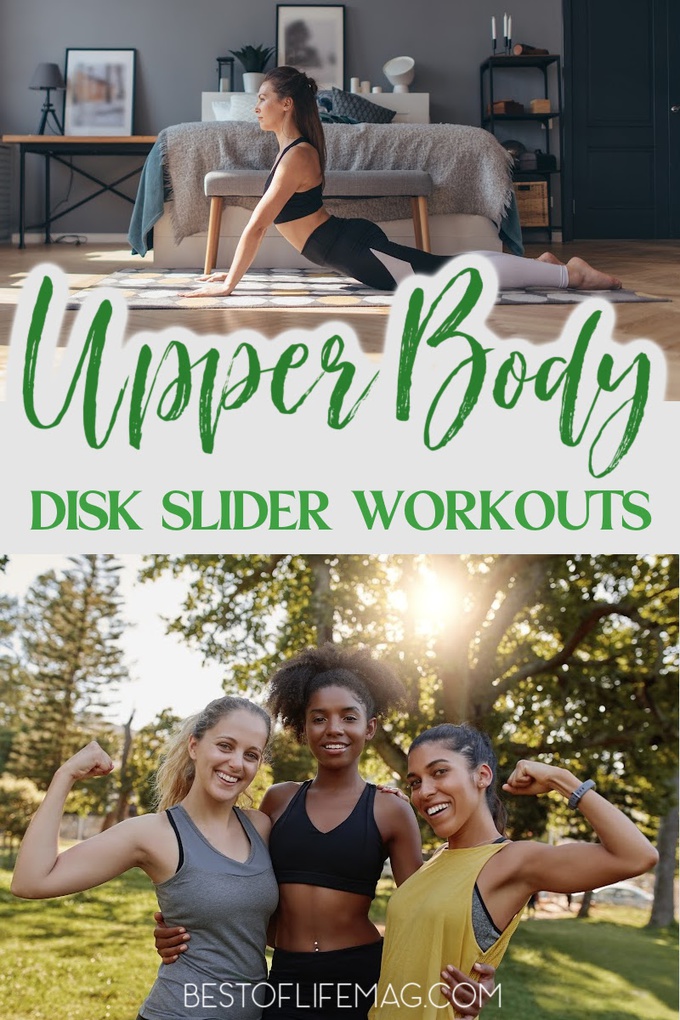 Gliders, sliders, discs, towels, whatever you want to call them, they are workout tools that don't get used very often but should. Upper body disk slider workouts will challenge you to use even more strength than normal to get a basic workout done.
Bodyweight exercises are simple and effective. They don't require any special equipment, but can still yield results. At a certain point, though, bodyweight workouts just get longer and longer as you get better at holding your own body weight.
While increasing your reps can help you see results, there are other ways to enhance your workouts, make them tougher, and still save time at home or at the gym. Most people turn to dumbbells or weights, which is perfectly fine. In fact, results could come quicker when these are added.
But, using upper body disk slider workouts is another great option. For upper body workouts, you will often put a slider between each hand and the ground and then complete the exercise. You will engage your core to keep stable but also engage your upper body muscles to do the exercise.
It's a win-win-win situation. You save money on equipment, tone your core, and build your upper body all at the same time.
Upper Body Disk Slider Workouts | Arm Slide
Start in a kneeling position with your hands on the disk sliders. You could use a towel or a cushion under your knees if they are sensitive. Engage your core and allow yourself to slide forward on your hands. The goal here is to get your chest as close to the ground as possible without lying on the ground.
Then, pull your arms back, propping yourself back up into the kneeling position.
Upper Body Disk Slider Workouts | Arm Circle
Start in a high-plank position or the push-up position with one disk slider under each hand. Slide one arm forward and make an arc motion, like a circle before returning to the start position. Repeat the motion with the opposite hand. Once both hands have gone out and come back, that is one rep.
This will keep your core engaged as you remain stable but also work out each arm individually.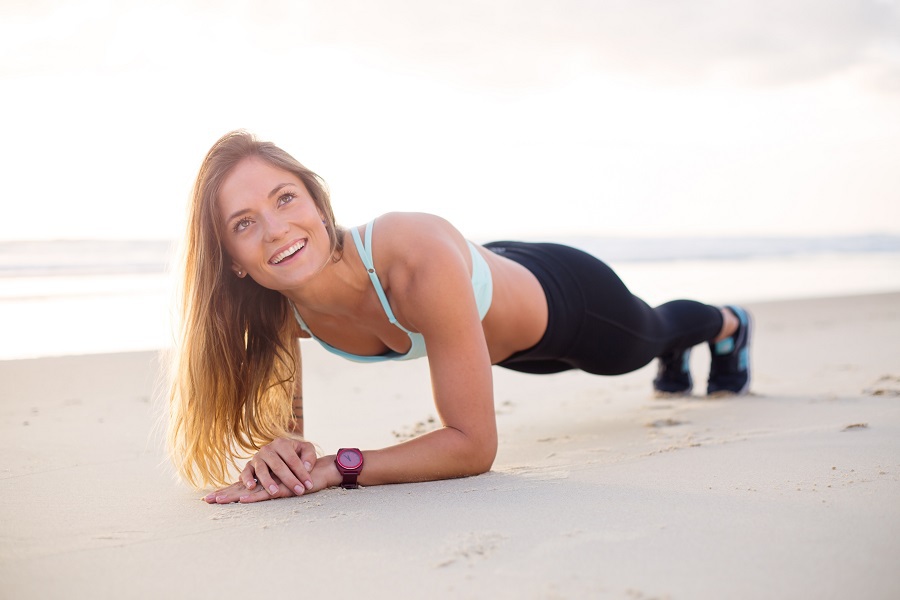 Upper Body Disk Slider Workouts | Staggered Push-Up
Start in a high-plank position or a push-up position with one disk slider under each hand. Push your right hand out in front of you until your chest is just above the ground, then bring it back so you end up in a push-up position.
Repeat this motion with the left hand for one rep. This is like a push-up but with one hand at a time which makes it even more difficult and isolates the muscles in each arm better.
Upper Body Disk Slider Workouts | Slider Push-Up
This is one of the more simple moves. You will start in a high-plank or push-up position and keep your hands on the sliders, close together. Slide your hands out so that they're shoulder-width apart and then do a push-up. Bring your hands back together and then repeat. It's that simple but in practice, it will get difficult.
Upper Body Disk Slider Workouts | Cross Under
Start in a high-plank or push-up position with your hands on the sliders. Push your right hand to the left so that it goes completely under your torso and to the other side behind your left hand. Pull your right hand back and return to the starting position.
Repeat the move but move your left hand out to the right as far as you can go. Once you have returned to the start position and both hands have crossed over, that is one rep.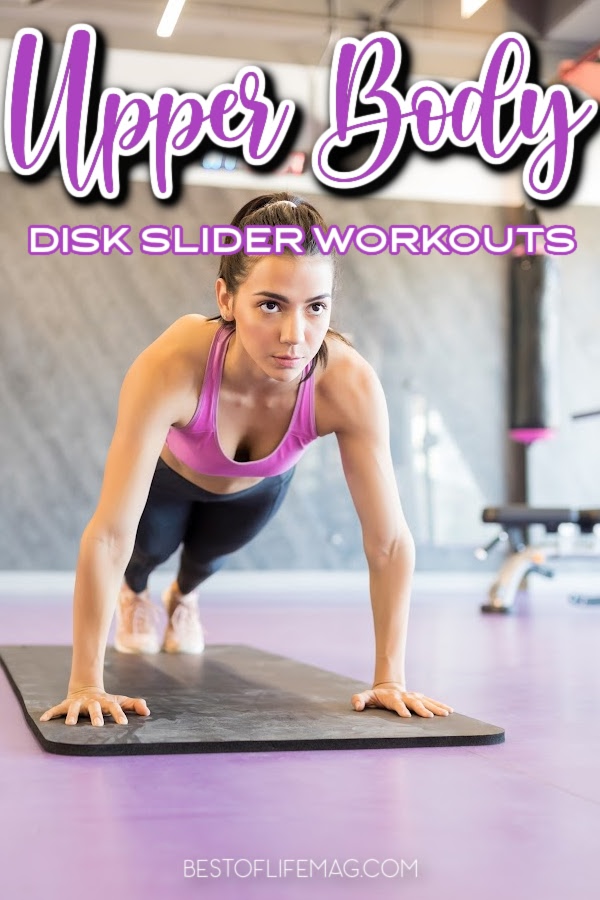 More Workout Ideas
35 Upper Body Workout Ideas for Women | The upper body includes arms, chest, back, and shoulders which is why some women avoid those workouts. Not anymore, time to take control and let our fears fall behind.
25 Oblique Workouts to Do at Home | Obliques are just as important as abs and should be treated as such by men and women.
35 At Home Workouts for Women | Full Body Workout Options | You don't have to leave your home to get a good workout in for the day.
10 Minute At Home Workouts for Abs | Ok, ok, abs are rightfully paid attention to in the gym but what about at home?
10 Exercises to Do While Brushing Your Teeth | Brushing your teeth is a bit of a workout but you can add an actual workout to your morning and nightly routine.