This site contains affiliate links. Please read our Policies for information.
Entertaining guests at our home is something we have always loved to do and with all of the amazing tech gadgets out there today, it can be even easier…and fun along the way. Simply follow this tech savvy guide to entertain everything from small to large groups in your home.
ONE: Download the Bing Food and Drink App
Windows 8.1 provides an easy interface and with the Bing Food and Drink App, those who love to entertain can find everything they need to prepare and stay organized for their gatherings.  Whether you are hosting a few friends or a large group, the app has everything you need!
Find the recipes you need for entertaining, build your shopping lists, and and then plan your party on your Pinterest board!
Start with the Bing Food and Drink App for entertaining made easy at home.
TWO: Plan and Organize with Microsoft One Note
I could not live without One Note and am always surprised by how many people don't know about this little gem.  What is Microsoft One Note?
Essentially it is a digital filing cabinet.  
And it is a lifesaver for planning a party and organizing pretty much everything in life.
1. Picture all of the lists you make as you plan your party, the documents you print, and the budget you track in Excel.
2.  Then picture them all tabbed and organized within One Note  – labeled as you want with photos, lists, Word documents and Excel spreadsheets right there on ONE PAGE.
Digitally stored.
All searchable.
All cross-referenced.
All organized.  It's my heaven.
Microsoft One Note comes with Office 365 Home Premium making it accessible from any device through your SkyDrive.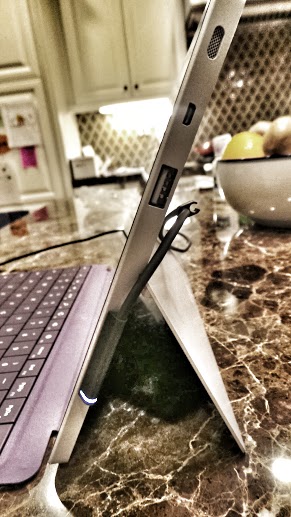 THREE: Keep Plans at your Fingertips with the Surface 2
For the ultimate in planning and staying organized at home, the Surface 2 keeps your apps and planning essentials at your fingertips with its design and features.  With 10 hours of battery life, plan away in your kitchen and toss it in your purse to stay organized while shopping for your entertaining supplies.  Then open it up on your counter to display your recipes while you cook.
We have searched high and low for the ultimate tablet that is truly easy to use, comfortable to type with (Hello Type Cover 2!!), while allowing us to use normal software that we are accustomed to like Word, Excel, and One Note.  The Surface 2 accomplishes what other tablets have attempted do for years and is truly a fully functioning mini computer.  And we absolutely love the improved two kickstand positions on the Surface 2 for easy viewing whether you are standing in the kitchen baking or sitting down with a glass of wine.
FOUR: Put the Finishing Touches on Entertaining with The XBox One
Finally, entertain in style with the Xbox One. If you are just having friends over you can use Xbox Video to find an On Demand movie or one of our new favorites is to play Forza Motorsport with friends on our 12 foot outdoor movie screen. 🙂
Indoors will always work, too.
The Xbox One adds a tech savvy touch to your entertaining when you play music from it, play games, or Skype friends or family that can't be with you at your gathering.
What are your favorite ways to entertain in your home with a touch of technology?