Otterspot Wireless Charging System Things to Know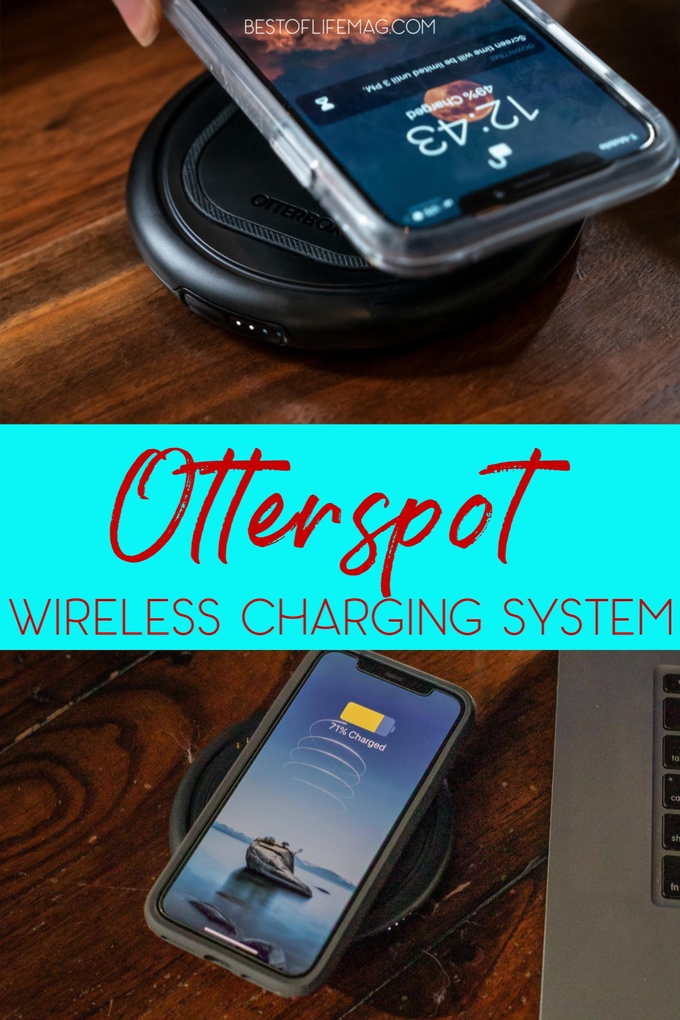 Almost every person who owns a smartphone has owned at least one Otterbox case in their lifetime. But Otterbox doesn't just make cases anymore. In fact, the Otterspot Wireless Charging System is something you may want to pay attention to, as well as the cases.
Otterbox knows a thing or two about mobile accessories. The company has been behind the most popular cell phone cases since cell phones became smart. The Otterspot Wireless Charging System is all about wireless charging features for your smartphone to help you keep up with a tech-savvy life.
How does wireless charging work? Electromagnetic induction is the answer. The wireless charger has an induction coil that creates an electromagnetic field around it. A receiver coil in the phone then absorbs that energy, and that is how wireless charging works.
It seems pretty simple, and it isn't. But the way the Otterspot Wireless Charging System looks can definitely deceive you into thinking it is simple. There is a lot to know about the wireless charging system before you get started.
You can easily jump right in, but the first thing to know is if your phone has a receiving coil inside it that allows for wireless charging.
Otterspot Wireless Charging System Overview
The first thing people will want to know about Otterspot is the pricing. However, you first need to know about the buying options. The Otterspot is an entire system which means there is more to it than just the one wireless charging base.
The first thing you need is the base. The base is what you actually plug into the wall and charge your devices on. But there are also batteries. These separate batteries are portable and can be stacked on top of the base. Each battery will pass power onto whatever is stacked on top of it.
So you could have the base charging a battery, which charges another battery, which charges another battery, and so on, depending on how many batteries you own. You could even stack your wireless charging capable phone on top of all of the batteries, and that would charge as well.
Pricing
You now know that there are a base and batteries that make up the Otterspot Wireless Charging System. Now, you can learn about pricing. However, there are multiple buying options. You could buy the base with a battery in one bundle, and that costs $99.95.
You could also buy an additional base for $54.95 and spare batteries also for $54.95. You will need the base in order to charge the batteries. That means you should start with the base and battery bundle to get started. Then, you can buy more batteries or more bases as you go if you would like.
You could also just choose to buy the base without batteries.
The Batteries
The batteries actually have a great purpose. You could bring them with you wherever you go. That means you could take them to the beach, on a short trip, to the store, during a day at the park, wherever you want. Each battery packs a 5,000 mAh capacity with a 10-watt charging speed.
That amount of energy should give you about 1 full recharge, maybe two. It all depends on the size of your phone's battery and the number of times you take it on and off the charger.
Otterspot Wireless Charging System Stacking Limits
You could absolutely buy multiple batteries and stack them on top of each other and then on top of the base to charge them all at once. However, you can only stack up to three extra batteries at once. You will need another base if you plan on getting more than three extra batteries.
Of course, you could charge them separately if you want. It is just more efficient to charge them all at once and on the same Otterbox Wireless Charging System base.
Must be Compatible
Wireless charging is becoming more and more popular as more and more phones have the capability to charge wirelessly. However, the Otterspot Wireless Charging System only works with phones that have wireless charging capabilities.
You don't want to spend that money on a wireless charging system unless your phone is capable of wireless charging. Be sure to check if you have wireless charging available before you purchase any wireless charging system.
More Otterbox
OtterBox Yampa Dry Bags Size Guide | Otterbox does not only make cases or wireless charging pads. You can even get an Otterbox dry bag.
Otterbox Trooper Coolers Features and Review | Coolers are a natural evolution of a case company when the cases they make are sturdy and water resistant.
7 Best Things About OtterBox Venture Coolers | In fact, there are coolers you can use that aren't impressive, and then there are Otterbox coolers.
Otterbox Pursuit vs Lifeproof: What's the Difference? | Cases are still where they started, and that's worth your time and effort.
Otterbox Defender Pro vs Pursuit: What's the Difference? | You will need to find the case that works best for your personal needs.