This site contains affiliate links. Please read our Policies for information.
I am working with Microsoft for the next year to share my take on their products with you; it's a natural fit because we have been Micrsoft users for well over a decade.  They just sent us our lusted after device – the Surface Pro 3 – and will certainly share a full review after a bit more testing time.  In the process of setting up my home office for maximum productivity with the Surface Pro 3, we bought some essential accessories.
Alas, if you are using the Surface Pro 3, these five Surface Pro 3 accessories that will make life even more amazing and take your productivity with this amazing device to the next level.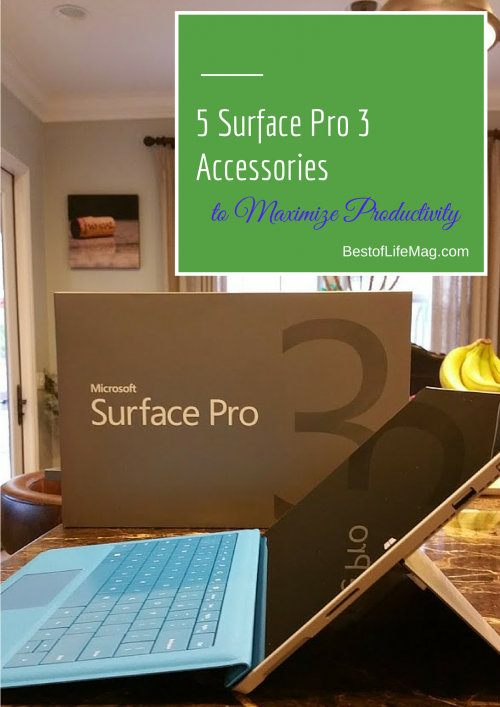 Leather Case
Having a proper case is important for any laptop and the Surface Pro 3 is truly a device that can replace my laptop. However it is actually more than a laptop because I can use it to write notes and use just as I would a notepad in meetings where typing may not be appropriate.
Thus, I want my Surface Pro 3 to look nice in a professional case but still maintain all of the same functionality I love when it sits on its own without a case. My husband and kids bought me this ProCase Premium Folio for Christmas and it delivers on everything I needed it to.
Surface Pro Type Cover
We had a Surface Pro Type Cover for our Surface 2 and were so happy to receive one with our Surface Pro 3.  The Type Cover truly allows you to use your Surface like a laptop and is incredibly convenient for maximizing productivity while moving around the house, offices, and meetings.   The feel and fit are natural to the hand and it snaps on and off with complete ease.
Surface Pro 3 Pen
The Surface Pro 3 comes with a pen but at $50 a pop, if you are taking your Surface Pro 3 between home and work a lot, it may just be safer to have an extra Surface Pro Pen to keep at your other destination.
Bluetooth Keyboard
The Logitech Wireless Illuminated Keyboard is pretty phenomenal and offers a great feel when using the Surface Pro 3 for extended periods of time at your desk.  The receiver for the keyboard actually works with up to six devices meaning I can finally stop being frustrated when I got to use a wireless keyboard and have to deal with switching it between devices and repairing. It also charges via a standard USB cable which means no batteries and has laser-etched backlit keys – a favorite feature of mine on keyboards.
Microsoft Surface Pro 3 Docking Station
The Surface Pro 3 Docking Station turns your Surface Pro 3 into a full working desktop station and includes a gazillion useful ports as well including 2 additional USB 2.0 ports and three additional USB 3.0 ports.  This to me is the ultimate in productivity because it allows me to dock my Surface Pro 3 at my desk, connect it to my large monitors, get extra ports, use my wireless keyboard, and thus type from the comfort of my office recliner if I so choose.  When I am heading out the door to work on the go, I simply pull the Surface Pro 3 out of the docking station and with a single click it is attached to my Surface Pro Type Cover and I am out the door.
Worth every penny.