This site contains affiliate links. Please read our Policies for information.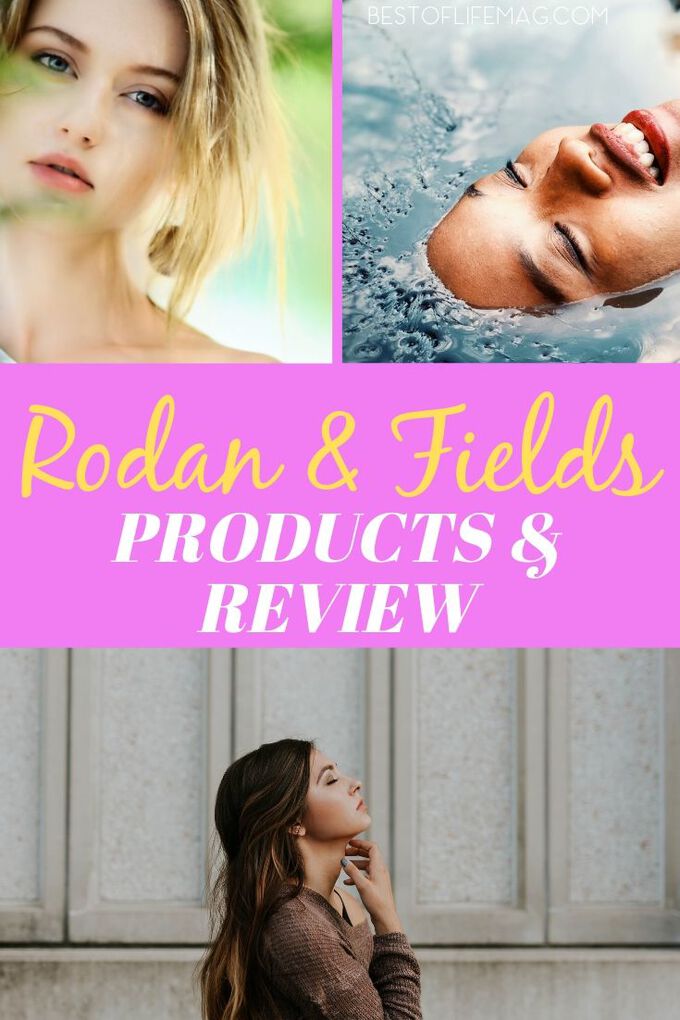 Perhaps the most confusing thing about skincare is finding out what works best for you, on an individual level. There are so many kits, sets, and regimens that it can be tough to figure out how to put together a routine that actually works. For men and women alike, it's important to find a routine that works so that you can care for your body's largest organ: the skin! These are some of my top picks in the Rodan and Fields Products line up. Try any or all, create your own perfect skincare routine.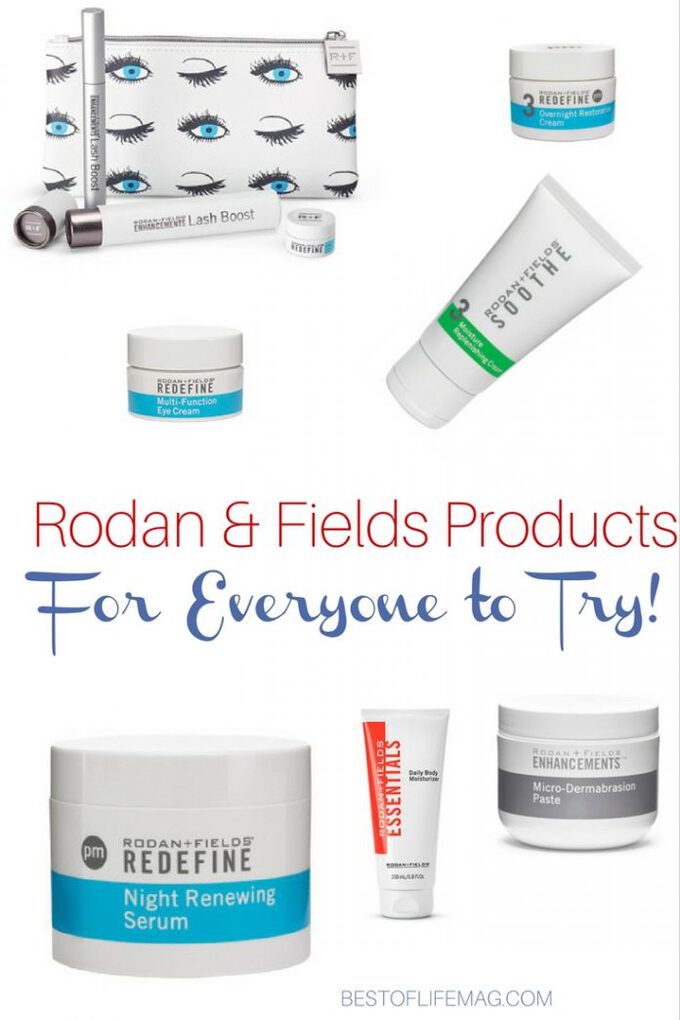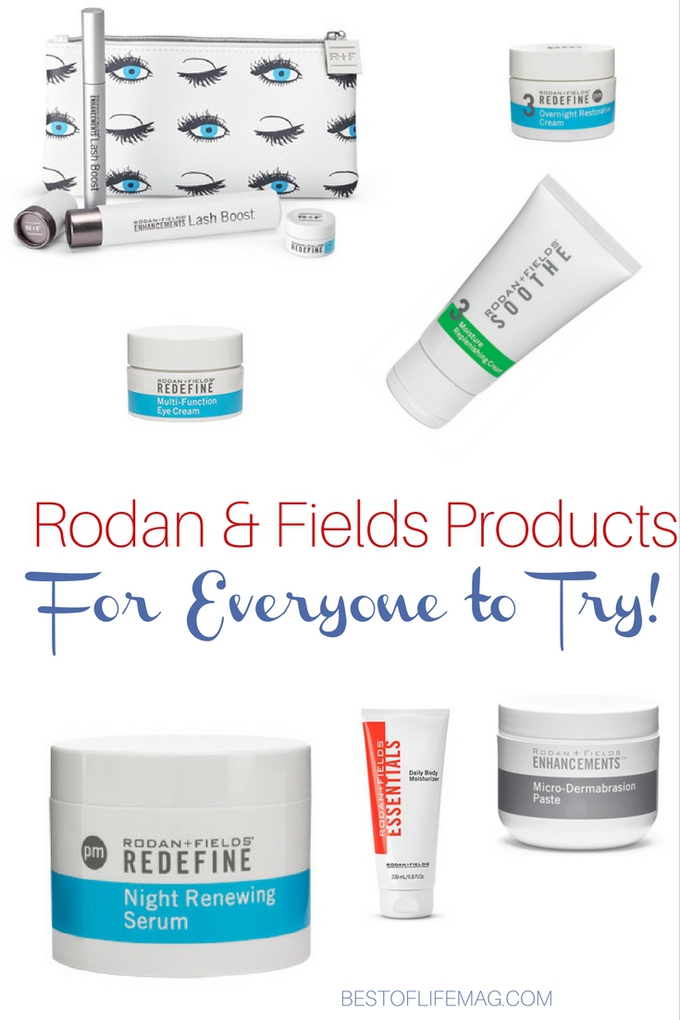 Rodan and Fields Products can help you look and feel your best with ease!
I have been using Rodan+Fields for almost two years now and these are some of my favorite products. If you want to place your own order, you can ORDER THE BEST R+F PRODUCTS HERE.
The Redefine kit, the Enhancements kit, Essentials is a great kit for daily moisture and on the go. Of course, as you will see, I can't recommend Lash Boost enough as well! If you have scaring, redness, or other skin issues you might also want to check out the Unblemish regimen!
Sometimes we have a tendency to grab a premade kit and go with it. Assuming that the skincare makers know what our skin needs. The thing is, these kits are made for "most" people.
Instead of feeling trapped by a skincare routine, break out of that and pick or choose products that work best for you on their own.
When I was deciding what worked best for me in the Rodan and Fields Products line-up, I chose what I liked from each group.
What this did was give me the best of each kit for my skins needs, it created the perfect unique routine for me!
Rodan and Fields Products I Love:
Rodan and Fields Lash Boost
Mascara is always part of my makeup routine. I love that look of a full and bold lash. Now that I've discovered the Rodan and Fields Products I'm hooked on Lash Boost. It's what I like to call a "gateway product".
I even have my mom using this stuff, it's that good! It's an amazing serum that is applied to the lash line, you can see incredible results in just 4 weeks with this one simple product.
Essentially the tag line here is "What if mascara was optional?" because your lashes will be full, bold, and long all on their own with Lash Boost!
REDEFINE Multi-Function Eye Cream
We all have dark circles. I don't consider myself to be "fighting" the aging process but everyone, including me, sees dark or saggy under-eye skin at some point or another.
It's a very thin and delicate skin area and that means it shows signs of not only aging, but also sleeplessness, stress, wrinkles, and more.
Another of my "gateway" Rodan and Fields Products; you won't turn back after you give it a try! This product is a top seller for a reason.
ENHANCEMENTS Micro-Dermabrasion Paste
In terms of skin enhancements, there is a way to make your skin feel and look amazing without needles or procedures.
This is another one of the amazing Rodan and Fields Products that anyone can use and enjoy. It will make your skin feel like butter! I keep mine in the shower and every other day I use it on my face, neck, and chin.
Who doesn't want their skin to look and feel as soft as a baby's?
SOOTHE Sensitive Skin Treatment
Not every day is a good skin day. We live in California, there's always sunshine and summertime to contend with. We also love to spend time out on the boat enjoying the salty breezes.
When we get a little too much sun we use this Soothe Sensitive Skin Treatment from the arsenal of Rodan and Fields Products! Everyone should have a bottle of this in their beauty stash.
It's gentle and "soothing" and great for all skin types. It instantly soothes and redness, it absorbs instantly and you would never know it is there, no greasy feeling here.
SOOTHE Moisture Replenishing Cream
If you are looking for an amazing daily moisturizing cream this is the one. You can't go wrong. It packs an amazing nutrient and moisture punch without making your skin feel greasy or oily.
I have excessively oily skin so I don't like ANY moisturizer that feels heavy or adds to that issue. The Rodan and Fields Products are amazing and without feeling like a heavy or greasy cream I know I can use it daily!
Beyond the Shave
Shaving is hard on the skin. Especially for all the guys out there, that soft skin on your face takes a beating every time you shave.
Using the Rodan and Fields products to protect, strengthen, and heal damaged skin is a great idea. Beyond the Shave is great for doing all three.
It not only protects skin from damage during shaving it also moisturizes and protects skin that is freshly shaved!
REDEFINE Night Renewing Serum
Rodan and Fields Redefine Night Renewing Serum is a beauty product that both men and women of all ages enjoy. It's great for every skin type and the light texture gently glides over the skin so you can wake with smoother and brighter skin.
REDEFINE Lip Renewing Serum
Another great product in the Redefine line of Rodan and Fields Products. Especially during the times of each year when the weather changes, my lips suffer.
The lip renewing serum is great for keeping lips soft, supple, and it also reduces those fine lines that creep in from the edges!
This is also a great option for fending off the damage from the sun. Here in CA we get a lot of sunny days and that can be hard on the lips!
REDEFINE Overnight Restorative Cream
Finally, from the Redefine collection, the overnight restorative cream! You can't go wrong with this cream. All of the Rodan and Fields products are great but this is one of my favorites.
Overnight products are amazing. You put them on at night, they do their best work, and then you wake up and get to put your best face forward effortlessly!
Full of restorative ingredients that will help turn back time this Redefine overnight cream will change your beauty routine.
ESSENTIALS Foaming Sunless Tan
By now we all know that the sun is not a friend to the skin. We're all coached from a young age to keep our skin covered up, protected with SPF, and to avoid those tanning beds.
That being said, I still enjoy the glow of a tan! The struggle is real! Rodan and Fields products are all about keeping skin healthy, this foaming sunless tan from the essentials collection will give you the best of both worlds.
You can have gorgeous tan skin without the damaging rays of the sun. The great news is that this works almost instantly, no more bright white glow of the dead when a surprise night out pops up!
ESSENTIALS Broad Spectrum Sunscreen
In keeping with our Rodan and Fields products Essentials line, we need to protect our skin every single day. This is an incredible board spectrum sunscreen.
Instead of slathering on a thick, greasy, sunscreen, use this sunscreen to keep your skin feeling great and protected at the same time.
It's also really important to get screened each year for skin issues. You never know when screening can catch something early so you can avoid any serious issues!
ESSENTIALS Daily Body Moisturizer
Our faces are not the only skin that needs daily moisture especially after being exposed to the sun, wind, and cooler air of winter.
Using this daily body moisturizer from the Essentials Rodan and Fields products line can really help give you that glowing look. Moisturized skin is healthy skin.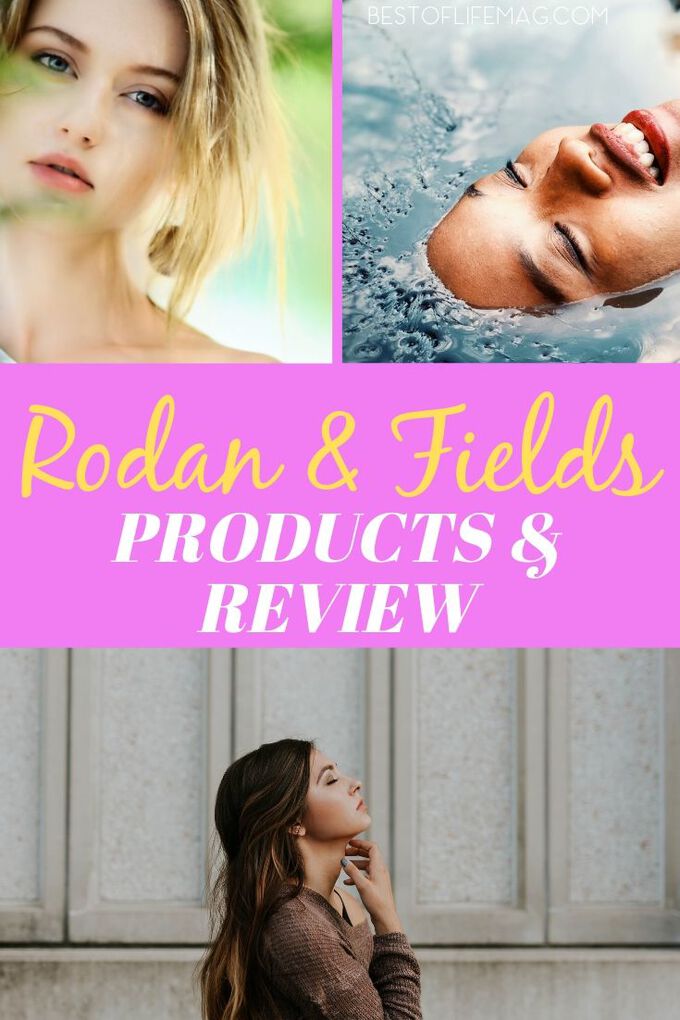 Drinking plenty of water and using this amazing daily body moisturizer will help you look and feel amazing every day!
Save
Save