This site contains affiliate links. Please read our Policies for information.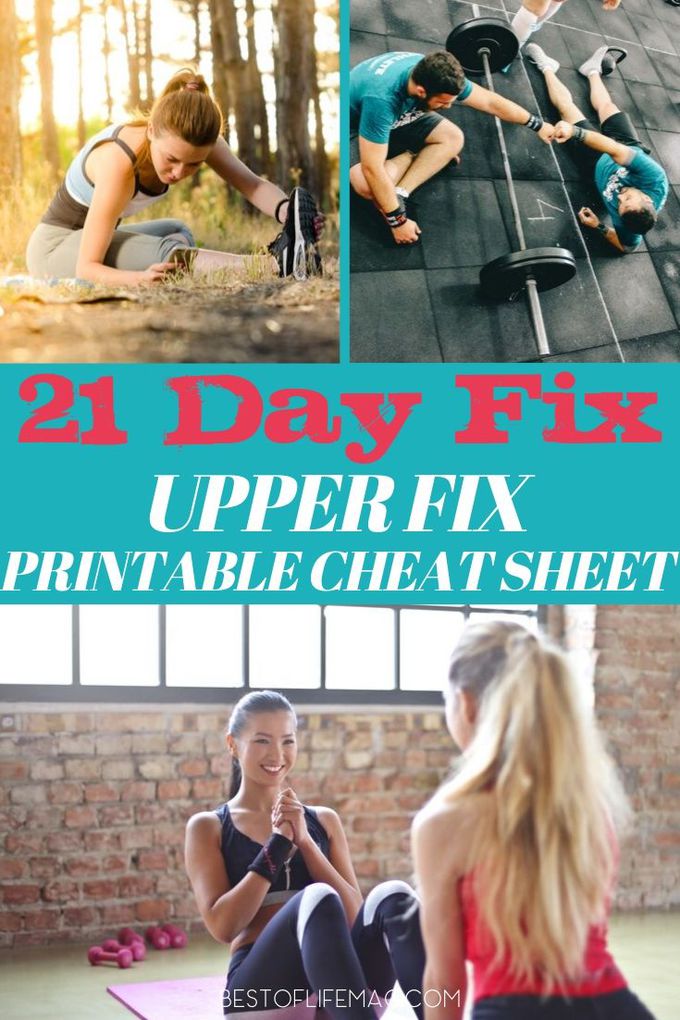 The 21 Day Fix Upper Fix workout is part of the three-week-long cycle that rotates exercises and meal plans to get you amazing results in a short period of time. This particular workout is great for on the go because it does not require a lot of extreme equipment or access to a gym. This 21 Day Fix Upper Fix Cheat Sheet Printable makes it easier than ever to workout…no matter what! Take the workout wherever you go for a no excuses workout!
Use this 21 Day Fix Upper Fix cheat sheet for an easy-to-print list of the moves and exercises in this extreme 21 Day Fix workout.
You can use this 21 Day Fix Upper Fix Cheat Sheet to exercise on the go! Now when you travel you won't have to worry about packing a bunch of equipment, you can just save or print this easy to follow Upper Fix Cheat Sheet and be on your way!
The goal of the list isn't to help you fake your way through the workout plan. Whether you are familiar with the 21 Day Fix Upper Fix workout and want a cheat sheet for travel, are starting off and want to work your way into the full workout, or just want to personalize your workout plan, our Upper Fix Cheat Sheet will help.
I love using workout printables when I travel because I can work out anywhere and stay on my workout routine. A free workout printable has so many uses.
Upper Fix Printable Cheat Sheet
You can print, download or save this file by clicking below. It's easy to follow and simple to take with you when you are on the go or traveling.
The 21 Day Fix
The 21 Day Fix is a great program to use if you need to learn about portion control. It has a great meal planning system built in that will help you get a handle on your cravings and it will encourage you to learn to eat things in moderation to maximize your workout results.
As for the workouts, they're all doable for all fitness levels. Just work your way up gradually!
In fact, those are the people who will get the most from this cheat sheet. Check out this post for an overview of the 21 Day Fix workouts in order. It's important to keep each of these workouts in rotation after you complete the technical 21 Day Fix.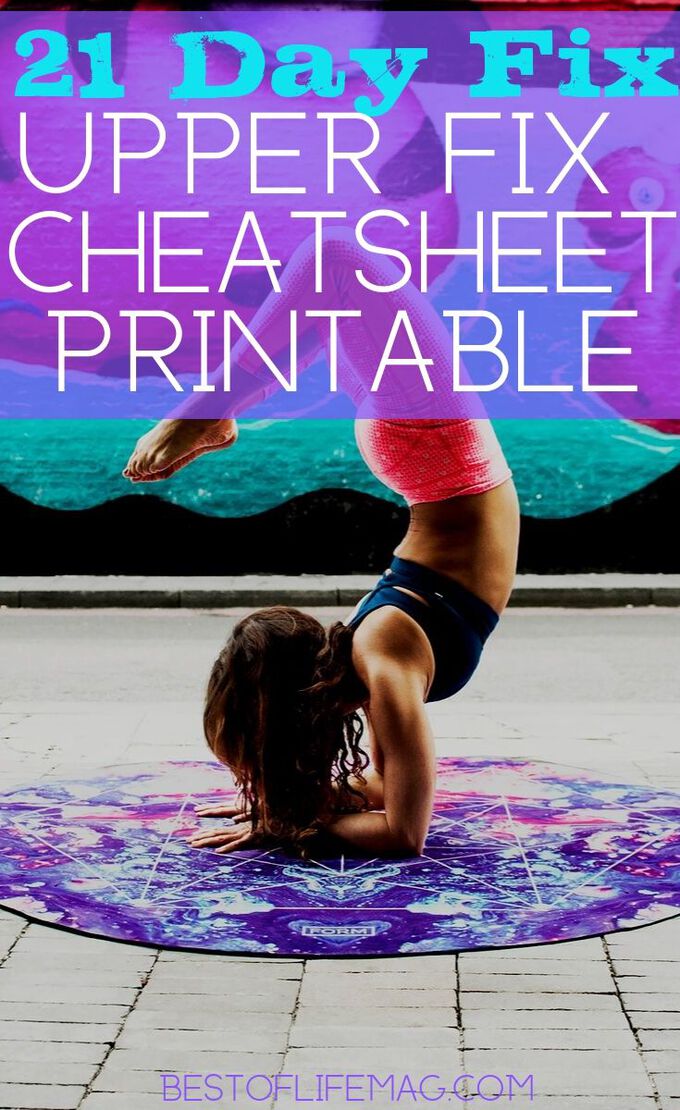 Having gone through the 21 Day Fix workouts myself, we have gathered many useful workout tips and resources to help you make the most of the program. Enjoy and let us know how your progress is going!
More 21 Day Fix Workout Resources
21 Day Fix Plyo Fix Workout Tips and Review
21 Day Fix Yoga Fix Workout Review
Printable 21 Day Fix Dirty 30 Cheat Sheet {Free Printable}
21 Day Fix Dirty 30 Workout Review {Moves & Exercises}