Jillian Michaels Body Revolution Meal Plan Tips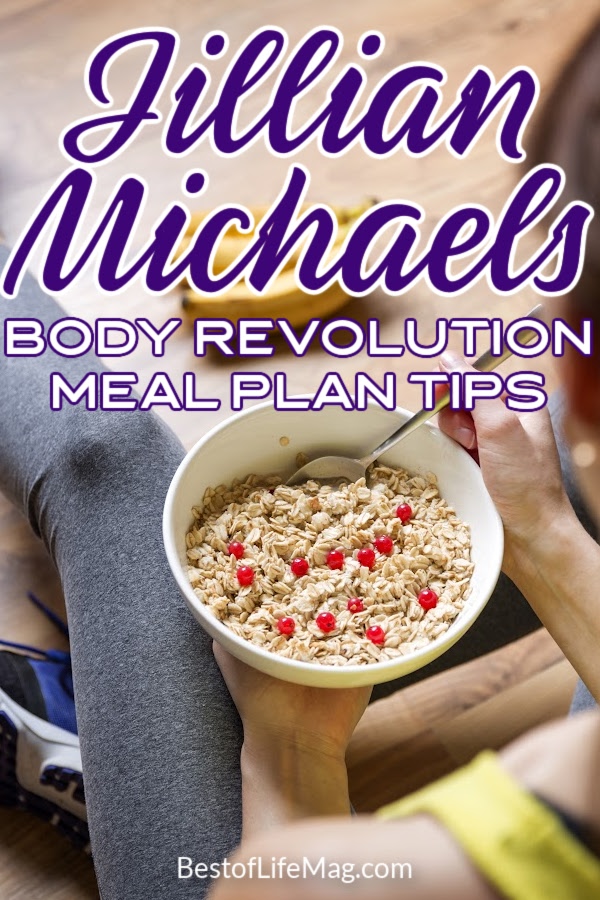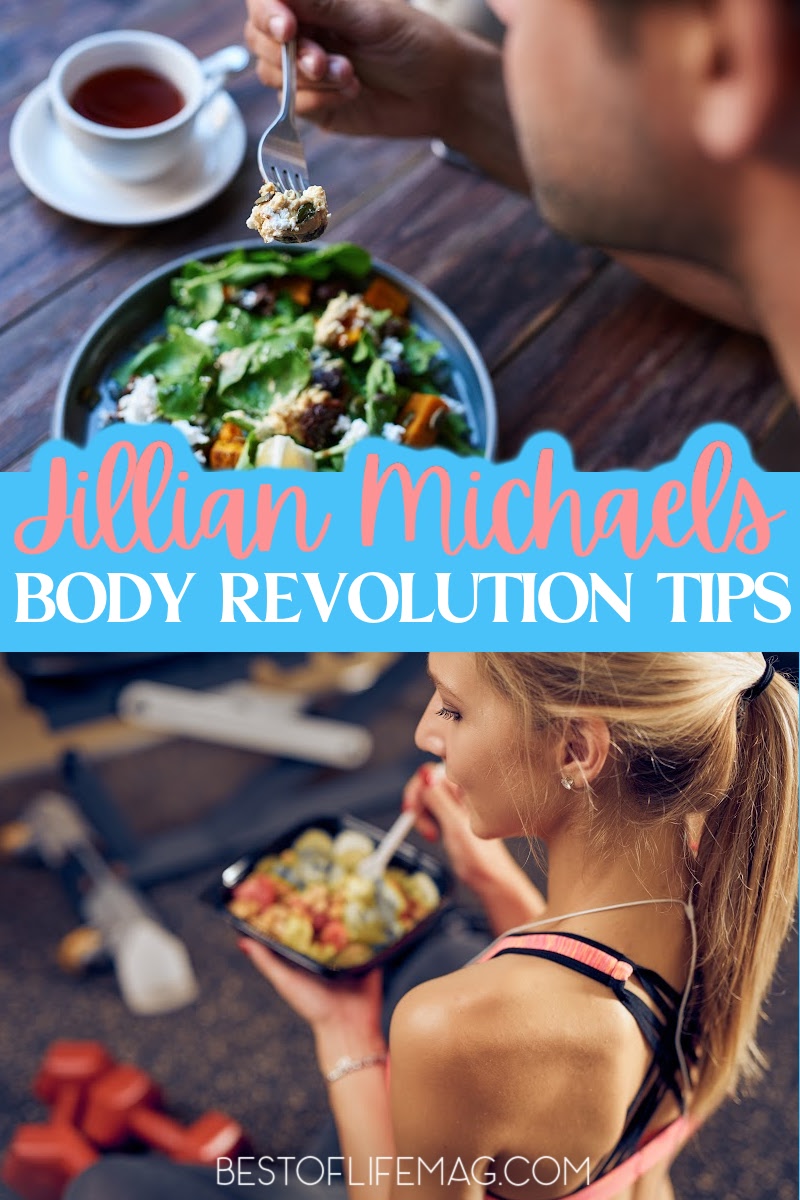 This is where you will jumpstart your body and wake it into your new nutrition-filled lifestyle with Jillian Michaels Body Revolution meal plan tips. While it may sound difficult, all you have to do is stick with it and make it through the first week. After that, it will get easier and more natural.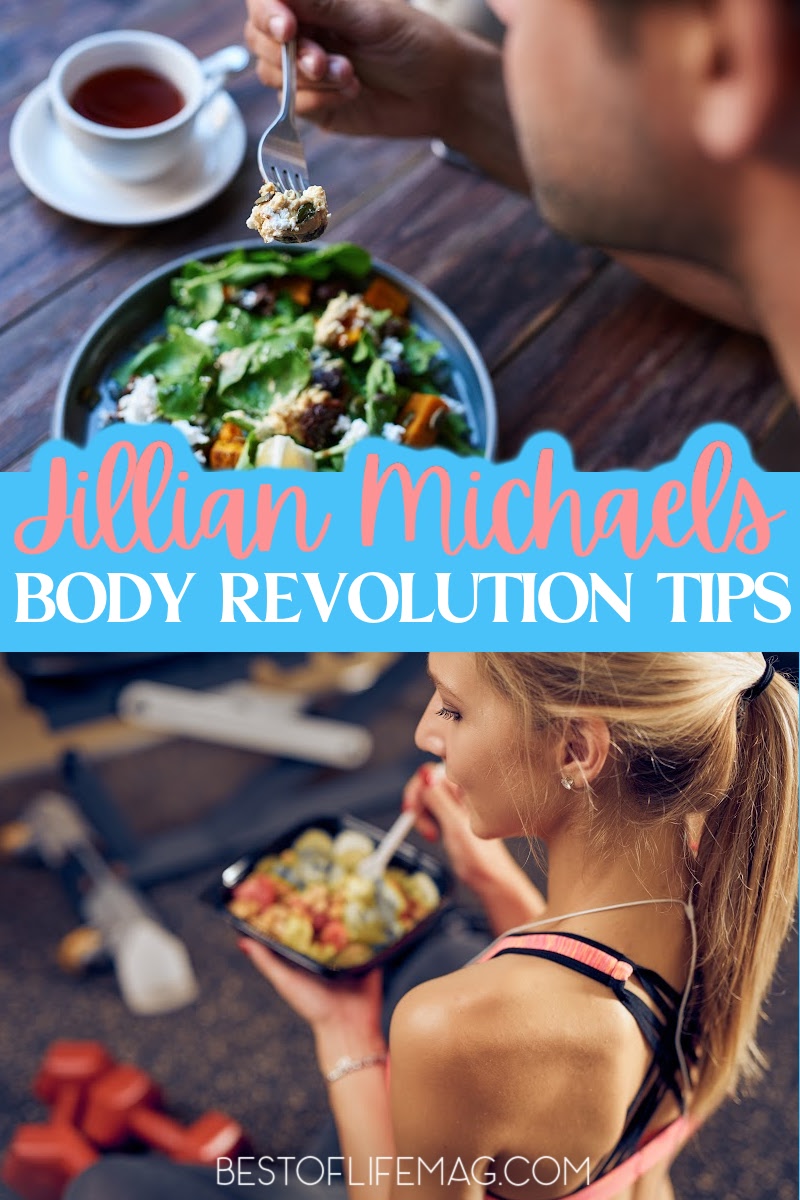 When starting Body Revolution by Jillian Michaels it's important to consider the diet plan the key to your success. Any path to fitness and a healthy lifestyle is paved with nutrition, and this is no different. Nutrition is where you lay the foundation for your workouts to take hold and improve your lifestyle.
Luckily, Body Revolution comes with an entire plan for you to follow called the "Fat Burning Meal Plan" but you start with the "7-Day Kickstart". You will see results using any of the Jillian Michaels programs if you follow the workouts and the meal plans.
It's a system that has worked for TONS of people. They see results because they put in hard work so don't forget to include a little motivation when you are chipping away at this journey. The great thing about the Jillian Michaels programs is that you can do them anywhere.
Workout at home with very minimal gear, traveling? No worries, your program will travel with you! Some are even able to be streamed online so you don't have to take the DVDs along!
Include The Family
Avoid the thinking that the recipes in the meal plan are meant solely for the workout. While these recipes do help with your fitness goals, at their roots, they're just healthy meals. That means, cooking these meals for the family is totally safe and can even help keep your kids or spouse healthy as well.
Limits Without Limits
Yes, you're limited to the recipes that come in the meal plan and it is even recommended that you only eat breakfast for breakfast, lunch for lunch, and dinner for dinner. However, there are so many different recipes for you to choose from in Body Revolution that you will not get bored.
Snacks Aren't Sin
In Body Revolution, snacks aren't evil, instead, they're an opportunity to continue healthy eating. Feel free to have a snack or two, just make sure you follow the guidelines given to you.
Fix The Mistake
If you slip up, that doesn't give you a full day pass. Instead, that means you should work harder that day. Don't let a dietary slip-up turn into something bigger.
It's Not A Loss
Avoid looking at a diet plan as a loss, especially with Body Revolution. All of the recipes are meant to be full of flavor and nutrition to get you through the routine. There is no boiled, plain chicken breast here.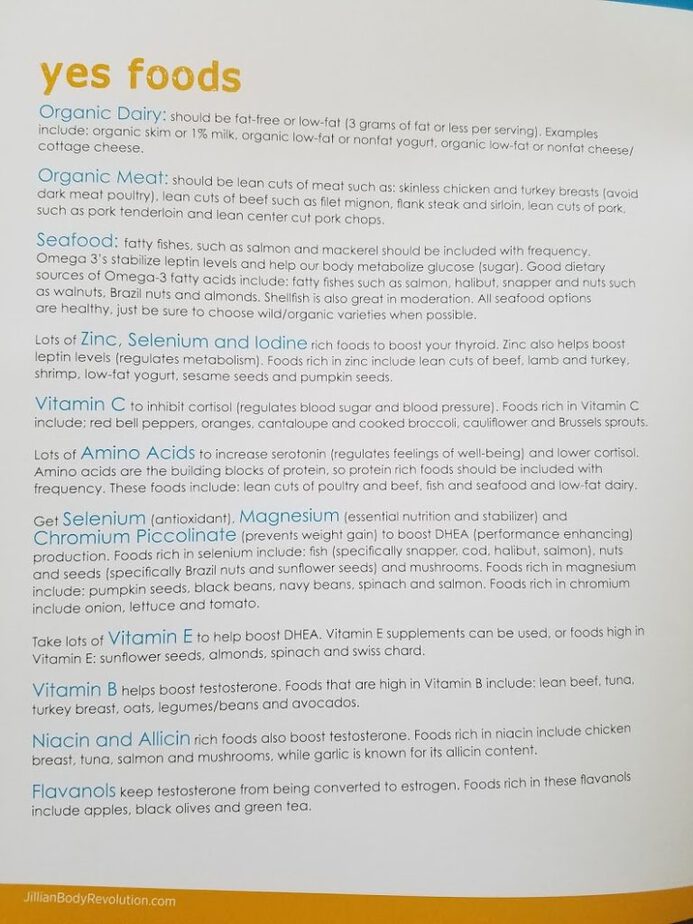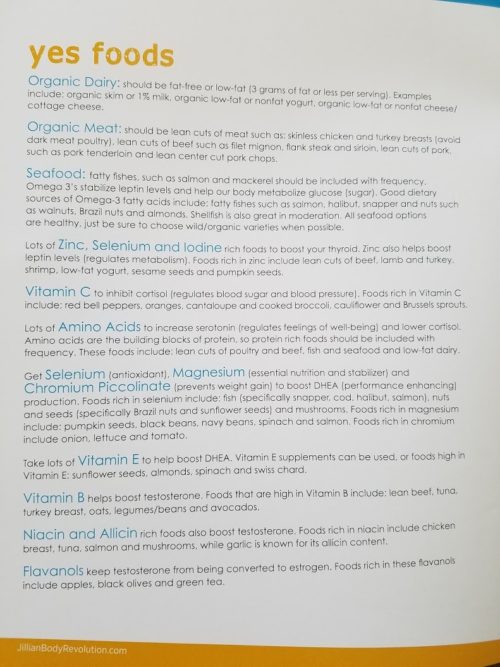 Do The Reading
In Body Revolution, they make it very clear as to what are "Yes Foods" and what are "No Foods". Knowing these foods makes shopping easier. This also will help you get the results you want, faster.
Weigh-Ins
There is no better motivator than seeing progress in your body. However, no workout routine will have noticeable results in the first few weeks. In order to see the progress, you will need to keep track of your weight and weigh in weekly.
It's Not All or Nothing
Body Revolution does a great job of balancing your meals and allowing you to treat yourself as well. This means that there is no such thing as an all-or-nothing point of view when giving up foods you're used to eating. If you find that you have to cut out those double chocolate chips with fudge chunk muffins, fret not, there is something sweet for you to eat that should do the trick.
Yes Foods
Jillian has made it easy to know what you can eat with this meal plan. Some yes foods include organic dairy or seafood. The list also brings attention to the vitamins and acids that can help with your goals like Zinc or Amino Acids.
No Foods
The no foods list is even more detailed with specifics like peanuts or alcohol. This list includes foods that will slow down or even hinder your results at the end of the routines. Some major ingredients that should be avoided include artificial ingredients like coloring or sweeteners.
These Jillian Michaels Body Revolution meal plan tips make your diet planning easy and simple to follow. There are no foods, there are yes foods and there are recipes that you can follow to get your meals done. The one thing that Jillian Michaels will stress to you in all of her workout routines, diet, and nutrition are both the keys to success.
It's near impossible for you to work out and gets results if you're making unhealthy dining choices. Utilize tips, get workout printables and keep track of your progress over time. These are all ways that will help you succeed and get the results you want.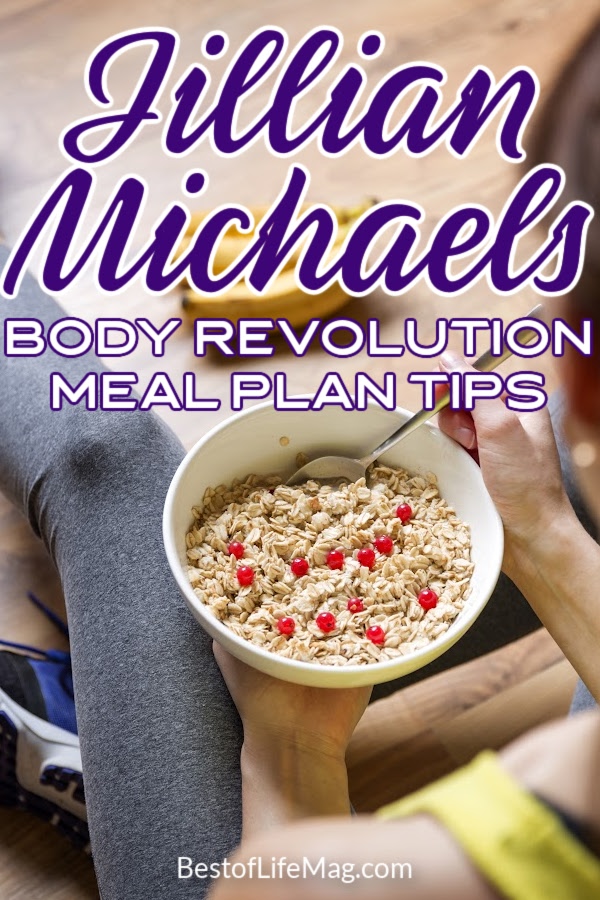 More Jillian Michaels
Body Revolution vs Bodyshred Workout Comparison | Body Revolution isn't the only plan out there made by Jillian Michaels.
Master Your Metabolism Reviews and What's to Love | In fact, there are plenty of different nutrition plans that Jillian Michaels has designed to help others lose weight.
Printable Jillian Michaels Quotes from Ripped in 30 | She even has some of the best motivational quotes to keep us on track.
Jillian Michaels 6 Week Six Pack Review and Tips | Want to get toned? Jillian has the answer for that as well with her workout guides.
Beginner Shred Workout Review | You can also get shredded if you want with the help of Jillian Michaels.Save