This site contains affiliate links. Please read our Policies for information.
Traveling in comfort is very important to us as a family; from accommodations to linens and space, there is a lot that we look for. We often stay at a Residence Inn, a Marriott hotel brand many are familiar with I am sure. There is something to be said for going to bed and having a bit of quiet time, away from our children, and waking to a cup of warm coffee, again away from our children. A one or two bedroom suite at Residence Inn has served our family perfectly so we were thrilled to partner with the newly opened Residence Inn San Diego Downtown Bayfront to explore the new look of the hotel and the unique build and design.
The Residence Inn San Diego Downtown Bayfront features beautiful views of the bay and a new design! Come inside and take a peek!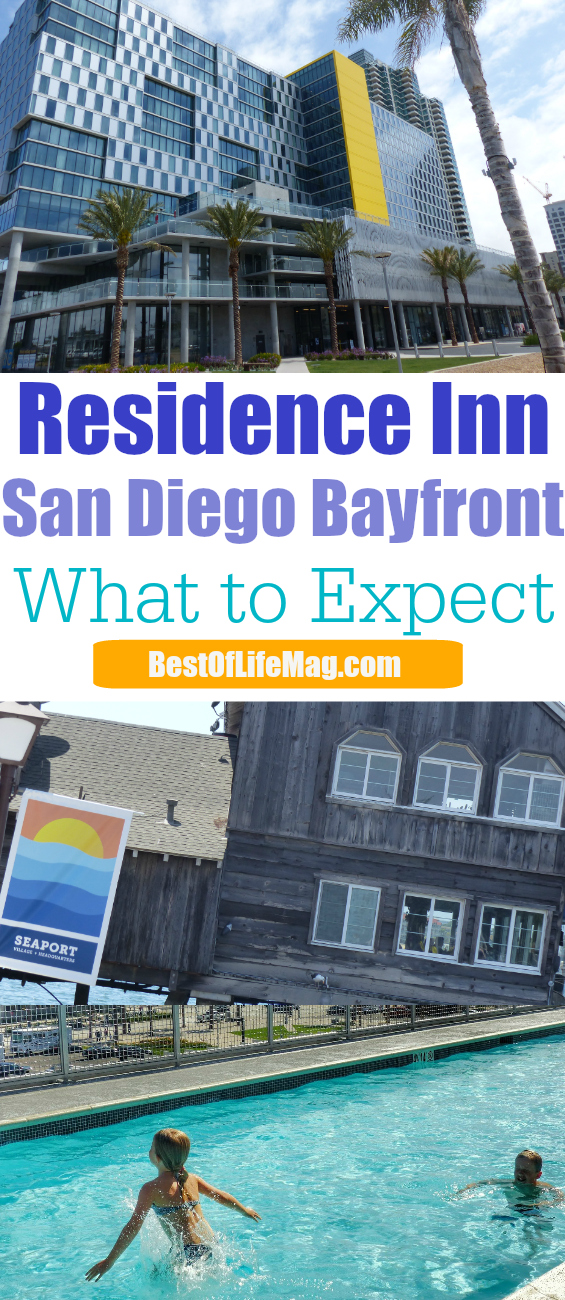 The Hotel
The Residence Inn and Springhill Suites San Diego Downtown Bayfront are in one gorgeous building overlooking the San Diego bay. This dual property location is unique in that both hotels are housed in the same building and have shared spaces for guests such as the pool, breakfast area, lobby, and so on. What may feel a bit small as a breakfast area in a traditional hotel is now open, bright, airy, and spacious.
I personally love the colors of the hotel and the furnishings; the teal and yellow pull in everything we love about the ocean and California sunshine and provide a well deserved facelift to the Residence Inn of the past. Built on what once was Lane Field history is woven into the hotel both inside and out.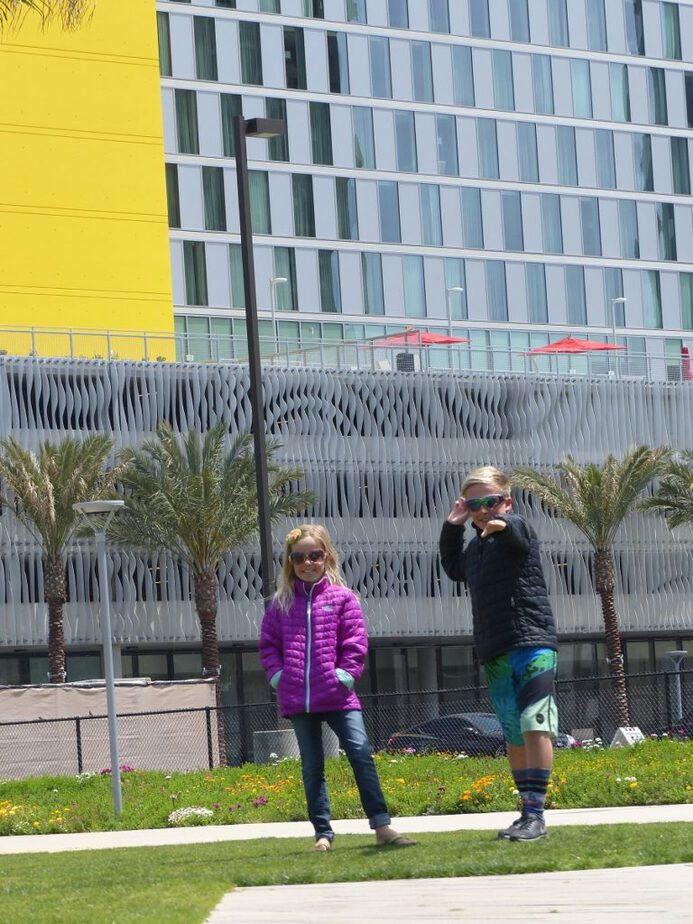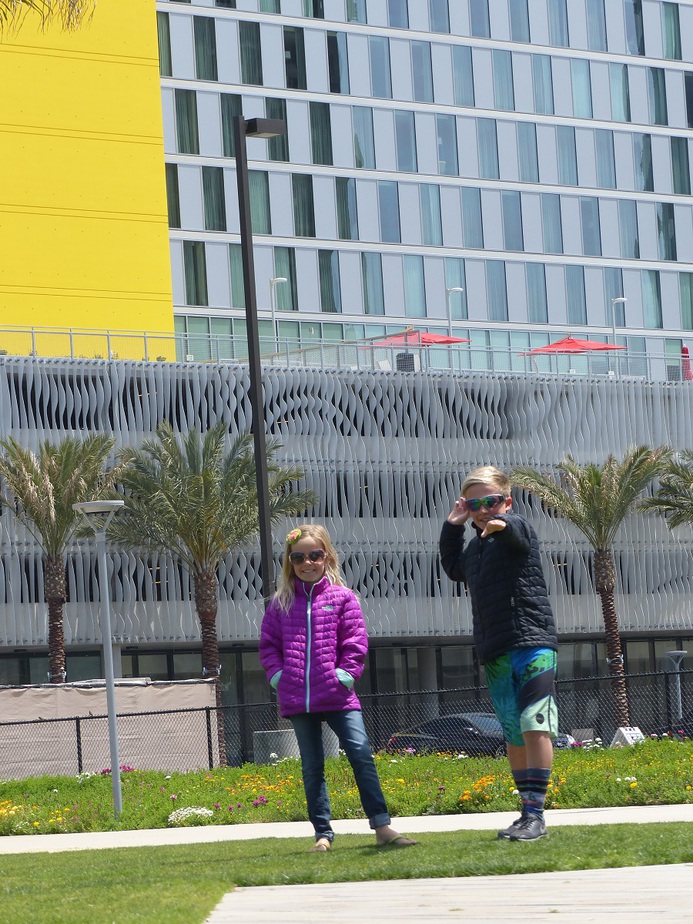 As we walked to the pier for our harbor tour the children stopped to walk the bases, throw the first pitch from home plate and run the bases. At night the bases lit up as a gentle reminder of what once was.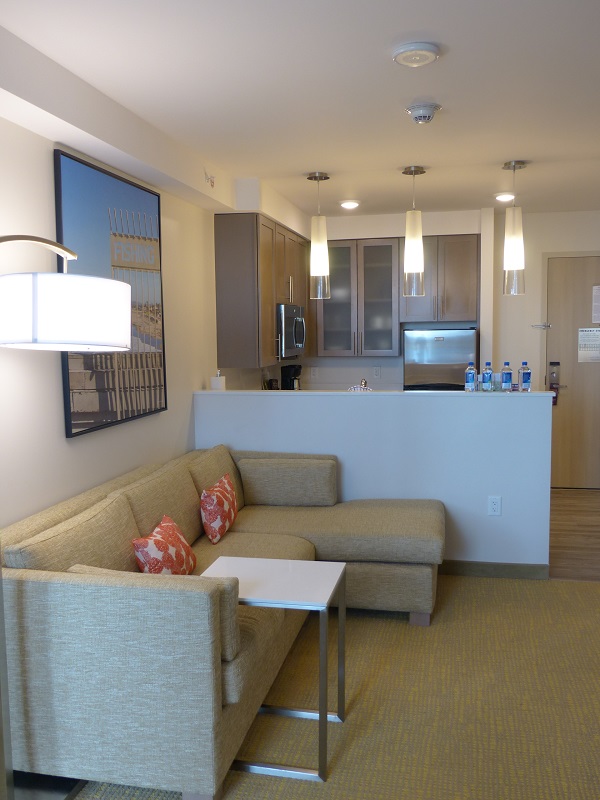 The Rooms
With a modern and sophisticated design the rooms at the Residence Inn San Diego Downtown Bayfront offer all of the space and comfort we have come to love about the brand with a beautiful updated look that left us feeling right at home.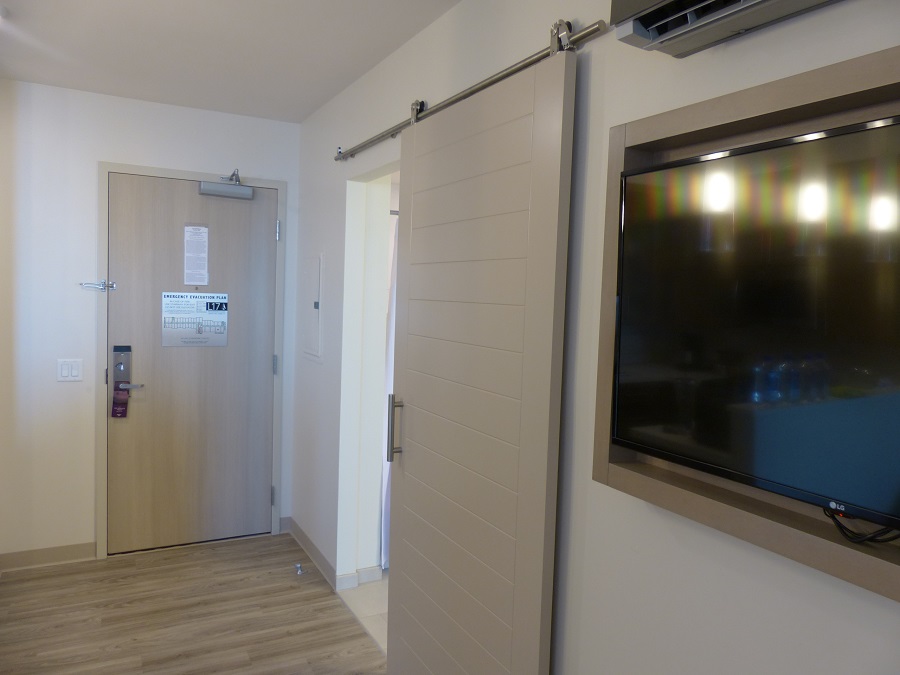 The master bedroom was enhanced with access to the bathroom from the main living area as well as the bedroom.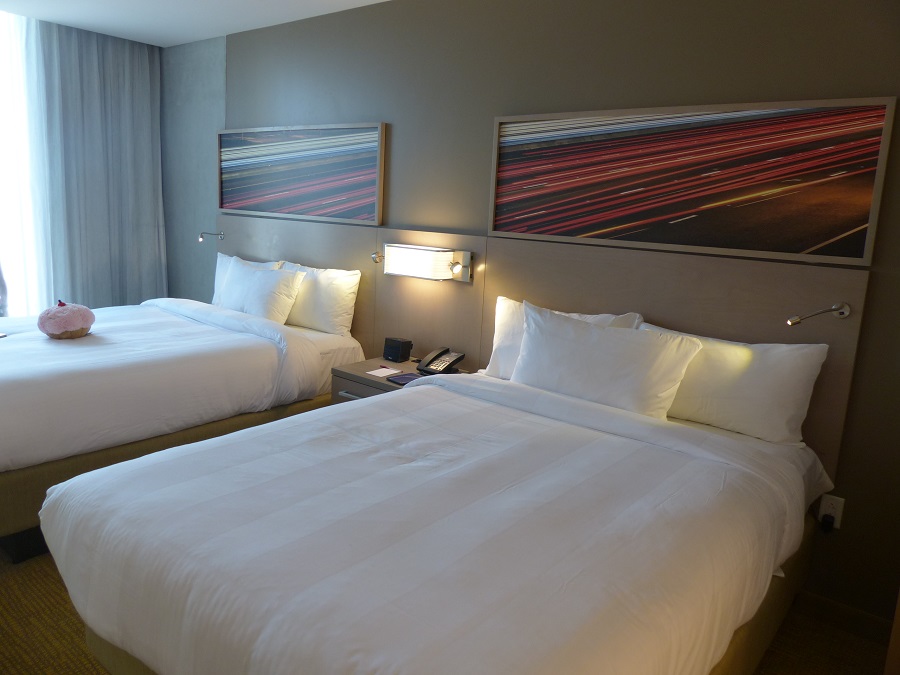 We stayed in a two bedroom suite with space for everyone in our family; the travel benefits that come from not sleeping in the same room as our kids, having our own space and being comfortable are numerous but nothing tops having everyone well rested for fun days of exploring and focused family time.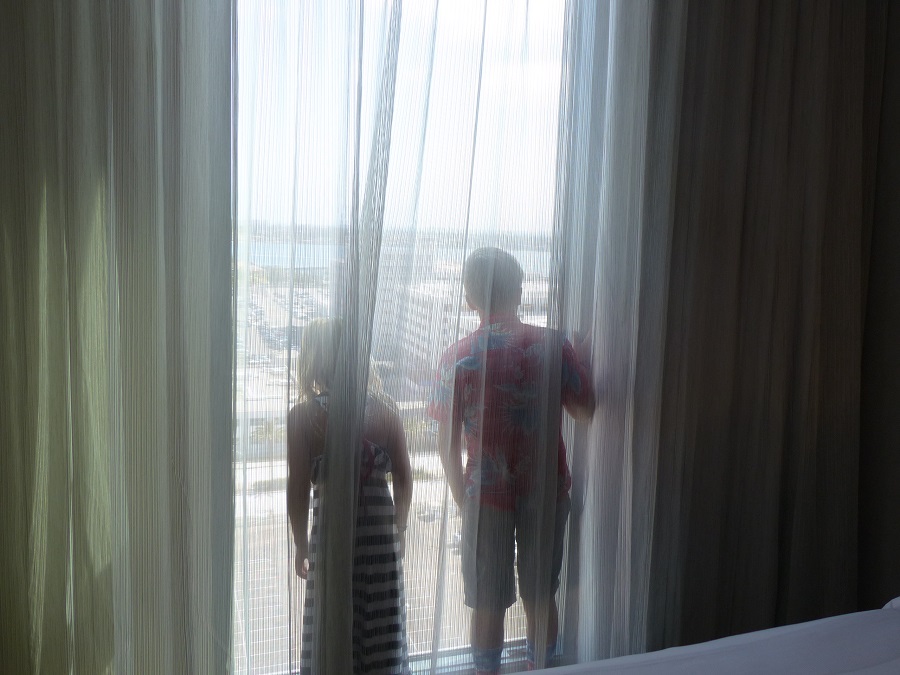 Floor to ceiling windows allowed us to take in the expansive views of the bay, bask in the California sunshine and just enjoy the action of the downtown area.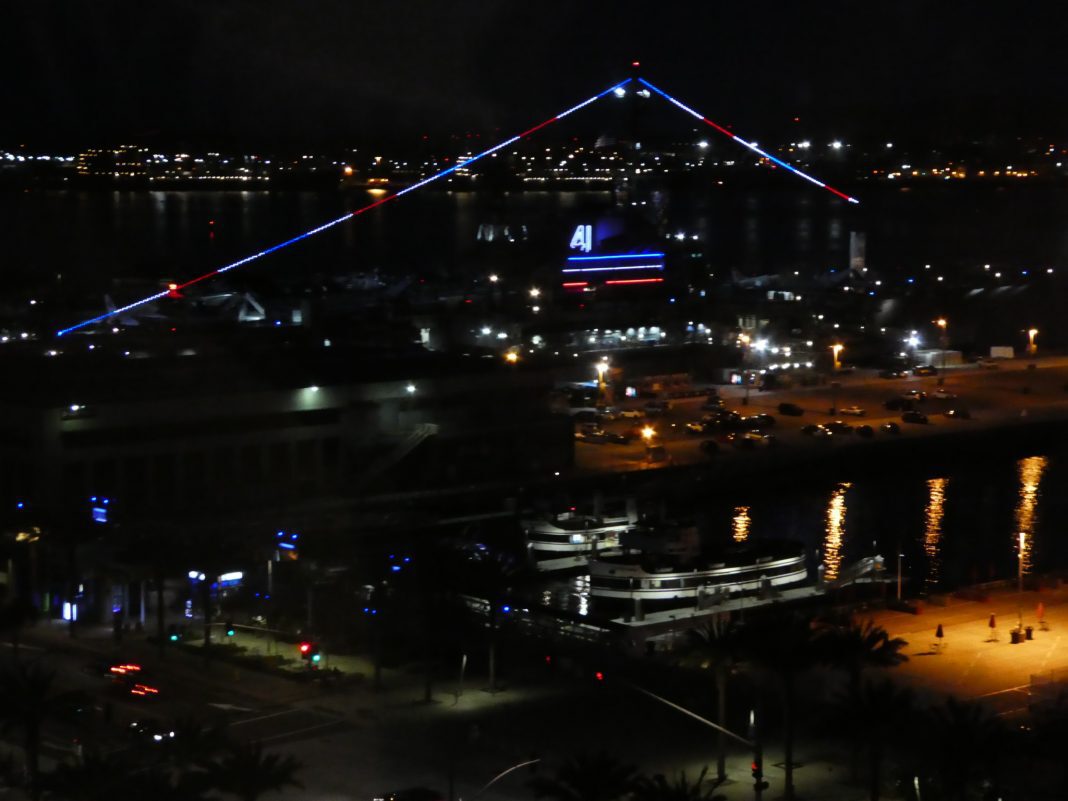 One of my favorite views was that of the USS Midway at night; lit up with red, white and blue, it was peaceful to relax at night with a symbol of our country quietly sitting in the background.
Amenities
The views alone are reason enough to stay at the new Marriott dual hotel properties; many of the rooms have a view and if not, they can be enjoyed from the pool and outdoor areas. Even the meeting rooms and ballroom welcome in the sun and the views from the ballroom are quite perfect for a wedding reception.
The pool is located on the fifth floor with views galore; the kids enjoyed a swim while my husband and I enjoyed a cocktail in the sun.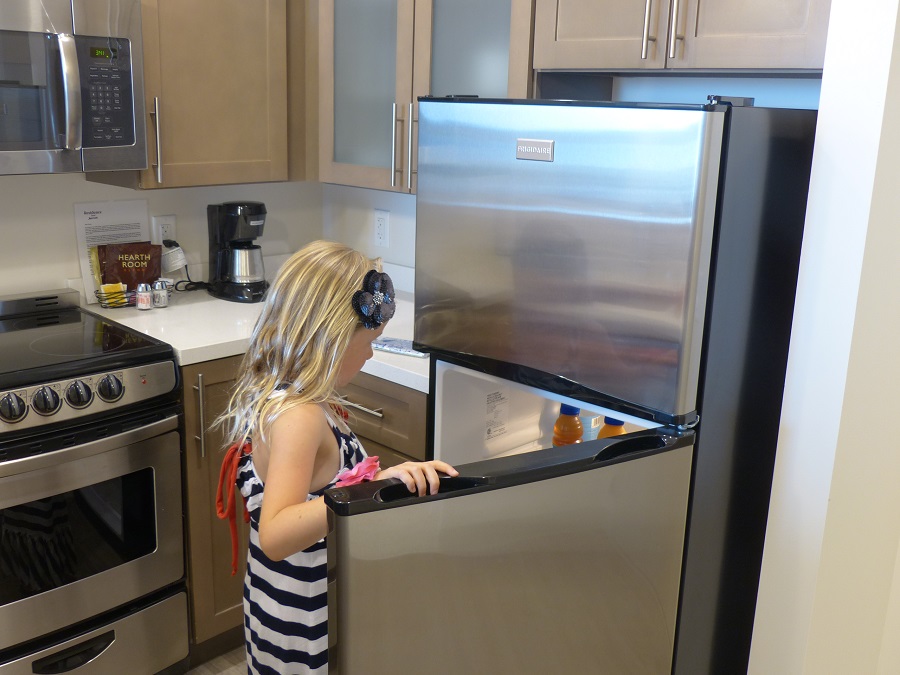 Rooms at the Springhill Suites have small refrigerators and the Residence Inn features our favorite feature when we travel – a full kitchen. We brought snacks, fresh fruit and vegetables and our own happy hour fixings and had everything we needed to make a full meal if we wanted.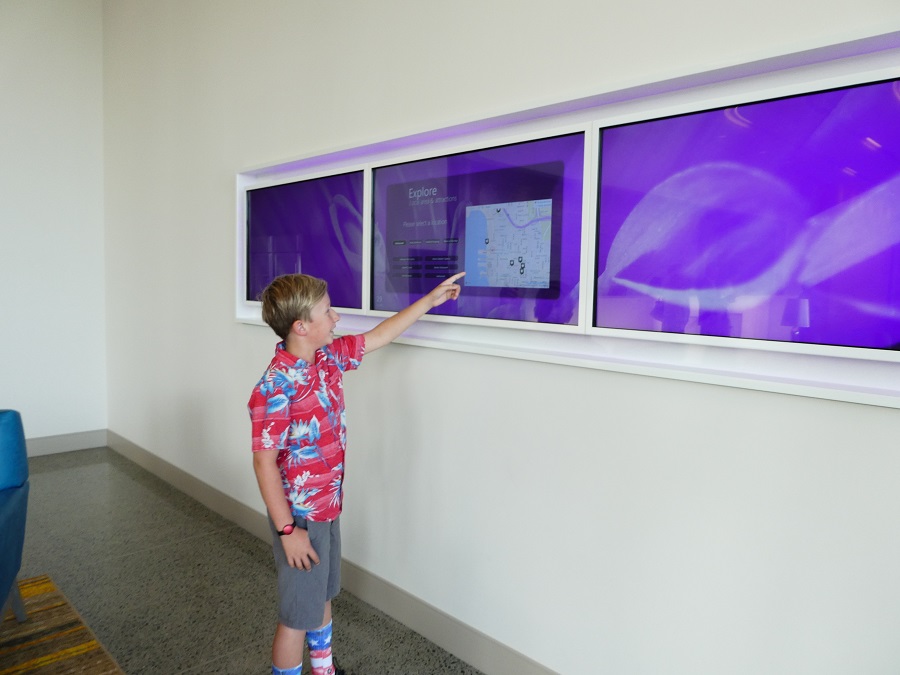 Planning and keeping on top of things is easy downstairs in the lobby area with comfortable couches, a business center, snack area (with wine!), and tech central offering maps, area activities, and more.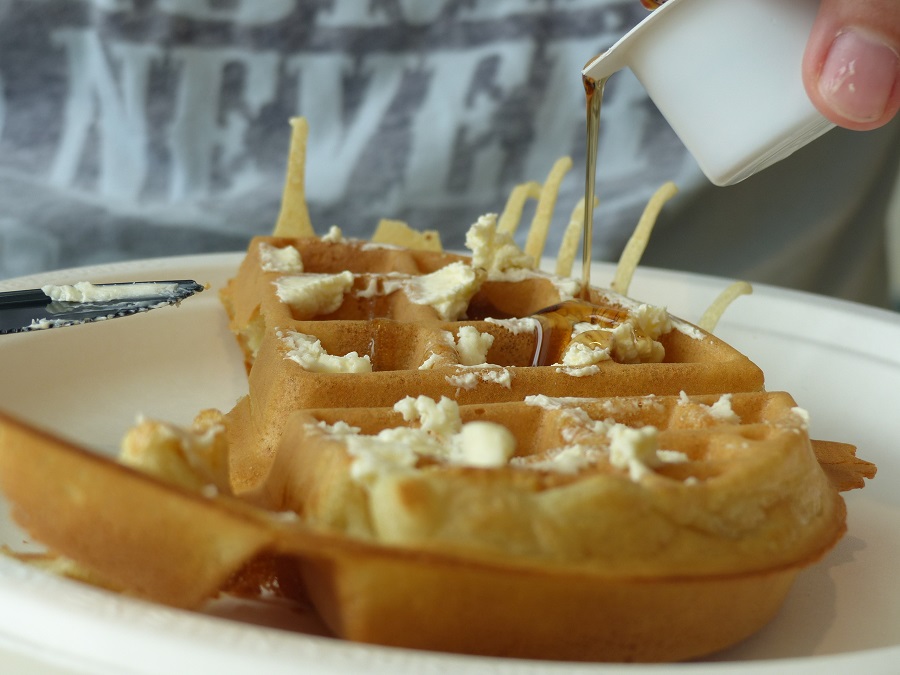 The full warm breakfast we, and all parents, deeply appreciate is included when staying at these hotels. However the open design, glass and windows made the entire experience more enjoyable for everyone in our family.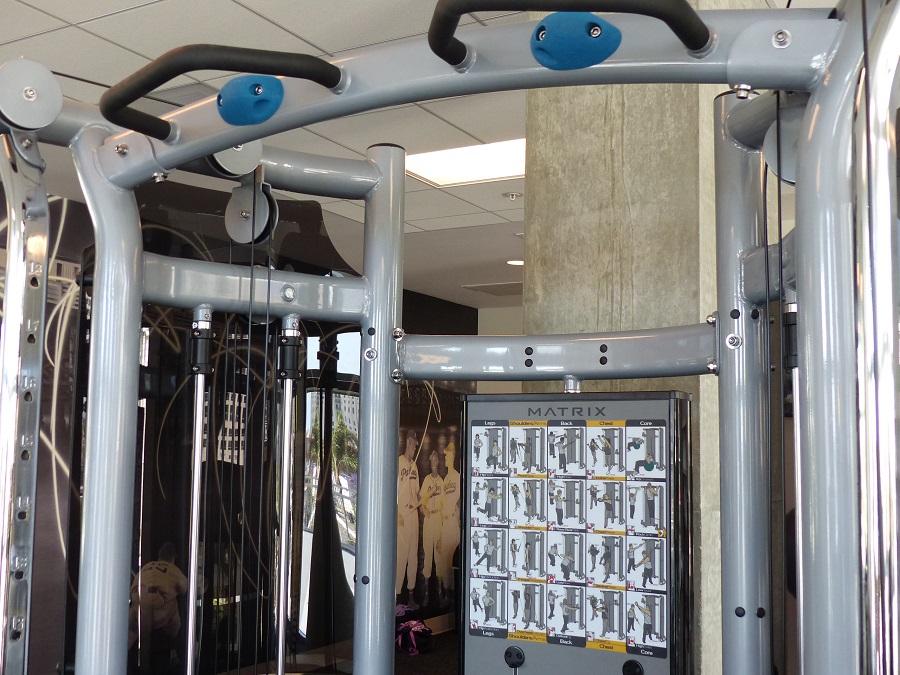 I typically pack my workout shoes when we travel and well, rarely pull them out and use them. Given how much I enjoy my at home workouts, I guess we prefer to walk and get in some exercise while enjoying our destination. If exercise is your thing, the fitness center has everything you could ask for!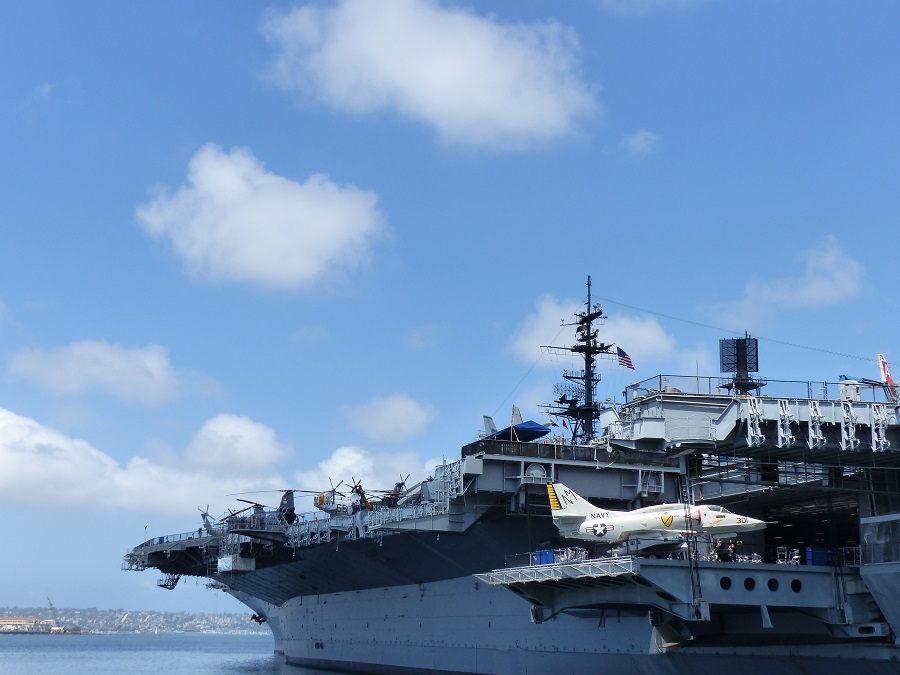 Location
Hands down – perfection. We parked our car when we arrived and didn't see it until we requested it to head home a couple days later. The location of the Residence Inn and Springhill Suites Downtown Bayfront is beyond amazing, especially for families. In less than five minutes we were across the street to board our boat for our harbor tour with Flagship Cruises and Events and just a few minutes more and we could take in the USS Midway.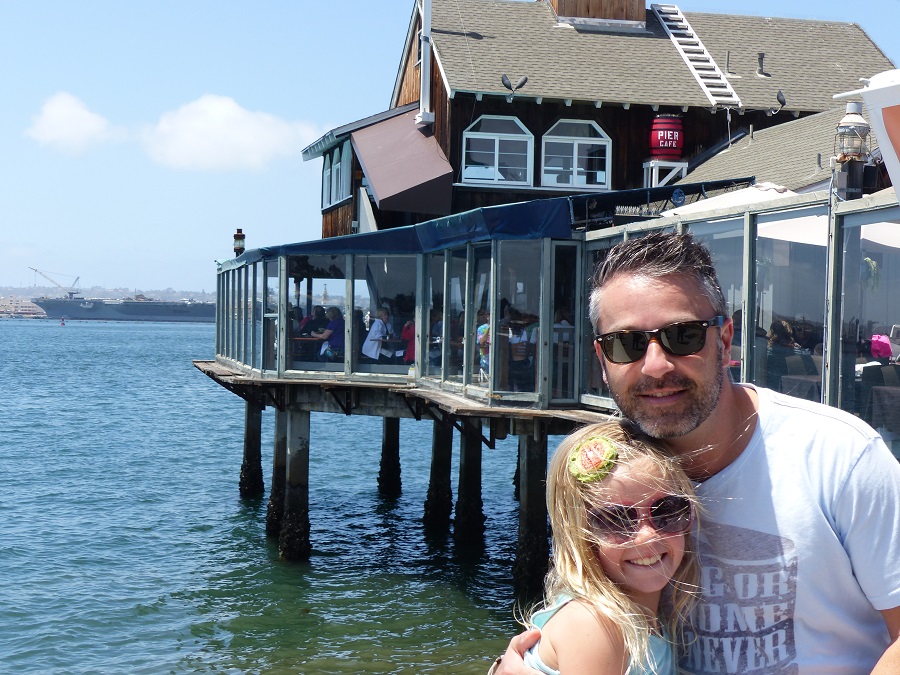 We continued along to take in the sights until we reached Seaport Village for lunch.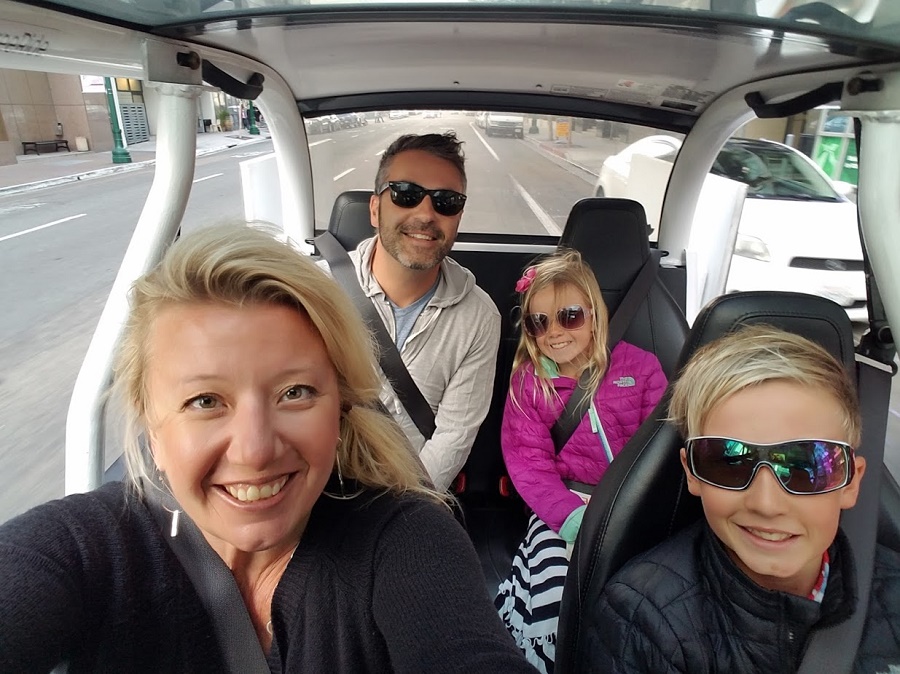 During the evenings we ventured into Little Italy and Gaslamp Quarter for lovely dinners. Instead of walking we took "Free Ride", a GEM car company that will shuttle people around and all we had to do was tip the driver. Not only was it convenient but it was nice to be able to do one nice thing for Mother Earth while traveling…and best of all – it was FUN!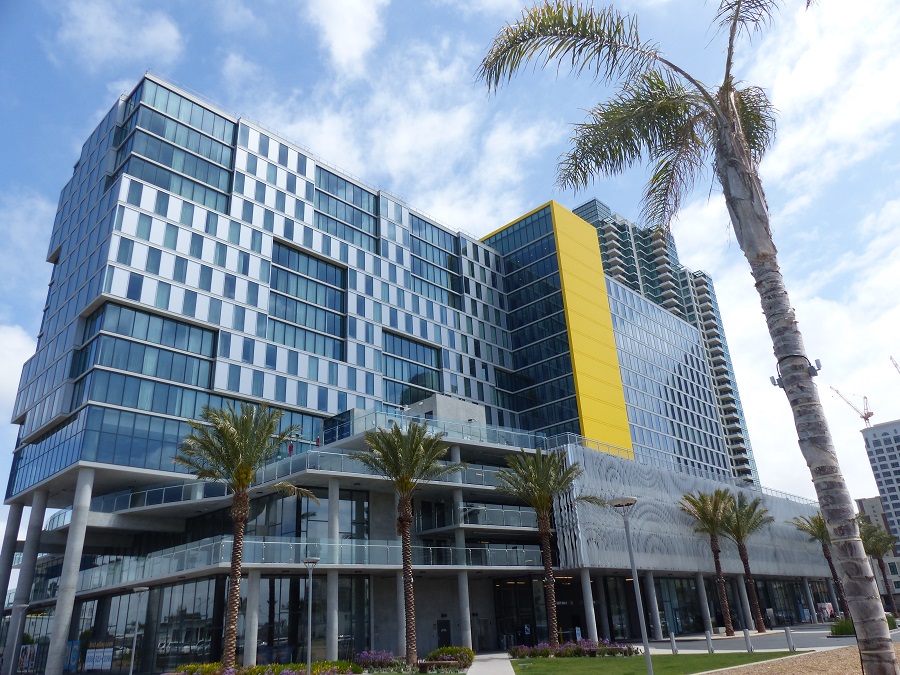 Stay and Play in San Diego
San Diego is home to many gorgeous beaches, the San Diego Zoo, the USS Midway and many more sights and activities. We had an awesome family weekend away exploring the area and the hotel is sharing a special booking package which allows you to choose from multiple participating properties including the brand new downtown Bayfront hotels that we stayed at. The perks of booking with Stay & Play San Diego package are a $100 Visa gift card per stay, complimentary room upgrade, late checkout and complimentary high-speed Wi-Fi.
Having fun in San Diego just got easier!
Save