Kid Friendly Crockpot Freezer Meals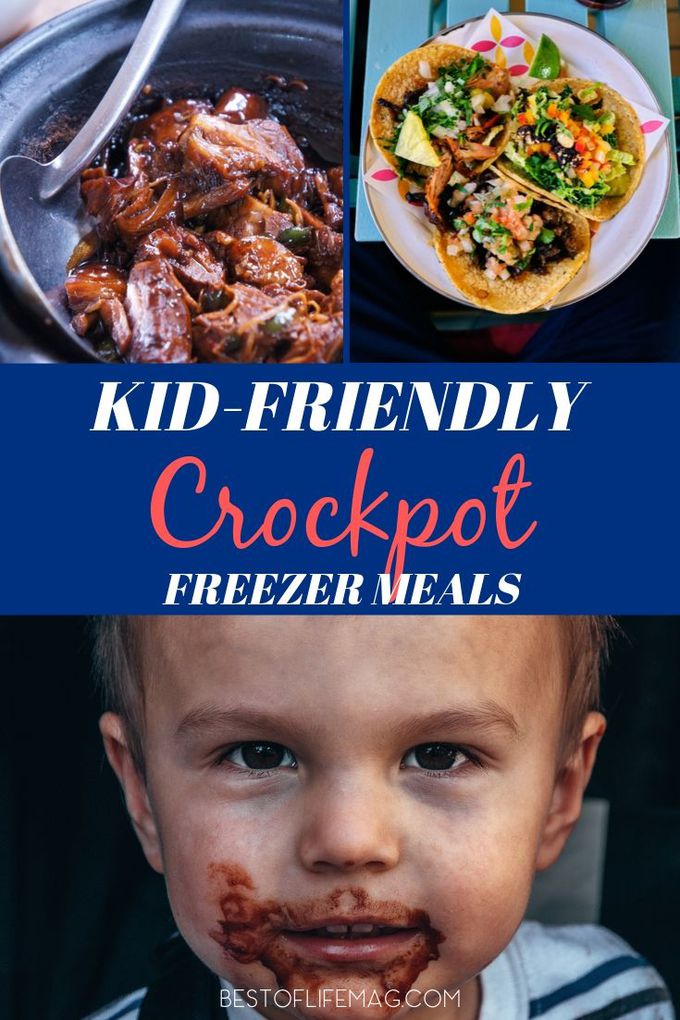 Crockpots make cooking for a family dinner so much easier. There is nothing better than being able to throw all of the ingredients into a crockpot, setting it, and forgetting it. That's because families, especially ones with kids, have busy schedules. There just aren't enough hours in a day between work, homework and life itself. But it does get even easier thanks to kid friendly crockpot freezer meals.
Utilize the tools we have to make life easier like kid friendly crockpot freezer meals that are delicious and very easy to make.
What is a freezer meal? More importantly, what is a crockpot freezer meal? A freezer meal is a meal that can be frozen in a freezer bag. But these meals aren't already cooked when they go into the freezer.
Instead, you will be freezing the majority of the ingredients together, in one freezer bag. Think of it as a frozen dinner that you freeze yourself. You can take the freezer bag out when it is time to cook, thaw it out, and throw it all in the crockpot to cook.
This means you will need freezer bags to make any of these recipes work properly. But you could also use things like a freezer bag stand to help you fill them. You could even use crockpot liners to help keep things as clean as possible.
This method saves even more time as you already did the prep work a few days ago. There are even kid friendly crockpot freezer meals that work the same way. The only difference is that kids will actually enjoy these recipes as well.
Shredded BBQ Pork | Family Freezer
Hawaiian Chicken | Mommy's Fabulous Finds
Tater Tot Casserole | Side-Tracked Sarah
Chicken Fajitas | Sweet Peas and Saffron
No-Guilt Beefy Nachos | Taste of Home
Most of these recipes come with freezer instructions to help you along. However, you may need to do the freezer prep without exact instructions. The idea is simple, take whatever ingredients you can and freeze them in a freezer bag. Then, empty the bag into your crockpot and cook. That is how kid friendly crockpot freezer meals work.
Chicken Tortilla Soup | A Sweet Pea Chef
White Bean Ranch Chicken Chili | No Biggie
Beef Stew | Live Simply
Boneless Country-Style BBQ Ribs | Happy Money Saver
Meatloaf | Stockpiling Moms
Of course, a paste recipe would not require you to cook and freeze the pasta noodles. Instead, you would just freeze the sauce ingredients. The freezer instructions are that simple in every recipe. That is another reason why these recipes work so well as freezer recipes.
Sloppy Joes | Crystal & Co.
Shredded Chicken | Gimme Some Oven
Chicken Chili Mac | Flour on My Face
Pizza Soup with Croutons | Once a Month Meals
Western Beef Casserole | Crockpot Ladies
More Crockpot Recipes
Beanless Crockpot Chili Recipe | Beanless Turkey Chili
Easy Crockpot BBQ Ribs Recipe | Slow Cooker BBQ Ribs
Ketogenic Crockpot Bacon and Chicken Recipe | Low Carb Chicken and Bacon
Crockpot Beef Sandwiches | Shredded Beef Recipe