This site contains affiliate links. Please read our Policies for information.
There's real innovation that aims to not only make cooking easier but help us eat healthier. The NutriGrill is a product that got its start on Indiegogo and actually improves our lives both in and out of the kitchen. Using technology and plenty of NutriGrill recipe ideas, the way you barbecue, steam, stir-fry, and just enjoy a meal has been improved.

NutriGrill recipe ideas can help you utilize your fantastic new kitchen appliance to live a healthier lifestyle.
Aside from the actual NutriGrill itself you can benefit from having a few other items on hand. The NutriGrill works by making regular recipes a bit more healthy.
You can really jumpstart the process by cooking healthy recipes on the NutriGirll. I like to make a stir-fry with fresh veggies. Another great idea is making chicken breasts with a variety of seasoning options. The lean protein is great and goes with any type of diet plan!
A Nutrigrill is a kitchen appliance that was created by Canadian inventors Phil Poetker and Barry Belog. During their travels, they noticed that meals abroad often included more vegetable-heavy dishes.
The problem was getting people to cook healthier meals in a convenient way. To eat as they do in other countries, you would need to use a grill or a wok for your meats, a steamer for your veggies, and a way to saute, boil or fry. The NutriGrill does all of the above and more.
After you get a NutriGrill, all you'll need is some of the best NutriGrill recipe ideas to get started.
Beef Nakataki | NutriGrill
Sweet and Sour Pork | NutriGrill
Ribs with Mixed Greens | NutriGrill
Health Benefits of Cooking with the NutriGrill
When it comes to eating healthy, convenience is usually thrown out the window. It's just easier to go out and get fast food or order take-out which is far less healthy than fresh organic ingredients.
NutriGrill helps solve that problem by adding simplicity to cooking a healthy meal at home. The center of the NutriGrill is dedicated to grilling meats of all kinds at the right temperature.
Surrounding the grill in the center is a wok-like well that lets you cook a variety of veggies at the same time as the meat. It's a one-stop shop for your entire meal.
Sizzling Breakfast Skillet | NutriGrill
Pasta Primavera | NutriGrill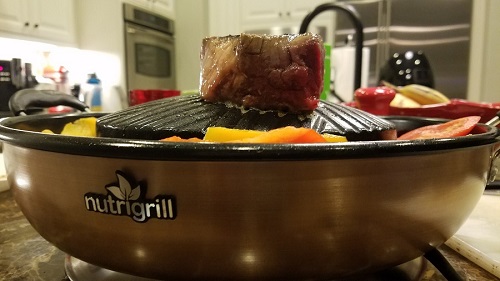 NutriGrill Basics
The NutriGrill makes eating healthy convenient, but you still need to use it properly to get the best results. The basics of the NutriGrill include picking a protein, vegetables, a broth to get started.
Keep in mind that the NutriGrill was designed with every aspect serving a purpose. The non-stick ceramic grill top in the center has flavor channels that drain into the 1-liter moat.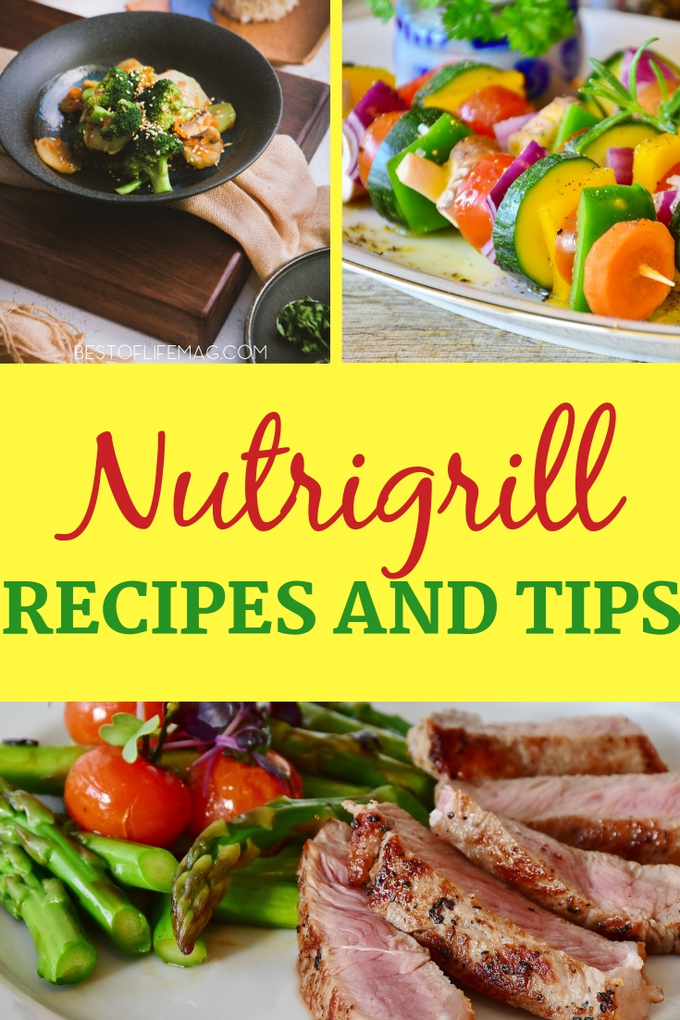 What those flavor channels do is allow the flavors from the protein to infuse with different vegetables you have below. The result is healthy meals cooked indoors that are filled with flavor!
Save