3 Simple Crock Pot Recipes with 3 Ingredients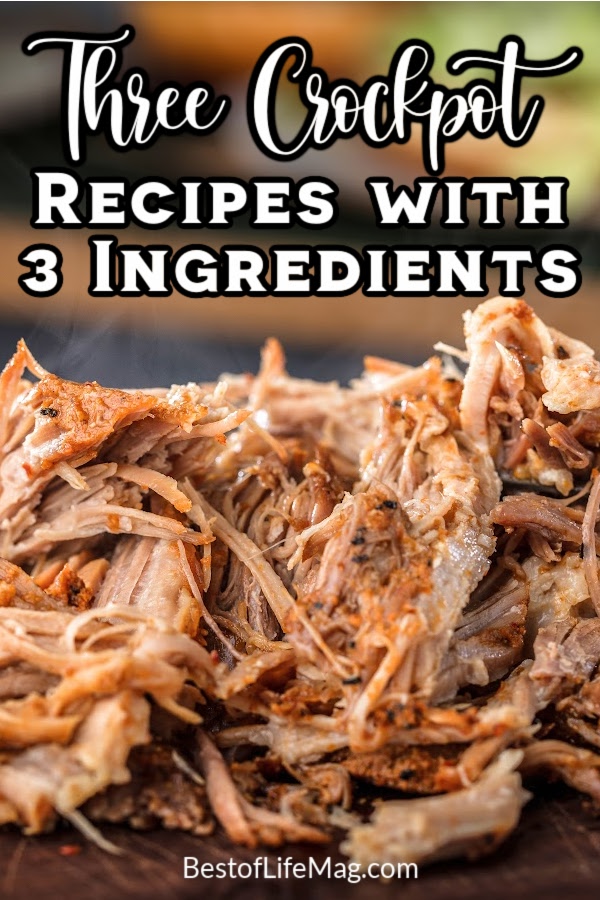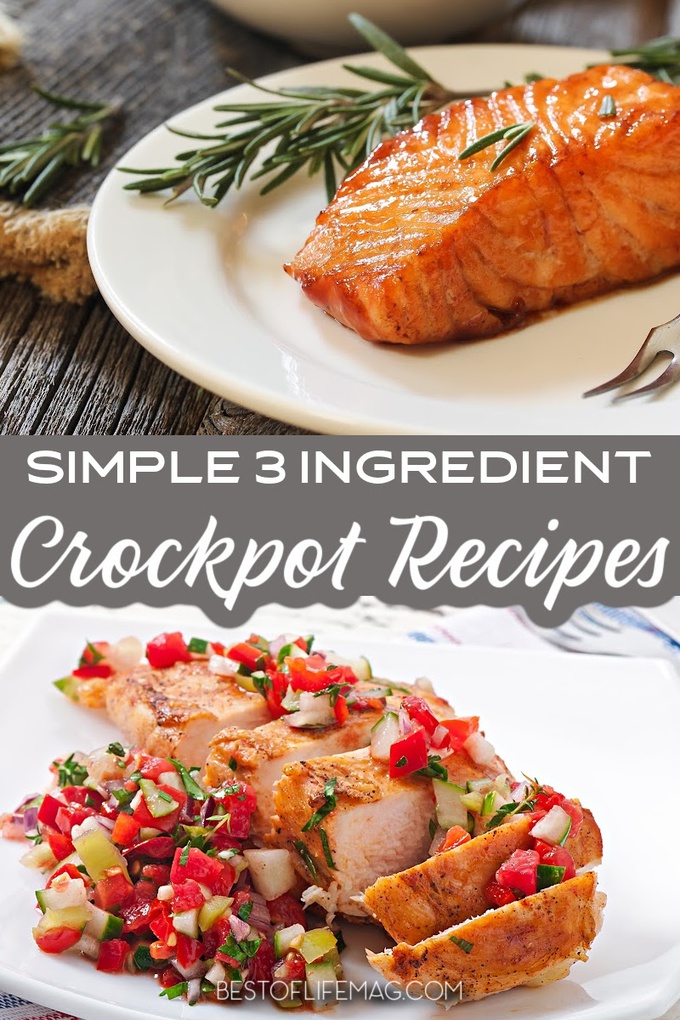 Crock-pot recipes are perfect for busy families and individuals who want to eat amazing meals despite their busy lifestyle. These three simple crock pot recipes with three ingredients make for a wonderful dinner entrée and require little to no prep making them a go to for our weekly menu.
You can't go wrong with a crockpot. I have a collection that ranges from large ones, small ones, even tiny ones for dipping. You can get casserole crockpots that are great for things like shepard's pie and even lasagna! It's amazing what can be done with a crockpot trio for parties and more!
I would put all the ingredients in the crock-pot first thing in the morning on low heat and the entrée is ready when I get home from work or sports for a nice dinner with my family. Teriyaki Salmon, Chicken Mexicali, and Pulled Pork are all simple crock pot recipes that make life easier.
Each of these simple crock pot recipes use three ingredients or less making them the PERFECT choice for those busy nights during the week when time, and patience, is short. Toss them in the crock pot before you head out for the day, and they are ready when you return.
Simple Crock Pot Recipes with 3 Ingredients
Chicken Mexicali Simple Crock Pot Recipe
You can easily adapt this recipe to suit your tastes and what you have on hand. We used half salsa and a jar of Trader Joe's tomato less salsa for a pop of color and flavor. This recipe is easy and doesn't require much at all. That is the beauty of these recipes, anyone can make them.
Ingredients
4 Large Chicken Breasts (Thawed)
1 bottle Pace Salsa Picante- Medium
Directions
Place all items in crock-pot on low heat and cook for 8 hours.
Serve with either rice or corn tortilla. This also pairs perfectly with our easy quesadilla recipes!
Pulled Pork Simple Crock Pot Recipe
This Pulled Pork Recipe for the crock pot is a favorite for many. It's easy to understand why since pulled pork is so amazing. Many people think it takes a lot of effort to make and that's true. But there is a recipe that makes it simple, this one.
Ingredients
1 Medium Onion (sliced)
3lb Pork Shoulder Cut
1 bottle Sweet Baby Ray barbeque sauce
Directions
Place all pulled pork recipe ingredients in a crock-pot on low heat for 8 hours.
Serve on a dinner roll or in a wrap.
Teriyaki Salmon Simple Crock Pot Recipe
And finally, this Teriyaki Salmon Recipe for the crock pot tastes so delicious, is one of our favorite crock pot recipes and is something you don't find in a crock pot every day. It is hard to mess this dish up since your crockpot is doing most of the work. Use this recipe for date night or for any night of the week.
Ingredients
1.5lb Salmon
1/4 cup Trader Joe's Soyaki Sauce
2 tablespoons chopped scallions or green onion
Directions
Place all Teriyaki Salmon recipe ingredients in the crock pot on low heat for 8 hours.
Serve with white or brown rice.
More Crockpot Recipes
Easy Crockpot Taco Soup Recipe | Not all crockpot recipes are simple but that doesn't mean they aren't easy. Add a few more ingredients to your shopping list so you can try this amazing taco soup.
Crockpot Pork Chops and Gravy Recipe | You can make salmon now all on your own, let's try pork chops next. This recipe is an easy one that is filled with flavor.
Crockpot Black Bean Dip Recipe | Black bean dip is not exactly a meal, but it is a party staple. Don't bother buying that bean dip in a can when oyu can make this recipe at home for a fresher, more tasty dip.
Low Carb Beef Stew | Remember those days as kids when we would make pretend dinners? They always ended up being stew of some kind. Now, it is time to make a more adult, real-world version of stew that is delicious and simple to make.
Crockpot Chicken and Bacon Sandwiches | Did you know you can make sandwiches in a crockpot? Well, you can make the filling for the sandwiches, and it is going to be more amazing than you may realize until that first bite.