Ketogenic Diet Food List | What Can you Eat on a Keto Diet?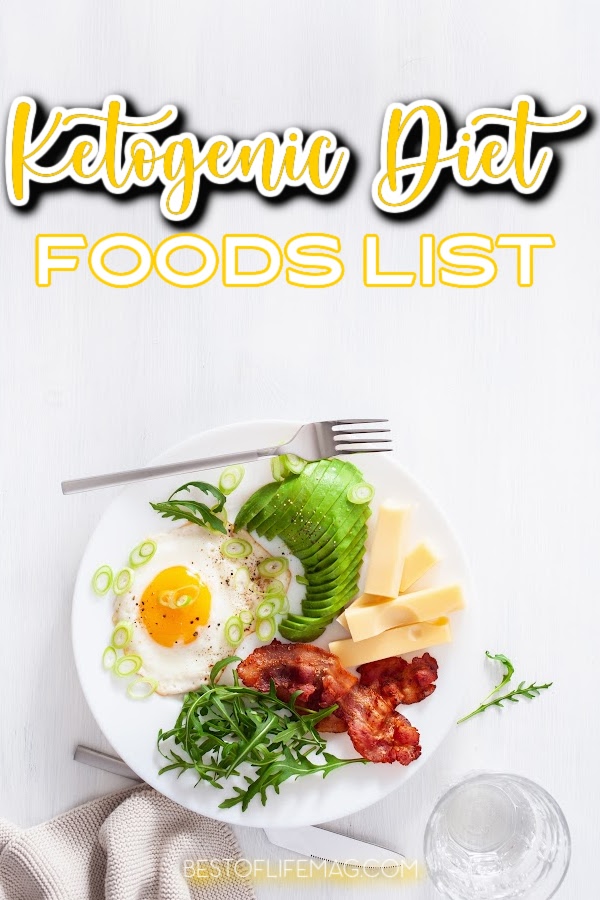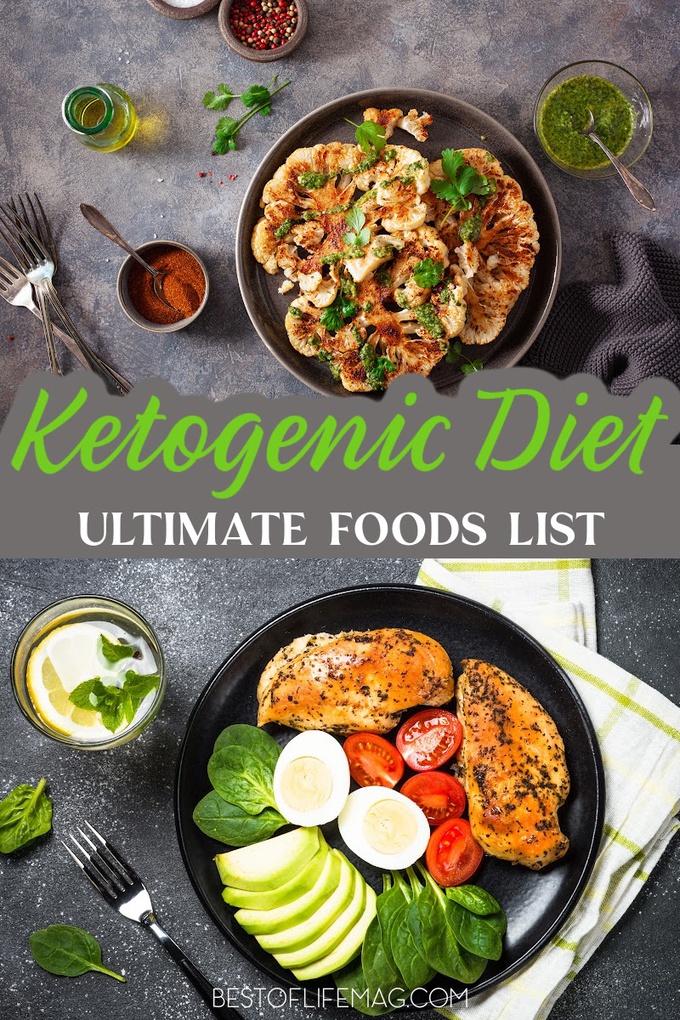 So you have chosen to go, Keto, now what? Knowing ahead of time what you can and cannot eat will help you prepare, shop, and meal prep for success. You can even take this ketogenic diet foods list by food type to the grocery store to keep you on track and in ketosis.
Use this ketogenic diet food list to stay aware of what to eat on a keto diet. This keto food list is great to use while grocery shopping too! You could walk into any grocery store and immediately feel overwhelmed when you are trying to stick to a keto diet.
There are so many foods to choose from, so many different aisles to wander. But knowing exactly what fits into your keto diet isn't as simple as seeing the right sign above an aisle. You need to know for yourself what you can eat on a keto diet and what you need to avoid.
That is where a ketogenic diet foods list comes in handy. Want an easy mobile-friendly version to keep with you for easy grocery shopping? You can save this ebook to your phone and take it with you to the store to make sure the items you pick fit within your diet.
Get our Keto Food Shopping List ebook for only $2.99!
You could also just study the list and try and keep it in mind the next time you go grocery shopping. Either way, this list is an important tool to lose weight through healthy nutrition.
Ketogenic Diet Food List | Fats & Oils
Fats will be the largest part of your caloric intake when you are on a Keto diet. They can be combined and added to your meals in numerous ways. Sauces, dressings, and toppings as simple as the right kind of butter will help you get your fat intake and keep you in ketosis.
There are several different types of fats and knowing which ones to eat is crucial. Typically on the Keto diet, organic and grass-fed sources of fat and protein are preferable.
Fats to eat:
Saturated Fats: butter, ghee, coconut oil, and lard are all a YES on Keto.
Monounsaturated Fats: Also a YES. Examples are olive, avocado, and macadamia nut oils.
MCT Oil: YES. MCT stands for medium-chain triglycerides, as opposed to long-chain triglycerides (LCT), which are found in most foods. Medium-chain triglycerides oil is highly recommended on Keto. It is odorless and translucent liquid at room temperature, occurring naturally in coconut oil and some other foods.
It can also be purchased online and in health food stores.
Polyunsaturated Fats: You will want only natural sources of this type of fat, for example, fatty fish. Processed fats like those you find in margarine tubs should not be consumed. Fats to avoid are Trans Fats commonly found in processed foods and Hydrogenated Oils which are used to improve shelf life and are found in things like margarine.
Here are some excellent sources of fats and oils:
Fatty Fish
Animal Fat (non-hydrogenated)
Lard
Tallow
Avocados
Egg Yolks
Macadamia/Brazil Nuts
Butter/Ghee
Mayonnaise
Coconut Butter
Cocoa Butter
Olive Oil
Coconut Oil
Avocado Oil
Macadamia Oil
MCT Oil – can be purchased online and at health food stores

Protein
Protein intake is important when it comes to keto. Too much and you can lower your ketone levels. Too little and you can lose lean muscle. Generally, it's recommended to keep your protein intake between 0.6g and 0.8g of protein per pound of lean body mass.
Grass-fed and organic proteins are preferred partly because they tend to be lower in saturated fat. Cuts of meat that are fatty are higher in saturated fat are more detrimental or overall health and should be consumed in very small amounts or avoided. Avoid farmed fish and animals fed with hormones and antibiotics.
Here are some good sources of protein:
Fish – preferably wild-caught.
Shellfish
Whole Eggs
Beef
Pork
Poultry
Ketogenic Diet Foods List | Vegetables
All vegetables are acceptable on the Keto, however, the sweeter the vegetable is, the higher the sugar (carb) content. The more sugar it has in it. You will want to limit the number of veggies like carrots, squash onions, and starchy vegetables you consume.
As a general rule, stick to vegetables that grow above ground and lean toward the leafy green kind. Fresh or frozen doesn't matter, in fact, frozen can be one way to keep your grocery spending down while on Keto.
Some good vegetable sources are:
Broccoli
Asparagus
Mushrooms
Zucchini
Spinach
Avocado
Cauliflower

Dairy
Most dairy is fine to eat, but make sure to buy full-fat dairy items. Dairy products labeled low fat and nonfat are generally loaded with sugar and starch.
Full-fat versions of these are good choices:
Yogurt
Cottage cheese
Sour cream
Cheese

Nuts and Seeds
In moderation, nuts and seeds can provide good fat and some protein with little carb content. Look for less than 3 grams of net carbs.
Good choices are:
Flaxseed
Pecans
Brazil nuts
Macadamia nuts
Chia seeds
Walnuts
Hazelnuts
Ketogenic Diet Foods List | Beverages
Keep things simple and stick to mostly water. Coffee and tea are OK as well. If you have to have some type of soft drink, stick to seltzer, tonic, or drinks flavored with stevia instead of sugar and limit your intake.
Alcohol
Saving the most important question for last, can you drink alcohol on Keto? There's not an easy answer. When you drink alcohol your body will process it quickly which will take away from ketone production. In a nutshell, drinking alcohol slows ketone production.
Also, many popular alcohol choices such as beer and wine are loaded with carbs which will quickly put out of ketosis. If you must have a cocktail, try to limit yourself to one of the following:
Tequila
Whiskey, scotch, or bourbon
Vodka: Not flavored options
Rum
Brandy
Gin
Bottom line is that a ketogenic diet can be used to achieve weight loss and other health goals. It can include a wide variety of foods as long as you are knowledgeable and plan ahead. To get all the benefits of a keto diet, stay within your daily carb allowance, and stick to the allowable foods on a regular basis.
More Keto Lifestyle
Easy Keto Brownie Recipes to Curb a Sweet Tooth | Brownies are not on a lot of food lists in the diet community. However, you will find chocolate in many forms in a keto diet.
Instant Pot Keto Chili – Without Beans + Dairy Free | You can also enjoy chili so long as you make it with the right ingredients.
Keto Breakfast Muffins | Ketogenic Muffins Breakfast Recipe | Breakfast muffins? Sure, you are still within your diet plan.
21 Tasty Ketogenic Chicken Strips Recipes | Keto Chicken Tenders | Chicken strips can fit into a lot of different diets but they just taste better low carb.
Slow Cooker Ground Beef Keto Recipes | Ground beef is also a common diet food but can be made so many different ways in a low carb diet plan.