Crockpot Lasagna Recipes with Spinach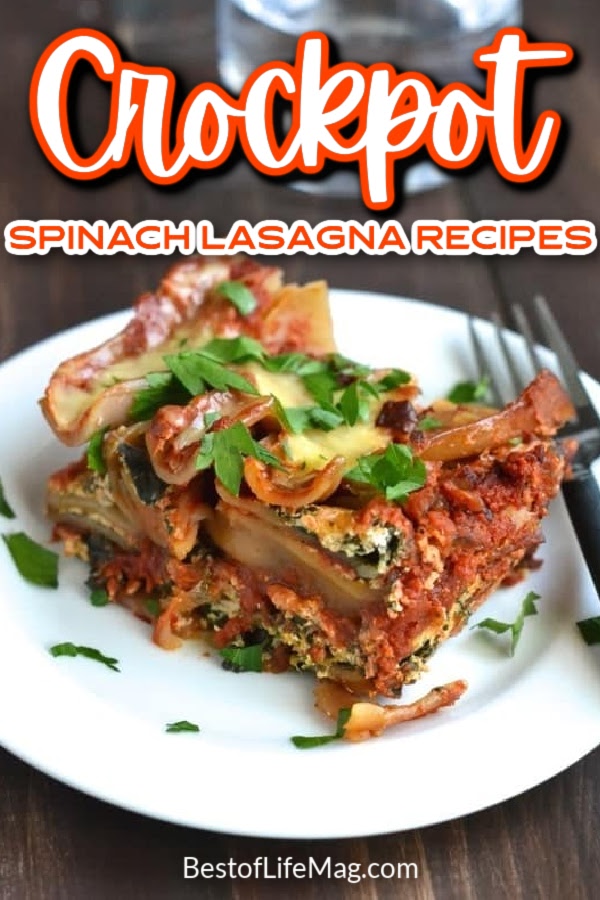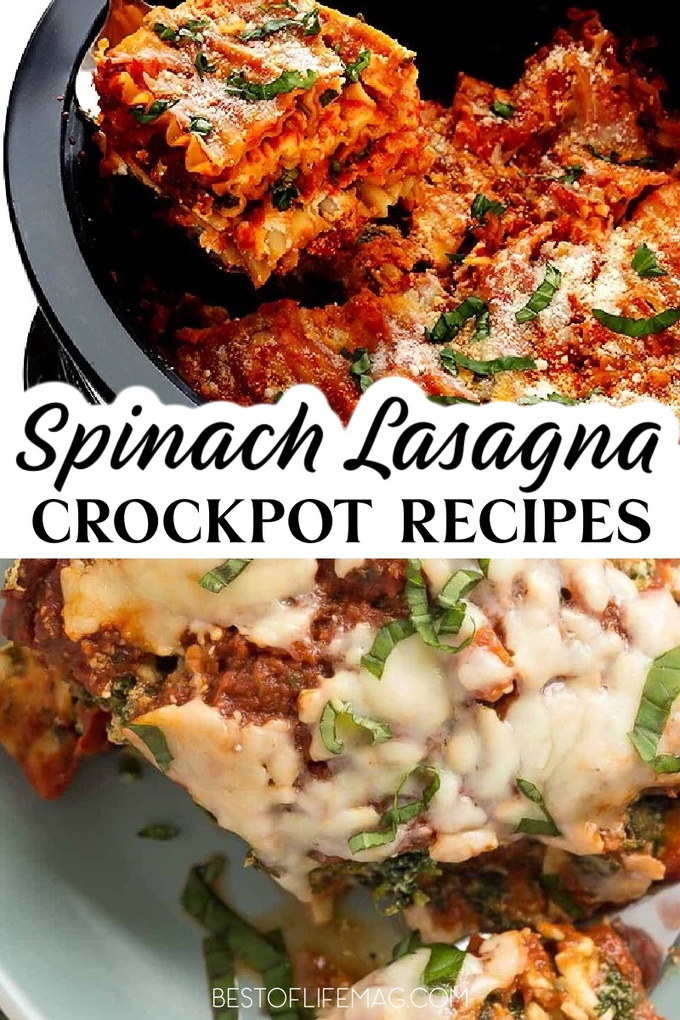 Comfort food is usually heavier foods that are delicious and give us some form of comfort. You will find that comfort food is defined by the sugar or carb level in the food. Lasagna is comfort food. It gets even more comfortable when you use crockpot lasagna recipes with spinach. Now THAT is comforting.
There are some foods that we eat mostly during specific times of the year. Pumpkin spice anything belongs in fall, popsicles belong in summer, and comfort food belongs in any time of year. Adding vegetables to lasagna recipes adds a refreshing twist on a classic recipe.
Crockpot lasagna recipes with spinach are easy to make and the spinach adds great flavor! Frozen foods are meant to help save us time on a meal for ourselves or for the family. But even a frozen lasagna takes a lot of time to make. You could spend hours waiting for your lasagna to cook.
Worst of all, have you tried reheating leftover lasagna before? Even that takes time. Each layer of the lasagna needs to be heated through and that takes more time than you may have. Then you have to worry about overcooking the top or bottom layers of the lasagna.
But you could really save some time if you make crockpot lasagna recipes with spinach.
Crockpot Lasagna Recipes with Spinach
The recipe itself may take hours and hours but don't forget the golden rule of crockpots. Set it and forget it. You can easily build the lasagna in a crockpot in the morning, let it cook while you do other things, and then enjoy a thoroughly heated lasagna when dinner time comes around.
Slow Cooker Spinach Ricotta Lasagna | Kristine's Kitchen Blog
Spinach and Feta Lasagna | Diethood
Veggie Lasagna | Mostly Homemade Mom
Spinach and Chicken Lasagna | A Day in the Life on the Farm
Chicken Lasagna | Crockpot Ladies
Building Lasagna Recipes
There is a basic formula that is used when building a lasagna. There should be a total of two layers of each food in a lasagna. You would want to start with the pasta sheets, then meat then the cheese and vegetables. After the veggies, put another layer of noodle sheets and start over again.
The only layer that will get more is pasta. You will want to finish with a pasta sheet top layer, sauce, and cheese.
Ricotta Lasagna | The Recipe Rebel
Skinny Spinach Lasagna | Betty Crocker
Mushroom Spinach Lasagna | Ready, Set, Eat
Slow Cooker Lasagna | Gimme Some Oven
Super Easy Lasagna | Pinch of Yum
Crockpot Lasagna Recipes with Spinach
Of course, this is the basic way to build the lasagna. You really could build your dish any way you'd like. These crockpot lasagna recipes with spinach will have their own methods of layering. But feel free to customize each recipe as you want.
Not every lasagna needs to fit a mold, that's the beauty of making your own dish. You get to decide. We all can add more cheese if we like cheese, add more meat if we love meat, leave the meat out if you prefer to eat a bit healthier. You can do whatever you want with your lasagna.
Simple Lasagna | Diabetes Food Hub
Cheesy Spinach Lasagna | Skinny Ms.
Healthy Spinach and Ricotta Lasagna | Not Enough Cinnamon
Spinach Lasagna Roll-Ups | Epicurious
Sausage and Spinach Lasagna | The Kitchn
There are enough crockpot lasagna recipes with spinach here to feed you for more than a month. Don't forget the leftovers. However, even reheating lasagna needs special directions. For example, ditch the microwave, you will need an oven to help you reheat a slice of lasagna.
First, place the lasagna on oven safe surface and cover with foil. Then, you will need to cook it at 350 degrees for about 40 minutes. That's right, even reheating a single slice of lasagna takes almost an hour. That's why it is better to make your lasagna from scratch in a crockpot.
More Crockpot Recipes
21 Crockpot Recipes for Kids | Slow Cooker Recipes for Kids | Crockpot cooking is very easy for adults, so easy, in fact, that kids can get in on the fun too!
Dairy & Gluten Free Slow Cooker Hawaiian Chicken Recipe | Hawaiian chicken is a great way to take a trip the islands without even leaving your kitchen.
Healthy Slow Cooker Recipes with Chicken | Crockpots can make a big difference in a healthy diet. Especially since a lot of healthy recipes take a lot of time to cook.
Slow Cooker Ground Beef Keto Recipes | Ground beef is a great keto food that can be made many different ways, including a crockpot.
Crockpot Chicken Taco Recipes | Slow Cooker Chicken Tacos | You may not start a slow cooker and pull completed tacos out of the pot. But the fillings you make in a crockpot would be perfect for building tacos.