This site contains affiliate links. Please read our Policies for information.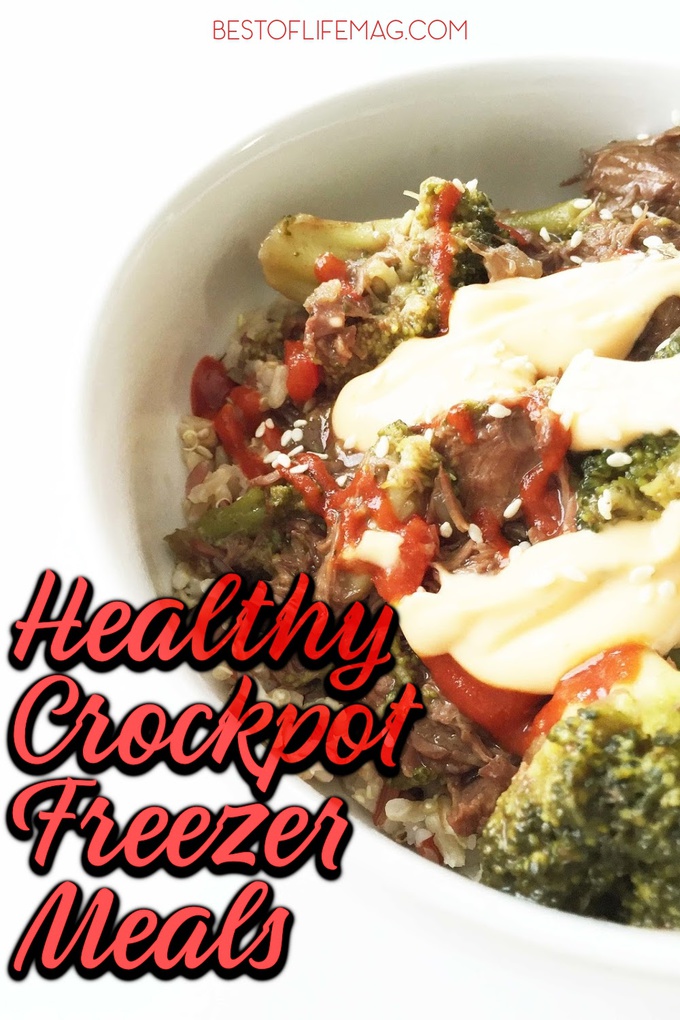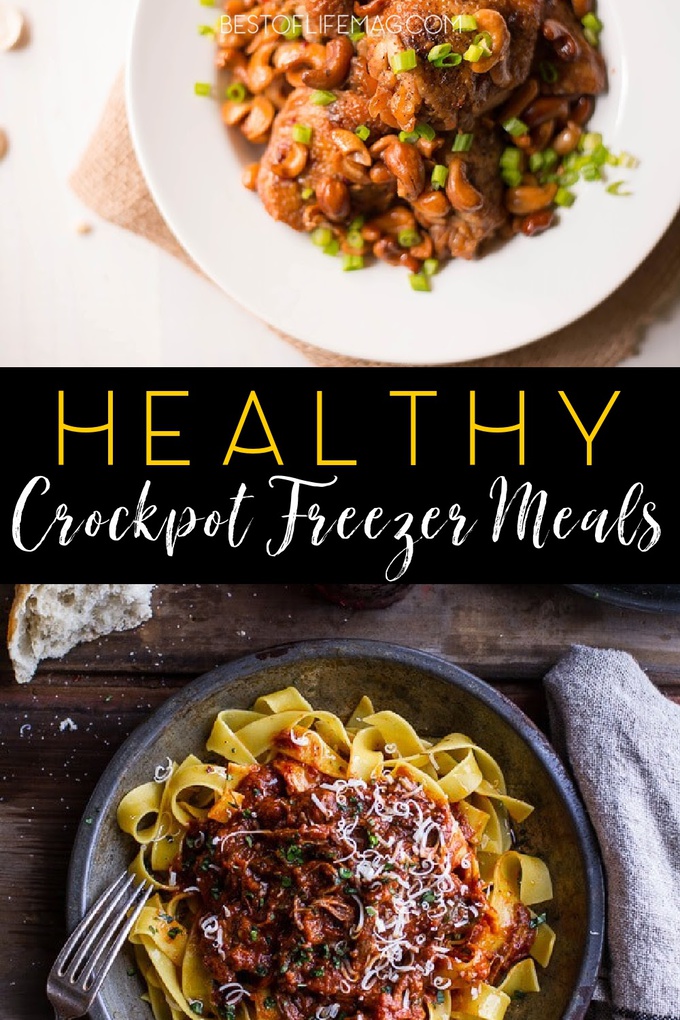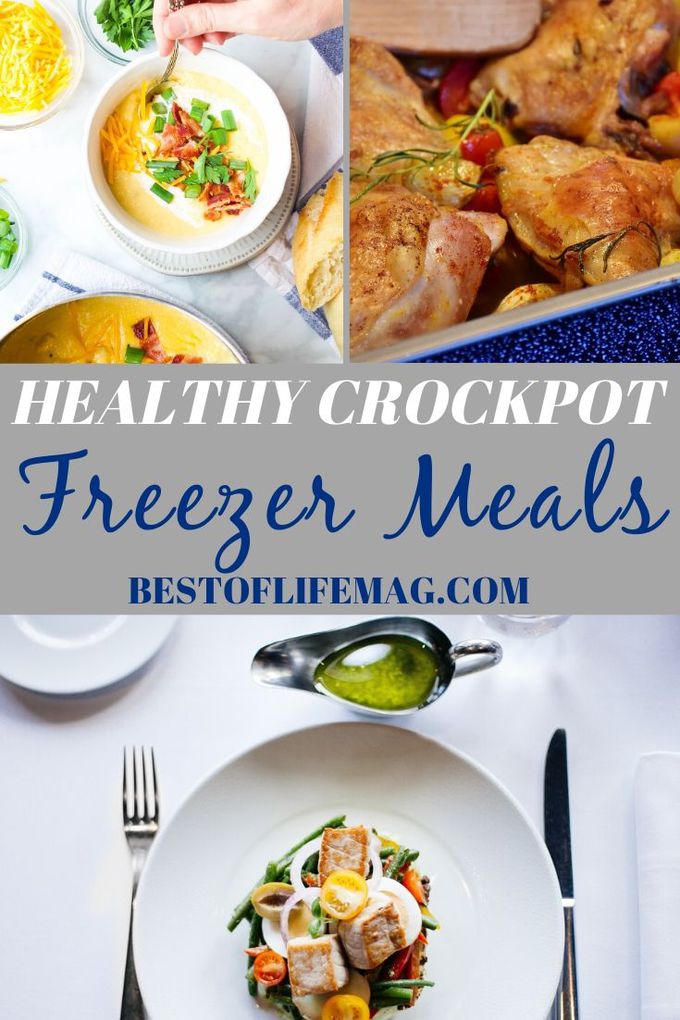 Healthy crockpot freezer meals might be the best crockpot recipes around. A freezer meal is a meal that can be prepped in a freezer bag, frozen, and then cooked at a later date. You can use your spare time during the week to prep the freezer bags and then pull one out during the week when you're short on time. The crockpot is the perfect kitchen appliance for freezer meals. All you have to do is empty the frozen contents into your crockpot, let it cook, and come back to a fully cooked meal. Crockpots are meant to save you time in the kitchen. Freezer meals take that time saved to a whole new level.
Time is very important and saving time in the kitchen is easier with these healthy crockpot freezer meals.
There is nothing worse than thinking you don't have the time to cook a meal. We all have so many kitchen tools at our disposal. Those tools help us cook meals at home rather than going out to eat.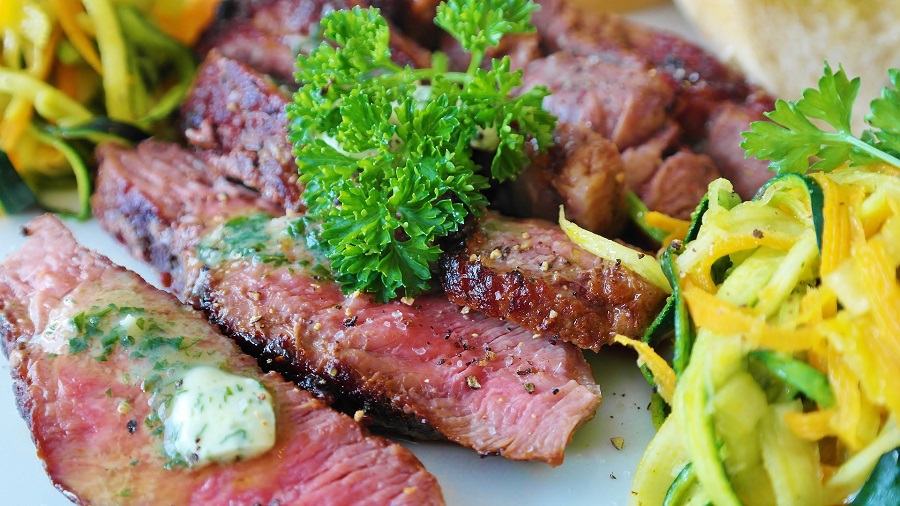 The crockpot is one of those tools and it is meant to help you save time in the kitchen. Most crockpot recipes take hours and hours to cook but you don't have to stand there and stir or watch it cook.
Instead, you can throw all of the ingredients into the crockpot, turn it on, go to work, shop, clean your house, or even go have fun somewhere. You will come home to a meal that is ready to be served.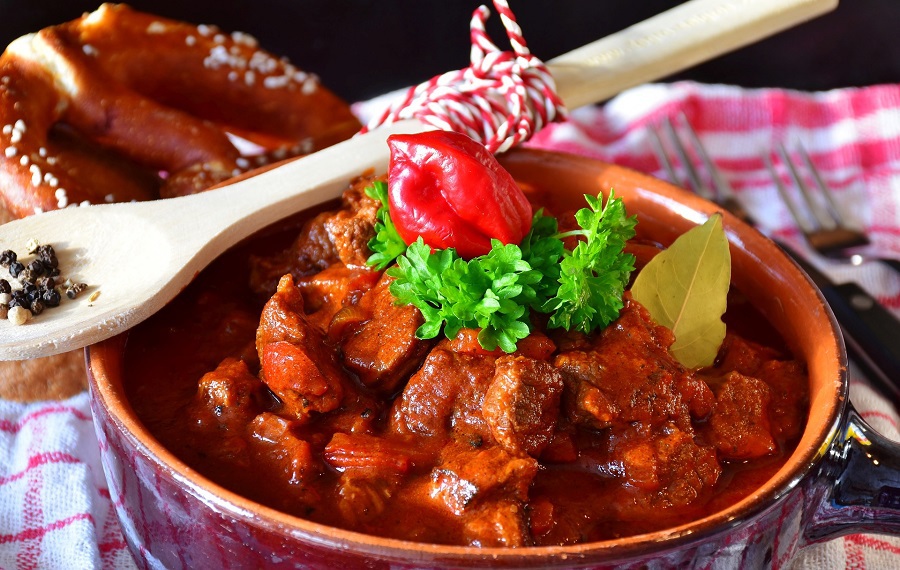 But you can take that time-saving ability to a whole new level. All you need are some of the best healthy crockpot freezer meals recipes.
These recipes allow you to prep the entire meal ahead of time, store it in a freezer bag, and toss it in the freezer. Then, grab one of those bags when you rush through your week and forget to prep dinner one night.
Empty the bag into the crockpot, turn it on, and let it cook. It is that easy.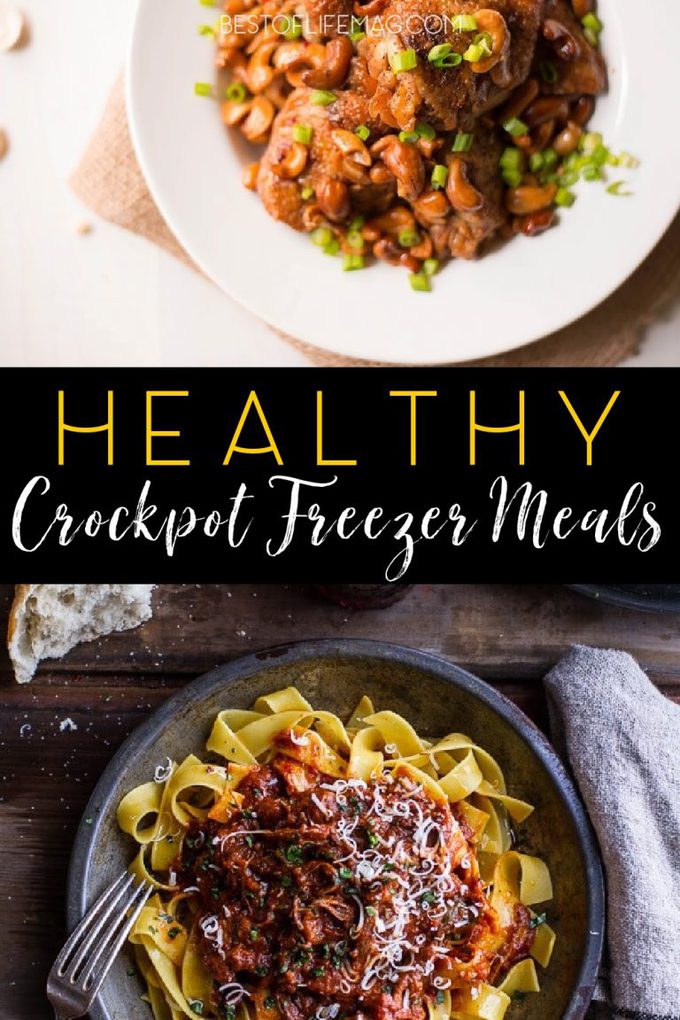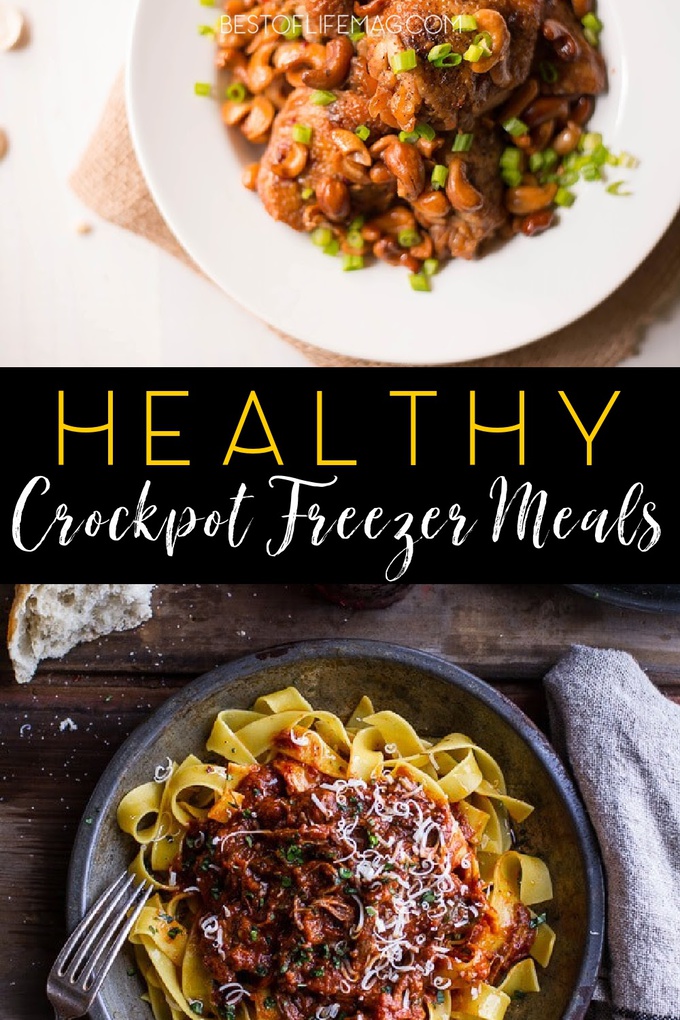 Cashew Chicken | A Sweet Pea Chef
Chicken Spaghetti | Stock Piling Moms
Stuffed Peppers | Sweet Peas and Saffron
Bacon Lentil Soup | Live Simply
Curried Sweet Potato Soup | The Family Freezer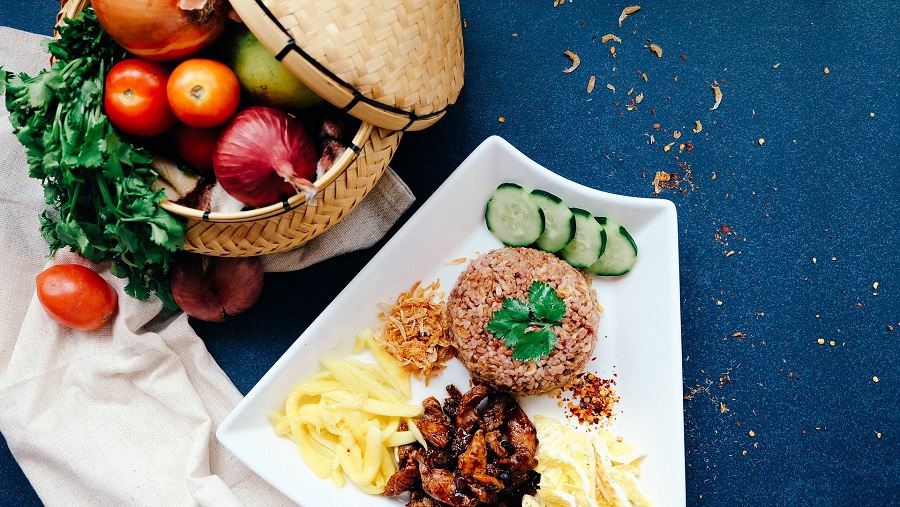 Frozen Health
Freezer meals are amazing all on their own. You can save a lot of time with these recipes. But the focus on health makes them even better. Most people who want to save time cooking usually resort to unhealthy options.
Fast food, microwavable dinners, these things are quick meals that are not very healthy for you, nor do they taste good. But you have so many other options that when you make your own frozen meals.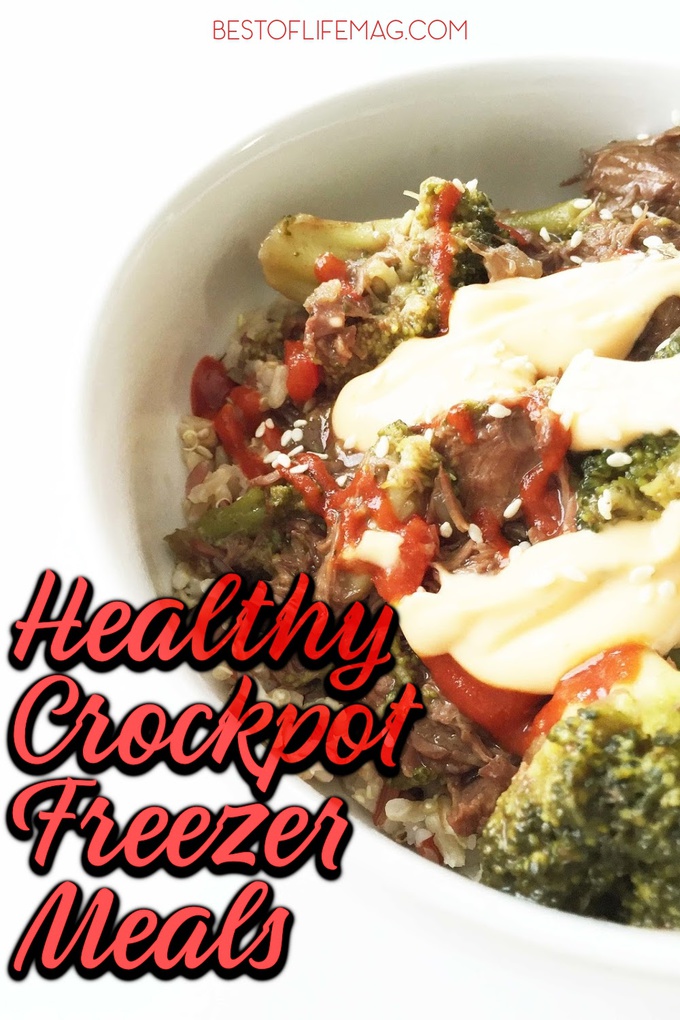 Balsamic Shredded Beef | Thriving Home Blog
Beef and Broccoli | The Skinny Fork
Salsa Chicken | Flour on My Face
Sweet Fire Chicken | Creme de la Crumb
Garlic Parmesan Chicken Stew | The Recipe Rebel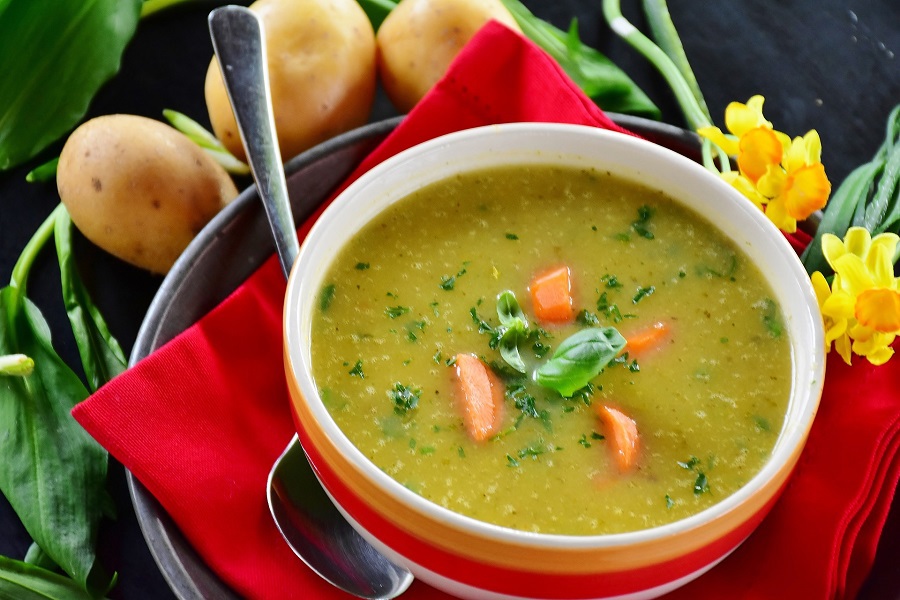 Healthy Crockpot Freezer Meals
Almost any healthy crockpot recipe can be turned into a freezer meal. All you need to do is decide which ingredients go into the freezer bag and which ones need to wait.
For example, you can make a great spaghetti sauce but you should probably skip the noodles in the freezer bag. You can then turn your favorite crockpot recipes into freezer recipes once you get the hang of it.
What will you do with all of the free time you have after prepping a few freezer bags for the week?
Lemon Garlic Dump Chicken | One Good Thing
Red Beans and Rice | One Crazy House
The World's Best Chicken | Rachel Schultz
Sunday Sauce | Half Baked Harvest
Loaded Baked Potato Soup | Friday We're in Love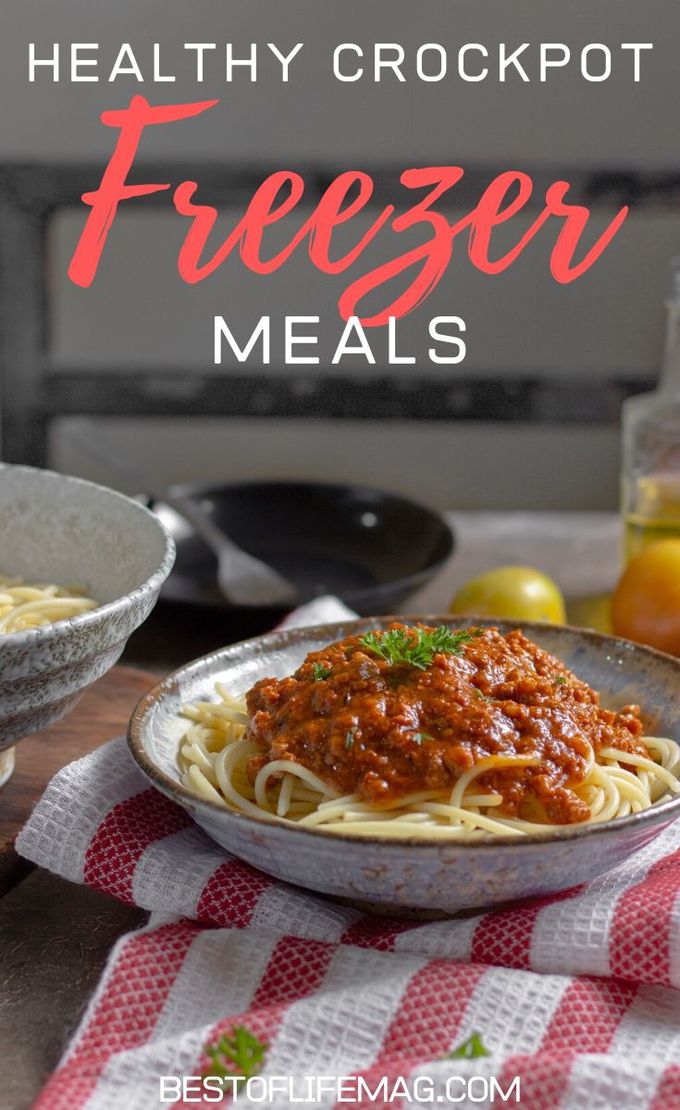 More Crockpot Recipes
Low Carb Overnight Breakfast Casserole Crockpot Recipe
Crockpot Freezer Meals with Chicken
Dairy Free Beef Stroganoff Crockpot Recipes