Low Carb Crock Pot Soup Recipes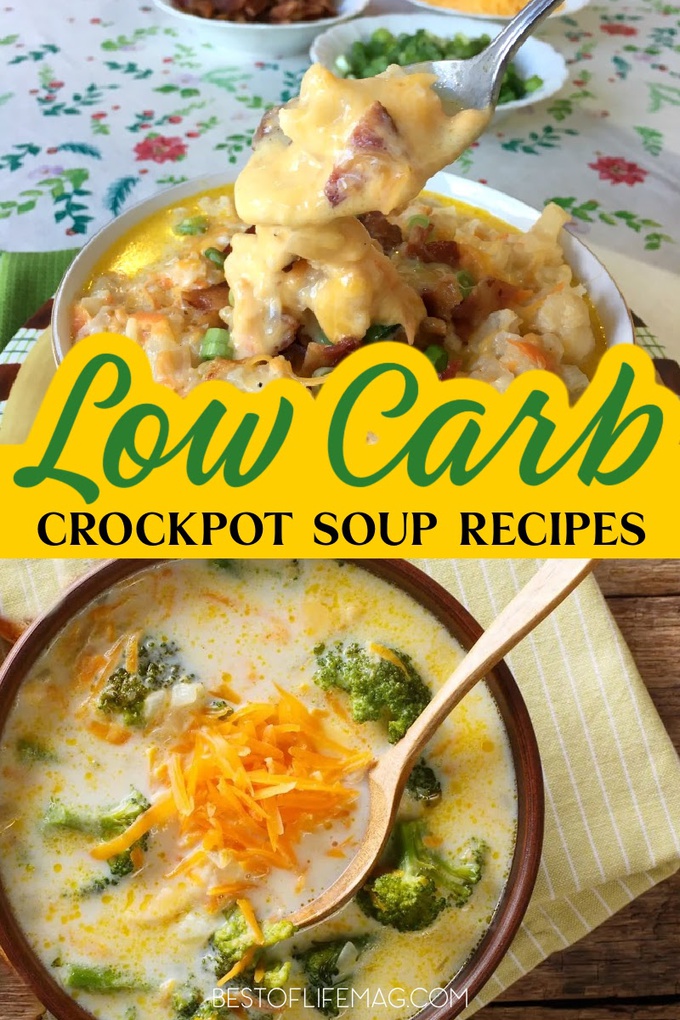 Preparing delicious meals from breakfast to dessert is simply preparing a few ingredients, setting them, and leaving. Crock Pots have been making life a little easier for decades. Did you know that your Crock Pot is also great for keeping you on your low carb diet? Some easy recipes to start with are low carb Crock Pot soup recipes.
Your Crock Pot is an amazing kitchen tool. Make low carb Crock Pot soup recipes so that you can enjoy the ease of slow cooking, the amazing flavors of soups, and stay on your low carb diet. Not only can your Crock Pot help you prepare delicious low carb meals, but it's also great for meal prep and making a family dinner worth coming home to after a long and busy day.
You can also make clean-up a bit easier by using some handy liners. Your family won't even know there are any carbs missing in these 15 delicious low carb Crock Pot soups. If you choose to meal prep, these soups are easy to distribute into containers or even freeze for later meals.
Once in a while in your low carb journey, you run out of ideas. Mealtime and prep can be dull and you find you are eating the same things over and over. Let this list bring you out of your rut and into fresh and delicious inspiration!
Low Carb Taco Soup | Midget Momma
Keto Smoked Sausage Cheddar Beer Soup | Peace Love and Low Carb
Low Carb Crock Pot Pizza Soup | Recipes That Crock
Slow Cooker Keto Gumbo | Fit Mom Journey
Slow Cooker Mexican Chicken Soup | The Flavours of Kitchen
Low Carb Crock Pot Soup Recipes
Soups are a great addition to a low carb diet plan. You can make as many different soups as you want ahead of time. Freeze the soups you make in single-serve bags or get super creative and can them. Then, you can reach for one of the soups when you just don't feel like cooking but still want to stick with your diet plan.
Slow Cooker Easy Thai Coconut Soup | 365 Day of Crock Pot
Crock Pot Chicken Fajita Soup | Eating on a Dime
Slow Cooker Low Carb Zuppa Toscana | Gal On a Mission
Easy Keto Broccoli Cheese Soup | Fit to Serve Group
Slow Cooker King Ranch Chicken Soup | Julie's Eat and Treats
Staying Low Carb
Not only will these low carb soups spice up your meal routine, but all of these recipes stick to the low carb for weight loss general rule of 150 grams or less per serving. Many are also Keto friendly. You will be responsible for serving sizes, as with any recipe you make. But be sure to stick within your carb limit per day to get results.
Slow Cooker Loaded Cauliflower Soup | 3 Little Green Woods
Chicken Broccoli Alfredo Soup | This Mom's Menu
Slow Cooker Chicken Queso Soup | Passion for Savings
Cabbage Roll Soup | Simply Stacie
Low Carb French Onion Soup | Fit Slow Cooker Queen
No matter which you choose, you can't go wrong for your diet and your dinner bowl. We say try them all!
More Crockpot Recipes
21 Crockpot Recipes for Kids | Kids and cooking don't always go well together. But they do when a crockpot is involved.
Crockpot Meals with Leftover Chicken | Leftover chicken can go a longer way than you may think.
Easy Macaroni and Cheese Crockpot Recipes | Macaroni and cheese from a crockpot might beat out that oven recipe you use.
Crockpot Unstuffed Cabbage Rolls Recipe | Cabbage rolls are great, unstuffed cabbage roll casserole is better.
Crockpot Overnight Breakfast Casserole | Wake up to a delicious breakfast that is ready to eat.