This site contains affiliate links. Please read our Policies for information.
When I turned 40 last year I vowed to make it my best decade yet. I feel great about exactly where I am at this stage in life; I am grateful for the path that has gotten me here and look forward to what each new year will bring. In order to feel and look my best, I know there are certain things I need to do in order to have the energy I need to enjoy each and every day with my husband and our children. I don't just want to feel great, I want to look my best too. Staying fit and active helps but having my key supplements and beauty products is an essential part of my daily regimen.
MitoQ helps me have more energy and keeps my skin looking beautiful.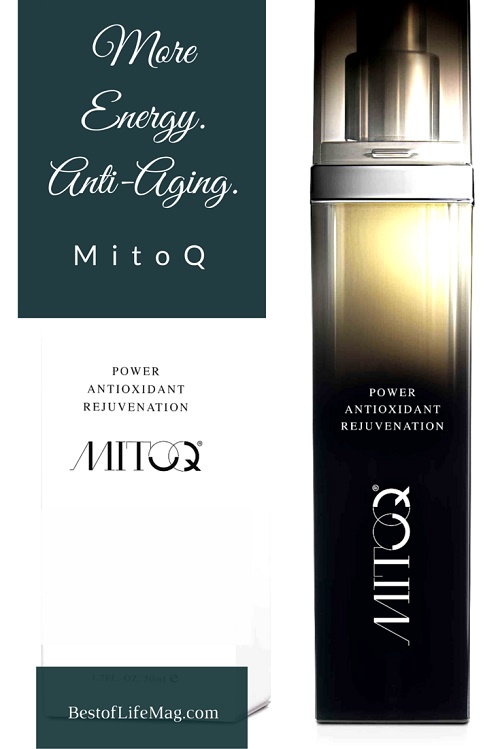 What is "MitoQ"?
MitoQ is a new type of antioxidant called a mitochondria-targeted antioxidant. Developed in New Zealand at Otago University, it has been extensively researched for the last decade and is now available to consumers. Mitochondria are the tiny organelles in your cells that actually give you the energy your body needs to do everything it needs to do efficiently and well. Keeping mitochondria healthy is one of the best things you can do for your health. Consistent exercise and eating well helps keep them healthy but MitoQ is able to help as well.
MitoQ Serum and supplements will literally help you have more energy you need and potentially, slow down the aging process.

MitoQ Serum and Supplements
No matter how well we eat or take care of ourselves, we all have our beauty struggles. I spent most of my life thinking I could change them but one thing 40 has taught me is that I am who I am and I can either spend my life fighting it or spend my life loving it and taking good care of it. That goes for my skin, too.
I have always had oily skin – my entire life. What I spent most of my life fighting is now what I realize will help me look younger. It has saved me quite a few wrinkles and made the ones I do have a little less apparent. But for the first time in my life, thanks to Mito Q Serum, my oily skin is more balanced. The oily areas were often paired with dry areas making for uneven skin tone.
In just two weeks of using MitoQ, my skin feels balanced. I actually noticed results within the first couple days of using it.
I have also been using the MitoQ supplements for the last couple weeks. Similar to my much loved MitoQ serum, the supplement is designed to reduce free radicals and help me look and feel my very best each day. It's a bit harder for me to say for sure if the supplement is helping, but I do know that I am less tired and have more energy thus far, which fills me with such joy during summer days with our children.
MitoQ has given me a new confidence in how I look and a boost of energy to get through the days. As our kids grow older, the days and years seem to pass faster so I want to enjoy each and every one of them.
This is a sponsored conversation written by me on behalf of MitoQ. The opinions and text are all mine.