Crockpot Freezer Meals with Chicken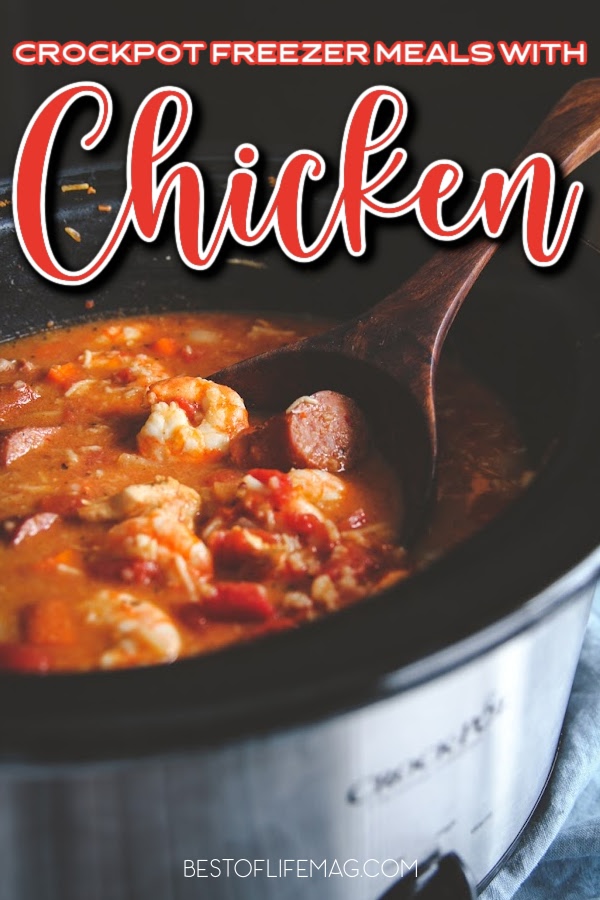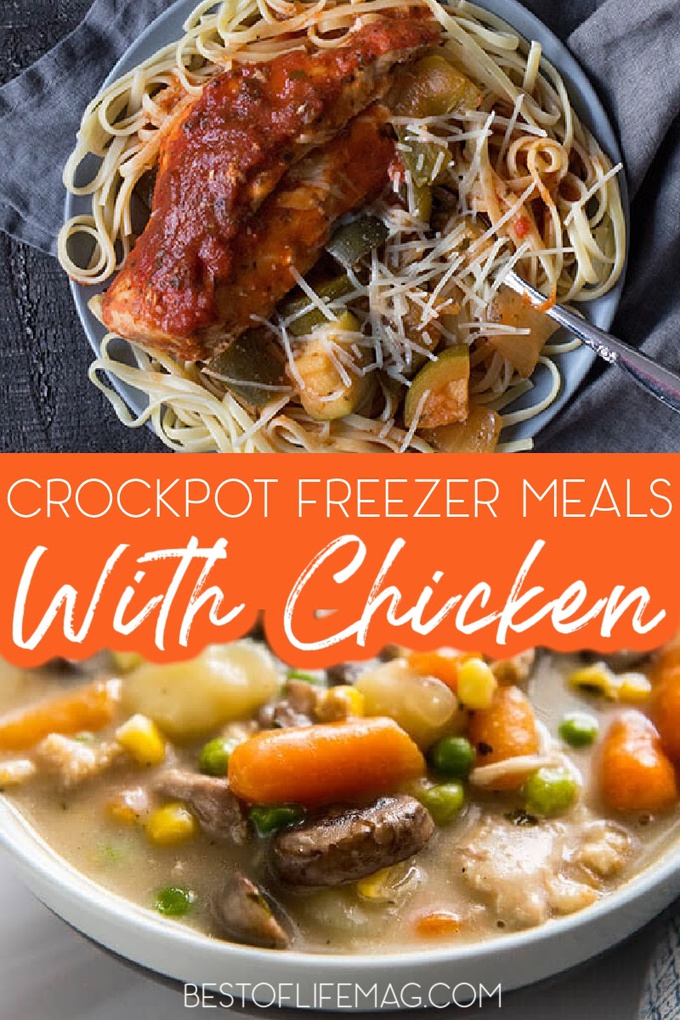 The crockpot makes cooking so much easier. People everywhere are setting it and forgetting it until it is time to eat. But there is another way you could be using your crockpot. You could be using it for meal prep. There are a couple of different ways to use crockpot freezer meals.
You could make food ahead of time and then freeze it or mix the ingredients in a freezer safe bag and cook that later. Some people are very familiar with this process but you could use some help to get started if you aren't. Crockpot freezer meals with chicken could really kick things into high gear.
The best place to start with meal prep might just be with crockpot freezer meals with chicken that are easy and delicious. Using a crockpot to help you with meal prep is so much easier than cooking nightly. Some people use meal prep for weight loss.
They can make as many healthy meals ahead of time as they want. Other people do it just to save time. Cooking and cleaning after a meal every single day, sometimes twice a day is not easy. It takes time to eat a full meal on schedule and life doesn't stop just for you to eat.
Crockpot freezer meals with chicken are great for starting out or keeping things going. It doesn't matter your reason for meal prep. All that matters is that you benefit from it in some way, be it health or time. You don't have to be a beginner to enjoy these meals either. Each one is that good.
Teriyaki Chicken | One Hundred Dollars a Month
Mexican Salsa Chicken | Mess for Less
Lemon Pesto Chicken | The Magical Slow Cooker
Chicken Cacciatore | Family Freezer
Chicken Fajitas | I Hate Meal Prep
Crockpot Freezer Meals with Chicken
The goal of these freezer meals is to allow you to take the freezer bag out of the freezer when you're ready. You will need to thaw it out but that is easy. Then you will dump the contents of the bag into the crockpot. After that, you set it and forget it.
The meal will be ready when you come back and it will be amazing. You got to spend time doing what you want, not what you have to do. But you also get to eat a delicious meal that is filled with flavor and maybe nutrition as well.
Chicken Tikka Masala | Fit Foodie Finds
Chicken and Rice | Side-Tracked Sarah
Cilantro Lime Chicken | Damn Delicious
Chicken and Dumplings | Slow Cooker Gourmet
Garlic Lemon Chicken | Stock Piling Moms
Meal Prepping with Freezer Meals
This method of cooking saves you a lot of time by moving it to when you have the time. Pick a day out of the week and prep as many meals as you want. Put each meal in the freezer and come back to it when you're ready. Here is a tip, label each bag so that you know what you're pulling out when you pull one out.
You can have an entire freezer filled with different recipes that are just waiting to be cooked in a crockpot. That is the beauty of crockpot freezer meals with chicken. The variety, the ease of use, and the deliciousness make these recipes staples in any kitchen.
Hawaiian Chicken | Chef in Training
Pineapple Pepper Chicken | Fabulessly Frugal
Jambalaya | Sweet Phi
Lemon Garlic Dump Chicken | One Good Thing By Jillee
Island Chicken | Who Needs a Cape
More Crockpot Recipes
Crockpot Salsa Verde Chicken Soup Recipes | Salsa Verde chicken bursts with flavor and you can easily get that same taste in soup form.
Crockpot Salsa Recipes | Salsa Party Recipes | Salsa can easily be bought in a store already made. But there is an ingredient in salsa that you just can't get from a jar; freshness.
Dairy Free Beef Stroganoff Crockpot Recipes | Beef stroganoff is a dish that doesn't really sound like it would be good but once you make it from scratch you discover just how amazing it tastes.
Low Carb Crockpot Recipes for Dinner | Low carb diet? No problem the crockpot has your back so you don't have to slip up on accident.
Crockpot Chicken Recipes with Red Wine | Chicken and red wine just works. But what if you poured the wine on the chicken during the cooking process?