Classic Louis Vuitton Handbags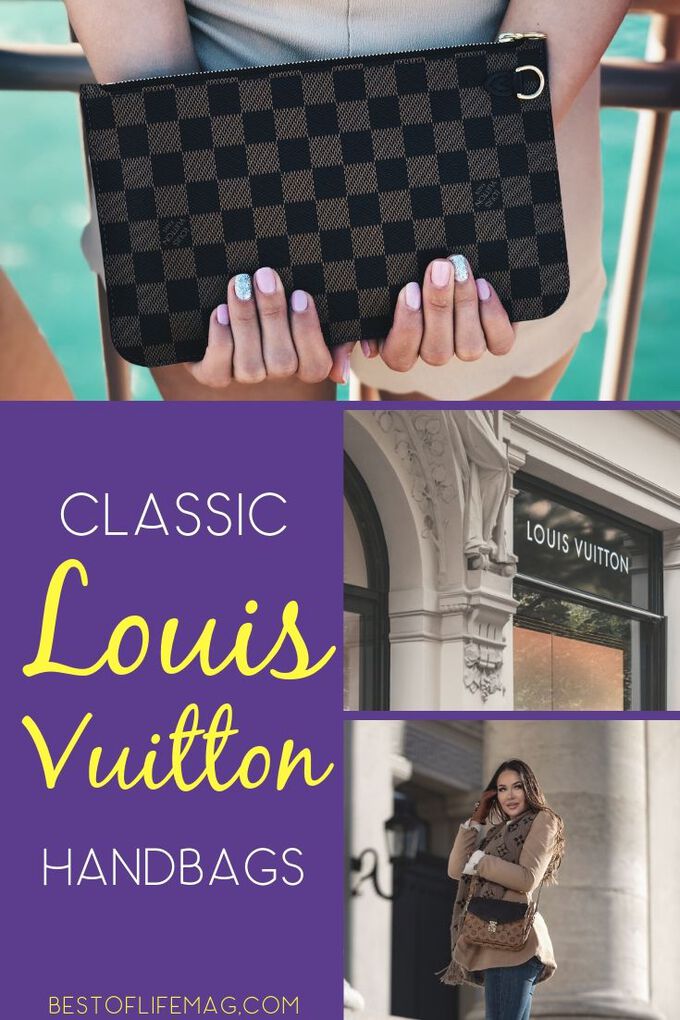 Louis Vuitton bags are known for being pricey, stylish, and sometimes hard to find. While all of that is true, a classic Louis Vuitton is worth every penny. The LV monogram stands for more than just taste, it stands for dedication to a craft. Each bag is made to not only make a fashion statement but to be durable and always be in style.

Classic Louis Vuitton bags can not only stand the test of time but make a mark on every season with a style that is all your own.
When it comes to handbags, I love anything with the classic Louis Vuitton name on it. No, this isn't because of the popularity or the weight the name carries.
Instead, it's because of the history, the style, the man behind the LV and so much more. Louis Vuitton started his first trunk shop in 1854, the style and durability of those first trunks can probably stand on their own today.
It was only 37 years later that the great Louis Vuitton died. Many of the designs I love, we love, to this day weren't created by Vuitton himself.
But the dedication and attention to quality and detail that man started lived on long after and continues still today. Some of those classic Louis Vuitton styles can be found in my closet and get circulated into my life regularly.
Louis Vuitton Speedy
Classic is what the Louis Vuitton name means to me, and no bag showcases class more than the Speedy bag. You've got the classic Louis Vuitton checkered monogram that we all know and love, but what you may not realize is that this style bag has been around for decades.
In fact, the Speedy bag design has been a favorite since it was introduced in 1930!
The Neverfull bag has not been around as long being introduced in 2007. But the design is flawless and has been one of the biggest grossing bags presented by Louis Vuitton. Limited edition styles come and go but what remains is high style.
The Neverfull line comes in three different sizes and different color textiles. A great bag for anyone to love regardless of use. I use mine for months at a time, for work and play, before I rotate another one in!
Some styles come into the market, and people immediately realize they're special. Other times, the design sparks a debate over whether or not it truly makes a mark in the fashion world.
The Totally MM bag has been one of the latter and is one of my tried and true favorites. The practicality has made the bag a must have, and the style has been copied by numerous other designers all over the world.
No matter what side of the fence you land on, we can all agree that the Totally MM bag has made its mark. You can read my full Louis Vuitton Totally MM review if you have any doubt.
Louis Vuitton Alma
Depending on your material pick you can find the Alma design in many different colors. What you may not know is that the Alma bag is believed to have been made by request by another famous designer.
If true to rumor, the Alma bag was asked for by Coco Chanel as a custom order in the 1930s. Such a wise woman!
The Favorite MM is my go-to classic Louis Vuitton bag for a night out; I love that it works in so many different ways. You can wear the bag as a crossbody, shoulder, clutch, and can be held by two separate straps.
The length of the straps is removable in case you don't want to use it and I adore the burgundy lining.
Don't let the size fool you; you can fit enough to get you through the day – cell phone, keys, small wallet, and a couple of other small items.
Each of the handbags shows that the classics by Louis Vuitton can stand the test of time. Whether it's an old style made a new or a new style with old designs, a classic Louis Vuitton bag is worth every penny. Save