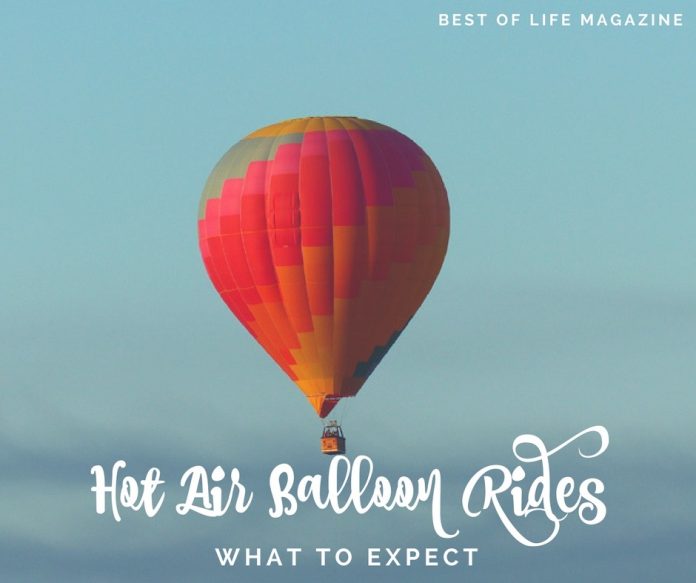 This site contains affiliate links. Please read our Policies for information.
Hot air balloon rides have always intrigued me and have been on my bucket list for awhile.  But, I was only willing to do a hot air balloon ride with the best of the best because – well, you get the picture. We recently partnered with and took a much needed getaway to Temecula Valley which is well known, and regarded, for its hot air balloon rides.  After all, the Temecula Valley Balloon and Wine Festival brings in people from all over because of this reason so the trip seemed the perfect time to cross this item off our bucket list.

Hot air balloon rides are a bucket list item for many people.  If you find yourself wondering what to expect on a hot air balloon ride, you are not alone.
Before our trip, I kept wondering what to expect with hot air balloon rides.  This seems like a rather good time to also tell you that my husband has a fear of heights and I have vertigo, which is a large part of why I kept wondering what one would be like.  But come to find out, SO many people have a fear of heights and get a bit dizzy from time to time.  It was very clear that we were not alone in wondering what a hot air balloon ride like.

Be Prepared to Rise Early
Turns out that the air is very much like the seas we travel on – they are calm in the morning making it the perfect time to fly.  We took our first hot air balloon ride with A Grape Escape Balloon Adventure, which was thankfully a few minutes drive from South Coast Winery Resort and Spa, and couldn't have asked for a better experience.  They explained everything thoroughly before the flight, including that we needed to arrive at 6am sharp.  They had coffee and restrooms so we could stay warm while waiting for others to arrive.

Weigh In
What goes up, must come down – safely.  We shared our weight before the flight and signed a waiver. The weight information helped them plan the flight and how many people could go in each basket.

Travel to your Launch Site
After everyone arrived, we loaded into a van so we could go to our launch area.  I must say that going down the road with a HUGE basket on the back trailer was pretty cool. A Grape Escape and their team monitored wind speeds at various locations and fields to determine the best place to launch.

Balloon Prep
Once we unloaded, it was time to prep the balloon.  I will be honest – this is where I got a bit nervous because one can not help but see how very simple the concept is (Heat + Air + Balloon + Basket = Flying) :).
But the pure excitement overpowered my other emotions and I could not wait to get up in the air.  The pilot we had with A Grape Escape was personable, connected with all of us, and interjected humor at the most opportune moments, putting any fears we had at bay.

Getting into the Basket
The basket carried by a hot air balloon is very high keeping everyone safe and most importantly – inside.  I am 5'7″ and it was chest height on me, which was perfect because I could lean over and look straight down without any issues.  There are tiered small cutouts on the sides of the basket that serve as steps. You step onto them and get into the basket like a horse where you swing one leg over the side. Or you can climb up forward, hold on to turn around, and climb down into the basket backwards. Just about anything works!

The Hot Air Balloon Flight
I will let our photos from our hot air balloon ride with A Grape Escape tell the story.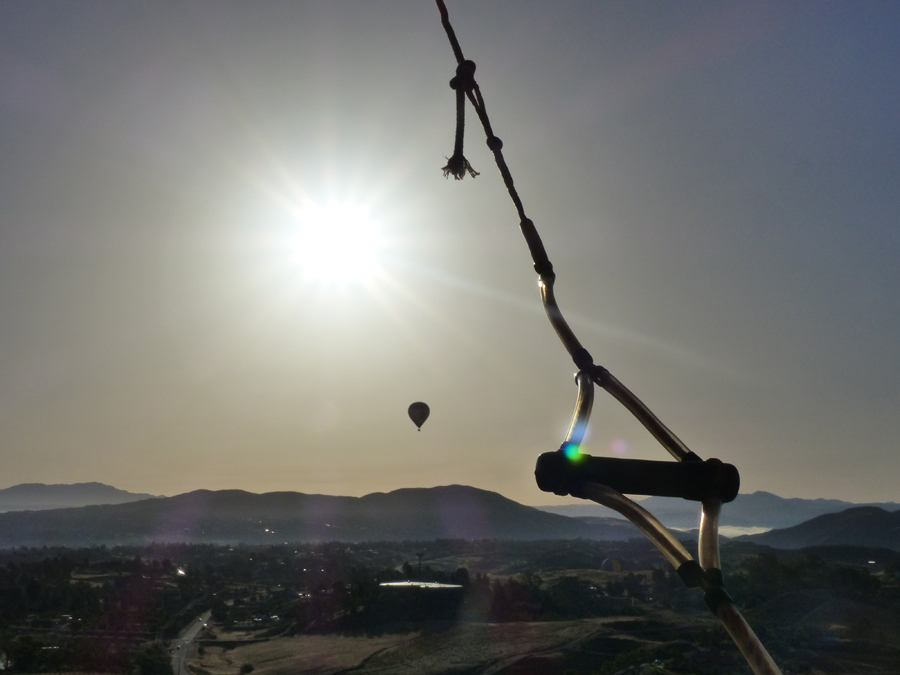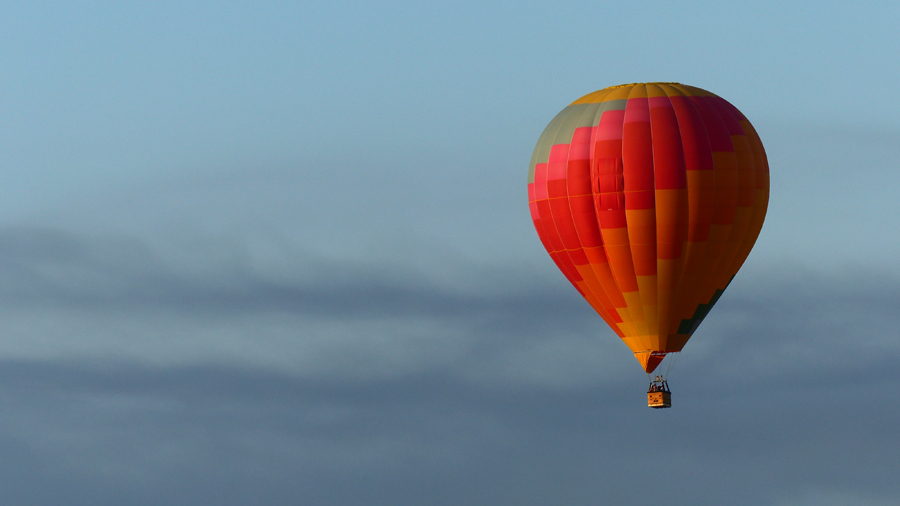 Landing in a Hot Air Balloon
We were told that landing in a hot air balloon can happen three ways.  In light winds, the basket will come down with the longest side facing forward. It will then catch the ground and settle to a stop.  When in medium winds, the same thing will happen except the basket may do a few small bounces before settling.  If high winds, we were told there is a chance the basket would tip over.  BUT, those chances were low because they don't usually go up in those conditions to begin with.
A Grape Escape Balloon Adventures had a wonderful ground crew in place where we would land.  The pilot was in communication with them letting them know exactly where we would land.  When the basket caught the ground, they secured the opposing side resulting in an incredibly smooth landing.

It's like a Sleeping Bag
Remember how hard it is to roll up a sleeping bag and get it to actually fit in the bag it came in? Well, imagine doing that with one very large hot air balloon.  Whoever you fly with may ask for help doing this process so lending a helping hand will always be appreciated.

Cheers!
There is a tradition going back to the late 1700's regarding the crew and passengers having a Champagne reception after a hot air balloon flight.  We could not imagine a better ending to an unforgettable life experience.
As mentioned, I have vertigo and am thrilled to say I had zero issues during our hot airballoon ride in Temecula Valley.  Both my husband, who has a fear of heights, and I would do it again in a heartbeat.  Next time we will take our children with us so they can experience the excitement of hot air balloon rides earlier in life than we did!