Jamboo Creations HearthSoft Fireplace Childproofing Cover Review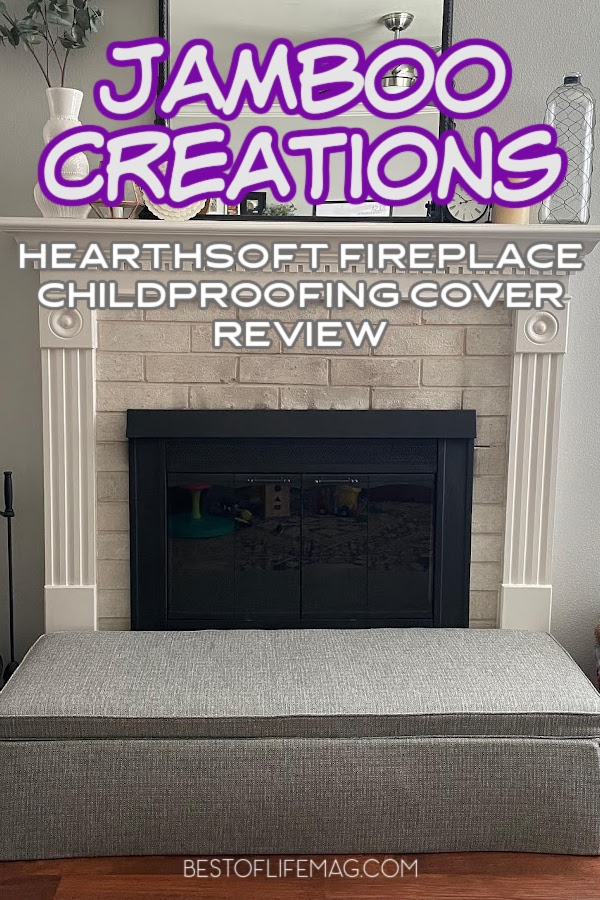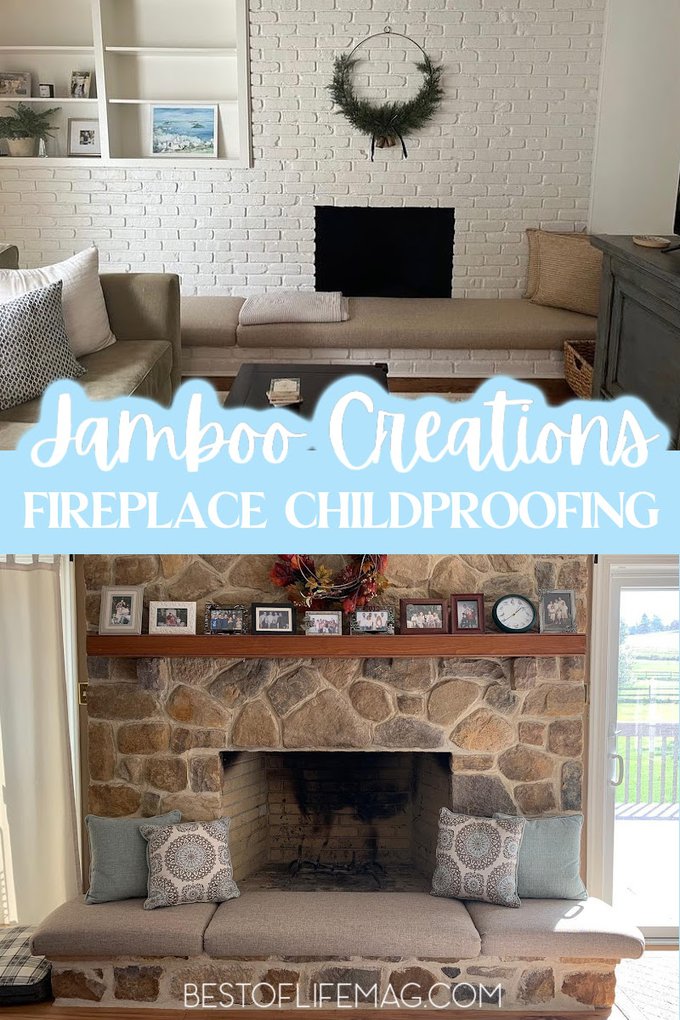 I remember being pregnant with our first and thinking this could be done in a few hours. Then I quickly realized that it really takes a keen eye and weeks to find all of the potential hazards in a home. Childproofing your fireplace can be an especially tricky one. The products available that soften the edges are rather costly.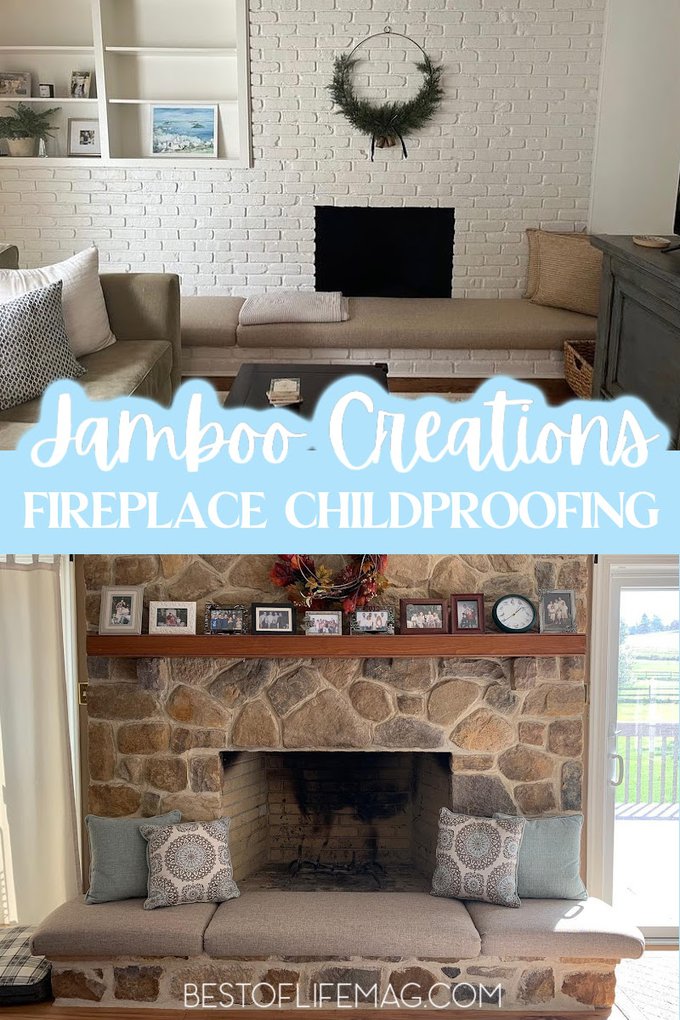 When it comes to childproofing any home, the key is to find all of the details and address them before the kids have time to discover any potential hazards. There are kits available for addressing pressing concerns. There are also a lot of really great products available now to assist in making your home both happy and safe!
Before I had kids I didn't realize how many door knobs, light switches, cabinets, and sharp edges we have in our home! Keeping your babies and toddlers safe is so important. This is the best fireplace hearth childproofing we found!
I was excited to connect with Jamboo Creations who have developed HearthSoft, the first custom-tailored fireplace hearth cover that allows you to baby or childproof your fireplace hearth while maintaining a sense of interior design within your home.
Childproofing your fireplace hearth has never been easier or more fashionable.
Specs on the design and materials used in the HearthSoft Childproofing
2" of Reflex 40 dense polyfoam on the top deck. Reflex 40 is flame-retardant and meets UFAC Class I, California #117 Sec. E, and NFPA codes.
1" of 1.2-32 foam for the skirt.
The deck is wrapped with ¾ oz Dacron
Zippered entry on all panels-deck and skirt.
The fabrics used are 100% polyester microfiber with a brushed finish for softness and are easily cleaned with water. They also meet flammability codes UFAC I, NFPA 260, and California Bulletin #117, Sec. E codes.
Designing Jamboo Creations HearthSoft Fireplace Childproofing Cover
The above color swatches show Buckskin, Khaki, Spun Gold, and Olive from left to right. The patterns are woven with a pin-dot pattern which gives them a slight texture. The brushed finish is very soft to the touch and easy to clean.
Jamboo's suggested uses include window treatments, pillows, cushions, table skirts, shower curtains, bedding, and residential and commercial upholstery.
Shown here are Safari, Mist, Spa Blue, and Denim. The denim is a fantastic faux suede with a denim weave texture and features a special polyester micro-denier yarn that is very soft, durable, and easy to clean. This fabric is ideal for almost any use in a home with its ease of care and lovely texture.
I have to say that I normally steer away from denim because while I like the color, it too often feels stiff and catches everything on it. This Risonanza pattern from Jamboo Creations goes against all of that; it is incredibly soft and comfortable.
Shown here are Wine, Deep Jungle, Moonlight Night, and Cinnabar. Jamboo Creations stands behind their HearthSoft 100%. They recommend their fabrics be cleaned with water. The mother in me could not resist a little stain test though.
Testing Things Out
So I took a bit of the spaghetti from lunch and rubbed it in a bit. After 10 minutes, I removed the actual food part, and wiped off the rest with water and it looked pretty close to perfect. Just to be safe I put a bit of stain spray on it, dabbed it with water, and then let it sit to dry.
The result????
A very easy-to-care-for fabric that is sure to make any parent happy. Jamboo Creations offers a variety of fabrics and products to help you childproof your home in a chic way that will last for a long time.
More Home Ideas
Wine Glasses for the Beach or Pool | Wine glasses for the beach or pool are sturdier, and less breakable which means… childproof.
100 Things to Try with the Amazon Echo Show | The Echo Show can really make a difference in parents' lives by making things easier to get done or even remember.
How to Paint without Tape and Paint Edges without Tools | Nursery painting looks so cute and fun when they do it in the movies or on tv. But it is anything but cute and fun, especially with the wrong tools.
DIY Closet Doors | You can do so many different things with your closet doors that will make them extra babyproof.
Why Cook with an Instant Pot? | Cooking with an Instant Pot can really make a difference in the amount of time you spend in the kitchen. No more skipping meals to make sure baby is okay.