This site contains affiliate links. Please read our Policies for information.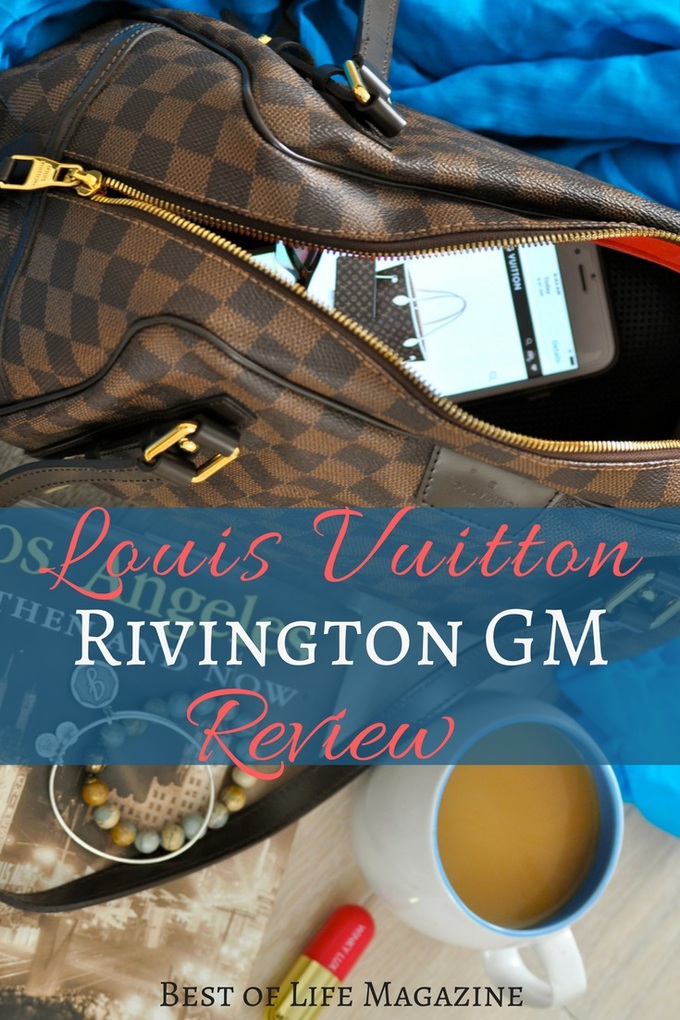 It's no secret – I love handbags. And I adore my Louis Vuitton handbags. It only took one LV bag for me to realize it was just the first. Like many other Louis fans, I can spend a fair number of hours looking at bag dimensions, details, and overall design before taking the plunge. I recently made the latest addition to my collection by purchasing the Louis Vuitton Rivington GM in Damier Ebene canvas; it as been a lovely addition and stands out on its own for so many reasons.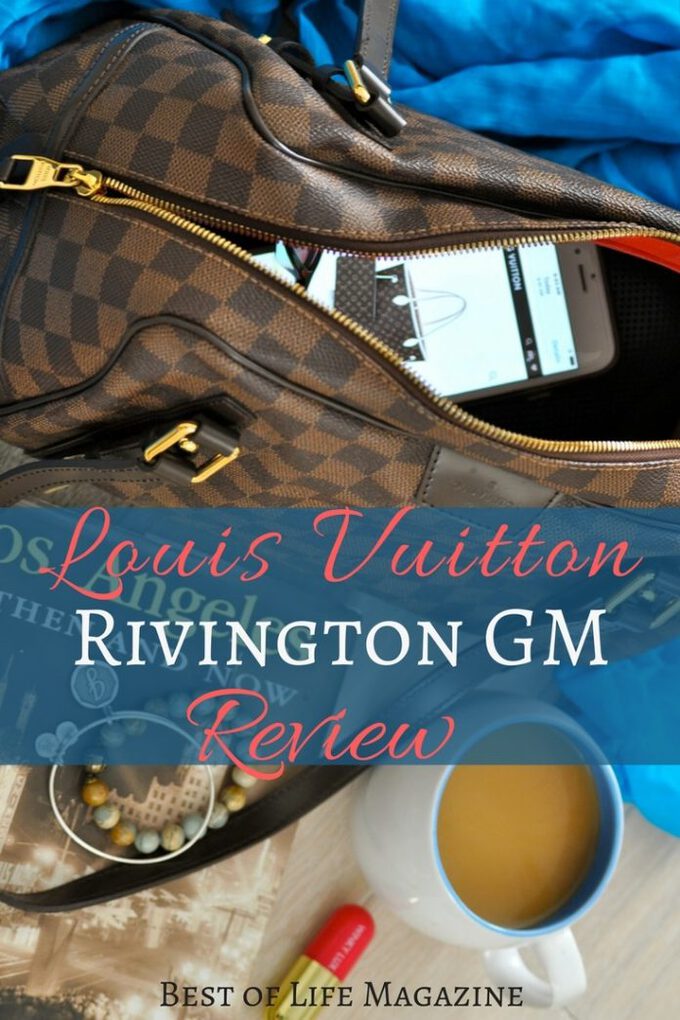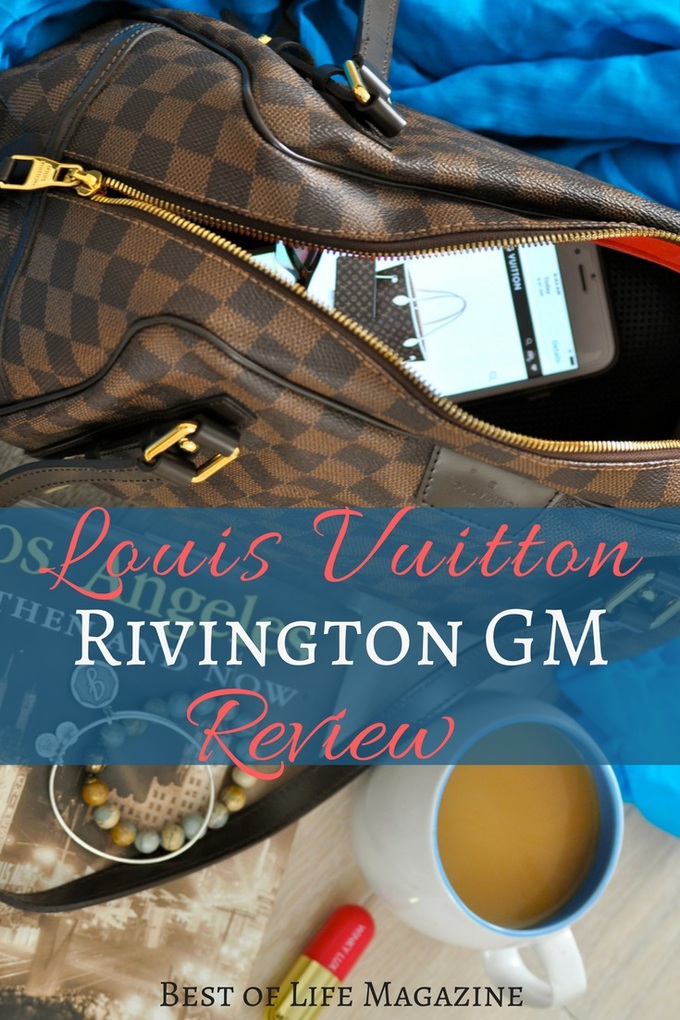 The Louis Vuitton Rivington GM in Damier Ebene has unique features and is actually a Louis handbag that is not seen as often making it even more special.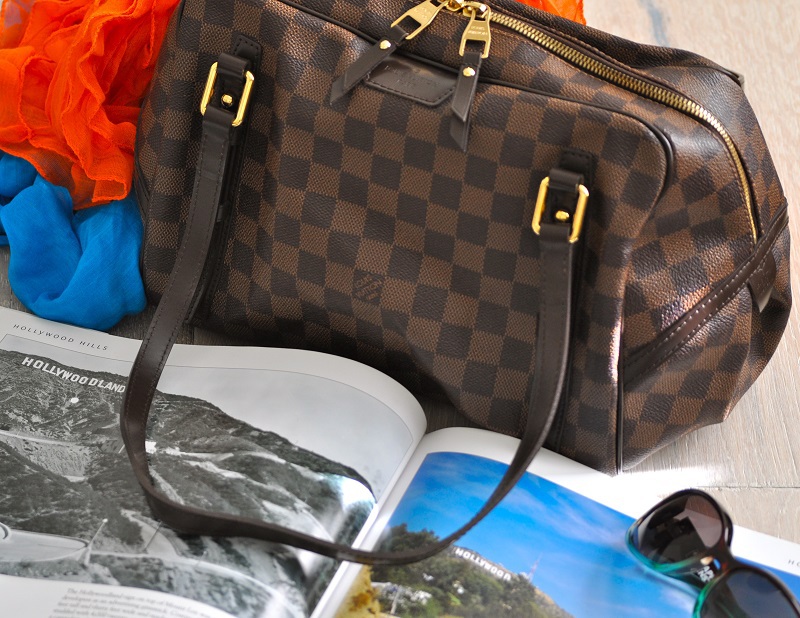 The Damier Ebene canvas is perfect for the Louis Vuitton Rivington GM from my point of view. There is something about the shape, stitching, and detailing that just works perfectly with the darker canvas.
The Damier Ebene wears well in wet conditions and doesn't show water spots if it gets a few sprinkles on it during rainy weather so this is my got to handbag in inclement weather as it is the only own in this canvas. My Louis Vuitton Totally MM has the Monogram canvas and and my Louis Vuitton Batignolles Vertical is in the Monogram as well.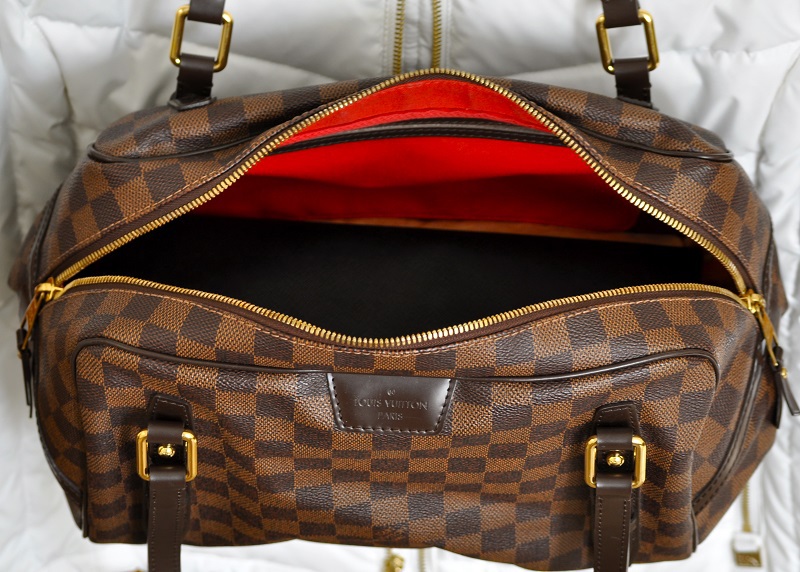 LV Rivington GM Drop
The drop on the Louis Vuitton Damier Ebene Rivington handle is ten inches and fits perfectly under my arm. I love that I can easily pull one strap on and off while the other remains in place on my shoulder. If I am carrying my LV Rivington on my arm then I can easily drape one strap across or off my arm and access what I have inside my handbag.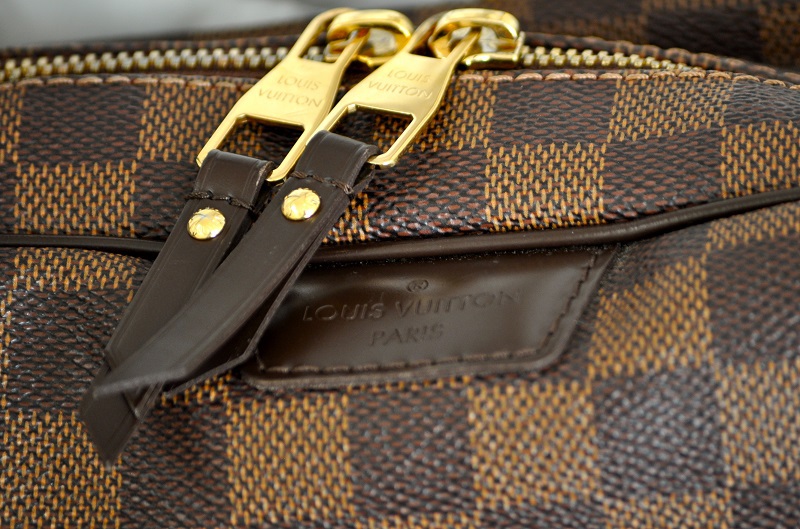 Zippers and Hardware
There is a lot to love about Louis Vuitton handbags, but one thing that stands out the most is the hardware and zippers. They are of supreme quality and glide easily, many times one handed. The fake Louis get harder and harder to spot visually but once you get your hands on the zippers and hardware you can tell whether it is a fake or authentic Louis.
The gold on the Rivington GM offers a rich and classy feel to handbag when paired with the Damier Ebene canvas. Because of this color, the bag works beautifully for a night out if you need to take it from day to evening.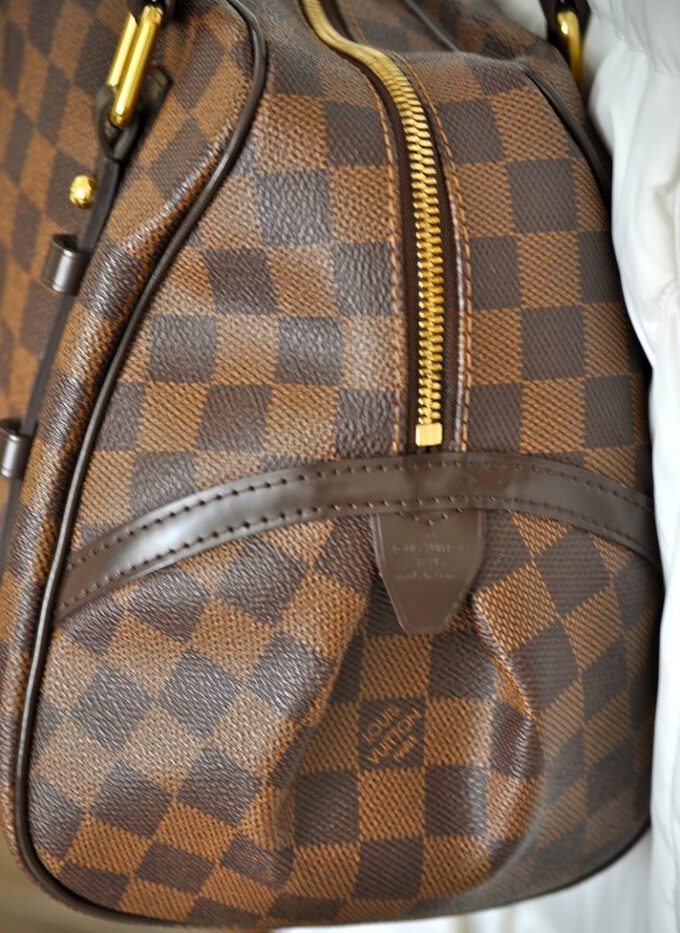 Special Details
I adore the tufted detailing on the sides of the Louis Vuitton Rivington; the detailing catches the eye and after years of wear and love, they still look like new and hold their shape perfectly.
I guess that is one of the reasons I love the Rivington so much. It is not seen on every arm in Southern California, which is saying A LOT, for this Midwest girl. And the details are subtle yet elegant on the bag.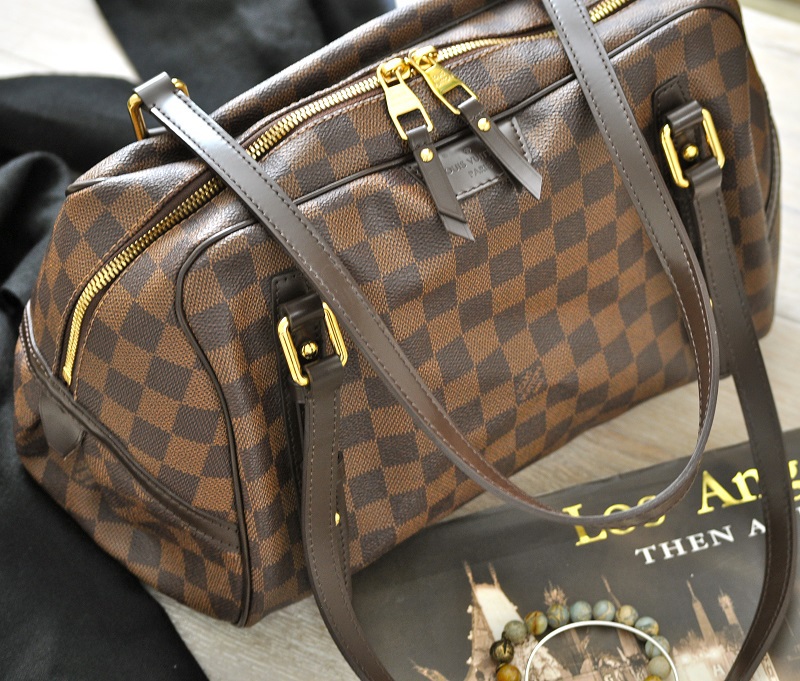 The Straps on the Louis Vuitton Rivington
The most common question I get via email and YouTube is about whether my straps are "sharp" on my Rivington GM. They were when I got the bag, but not much different than my other Louis Vuitton handbags. The difference really is that the Damier Ebene straps didn't soften to butter like the straps on my Louis Vuitton Monogram bags. However, that being said, the bag is not uncomfortable in any way, shape, or form to carry.
The straps fall nicely over or around the bag and have not shown the slightest signs of wear over the years. I puffy heart my LV Rivington GM.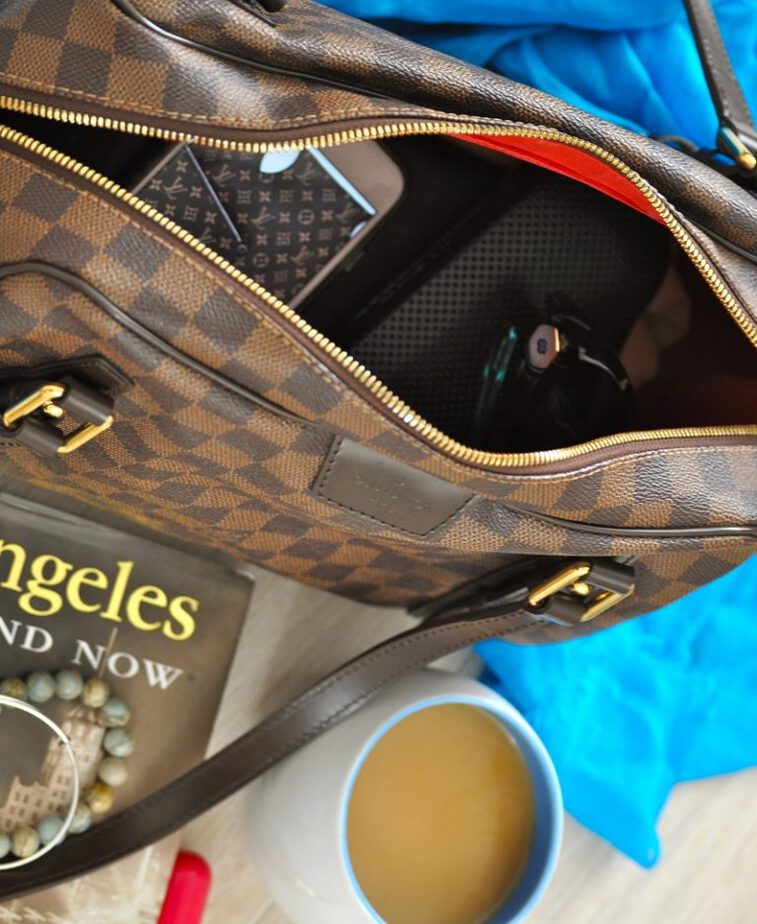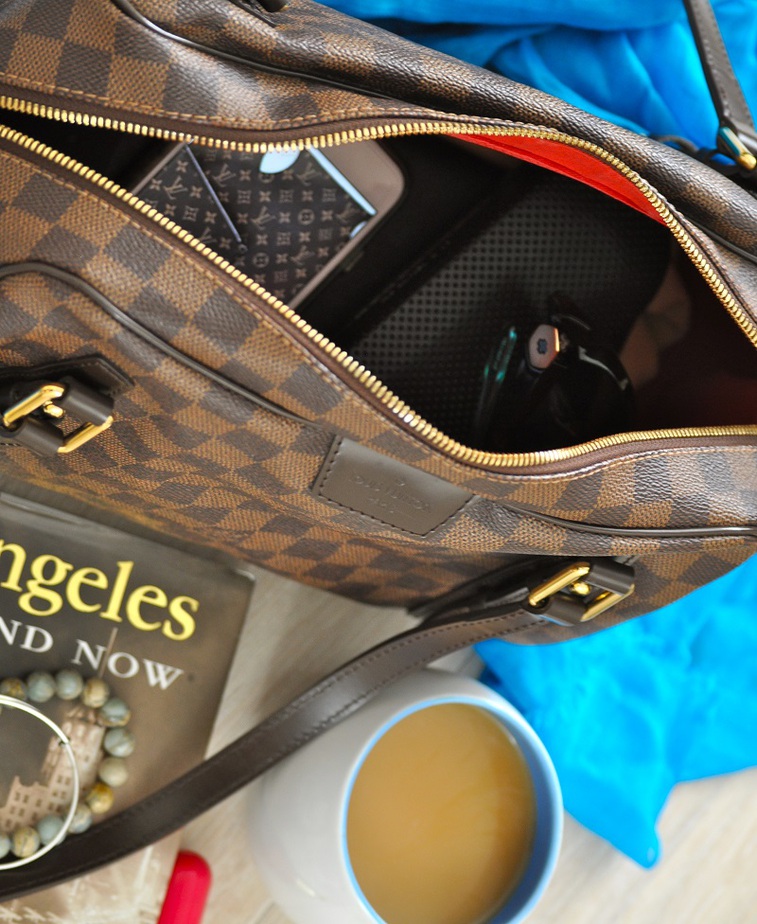 What Can you Fit Inside the Louis Vuitton Rivington GM?
The Louis Vuitton Rivington GM measures 15″ L x 7″ W x 9″ H. The interior patch pocket is actually a very good size and can hold my phone and keys or a few random things. I normally prefer more interior and exterior pockets on my handbags but the Rivington GM is simply a classic and stylish piece. I could not resist – to me it has old school charm and is on par with the classic look of the Speedy, but with a bit more personality.
Louis Vuitton Rivington GM Video Review
Today I wanted to share my review of the Louis Vuitton Rivington GM in damier ebene. In my video review , I walk you around the exterior and interior of this handbag, show you how it packs and how the Rivington GM carries on the shoulder.