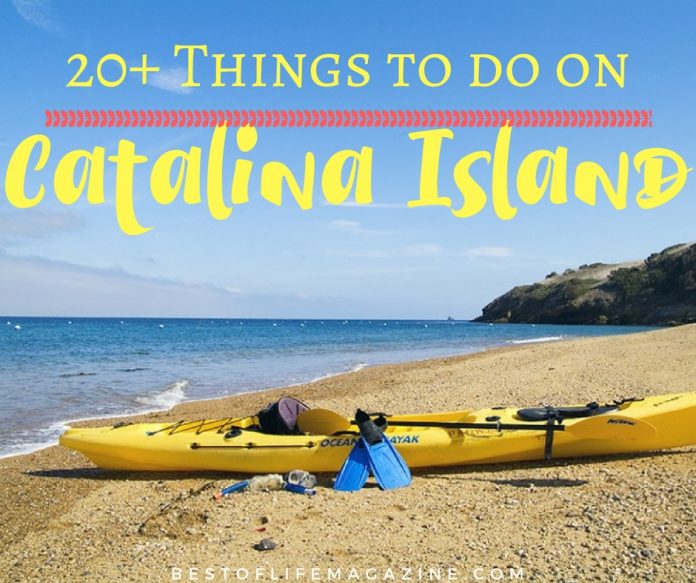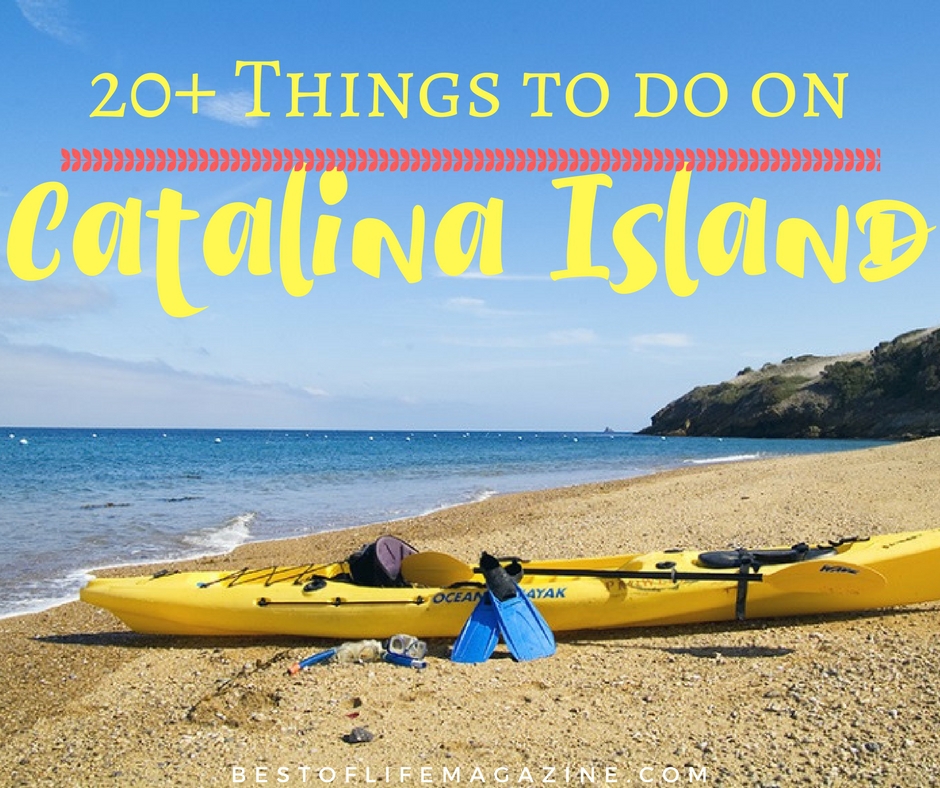 This site contains affiliate links. Please read our Policies for information.
Catalina Island is only 74.98 square miles but it is packed with activities. The list of things to do on Catalina Island is an extensive one that covers many different preferences. Whether you want to enjoy the water, head indoors or attempt to be one with the land, Catalina Island has something for you. No matter how you decide how to spend your time on the island stunning views and a rich history will intensify your trip.

There are so many things to do on Catalina Island that make it a perfect weekend or week long trip destination for you and your family or friends.
People from all over the world come to southern California to get away. People who live in southern California go to Catalina Island to get away. Catalina Island offers an escape from the busy lifestyle for which Southern California is known. There are so many things to do on Catalina Island that make return visits easy to justify. One of the best aspects of Catalina Island is the sense of being away from it all, even though you're just an hour or so away from home. There are two main populated areas, each offering very different experiences. Both areas are resort oriented, however, Avalon is an incorporated city whereas Two Harbors is an unincorporated village.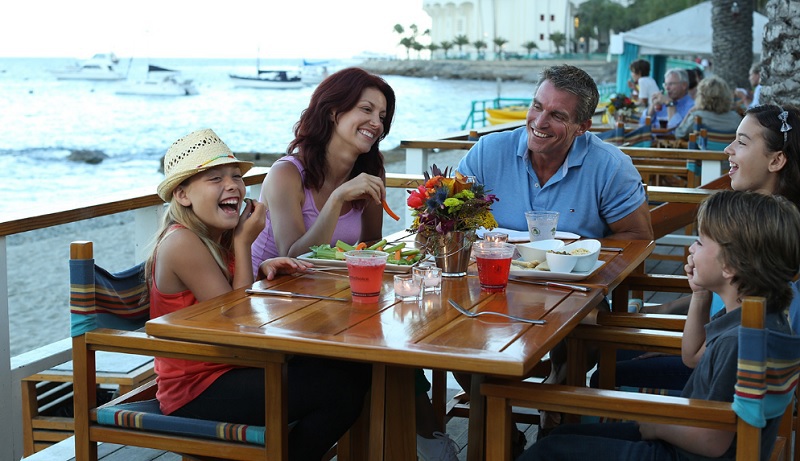 Dining
Avalon offers a wide array of dining options that cover all palates. There are over 30 different restaurants in the Avalon area of Catalina Island. You can enjoy casual dining just steps away from many of the hotels or go out for a meal on the beach.
There are a few Avalon restaurants worth noting: Catalina Island Brewhouse, Bluewater Grill, Steve's Steakhouse, The Lobster Trap, and Descanso Beach Club for the location.
Two Harbors is a very different story when it comes to dining. Possibly due to size or maybe done on purpose, there is only one restaurant on this side of the island; The Harbor Reef Restaurant. Unlike Avalon, there is also only one bar, the Harbor Reef Saloon. Just because there is a far smaller menu of places to eat or drink doesn't mean they aren't as good.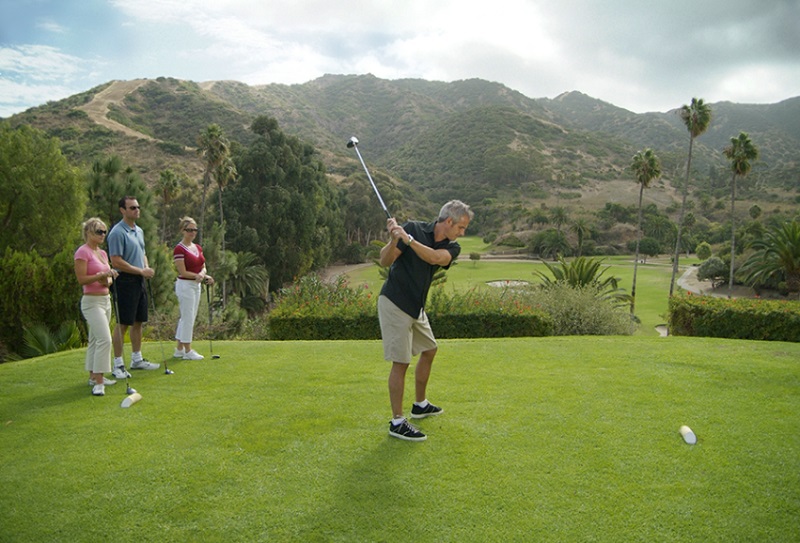 Sporting
Avalon once again offers more for those looking for sports and activities. You can choose to rent a bicycle and ride around the city or hop in a golf cart to get around. Those golf carts are also a great way to get around one of the oldest golf courses on the west coast. The golf course is a 9-hole, 2,100-yard course with an option to play an additional 9 hole course. If the full game isn't your speed, there's also a miniature golf course and that is perfect for all ages. If you're tired of sitting on a bicycle seat or inside a golf cart you can take a hike. There are plenty of hiking trails that go all over the island. The best part of taking a hike are the stunning views of plants and wildlife. Another great way to see the island is from above, while you zip down a cable on one of the many zip line eco tours. The Zip Line Eco Tour is also part of the Unlimited Fun Day Pass. This pass allows you to pick from many different adventures and build an itinerary for your day, all for one price per person. 
There may not be as many offerings at Two harbors, however, they are no less in terms of quality. Beach volleyball is a great way to spend an afternoon on the upper beach of Two Harbors. If you're looking for a more challenging bike ride you'll find it in Two Harbors. Rent a mountain bike or bring your own and experience the dirt roads of Catalina Island. Hiking those trails is also allowed and they range from easy to hard. There are also great fishing opportunities where you may catch a few Sea Bass, Yellowtail, and Halibut.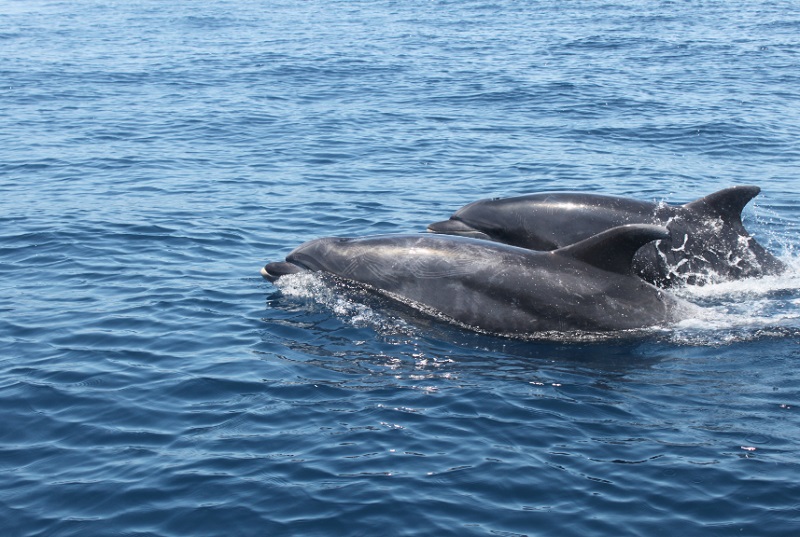 Water Sports
Being that both Avalon and Two Harbors are part of an island there are plenty of water sports and activities. Avalon, however, wins again as there are more rental opportunities in the city. Both areas offer scuba diving, snorkeling, kayaking and boating with some of the underwater sites lying on the Two Harbors side. Avalon also offers plenty of other rentals that will keep your day busy. Rent things like parasails, stand-up paddle boards, boogie boards, inner tubes, and flyboards. Of course, just jumping in the water and enjoying a swim is always an option. If tours are more your style, one of the best tours out on the water is the Ocean Runner Dolphin Tour.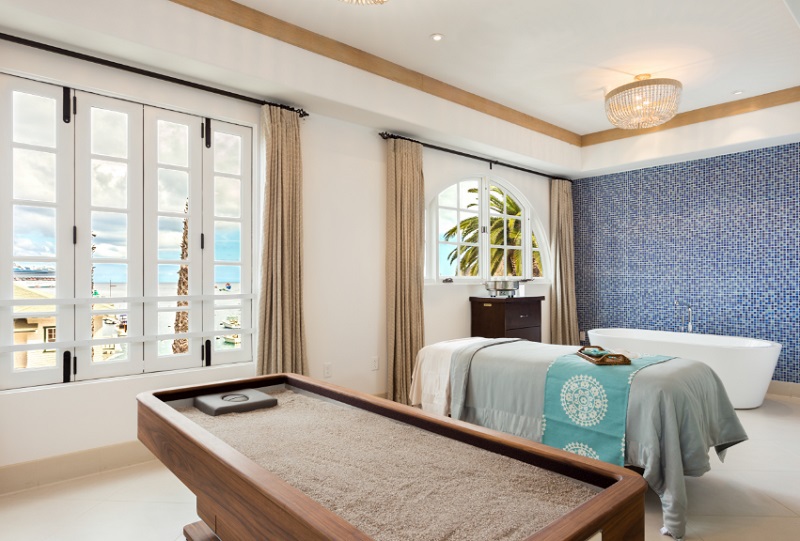 Extras
Catalina Island actually has quite the history and you can learn all about it at the Catalina Island Museum. The museum is in the heart of Avalon and will show you the history, the present, and preservation of the future of Catalina Island. If you want to relax there are plenty of spas to get massages and pampered. One of the most popular spas is the Island Spa in Avalon. Then, when you're ready to do some shopping, you can head over to the dozens of boutiques and shops.
On the Two Harbors side, you can stake your land at any of the four large picnic areas. These areas also double as outdoor event venues during the summer. As for shopping, there isn't much, however, there is a general store and snack shop.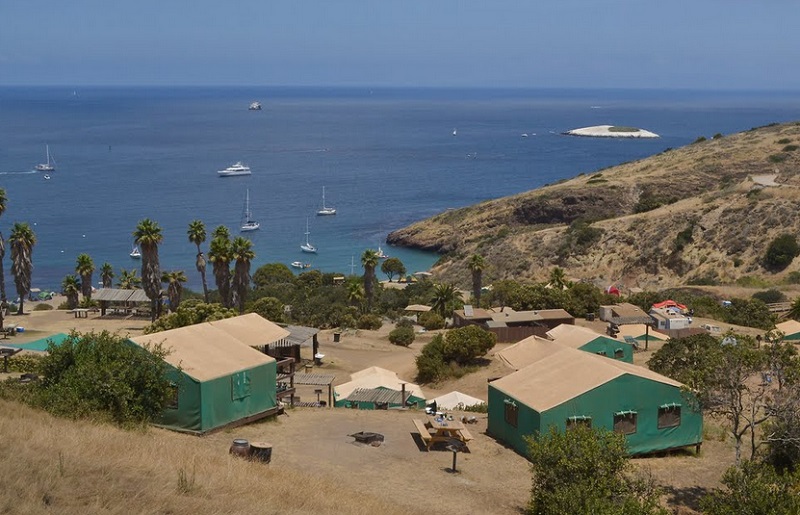 Camping
One of the best parts of Catalina Island is its wildlife. The best way to experience the wildlife is to become part of it. Camping is also where Two Harbors shines the most. Avalon offers one camping ground which is only 1.5 miles away from boat landings.
Two Harbors has multiple different campgrounds which can accommodate different sized groups. Two Harbors Campground is the main campgrounds which are less than a mile away from the main village. Little Harbor is another campground that can be found on the backside of the island. Brisa del Mar is a campground that is built for groups and Bahia Azul is for those seeking a more secluded adventure. There are even camping cabins available in Two Harbors during the winter months.
Between both Two Harbors and Avalon, there are 17 different camping sites for boat-in camping. To make things even easier, there is a Safari Bus that travels between the campgrounds. The bus even accesses the more remote camping grounds on the island. Reservations are recommended for any of the campsites and you should always check as far in advance as possible before leaving home for availability.