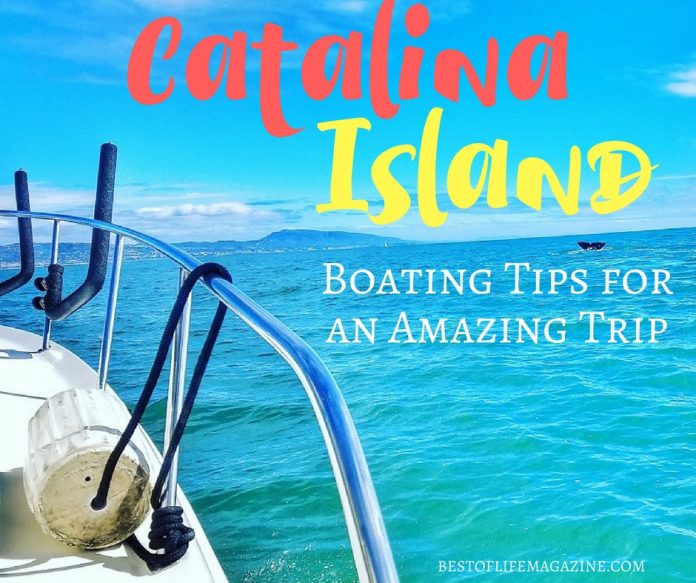 This site contains affiliate links. Please read our Policies for information.
Catalina Island boating is a sailor's dream come true. The island offers history, tourism, outdoor activities and more. There are a few different ways to get to Catalina Island; by helicopter, ferry, cruise, or sail your own vessel. There are things you should know about Catalina Island boating before you head out onto the waters. Preparation is key to any successful boating trip and Catalina Island is a must-try for boaters everywhere.

Catalina island boating may not seem like a difficult trip but without the proper details, you may find it to be harder than you think.
As a sailor living in Southern California, Catalina Island is a must for me and my family. Before we board and head out we need to plan our trip. Everything from what side of the island is best to where we can anchor when we arrive must be planned out. While Catalina Island boating may not seem difficult given the distance, it's the preparation that makes the trip worthwhile. We may not own a time machine but a trip to Catalina Island is like a trip back in time.

Distance to Catalina Island
The first Catalina Island boating tip you will want to know is the distance from California to Catalina Island. The distance is shorter than you may think but it's important to know the actual distance. There are two main harbors you can choose from when arriving at Catalina Island; Avalon and Two Harbors.
To Avalon
From Dana Point- 33 miles (38 nautical miles)

From Newport Beach- 26 miles (30 nautical miles)

Huntington Harbor- 25 miles (29 nautical islands)

LA Harbor- 25 miles (29 nautical miles)

Marina del Rey- 38 miles (44 nautical miles)

Mission Bay- 73 miles (63 nautical miles)

Oceanside- 52 miles (45 nautical miles)
To Two Harbors
Dana Point- 38 miles (44 nautical miles)

Newport beach- 32 miles (37 nautical miles)

Huntington Harbor- 27 miles (31 nautical miles)

LA Harbor- 22 miles (25 nautical miles)

Marina del Rey- 31 miles (36 nautical miles)

Mission Bay- 87 miles (76 nautical miles)

Mooring at Catalina Island
There are many harbors you can choose from but they fall into two categories. Two Harbors is a privately owned harbor where you'll have plenty of mooring areas available. Those areas are known as Isthmus Cove, Emerald Bay, Catalina Harbor, Fourth of July Cove, and Cherry Cove. Avalon Harbor has a few different areas as well, Main Harbor, Descanso Bay, and Hamilton Cove.
Weekends can be harder to find mooring so try and plan your trip for Sunday through Thursday. Another good tip is to visit the websites before you depart to be sure there are openings available. For Two Harbors, the site updates on Thursday nights at midnight with available spots. Avalon offers a live video feed that will show you if there are openings available. In both cases, use your best judgment and leave as early in the morning as possible for calmer waters and more open spots.
Avalon Mooring
Mooring availability at Avalon is at a first come first serve basis. Upon arrival, you'll need to check-in at the harbor entrance. Mooring rates vary on the size of your boat and go at a per night rate. Mooring fees can be paid by cash, check or credit card during your stay and if there are any fees unpaid upon departure, fees will be doubled.
30' and under- $37/per night

31' to 39'- $41/per night

40' to 49'- $50/per night

50' to 59'- $61/per night

60' to 69'- $80/per night

70 to 79'- $98/per night

80' to 89'- $11/per night

90' to 99'- $132/per night

100' and over- $149/per night
You must leave before 9 am on the day of departure from Avalon. There is also an anchorage area at Avalon that you may use at your discretion.
Two Harbors
Two Harbors operates similarly to Avalon when it comes to mooring. Moorings are leased to private parties but if a spot is open, you can rent it out for days at a time. Open spots also go on a first come first serve basis just like Avalon. The major differences come with pricing based on the size of your boat and check out times.
0 to 29'- $39/per day

30' to 39'- $49/per day

40' to 49'- $57/per day

50' to 59'- $70/per day

60' to 69'- $81/per day

70' to 79'- $95/per day

80' to 89'- $115/per day

90' to 99'- $131/per day

100' and over- $152/per day
Check out times are at 8 am on the day of your departure. During the summer holidays, prices may change.

Anchorages
Anchoring is a great way to experience most harbors, especially if the mooring isn't available. However, Catalina islands weather and water depth could make anchoring a bit more difficult. The best spot to anchor on Catalina Island can be found behind Two Harbors Isthmus Cove. The area is known as Little Fisherman's Cove and with depths sloping to about 60', it's your best bet. Your dinghy is a must when boating to Catalina Island so you can get to the main island with ease. If you don't have a dinghy, don't worry there are shore boats available. Shore boats are also known as water taxis as they will come to your boat to pick you up and bring you to shore. Prices for shore boats vary based on where you're mooring and where you're headed and goes at a per person rate.
Island Fun
There's plenty to do once you land at Catalina Island. There are of course water sports like diving, kayaking and more as well as over 30 restaurants that range from fine dining to quick bites. If you want to head more inland, you can go hiking or go camping. There are even arcades, gift shops, nightclubs and some of the best golfing around.
Visiting Catalina Island is like visiting paradise just an hour or two away from the shores of California. If you own a boat and live in the area, these Catalina Island boating tips will help with your regular trips like they do ours.