Focus T25 Review and Tips for Weeks 1 and 2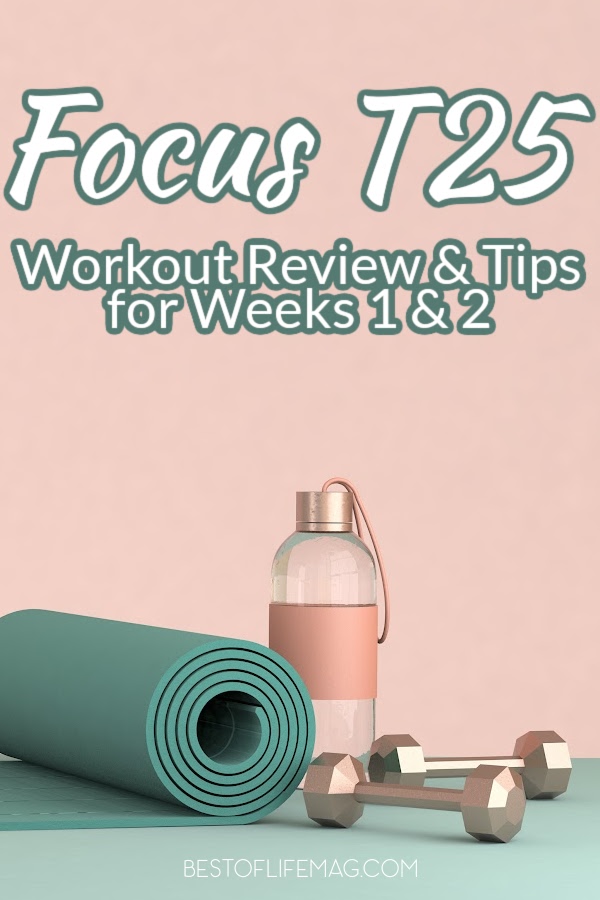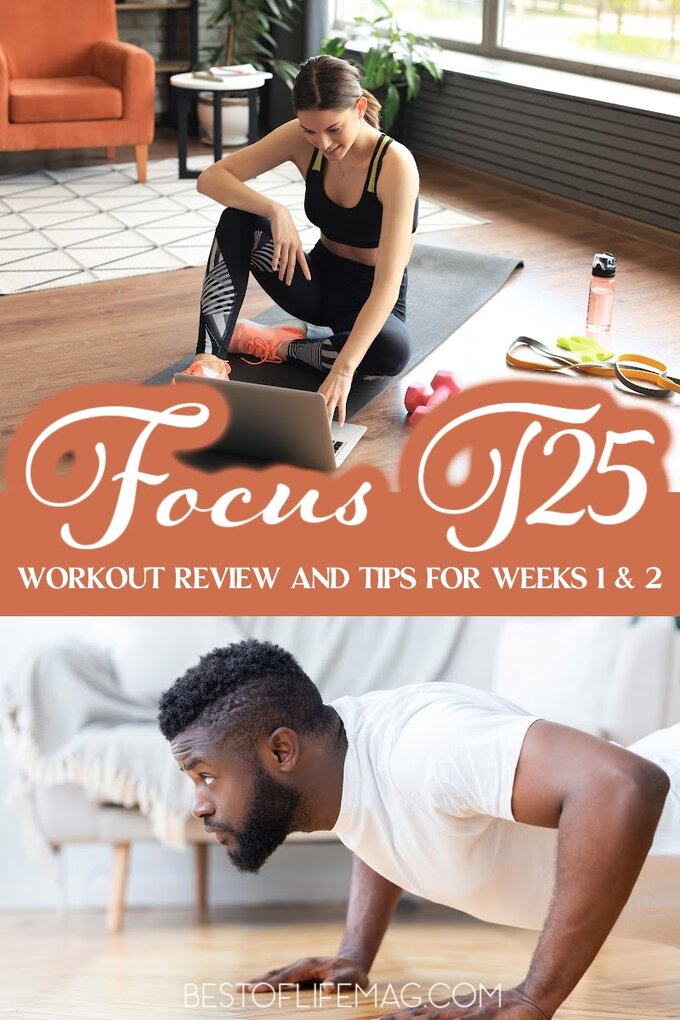 After completing the first half of T25, I wanted to share this Focus T25 review and tips for those of you that are considering T25 as a workout program. At-home workouts can change your fitness path as soon as you hit play. It's important to remember that every workout routine is not meant as a catch-all for everyone.
Find the best fitness routine for you and achieve your fitness goals. For this workout routine, you need the Focus T25 workout, an exercise mat, light weights, and a good pair of exercise shoes. Are you considering the Focus T25 Workout?
This Focus T25 Review and Tips for Weeks 1 and 2 will help you make a final decision and get started. I have been working out 3-6 times a week since 2000 and have done 100% of this through home workout programs since 2002.
Working out at home offers many different benefits besides just the physical health. While there are many benefits to working out at home, there are a few drawbacks. One of the biggest drawbacks is restricted access to a trainer.
Having a trainer help you through a workout is a great way to stay motivated and trainers will often know more about working out than you may. Luckily, there are ways around hiring a trainer for $50 or more per day, an at-home workout DVD like T25.
Using a T25 review you can decide if it's the right choice for you. Many wonder why we exercise at home…it's simple.
Time
We have two children and for us, at home programs remove the excuses and work more efficiently for our family. Time is what mainly drew us both to T25. I mean truly…who doesn't love the idea of getting an amazing workout in 25 minutes?
After a morning of getting the kids off to school, a full day of work, and then prepping dinner, we want nothing more than to rest. But if we can fit a quick workout anywhere in that already packed schedule, we'll do it more often.
T25 is that workout for us, daily, the workout doesn't take long and fits well into any schedule, anywhere, for almost everyone.
Focus T25 Review Q&A
How many days do you have to work out in weeks 1 and 2 of T25?
The program calls for working out five days in a row with one of those days being a double workout. You can also do six single day workouts instead of doubling up if you prefer. However, doing any customizations at first may be a bit difficult.
For example, during the first two weeks, you may have trouble doing a double workout. If you're open to spacing them out as single workouts, that would be the best approach. Most at-home workouts will require you to work hard during the first two weeks.
That fact may be where the idea that the first two weeks are the hardest. But keep in mind that it's necessary to get you on track with what's to come later. If you don't hurt during the first two weeks…more on that later.
What fitness level do you have to be at to start T25?
For the first two weeks and the overall T25 review, I would say you should at least be at a moderate fitness level, but the great thing is that you can easily modify each move if you follow the modifier in the workouts.
While customizing the schedule of a workout isn't recommended, customizing the physical workout is fine. For example, if a workout asks you to do squats for 2 minutes but you can only go for 1.5 minutes. There's nothing wrong with stopping just outside of your comfort zone.
Just be sure not to do this too often and always try and push yourself. Another major plus of T25 is that Shaun T transitions you into moves very easily so, for the most part, you do not feel like you are scrambling to figure out what to do.
There is a small box in the lower left corner of your screen that indicates the move you are currently on, a progress bar for that move, and the upcoming move flashes for roughly ten seconds beforehand.
T25 Review – Will I be in pain?
I had to put this in here because let's face it, Shaun T would not make a program based on a 25-minute workout unless he could really make that 25 minutes count. And he does. And yes, you will hurt. For the first three days of T25, I felt like my legs were made of violin strings that needed to be carefully tended to, to avoid snapping.
Just push through the first week and it all pays off making week two much easier. As you continue you'll find that the workouts are more advanced but feel easier. Simply put, you're feeling the progress you've made.
If you want to keep getting stronger, push yourself until the workouts do start to feel like week one workouts. Oh, and you know those sweat bands from the 1980's? Get some because you are gonna sweat like no tomorrow. 🙂
What else do you need besides the DVD's to do T25?
A T25 review would not be complete without looking at what you need for the workout program. An exercise mat is called for on certain days, but I usually have it out so I can use it for any moves on my hands. Also, be sure you have shoes with good support.
Focus T25 involves A LOT of cardio. Great, kick your butt cardio…that means your body will appreciate shoes with good support. Before I started T25, I got a pair of Nike Free Run 3.0 shoes. It's like exercising on marshmallows and my knee pain has reduced since I started using them.
Other than that, just bring it for 25 minutes and enjoy the burn because you will feel the results within a few days.
More Beachbody Workout Reviews
How to Modify Focus T25 and Get Results | Focus T25 is a great workout routine that has a lot of room for modification.
Core de Force Review and Calories Burned | You can reach your goals with many different Beachbody workout plans.
Country Heat Review | Turn up the heat in your home the next time you aim to lose weight.
How many calories does CIZE burn? | CIZE is a popular workout plan from Beachbody, but is the hype real?Save