10 Tips for Starting a Ketogenic Diet | How to Start a Keto Diet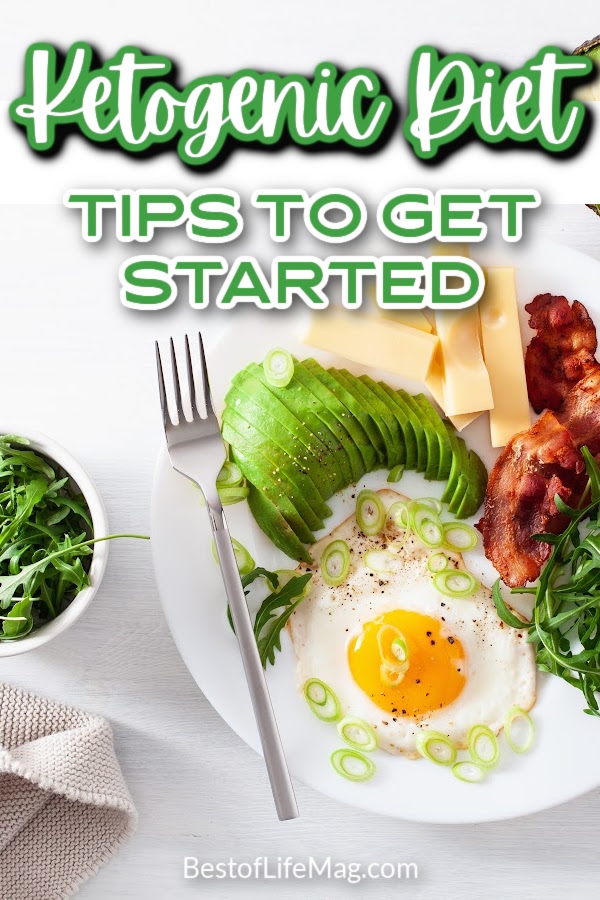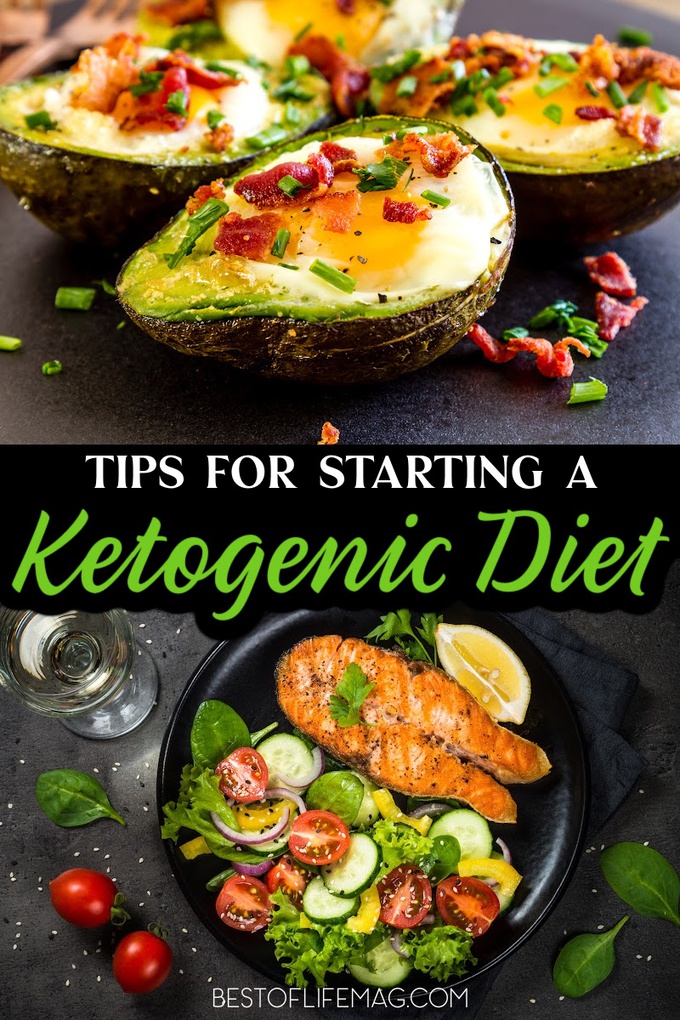 The Keto diet has also become a popular way to improve lean muscle, increase fat metabolism and lose weight quickly. But starting a ketogenic diet can be daunting for some, so we've rounded up the best tips for beginning a ketogenic diet.
A ketogenic diet is a very low carbohydrate, moderate protein, and high fat-based nutrition plan that trains your metabolism to use ketones for energy. There are medical reasons to incorporate a Keto plan into your life, like improving insulin sensitivity and reducing inflammation.
If you decide to give Keto a try, there are ten important tips for starting a ketogenic diet that you should keep in mind. Starting a ketogenic diet isn't as simple as making a decision and then going with it for a week to see what sticks. It's important to understand what ketogenic is and then how to achieve that state of the body.
Ketogenesis is when the body produces ketones bodies by breaking down fat. This is how the body begins to get energy, and the only way to get into a ketogenic state is through dieting. But before you start counting carbs and trying to lose weight, it's important that you also know what starting a ketogenic diet looks like.
Tips for Starting a Ketogenic Diet | Know What You Can Eat
In other words, do your homework before starting a ketogenic diet. Review your options for keto-friendly food. Then, take stock of your kitchen and when possible, discard any and all foods that are high in carbohydrates. Candy, chocolate, sugary drinks, bread, pasta, and rice are all no-no's on Keto and if they are in the kitchen they can become a temptation.
Make a list. Go to the grocery store. Read labels and restock!
Plan Your Meals
While it's certainly easier to follow Keto when your partner and family follow the plan, it is possible to do Keto for one, with some planning. Many ketogenic recipes can be enjoyed by everyone you cook for and many non-ketogenic recipes can be modified to be Keto friendly.
Here's your excuse to spend an hour on Pinterest or Google; you can find tons of Keto recipes! Once you have a week's worth of basic recipes, it's so much easier to stay on track. Take time once a week to meal plan and prepare meals ahead if you can. The time investment will pay off.
Decide Whether You Will Do "Intermittent Fasting"
Intermittent fasting is thought to be one of the best ways of starting a ketogenic diet and maintain ketosis because you are reducing calories and not consuming protein or carbs. It is a good idea to plan ahead and read up on fasting strategies before you add this to your Keto plan.
If you have blood sugar issues you will want to discuss fasting with a health professional before you begin.
Know What To Expect
When you first start a ketogenic diet it is pretty common to feel tired and moody. You might even feel slightly nauseous or just "off". These are typical symptoms of your body adjusting to using ketones for energy rather than carbs.
It's sometimes referred to as "carb flu" and can last a few days to a couple of weeks. During this time be sure to drink a little extra water. If the symptoms are annoying or distracting you from daily life, add a few carbs like low sugar fruit or sweet potatoes to your diet to ease the transition.
After your body has adapted to the transition, you will likely find that you have a boost in mental and physical energy. You will have fewer afternoon "crashes" and you might even sleep better and wake up refreshed. Generally, after the transition, you will also tend to have fewer food cravings and feel less hungry.
Learn to Monitor Ketosis
How do you know when you are in Ketosis? You'll wonder this many times, especially in the beginning. A Ketosis Monitor or Ketostix from a local convenience store can answer this question. Most people on a Keto plan with 20 grams or less of carbs per day will achieve Ketosis in about 2 days.
Protein vs. Carbs – Choose Wisely
Many people on a Keto diet consume too much protein. Excessive protein without the proper fat and carbs can actually force your body to turn the amino acids in protein to sugar, which will kick your body out of Ketosis. On the other hand, Keto is a low-carb diet, but that doesn't mean a NO carb diet.
In fact choosing, nutrient-rich carb sources like non-starchy vegetables and low sugar fruits can help keep you balanced and even help fuel certain workouts.
Stay Hydrated
This might seem like a simple concept. It is! But it is not easily followed. Many times we get so busy we just "forget" to hydrate. Start by drinking a full glass of water within an hour of waking up, to "wake up" your metabolism and continue to hydrate throughout the day.
If you are planning on fasting during your Keto plan, you will find that staying hydrated will help keep you full and energetic.
Make Sure You Get Enough Sodium
This one might sound odd. Aren't we usually told to reduce our sodium intake? That is true for the typical higher carbohydrate diet, however, on a Keto diet, insulin levels are lower. This causes the kidneys to excrete more sodium.
Adding a moderate amount of sodium will be beneficial. The general recommendation is 2-4 grams of additional salt.
Have an Exercise Plan
Regular exercise is important to your plan if your goal is to lose weight and build lean muscle. Generally, lower intensity, steady-state cardio is the most fat-burning form of exercise and, therefore, Keto-diet friendly. However, you need not give up on anaerobic exercises such as high-intensity intervals (HIIT) or weight training.
Although this form of workout uses carbohydrates as a primary source of fuel, you can adjust your diet accordingly to provide enough energy for your exercise. Don't forget about flexibility and stability exercises like stretching and yoga.
They are always helpful for improving range of motion, supporting joints, and improving body alignment.
Be Willing to Commit
No diet will work on its own. Be honest with yourself about how much time and effort you are willing and able to put in. If you see yourself falling off the no-carb wagon a few weeks into your journey, then Keto might not be for you.
The results, like any other diet plan, are not magical or immediate and there will be days you will want to give in to a craving or just ditch the plan altogether. It can take a week just to achieve a state of Ketosis, and longer than that to achieve your desired results.
Keto does work for a lot of people but it will only work for you if you stick to it and give it time.
More Keto Diet Ideas
Whole30 vs Keto Diet: What's the Difference? | Whole30 and Keto have a lot of things in common. But the diets still have some differences.
Keto vs Atkins: Low Carb Diet Differences | Atkins is another diet that is a lot like a low carb diet. However, they may not be exactly the same.
Keto vs Paleo Diet: What's the Difference? | Paleo and keto are definitely two different diet plans that offer different benefits and disadvantages to weight loss.
Dairy Free Keto Breakfast Recipes | Starting your day off right helps make sure you stay on track all day long, each and every day.
Low Carb Chocolate Dessert Recipes | Keto Chocolate Dessert Recipes | Chocolate fits into a low carb diet perfectly which might be why the diet works so well for so many.