White Wine Pasta Sauce Recipes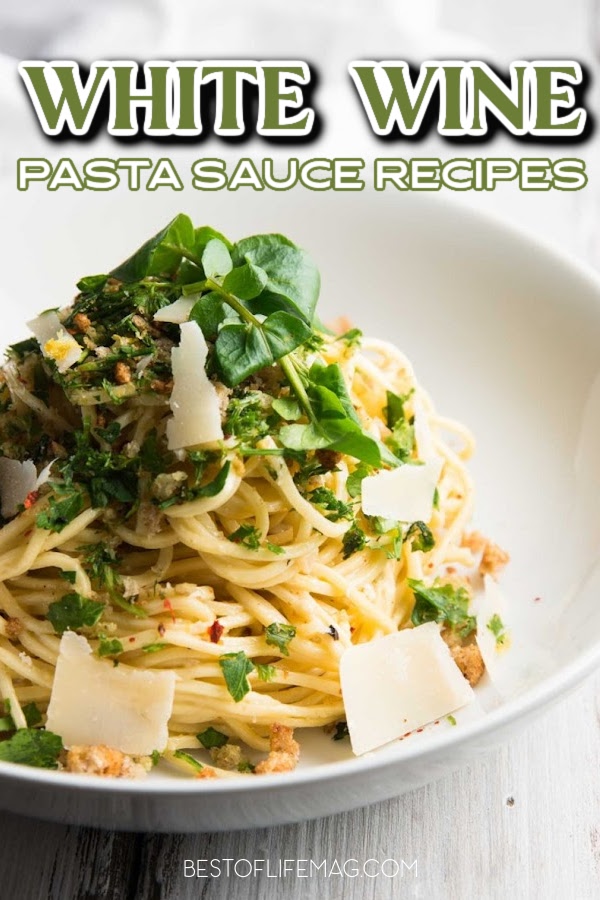 Actually, cooking with wine can be a delicious flavor enhancer and if you are going to open a bottle to cook with, then why not have a glass to enjoy during the process? Uncork a bottle of white and give new life to your pasta dishes with white wine pasta sauce recipes like one of these.
White wine pasta sauce recipes make romantic dinner ideas much easier no matter what the occasion, and they pair well with a glass of white wine as well. When you cook with wine, it should be drinkable wine. Cooking wine is not necessarily the right wine to cook with.
You want a clean and fresh taste, not something that smells "corked" or has been sitting in your pantry. Wines like those will be more vinegar than wine. So if you don't plan on using the entire bottle for cooking, find one that you can enjoy in a glass as well.
Keep in mind a little wine goes a long way when cooking a delicate sauce like a white wine pasta sauce. Reducing the sauce while it cooks will concentrate the flavor, including any acid, oak, or sweetness. A heavy pour in your glass is good, but in your pasta sauce, use restraint.
Pasta is the perfect vehicle for a white wine sauce. It will hold the sauce and complement the flavor of not just the wine but the other components of the sauce, usually garlic, fresh herbs, and mild spices.
A more delicate sauce calls for spaghetti or angel hair. You can also go a little bolder with a creamy white wine sauce. A cream sauce will really stand up to thicker pasta like penne or even ravioli. You really can't go wrong with any of these delicious pasta sauces.
White Wine Pasta Sauce Recipes
Garlic and White Wine Pasta | Explore Italy and Beyond
White Wine Sauce for Pasta | Julie Blanner
Simple White White Lemon Butter Pasta Sauce | Spoon University
White Wine Lemon Caper Sauce | Eating Well
Mushroom and Spinach Pepperadelle in White Wine Sauce | Cooking and Beer
Types of Sauce
There are so many different ways to make pasta sauce, especially white sauce. Most people use a cheese base to start a white pasta sauce like an alfredo. You could also make garlic or butter be the standout part of your white pasta sauce recipe.
But white wine is such an easy ingredient to add to a white pasta sauce that it is a wonder why it isn't in every recipe.
Spaghetti with Garlic White Wine Sauce | Pop Sugar
Scallop Spaghetti in Creamy White Wine Sauce | Julia's Album
Spaghetti in White Wine Garlic Sauce | BlogLovin
Garlic Butter Shrimp Pasta in White Wine Sauce | That's What She Said
White Wine Sauce | Stay At Home Mum
Flavor
The flavor of the white wine is what carries over into the recipe. In fact, most of the alcohol will be cooked off as it simmers. Then, you will be left with the dry deliciousness of the grapes that were used to make the wine.
It is a great flavor that can go with just about any type of white sauce, from garlic butter to pesto.
Alfredo Sauce with White Wine and Garlic | Eckerts
White Wine Sauce | My Recipes
Ravioli with Garlic Herb White Wine Sauce | Alison's Allspice
Chicken Pasta in White Wine Sauce | What's In The Pan
Easy White Wine Alfredo | One Sweet Appetite
Romantic Dinner Ideas
These white wine pasta sauce recipes are perfect for date night. You could really impress her or him with your skills in the kitchen. Especially when they see that you can not only cook with wine but pair it with the dish. Of course, pairing a wine with a white wine pasta sauce is super simple.
Just use the same wine you used to cook with or something similar.
3 Ingredient Buttery White Wine Pasta Sauce | The Kitchn
Garlic Butter White Wine Pasta with Herbs | Savory Nothings
White Wine Sauce | Yummly
Garlic Butter White Wine Pasta | Garden and Table
White Wine Pesto Pasta | CD Kitchen
White Wine Pasta Sauce Recipes
You could also use these recipes as a family dinner recipe. Yes, there is wine in the pasta sauce, but most of the alcohol will cook off, making it safe to consume for all ages. How you use these recipes is entirely up to you, but we know you will enjoy them.
Don't be afraid to try something new with these white wine pasta sauce recipes.
Vegan Pasta Bake with White Wine Sauce | Fit Foodie Finds
Angel Hair with Shrimp in White Wine Sauce | Kitchen Stories
White Wine Pasta Sauce | Contendedness Cooking
One-Pot Garlic White Wine Pasta | My Darling Vegan
White Wine and Garlic Dream Cream | All Recipes
More Recipes
Red Wine Vinegar Salad Dressing Recipes | Red wine vinegar makes for a spectacular salad dressing so long as you use the right recipe.
Low Carb Crockpot Pizza Casserole | Pizza is amazing; it is already kind of like a casserole on baked dough. But you can make it easier and healthier without the dough.
Crock-Pot Spicy Chicken Bowl Recipe with Spinach | Spicy chicken and spinach is a healthy meal anyone could enjoy. Don't worry; the spice isn't that intense.
Low Carb Zoodles and Meat Sauce Recipe | Zoodles are a fantastic way to feel like you're eating spaghetti without eating all of the carbs from the noodles.
Fall Red Wine Sangria Recipes | Sangria is a delicious wine-based drink that uses the power of nature to turn wine into something completely different.