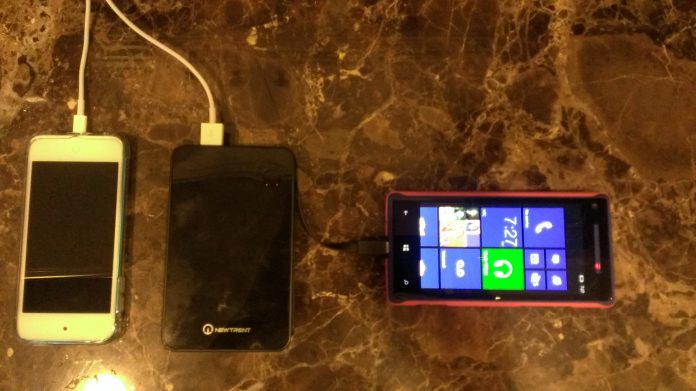 This site contains affiliate links. Please read our Policies for information.
The NT70T is our second New Trent charger and we are again incredibly happy!  I would be so lost without our New Trent chargers…actually I was lost before I found them. I would try and charge with other chargers and be deviceless at events. It was so frustrating, which is why I am thrilled to share New Trent's products with you in this review and giveaway.
Perhaps my favorite feature of the NT70T is how lightweight it is.  You can toss it in a handbag or laptop bag without worrying about carrying added weight during your days or travels. The compact design with two charging options that tuck into the side profile is so useful and makes tossing it in your bag even easier.  The smooth edges ensure that it does not get caught on anything in my bag; I also love that I can toss it in my handbag and not worry about having a cord to go with it.  I just pull the Android adapter loose on the side and connect my HTC Droid DNA.
I tested the charging capacity of the NT70T with a variety of devices and it performed consistently and exactly as the company describes. I have the HTC Droid DNA, which is a 'phablet', and thus draws a lot more from the NT70T during charging.  Despite this,I can simultaneously charge it with my husband's Nexxus Galaxy and achieve a full charge for both of us.  After charging both of those devices and leaving them plugged in longer than needed, I charged my HTC Windows 8x and got a 90% charge before the NT70T needed to be recharged. 
During another test, I charged my HTC Droid DNA from 10% to 100% in 50 minutes and then charged both of our children's iPod Touches (5th generation) at the same time and still had a bit more left over to work with in the NT70T from New Trent.  We have been able to use the ports that are attached to the NT70T and all of the charging cords from our devices and each device charges perfectly!
On average, we are able to get 3+ full charges from this portable charger, which is wonderful for how compact and lightweight the NT70T is.  We took the NT70T on a day outing with us and were able to recharge all four of our devices so that my husband, the kids and I could take pictures and stay connected with our devices. The overall design of the NT70T portable charger makes it very easy to use and I love knowing it is compatible with all of our devices.
New Trent has some great promotions going on right now as well!
Save 50% on New Trent iGeek, 9900mAh external battery when you purchase 1 or more New Trent iCarrier, IMP120D or Easypak, NT70T offered by idealpoint. Enter code 50PIGEEK at checkout. You can see how to take advantage of this here (restrictions apply).
Now for the fun giveaway news!
New Trent is giveaway one of YOU an NT70T Charger so be sure to enter:
Disclosure: New Trent provided us this product for review.  All thoughts and opinions are my own as they always are.  We have been a New Trent customer for years and support them because they are a good company that makes great products.