This site contains affiliate links. Please read our Policies for information.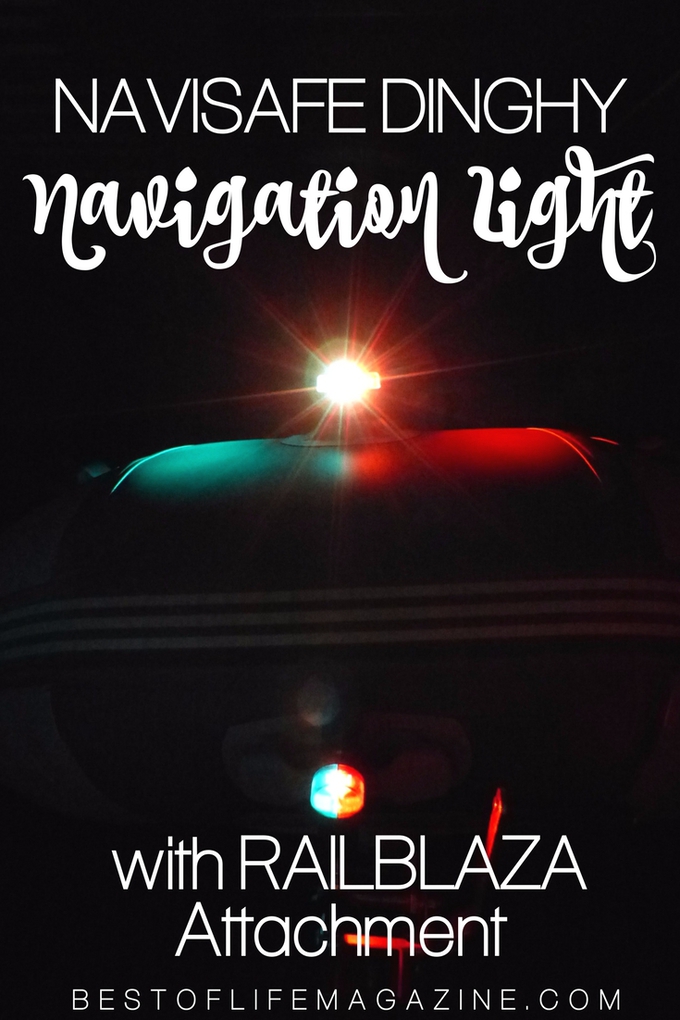 When I first bought our dinghy I had of course researched everything to the nth degree and knew that if I wanted to use the dinghy at night (which of course I did!) I'd need to have a light. Technically we only need one white light due to the size of our dinghy but I bought both a 360 degree white light for the stern and a green\red light for the bow because I'd prefer more chances for other boats to see me and be able to more easily tell my direction of travel. Perhaps it was due to being tired of researching everything else or perhaps it was being anxious to get out on the water but I went with the standard clamp on lights that were readily available. Add in a pinch of me being cheap at times and whammo – mistake made. I would start researching for a new solution and I would ultimately find the Navisafe Dinghy Navigation Light with RAILBLAZA Attachment.
If you are looking for safety equipment for your dinghy or boat you can't go wrong with this set of Navisafe Dinghy Navigation Lights. They even have sets for kayaks and smaller boats! If you don't need navigation lights you can take advantage of their great equipment with this pole light! A good set of safety lights can be the difference between a safe transport or a big mess! Make sure your boat is properly outfitted with navigation lights.
The Navisafe Dinghy Navigation Light with RAILBLAZA Attachment was our solution and could be the solution you've been looking for as well.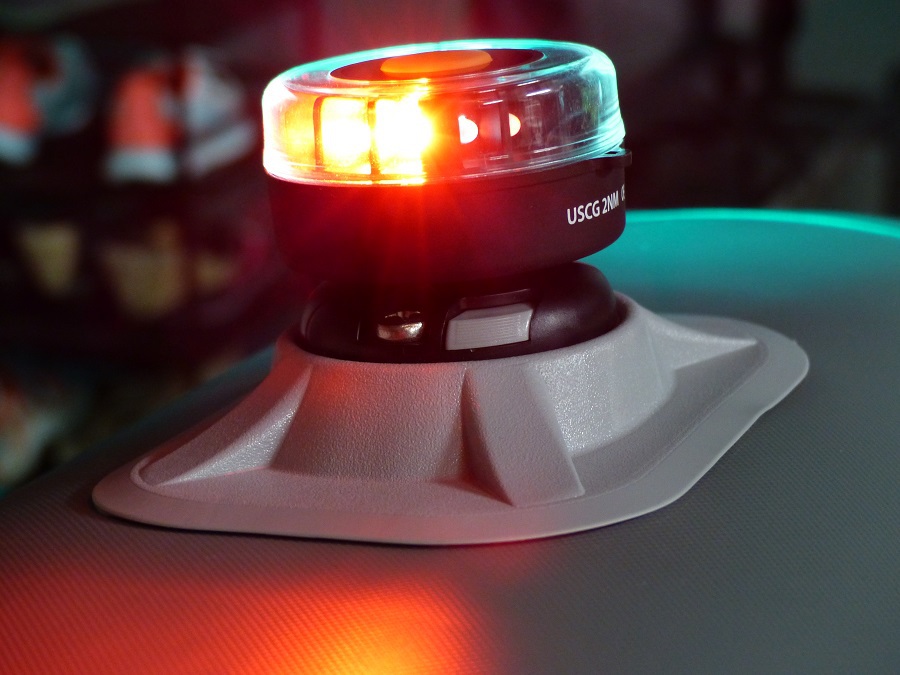 Don't get me wrong, the lights I bought worked ok; functionally they were fine but they are a PITA to screw on which means I spend needless time grunting and swearing under my breath as I contort to get them screwed on…most often in the dark mind you. After about 6 months of wrestling with these lights, I decided it was time to upgrade. And this time I spent my normal (wife says too much!) time researching to ensure I got a product that would work and work well! That's when I found the Navisafe Dinghy Tricolor light with Railblaza attachment. To be clear, this light is only for my bow and it requires the Railblaza attachment but I needed something I could easily and quickly mount\unmount on my bow, is bright, and easy to store when not in use and this combo checks off all those requirements.
Why the Navisafe Dinghy Navigation Light with RAILBLAZA Attachment
By going with the Navisafe Dinghy Tricolor light with Railblaza, I was able to mount the pad exactly where I wanted it and because it glues down with the equivalent of PVC glue it's not going anywhere – I don't need to worry about it should someone step on it (when the lights not in!) getting in and out of boat. It might not feel the greatest on a barefoot but it's not going to cut anyone and they're not going to damage the mount. It's also worth noting that Railblaza has switched their RibPort mounts so that they all come with an adhesive pad now so you don't to mess around with PVC glue if you don't want.

Setting Up the Navisafe Dinghy Navigation Light with RAILBLAZA Attachment
I chose to use a little glue around the edges to ensure the didn't pull back and help prevent water from getting underneath but that's only because I'm retentive :-). After gluing down the pad and letting it cure for 24 hours I was ready for the big test, putting the light in and seeing how well it works. After hours of research, assembly, and waiting for the glue to dry…my light was in crooked…WTF!?? I had lined everything up right how could this be?? After a few harrowing moments of thinking I just majorly effed up, I realized that the Navisafe Dinghy Tricolor light wasn't screwed shut completely and once I did that it lined up perfectly! Thank God – the thought of somehow trying to pull up the adhesive pad to reseat it nor leaving it and being endlessly taunted by my seagoing friends for having a half-cocked light – neither thought was appealing.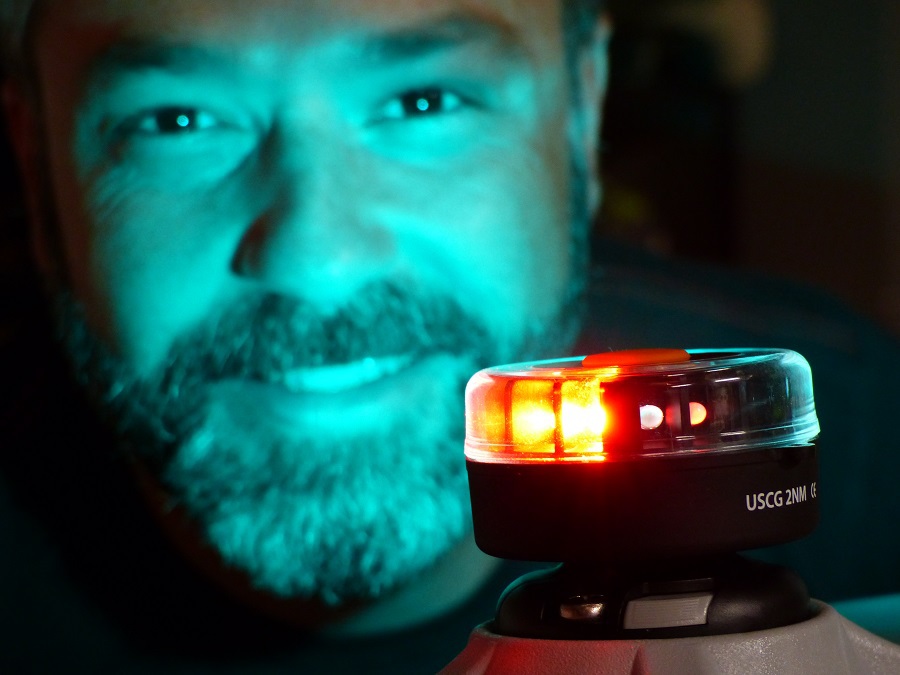 Alright so light's in, it's straight, and it's sturdy. Popping it into the Railblaza rib port and locking it in place with the switch takes less than 5 seconds. And once you push that glorious power button on the light itself everyone is going to see you. In fact, the light is rated by the USCG for 2 nautical miles – not bad for 3 AAA batteries! This thing is so bright you're not going to want to look directly at those ungodly strong little LEDs lest you go blind.

Features and Review
You can cycle the light to a few different settings depending on your needs; if you're using this like I am as your one and only bow light you can set it so just the green and red lights turn on – this is nice because the white lights are the last third and would be too much light pointed at us in the dinghy otherwise. You can also choose just the green or just the red, say if you were using these backup-up bow lights on your primary boat. And you can also activate all three colors simultaneously or just the white light. It's also waterproof to 20m though I wouldn't recommend it as a dive light haha, it also floats should it get knocked into the big abyss. While I find this light to be a little on the pricey side, I will say that it's been worth it. I highly recommend not making the mistake I did and instead, spending a little extra up front to save yourself a lot of hassle and increase your safety. I keep the Navisafe in the dry bag in my dinghy where it's always ready to help ensure safe passage!