25 LIIFT4 Meal Plan F Recipes | LIIFT4 Sample Meal Plan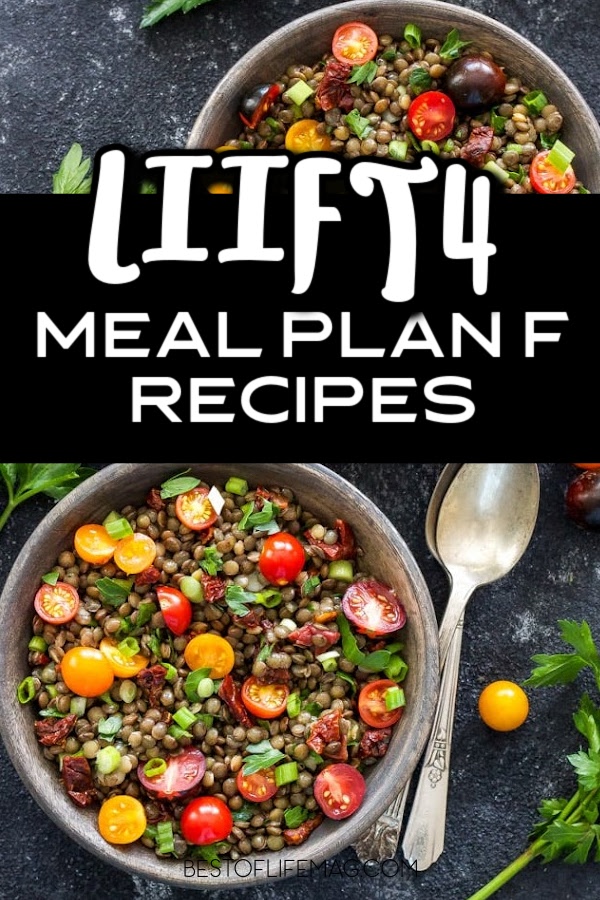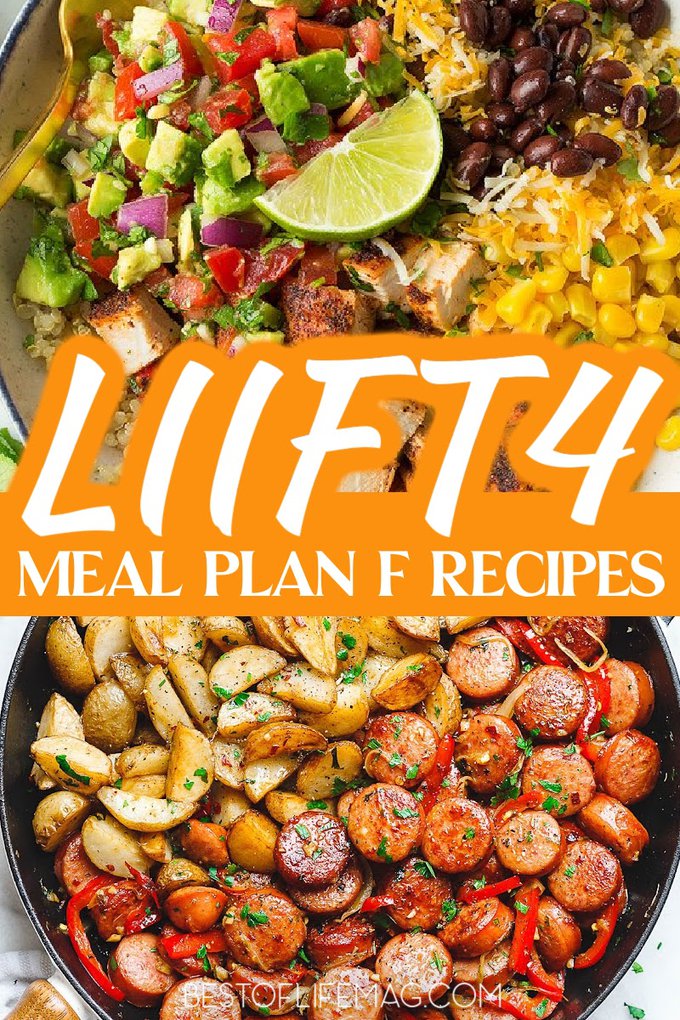 Meal Plan F is the highest in calorie allotment and very heavy on protein. At 2500 – 2799 calories per day (not counting your cheat day), that is around 800 calories per meal. It is important that you use the right LIIFT4 Meal Plan F recipes to stay on track.
If you're currently 259.5 pounds or more and pursuing Beachbody's LIIFT4 health plan, it is likely you will begin following Nutrition Plan F. Part of the planning process with any weight loss plan or workout program is to have the right recipes.
These LIIFT4 Meal Plan F recipes will help you achieve your goals on the LIIFT4 program and beyond. You don't need containers or a pre-set menu to begin. With these 25 LIIFT4 Plan F meals that we have selected for you, your meal planning is covered.
Each of these meals from breakfast through dinner is easy to prep ahead, easy to make and easy to convert to fit your personalized nutrition plan.
LIIFT4 Meal Plan F Recipes | Breakfast
There are no specific meals to eat or required meal prep to do. LIIFT4 nutrition is very flexible, but the plans are based on macronutrients. A 30% Proteins, 30% Fats and 40% Carbs is traditionally the ideal ratio.
Best 15 Minute Fried Egg Sandwich with Red Salsa | 3 Scoops of Sugar
Black Bean and Fried Egg Tostadas | Everyday Reading
Crispy Prosciutto, Cheddar & Fried Egg Oatmeal | Dilusso Deli
Strawberry Protein Pudding Breakfast Parfait | Katalyst Health
Breakfast Hash with Sweet Potato and Egg | My California Roots
Mocha Cold Brew High Protein Smoothie | Peanut Butter Fingers
Healthy Flourless Carrot Cake Muffins | The Big Man's World
Rise and Shine Breakfast Casserole | The Natural Nurturer
LIIFT4 Meal Plan F Recipes | Lunch
Lunch is one of the easiest meals to slip up on. You most likely aren't home for lunch which means the fast food line is calling your name. It's easy, quick, and you know will fill you up. But you can use these LIIFT4 Meal Plan F recipes to pack a healthier lunch ahead of time.
15 Minute Sriracha Ramen Noodles | The Stay At Home Chef
Crazy Good Quick Garlic Noodles | Little Spice Jar
Best Marinated Lentils | Recipe Runner
Spicy Chicken and Veggie Ranch Wraps | Mid Week Minimalist
Sweet Potato Grain Bowls with Tumeric Honey Mustard | Dishing Out Health
Grilled Chicken Burrito Bowls | Cooking Classy
Fish Taco Rice Bowls | Joyful Healthy Eats
Steak Burrito Bowl | Six Sisters Stuff
LIIFT4 Meal Plan F Recipes | Dinner
Beachbody food containers can be very helpful as you begin your LIIFT4 plan. Plan F calls for 8 veggie containers (green), 5 fruits (purple), 7 protein (red), 5 Carbs (yellow), 1 healthy fats (blue), 1 seeds and dressings (orange) and 8 tsp oils and nut butters.
This should keep you fueled and ready to work hard with the LIIFT4 daily workouts.
Dairy Free Slow Cooker Chicken Fajitas | The Best of Life Magazine
Pressure Cooker Fried Quinoa | Simply Quinoa
20 Minute Smoked Sausage and Potato Skillet | Eat Well 101
Instant Pot Chicken and Corn Chowder | Simply Happy Foodie
Salmon Burgers with Slaw | Pinch of Yum
High Protein Vegan Lasagne Soup | May I Have That Recipe
Pan Seared Salmon with Lemon Garlic Cream Sauce | Diethood
Crispy Hoisin Tofu | Joy Food Sunshine
Sheet Pan Chicken and Broccoli with Red Peppers | Family Food on the Table
Even More LIIFT4 Meal Plan Recipes
25 LIIFT4 Meal Plan A Recipes | Meal Plan A requires a different set of recipes you can use to stay on track.
LIIFT4 Meal Plan B Recipes | You may have guessed that Plan B has another set of recipes that work for the plan.
25 LIIFT4 Meal Plan C Recipes | Each plan is different but they will all help to get you where you want to be with your weight and health.
LIIFT4 Meal Plan D Recipes | Meal Plan Ideas | LIIIFT4 has plenty of options that fit different lifestyles and dietary needs.
25 LIIFT4 Meal Plan E Recipes | LIIFT4 Meal Planning | You can be sure that you will find the recipes and plans that work for you.