This site contains affiliate links. Please read our Policies for information.
When a company like LG puts to task a goal of providing the best products available, you get a single line of products. These products are set to define a company and give consumers amazing ways to do their everyday tasks. Be it to do more laundry atonce, or monitor your home while away, LG has you covered with their new line of products that fall under one name – LG Signature Series.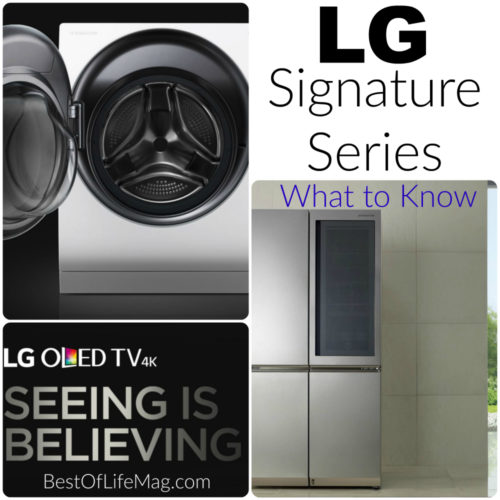 LG redefines luxury and style with our home appliances by introducing the LG Signature Series into our lives and our homes.
Premium
What does it mean to have a premium product? It means you bought an LG Signature product. Every product from the super cool Sidekick washing machine to the air purifier from the future oozes a premium feel that all consumers will crave for their home.
The Gift of Gifts
LG is taking an approach to their Signature Series that many will welcome with open arms. The reason for that is because LG is setting out to make their products give you a feeling when you open them. That feeling is the very one you get when you get a gift from someone who knows you so well. Each product has what you want in it that allows you to feel like you've opened a gift.
Style
The products included in the Signature Series by LG consist of a refrigerator, a washing machine, a television and an air purifier. The question to ask is what do all of these products have in common? The answer is a unique design that displays the style of a premium appliance.
Signature Television
Like our smartphones, televisions are going through many changes as technology advances. The goal to the upgrades is to improve the weight and thickness of the actual television and the clearness of the picture. The OLED 4K television in the LG Signature series does both. The display is as thin as a sheet of glass and docks into the speaker base providing the ultimate 4K viewing experience.
LG Sidekick Washer
Another aspect of the Signature Series is showcased in their new Sidekick Washing pedestal. Technology is supposed to make life easier, giving us more time in the day. The LG Sidekick Washer does that by allowing you to wash two loads at once, and even on different cycle types if needed. The best part is, the Sidekick is compatible with all LG washing machines dating back to 2009. We are very excited to be able to try out the Sidekick in our own home and let you know exactly how it helps in our day-to-day lives. Keep an eye out for those posts in the near future.
Fridge of The Future
The best part of technology is it gives us easy access to the things we want to know. The LG Signature Series Refrigerator allows you to get the info you need, without even opening the door. There is a little door inside the main door of the refrigerator that has a new technology called "Knock On". With a simple knock, the door becomes transparent and allows you to look inside without having to open the door and waste energy. There is even an auto-open feature that will open the door for you for those times your hands are full of groceries.
See Clean Air
Most air filters clean the air of dust and particles that you can't see and we must trust that they're working. The LG Signature Series air filter shows you how it cleans and what it's cleaning as it cleans. Using a water filtration system, the air purifier will not only clean the air but ensure optimum humidity within your home.
LG is truly making a name for themselves with the Signature Series, a name that we all will want to embrace. Luxury, style, and quality all are very important to us and very present in each smart appliance offered by LG though LG is no stranger to the luxurious lifestyle. Buying a product in the LG Signature Series ensures that your appliance will not only work well and have many smart features, but that its design will remain true to the appliance itself. The LG Signature Series is for the consumer who is truly looking for luxury and beauty in their smart appliances.  Learn more about this luxurious series from LG here.