This site contains affiliate links. Please read our Policies for information.
Anyone want to join with me and give this program a try? I purchased the Jillian Michael's 30 Day Shred exercise DVD a few months ago and have done the workout, but had to stop because of recurrent vertigo and hip problems. I think they are both under control for now so want to give this program a shot. I figured if I post it here, I will hopefully follow through with more commitment. Let's pray that works!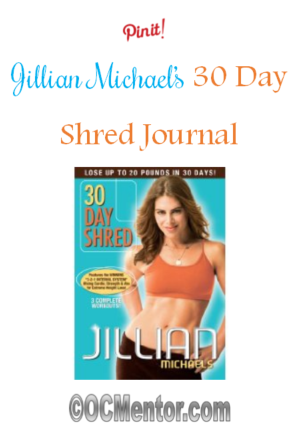 Jillian Michael's 30 Day Shred will get you in shape and leave you feeling empowered. My journal will help you see that you too can do this program.
I would love to have some of you join me. We can celebrate our successes together and STAY motivated! While I would love to the Jillian Michael's 30 Day Shred for the 30 consecutive days, my goal is actually 22 days as we leave for a trip on Father's Day. For only $8.99, you really cannot go wrong for an excellent program with what seems like promising results.
The question is – What is your goal?
June 13-15 / Days 14-16: It is official – I love this workout. Prior to this, I exercise 3-4 times a week consistently. I thought the "Shred" would be a temporary thing and when my time was up, I would return to my old routine.
Not the case.
I am going to continue with the Shred for another week until we leave for our trip. I am going to order Jillian's new DVD for our trip -it does not require weights (from what I read in reviews) so is a bit easier to grab and go. When we return, I plan on varying between the two workouts…on a daily basis…so I can continue to tone up.
June 11-12, 2009 / Day 12 & 13: I am so thankful that I finally took the Shred Plunge. The past two days have been great workouts. I am really feeling a difference in how tone my legs and arms are and finally feel my "core" returning (It has been pretty much non-existent for the last six years and three children). I love the endurance I have now with these workouts. Being consistent is truly helping me! Tomorrow is my two-week marker – I can hardly believe it.
June 10, 2009 / Day 11: Complete and feeling great! I have a cold that is making breathing hard so I stuck with Level 1 today. If anyone is debating about whether to try the 30 Day Shred, GO FOR IT! I am feeling so toned all over…a great feeling after three children. I am half way to my 22-day goal. And honestly, I may just take this along on my trip and use cans of corn for weights or something. This is almost addicting!
June 9, 2009 / Day 10: Well, I awoke at 3 am to a minor bout of insomnia and a sore throat today. So the idea of an intense workout at 6 am was not that appealing. Thankfully, my stubbornness kicked in and I eventually made my way. I compromised and did Level 1, but still sweaty, still feeling toned, and loving it!
My fellow Shredders who are not posting directly on here – keep it up! You are doing awesome!
June 8, 2009 / Day 9: Day 9 and Level 2 are complete! I never imagined I would look forward to exercising like this…especially every day. But, I love the feeling of being strong and am noticing a big difference in my core strength. I think I am seeing signs of my posture improving, too! Looking forward to another week of this workout.
June 7, 2009 / Day 8: Complete! I did Level 2 today and boy oh boy, that level is so challenging. I can tell a difference in how strong I feel after I do this workout, but I am so tired today now. But hey – it is done and tomorrow is a new day.
June 6, 2009 / Day 7: Today I was feeling it badly. I had some tweakage in my back yesterday that was very close to a spasm that would throw my back out. Thus, I took it easy on Level 1 today. I note a big improvement here: prior to this, I would have taken the day off as an "easy day". Now I chose Level 1 as my rest, which is big for me.
I am so proud of having done a week straight of the 30 Day Shred. After one week, I am down 1.5 pounds, however, we all know that tiny amount does not mean a whole lot. 🙂 Why does weight come on so easy and take SO much work to get off? 🙂
I look forward to starting Day 8 tomorrow.
June 5, 2009 / Day 6: The reluctance faded and when contemplating whether to tackle Level 1 or Level 2 of Jillian Michael's 30 Day Shred, I opted for Level 2.
When I started at Level 1, that near-death feeling was certainly there. But when I got into Day 2, it was not as bad as I anticipated. Thus, I went into Level 2 praying for similar results. Surprisingly, it was exactly the same…that being it didn't hurt any more than yesterday – LOL!
Level 2 clearly pushes me further than Level 1. I have a lot of room for improvement, but that is what this venture is about – pushing myself to hopefully get someplace I have never been. At this point, I cannot do that last segment of abs in the plank position – my upper body strength is just not able to hold it so that I actually work what is intended. So I bear through using other ab moves and will be up in that dreaded plank position before long.
I can already tell a difference in my core. I feel strong and love it. Tomorrow is Day 7 and I actually look forward to it.
June 4, 2009 / Day 5:
Day 5 complete…reluctantly – CHECK
Attempted Level 2 and will regret it later when I cannot walk – CHECK
Feel as though I am ready to die – CHECK
In need of a cold shower and water to drink – CHECK
Ready for Day 6 – I sure hope so
June 3, 2009 / Day Four: Today was AMAZING! I felt incredibly strong and had amazing energy (getting adequate sleep has its benefits)! Day Four of the Jillian Michael's 30 Day Shred is COMPLETE with the best effort thus far. I did Level 1 to its full potential and then went on to walk one mile with Leslie Sansone afterwards. Bring on the day!
June 2, 2009 / Day Three: OK, Tasha – you are my motivation, too. I was not wanting to do the 30 Day Shred today. I wanted coffee and my computer. But change is not going to happen if I don't change my routines. I remembered Tasha's Facebook post yesterday and then heard One Daddy say, "If you are gonna do it, you better do it now." (As he was sitting on the couch computering – LOL!).
I was achy today before working out and was honestly using that as an excuse to not do Day 3. Once I got moving, I felt so much better, and I did it. Day 3 of Jillian Michael's 30 Day Shred is done!
June 1, 2009 / Day Two: I did it! I was so tired this morning and was not feeling very motivated at all. I gave myself 30 minutes of personal time and then jumped on in. I did Level 1 of the 30 Day Shred again this morning and increased my intensity from yesterday. I feel fabulous! Bring on the day!
May 31, 2009 / Day One: I completed Level 1 and feel wonderful. I love getting a great workout in 20 minutes. Previously, I have gone into this workout full force and felt sore the next day. This time, I went a bit easier so I have no excuses tomorrow morning.