This site contains affiliate links. Please read our Policies for information.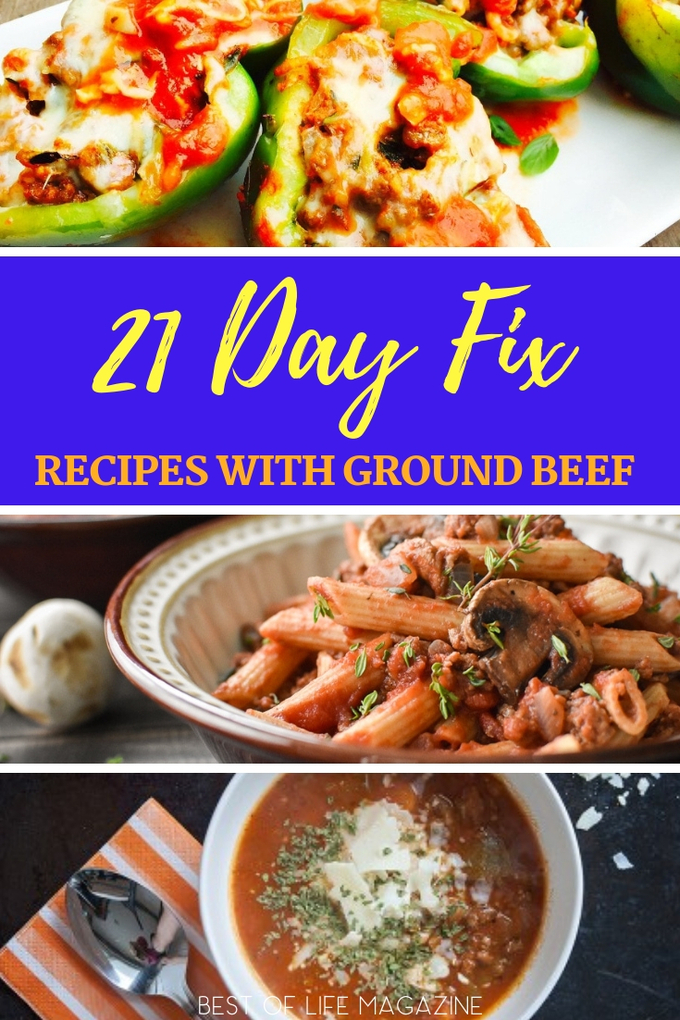 Losing weight and getting in shape is so much more simple with a program that helps you prepare every step of the way. That's the idea behind the 21 Day Fix by Beachbody. The 21 Day Fix and its color-coded container system help you prepare the exact proportion of each food group for every meal. You will never wonder if you are eating too much or not enough and you can still enjoy plenty of 21 Day Fix recipes with ground beef.
Ground beef is a commonly used meat and now you can use it to lose weight with 21 Day Fix recipes with ground beef.
It really is as easy as, if it fits in the colored container, then you can eat it at that meal. For the most part, the decisions have already been made for you.
Your choices come in when it is time to decide what to fill those containers with. Don't stare into those empty containers.
Fill them up with delicious and good for you food that fills you up and keeps you on track with your goals. That's what it's all about.
21 Day Fix Zesty Ranch Bake | Adventures of a Shrinking Princess
Beef and Brown Rice Taco Bake | Fit Mom Angela D
21 Day Fix Lasagna Roll-Ups | Wrapping with Court
One Pot Beef and Vegetable Dinner | Writer's Fitness Plan
21 Day Fix Mini Meatloaves | Crazy Strong Mom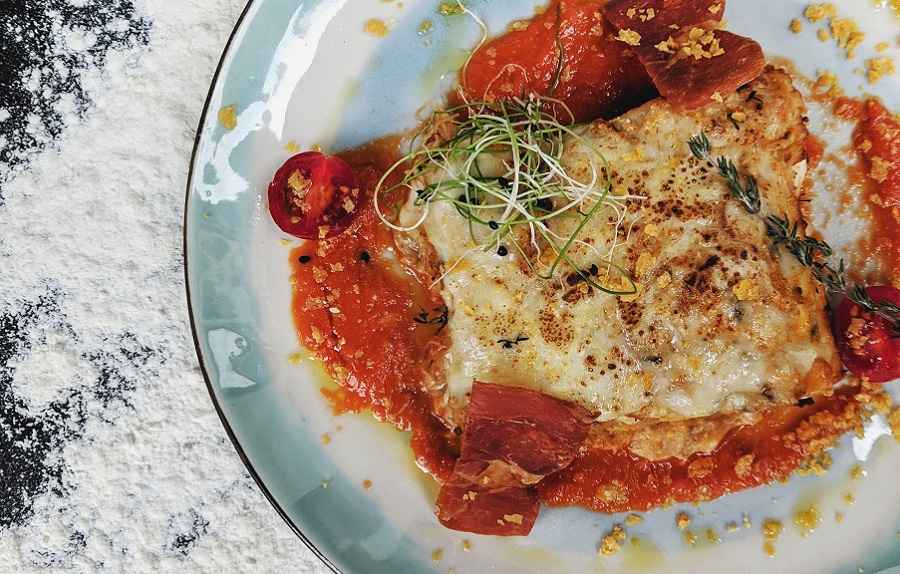 21 Day Fix Recipes with Ground Beef
Meal planning is the true key to staying committed and getting results on the 21 Day Fix program. Your tool kit will include a meal planner but making it work in real life is really up to you. That's where we come in.
Take a look at what's already in your fridge or freezer. Do you have ground beef? Great! We have 15 21 Day Fix recipes with ground beef that you can prep and enjoy today!
21 Day Fix Lasagna Skillet | Whitney Delong Fitness
21 Day Fix Italian Stuffed Peppers | Confessions of a Fit Foodie
Beef and Avocado Enchiladas | Healthy Fit Focused
Red Pepper and Mozzarella Stuffed Basil Burgers | The Healthy Empowered Mama
Enchilada Casserole (21 Day Fix Approved) | Hilary Dickson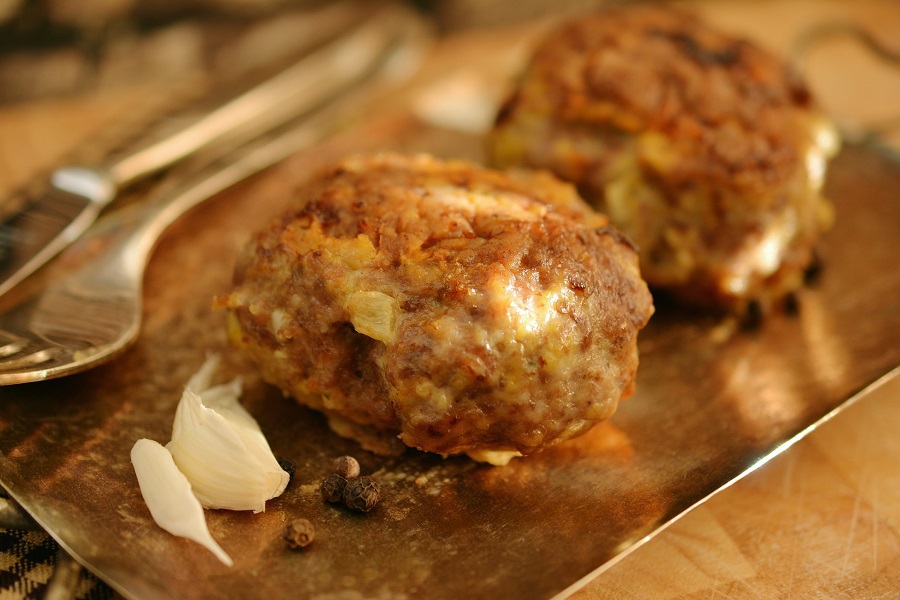 The Recipes
Each recipe fits the 21 Day Fix food plan. All you need is your ground beef, the additional ingredients and a little prep time and you'll be filling up your containers like a pro.
From casseroles and skillet bakes that lend themselves well to meal prep, to mini meatloaves and lasagna roll-ups which are easy to take and go, these recipes have what it takes to keep you on track. Fix one tonight!
21 Day Fix Pasta with Sherry Mushroom Meat Sauce | The Foodie and the Fix
Mini Meatball Bombs | My Crazy Good Life
Healthy Goulash | Getting Fit and Feeling Fabulous with Stephanie
21 Day Fix Shepherds Pie | Fit To Savor
Hamburger Soup | The Bewitchin Kitchen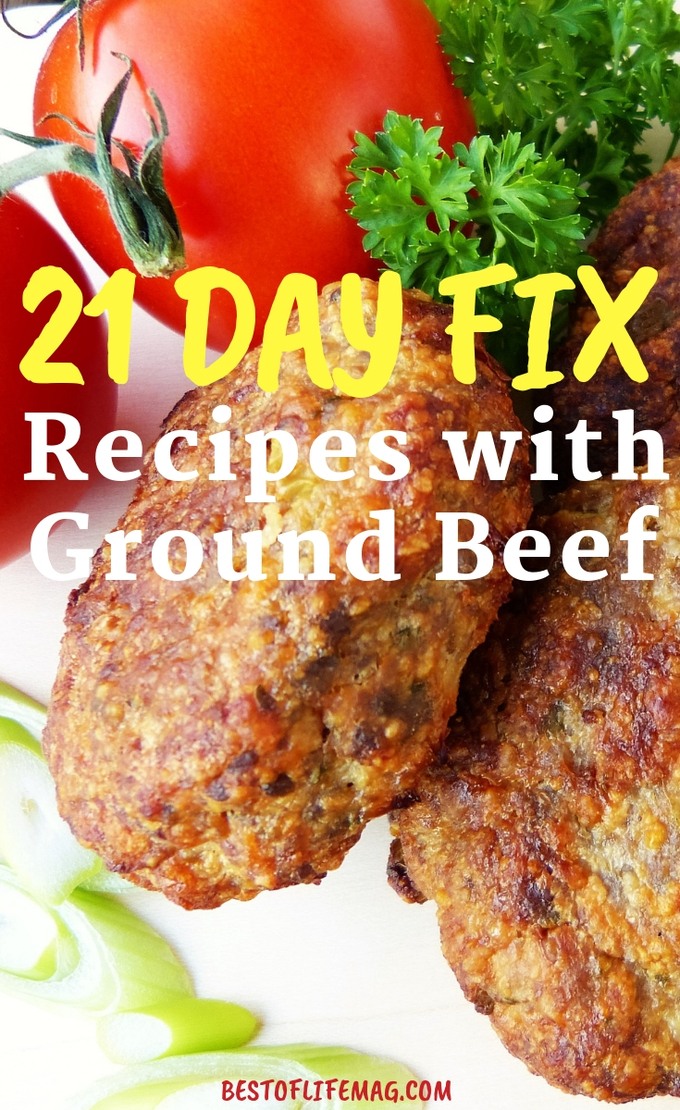 More 21 Day Fix
21 Day Fix Upper Fix Workout Review
21 Day Fix Lower Fix Workout Review
Dirty 30 Workout Review {Moves & Exercises}
21 Day Fix Pilates Fix Workout Review