This site contains affiliate links. Please read our Policies for information.
International travel could be very fun and exciting. Seeing places you wouldn't normally see in your day to day life, creating memories with your family, and just leaving some responsibilities behind.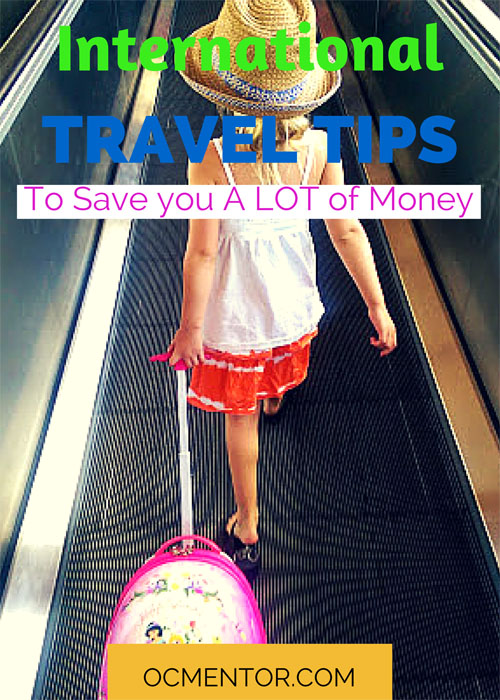 Traveling abroad is an amazing life experience that can be made far easier if you adhere to these key international travel tips.
Allow Time for Passports
First and foremost, you'll need your passports. This may cause some headache, but it's necessary and once it's finished you'll be free to fly around the world. Make sure you start this process well before you plan to travel because it can take some time. To ensure your passport is ready on time, it's recommended that you apply for a passport at least two months before departure. Once you have a date, make sure you gather all the necessary documentation this includes: previous passports, birth certificates, naturalization certificates, or any certificate of citizenship. You'll also need proof of identity, these can include any form of state-issued I.D.. If for some reason the above documents aren't convenient, you can also use your social security card, credit card or even an identifying witness who has their own documentation as substitutes.
After everything has been gathered, you must take your passport photo, anywhere that has a photo lab, like a grocery store, or even a drug store may have this service available. Then it's time to fill out the forms. The specific form you're looking for is called the DS-11, and it can be filled out in person at the place you'll be applying or online. If you fill it out online, you'll still need to print and bring to the place of application. The majority of post offices will accept your application along with all the documentation noted above. When you drop off your applications, and documentation's you'll need to pay the fees. For adults, this fee can be upwards of $135, for minors, or renewal the fee is less.  Processing can take up to 6 weeks in order to get a passport in your hand. Though, if you want a shorter wait, there's a fee for that. If you need a passport in under three weeks, its an extra $60.  Same day passport services cost $195. 
Determine how Much Data you Need to Stay Connected
Even though your trip may be for leisure, staying connected is a good idea. Evaluate your travel plans to determine how much data you will need. If you are traveling as a family unit, you may feel safer without emergency backup.  But remember that emergencies can happen and you may want to be accessible to family back home.
If you are traveling with other people, you may want to call them as well; if you are traveling for work, staying connected may be mandatory.  This all costs money and goes into your data plan with your carrier.   Data also helps you stay connected to the internet which helps in finding great sightseeing spots or finding places where you can experience the local cuisine at its finest. Think about how much you will use your data plan before moving onto the next step.
Call Your Carrier

Before you travel, call your carrier and find out whats already included in your plan where international data is concerned. Some carriers like T-Mobile will include free data everywhere you go. However, other carriers will have a set amount already included. After you know what's already available to you, find out what plan you can add on that best fits your needs.
All carriers will have different ways to add mobile data to your plan that will work abroad. One way is to just add an extra amount of mobile data with an extra charge ranging from cents up to $30/month. These plans will act just like a normal plan, only they will be temporary and will work abroad. Another option is to select a pay as you go international plan. This works best if you're not too sure about what your needs will be, though, for the most part, your carrier will be able to help you decide. After you've gone through and selected which plans may work best for you, simply add them to your service and you're set. Another great option here that some overlook is the ability to add international calling and messaging.  This is will ultimately be cheaper than racking up roaming charges and your safest bet when the need to staying connected abroad arises.
Use Hotel WiFi

Use hotel WiFi whenever possible when traveling.  This will help you save a lot of money and ensure you have the data you need on your international plan when you actually need it  I look at the plan we add to our existing data plan as insurance; for $25 you are protected from what easily becomes $500 and up on your bill if you don't have it.
Have fun wherever your travels take you and be sure to use our packing tips checklist for all of your travels.