This site contains affiliate links. Please read our Policies for information.
Last week I spent the morning at Disneyland Resort for one of my favorite conferences, the Disney Social Media Moms Conference.  I have always loved Disney so to have an opportunity to learn more about what is going on at Disney and even better – what is coming – is time well spent!  Disney movies are magical for many families and I know I am not the only one waiting with anticipation for Moana to open in theaters. We saw some special clips, learned about some of the special moments that occurred in casting and got to learn more about the lead characters of the movie.
Going behind the scenes with Amy Smeed revealed these fun facts about Disney's Moana and the characters that we will surely come to love.
Finding Hidden Talent
Auli'i Cravalho did not schedule an audition for the part of Moana. On the last day of casting calls for the part, the talent search was leaving and saw her singing and dancing while volunteering. They saw something magical and asked her to audition, which she thankfully did.
Surprise!
Disney's casting department loved Auli'is ability to show natural excitement as a teen and when giving her the part they had some fun telling her so. They asked her to redo a part with a bit more excitement which she appeared a little confused by because happiness and joy are part of everything she does in life. After she redid the part, the casting team then prompted her to do it just one more time – this time like she had gotten the part of Moana. Still then she didn't know for sure that she had gotten her dream role and was overjoyed when they used this to transition into telling her the news that would honestly change her life forever.
A 16-year-old Heroine
Auli'i was 14 when she auditioned on her home island of Oahu and got the part of Moana and turns 16 a day before Moana opens in theaters. Disney wanted a 16 year old as the heroine in this movie and they cast the part perfectly as I am sure you will agree when you see her in the film as Moana. She is a delightful young lady with a love for life and those in her life.  She brings the movie and soundtrack for Moana to life.
Animal Friends
Moana has two animals in it that you will simply adore – just for different reasons. Moana's little pig, Pua, is cuteness defined with his never ending puppy-like energy. The other is a rooster that is comedy defined. There is plenty of love to go around for both of them.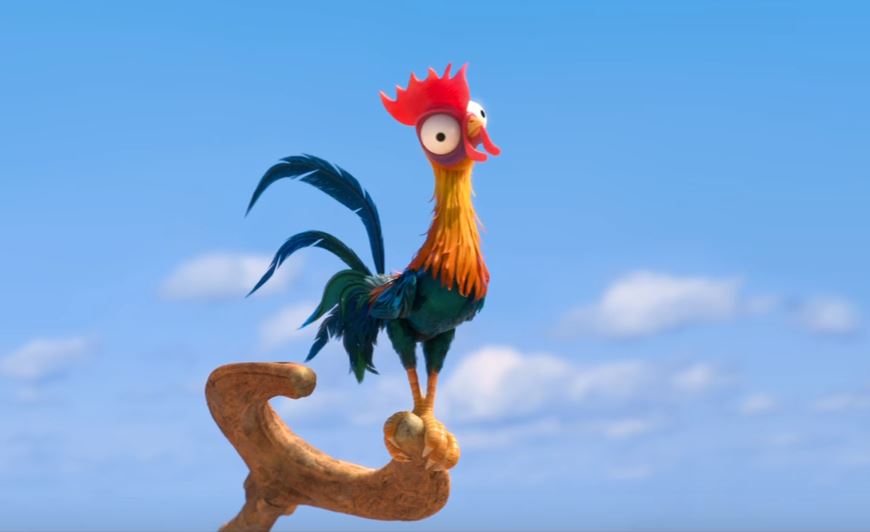 HeiHei
Speaking of the rooster, HeiHei. Originally they had him with a nice and stable to high IQ so he could mess with the other characters. With a few changes, his IQ dropped. Considerably. Along with his looks, which will surely make him fun to watch throughout the movie Moana.
Moana is scheduled to open in theaters on November 23, 2016.