This site contains affiliate links. Please read our Policies for information.
We love steak. As in truly love – like we could never be a vegetarian because we love it that much. Omaha Steaks gave us a chance to try out their Private Reserve line of steaks and we have fallen in love with them. The marbling and flavor is just as we would expect from a high end meat, with one added benefit.
It can be delivered to our door. 🙂
Omaha Steaks also happens to have some pretty fabulous recipes for their Reserve Line that I have been using to prepare our meats – here are three of my favorites!
This
sweet rub recipe
is perfect for any cute of meat; we used it with our favorite – the Omaha Steaks Private Reserve Filet Mignon steaks.
It is fantastic!
Rub and Steaks:
4 Omaha Steaks Ribeye Steaks
2 tablespoons brown sugar
1 1/2 tablespoons freshly cracked black pepper
1 1/2 tablespoons paprika
1 tablespoon ground cumin
1/2 tablespoon salt
Polenta:
4 cups chicken stock or water
2 cups milk
1 1/4 cups cornmeal
1 teaspoon paprika
1 teaspoon freshly cracked black pepper
2 tablespoons + 1 teaspoon butter
Preparation
To prepare the polenta, bring the stock and milk to a boil in a large saucepan over high heat. Add the cornmeal in a steady, gradual stream, whisking continuously to prevent lumps. Boil for 1 to 2 minutes. Turn down the heat to low and whisk almost continuously for about 30 minutes, or until the mixture begins to thicken considerably. Stir in the paprika, salt, pepper, and 2 tablespoons of the butter, and transfer to a greased 9-inch square baking pan, spreading with a spatula to make an even layer. Let chill in the refrigerator for 4 hours or overnight, until firm.
To prepare the rub, combine the sugar, pepper, paprika, cumin, and salt on a platter and coat the steaks with the mixture. Let sit in the refrigerator for 30 minutes, then bring to room temperature.
Turn out the chilled polenta and cut into squares or right-angled triangles. In a small saucepan, melt the remaining teaspoon of butter (or substitute 1 teaspoon olive oil), brush on the polenta, and grill over direct medium-high heat for about 4 to 5 minutes on each side, or until lightly browned.
Grill the steaks over direct medium-high heat to desired doneness.Serve with the polenta.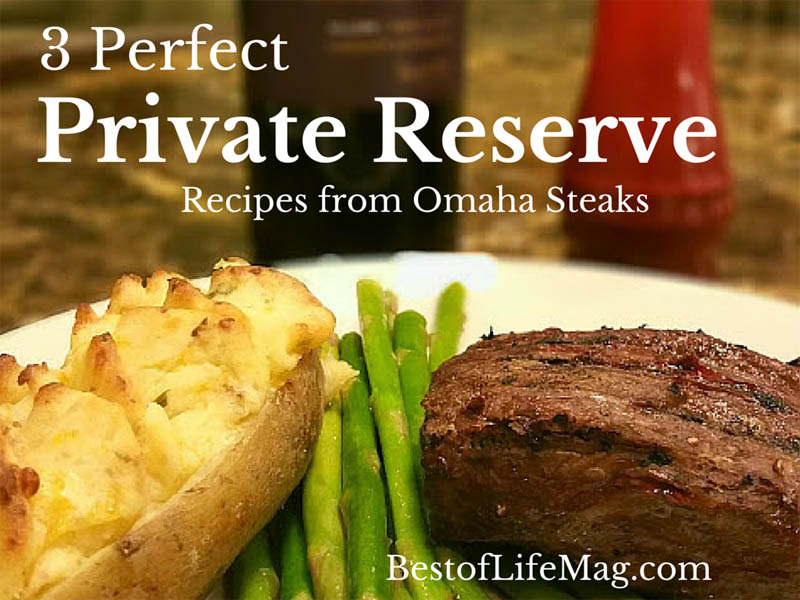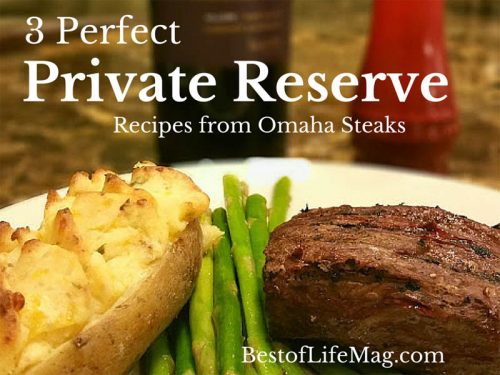 Private Reserve All American Burger
Insert Omaha Steaks Private Reserve Angus Burgers, french fried onion rings, and toasted buns and you have the foundation of what you need for this
All American classic recipe
from Omaha Steaks Private Reserve Line.
Ingredients
1 Omaha Steaks Private Reserve Angus Burger
Sprinkle Omaha Steaks All Natural Steak Seasoning
1 tablespoon ketchup
1 tablespoon mustard
2 tablespoons Sweet & Tangy Vegetable Relish (see recipe below)
1 leaf lettuce
2 slices Beefsteak tomatoes
2 tablespoons Frenches French Fried Onion Rings
1 each Bun
Sweet and Tangy Vegetable Relish:
1 cup Yellow squash, grated
1 1/2 cups zucchini, grated
1/2 cup carrots, peeled and grated
1/2 cup red onion, 3/4″ matchstick
1/2 cup red peppers, 3/4″ matchstick
1/2 cup Edamame peas, shelled
1 1/2 teaspoons salt
1/2 cup white wine vinegar
1/4 cup sugar
1 teaspoon whole celery seeds
1 teaspoon whole fennel seed
1 1/2 teaspoons ground mustard seed
1/4 teaspoon crushed red pepper
Preparation
Season Private Reserve Burger with All Natural Steak Seasoning.
Grill, broil or pan-fry burger until juices run clear; do not overcook.
Slice bun in half and toast on grill or broiler.
Spread Ketchup and mustard on toasted bun.
To make the Sweet and Tangy Vegetable Relish, in a mixing bowl, combine first six ingredients. Set aside. In a saucepan, combine salt, vinegar, sugar, celery seed, fennel seed, mustard seed, and crushed red pepper. Bring to a boil slowly. Remove from heat and pour over vegetables in mixing bowl. Let cool, then refrigerate at least 1 day prior to serving. May be stored up to 2 weeks in the refrigerator. For best results, prepare one day in advance of using. Makes about 2 cups.
Place burger on bun, top with Sweet & Tangy Vegetable Relish, lettuce, tomatoes and red onion.
Plum Sauce and Mirin-Marinated Beef Recipe
This
fabulous recipe
highlights a sweet-and-spicy marinade made with a variety of flavors including Chinese plum sauce, mirin, fresh garlic and hot chile sauce. It pairs beautifully with the Omaha Steaks Boneless Strip Steaks.
Ingredients
3 Omaha Steaks Boneless Strip steaks, about 9 ounces ea. and 7/8 inch thick
2 tablespoons roasted sesame oil
3 tablespoons mirin
2 tablespoons soy sauce
3 tablespoons Chinese plum sauce
1 teaspoon Asian hot chile sauce
2 cloves garlic, minced
Preparation
Place the sesame oil, mirin, soy sauce, plum sauce, chile sauce, and garlic in a shallow bowl or dish and add the steaks.
Let marinate in the refrigerator for 1 hour, turning once or twice.
Prepare the grill.
Grill the steaks over medium-high heat for 4 to 5 minutes for medium-rare, 5 to 6 minutes for medium, or to the desired doneness.
Set aside, let cool, and slice thinly.
Disclosure: Omaha Steaks sent us steaks to try and welcomed us to share our honest opinions.
Any recipe can be easy to make if you have the right tools! Make your life easier, stock up on these kitchen essentials. I always like to have my stand mixer, apron, baking sheets, cookware, serving utensils, extra serving dishes, and flatware all ready to go!
Save