This site contains affiliate links. Please read our Policies for information.
A guest room is as important as the people you allow to stay inside of it. Not only do you want your guest to feel at home but, most importantly, you want them to feel comfortable during their stay. In fact, some would say that the guest room should be as comfortable as your own room. So here are a few ways to make a guest room comfortable to help you prepare your home for visitors.
Make guests feel at home when they stay with you. If you know how to make a guest room comfortable, you can decorate it perfectly.
Comfy Chair and Bedside Lighting
If space permits include a reading niche in the guest room. A comfortable chair with ottoman, side table and lamp so they can relax and read. Position the chair near a window that's customized with window treatments your guests can easily open and close. Drape a cotton lightweight throw and a few small pillows over the chair to give visitors a soft place to land. Keep a box of mints or chocolates close by is a sweet idea.
Include task lighting, like an adjustable desk lamp on the nightstand, so guests can read or catch up on emails before bed. Night-owls will appreciate the gesture and everyone else will be happy to have an easy bedside light, so they don't stumble in the dark to find the light switch. Use soft lighting so readers aren't dealing with a glare.
Appliance Manual
Guests can't appreciate the TV, personal climate control or alarm clock if they don't understand the confusing technology. To avoid mishaps, include a user-friendly, homemade appliance manual for guests to refer to. Make a step-by-step guide that's color-coded by section, so they can flip through to find directions.
Quality Bedding
If you've slept in a luxury hotel, you understand the best part of your stay is climbing into a comfy bed with crisp sheets and a variety of pillows. Supply your guests with the best bedding collections, and include at least four pillows two firm and two soft. Starch and iron cotton or linen sheets to provide guests with that hotel crispness. A lightweight throw draped over the side of the bed is perfect for afternoon naps. Include a few heavy quilts in the corner in case the room gets chilly.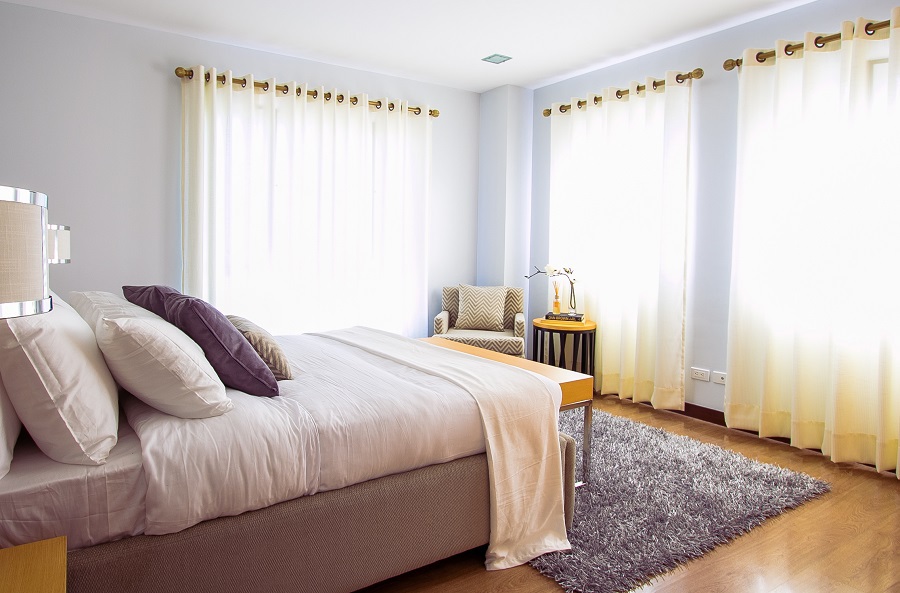 Extra Amenities
Make your guests feel at home with a basket of fresh towels, a robe, slippers and other extras they could need. A small bottle of Downy wrinkle-releaser spray can relieve guests' worries about finding an iron. Like a five-star hotel, follow suit and stock the room with mugs and hot chocolate or tea packets. A new toothbrush, disposable razor, fresh soap and bath salts are also a nice added touch.
Don't forget to leave the Wi-Fi password for them as well!
A Good Read
Display some magazines or books in the room, either on a shelf, bedside table or close to the reading niche. Guests who have trouble falling asleep will thank you in the morning.
Mirror Mirror
Decorative and useful, hang a small to mid-size mirror on a wall in the guest bedroom. Visitors will appreciate a place to freshen up and put on makeup, especially if they have to share a bathroom with other guests or family. If space permits include a full-length dressing mirror.
Stock Up on Supplies
Bathroom necessities should be kept in baskets or shelves that are easily accessible and, obviously, for overnight guests to use. Keep a supply of toilet paper, hand soap, cotton balls and Q-tips in a clearly visible place in the bathroom. This way guests won't ever have to make an awkward request for more.