This site contains affiliate links. Please read our Policies for information.
As a family of travelers, we are always on the lookout for better luggage options. When our favorite luggage is no longer usable, it's time to find a replacement, which is not always easy! Travelpro had exactly what we were looking for in a new piece of luggage and we're excited to partner with them to tell you more. The Travelpro Maxlite 4 Hardside Collection has so many features that make them stand out.

As frequent travelers, we were very specific in what we needed in our new luggage, and the Travelpro Maxlite 4 Hardside Collection delivered.
There are many different pieces in the Travelpro Maxlite 4 Collection. They have pieces that range in size from carry on all the way up to 21 inches, 25 inches, and even 29 inches.
You can find a bag in this lineup that will suit every type of travel! If you are looking for soft luggage they have that as well!
During our recent trip to Hawaii, we heard that sound you never want to here when you have hours of travel ahead of you – the crack and subsequent thud of one of the wheels on our luggage breaking. Not just any piece of luggage. THE luggage.
The piece that we never leave home without. Finally, the luggage that has carried us through the last fourteen years of travel. The one that somehow fit every little baby and toddler travel item we needed while our kids were young.
The one that we would cram full and then end up having to shift weight around at the airport to avoid the overage fee.
The Coffin.
Yes, that's what we called it because it was large enough to fit a person and always heavy enough to make it feel like we had one of us in it.
With how often we travel and how frequently this luggage was used, our quest for a replacement was immediate.

What to Look for in Luggage
I will be honest, we are pretty picky when it comes to luggage because of how much we travel. A great piece of luggage is critical for family travel so we considered features that our new luggage needed to have and settled on the following:
Lightweight- Having a piece of luggage we can pass off to our kids to carry around for us would be nice.
Durable- Just because our children can take it doesn't mean it won't hit the floor. Plus, I've seen some of the videos that show how our luggage gets sometimes handled before, during, or after a flight.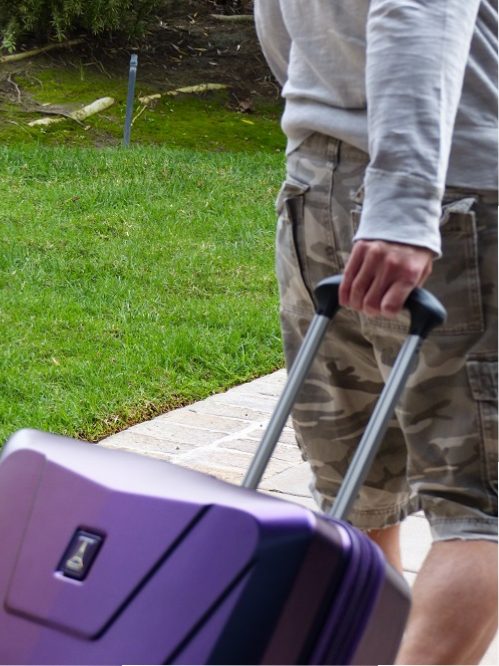 Easy rolling wheels- There is never an easy path to where we're going which means having wheels is crucial.
Well-designed handles- Comfortable handles help stop your hand vibrates when rolling for extended periods of time.
Space- I wouldn't have to bring so much luggage if my stuff would fit in one, easy to manage piece.
Easy to spot- The conveyor belt is where we could spend a lot of time just looking for our luggage in a sea of similar-looking bags.

Travelpro Maxlite 4 Hardside Luggage
We ultimately decided on the Travelpro Maxlite 4 Hardside Collection. This collection had all of the features we were looking for and was beautiful as well.
Travelpro is not only our preferred luggage maker, but flight crews love it as well. We love the Hardside line because of the style and the ease of use. Freight handlers love the line because it's durability. The Maxlite 4 Hardside Luggage line consists of three different Spinner pieces.
A Spinner piece is a lightweight and durable piece of luggage that has wheels that allow for movement in any direction. While the overview of the luggage is pretty straightforward, it's the features and innovations that place the line above all others.

Features and Innovations
One of the most important features of the Maxlite 4 line is the Chromashift hardshell. Not only does the hard shell tech keep your stuff safe, but it's also scratch-resistant and beautiful.
In this line from Travelpro, the luggage is even more lightweight than others with the same level of durability.
The luggage itself is very protective, and so are the wheels. There are crash guards and skid guards that protect all 8 of the wheels. Then there's the handle.
The handle is made with Contour Grip and is specially made to make 360-degree mobility easy on the hands.
Other extras include a built-in TSA lock, carry handles on the top and side and even a bottom handle.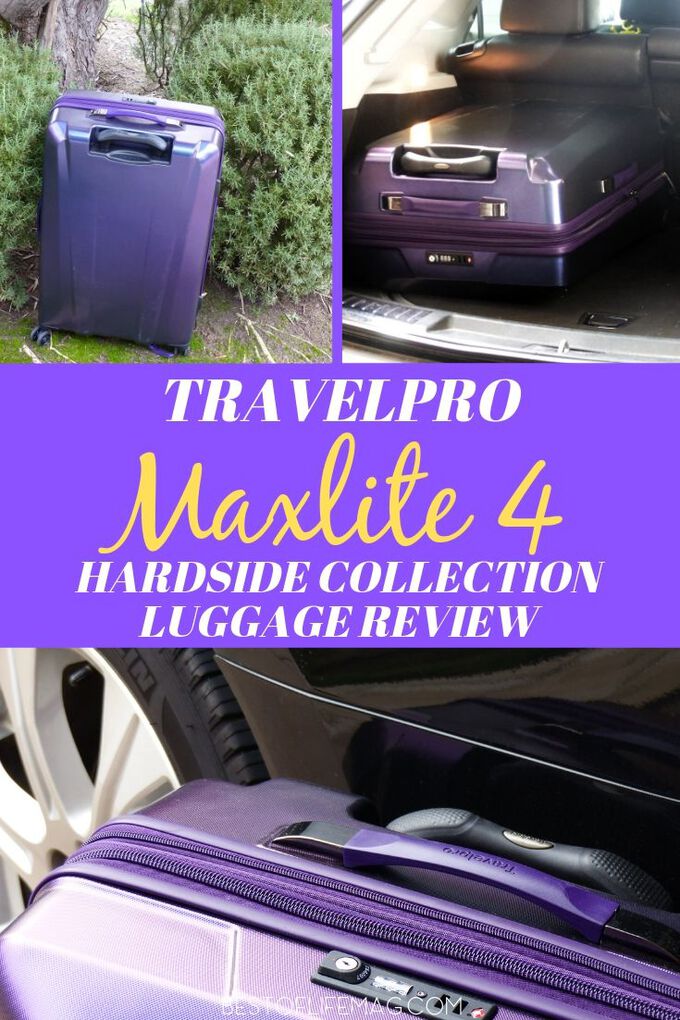 Travelpro Maxlite 4 Review
All the features make using the Travelpro Maxlite 4 very straightforward and enjoyable. Our trip to Hawaii gave us the perfect excuse to get new luggage, and Maxlite 4 has been perfect for our travels and family!
While my husband enjoys the durability of the luggage and how lightweight it is, I love the designs. Not only do I love the designs because they look good, but they're also easy to spot.
Save
Save
Save