Transform 20 Week 4 Workouts and Tips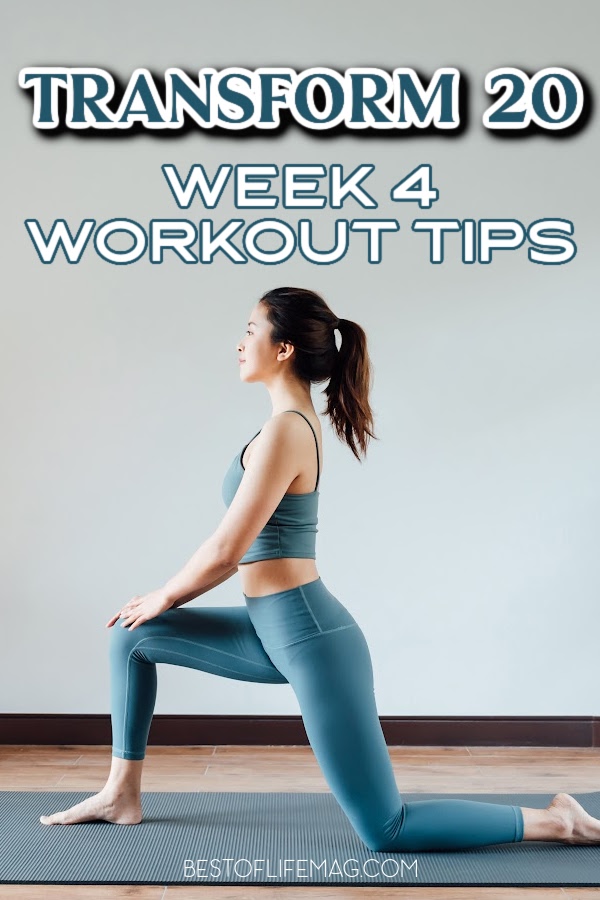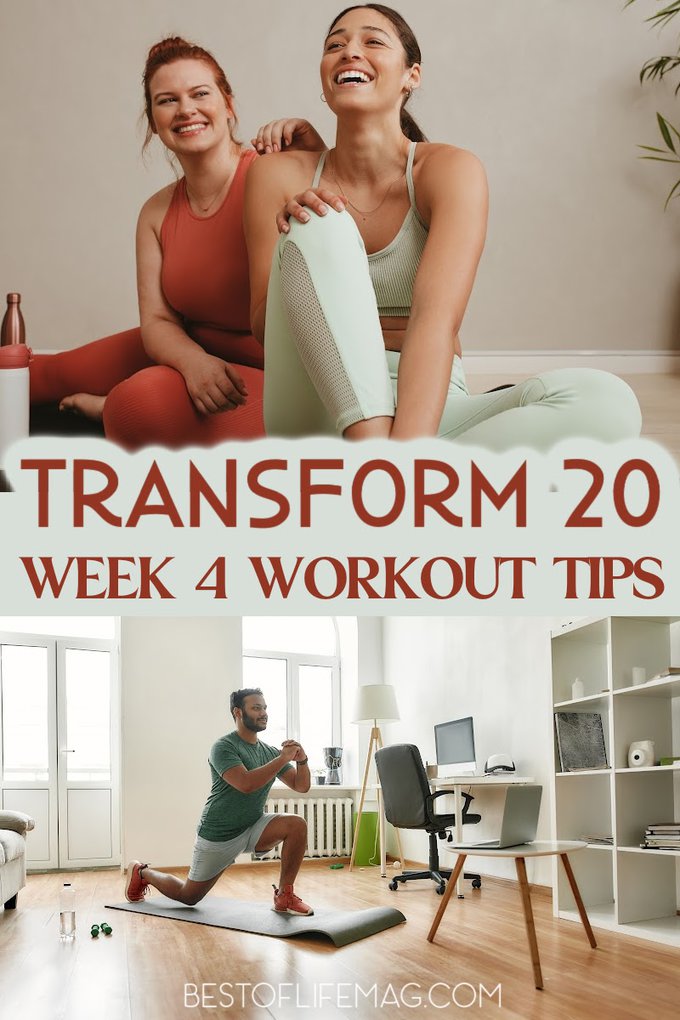 You have arrived at the final week of the Climb chapter! Congratulations! It has been hard at times, but we are here now at your Transform 20 Week 4 workouts. The key here is that you have kept going, and you can't give up now. By week 4, you now know what to expect as far as the format.
What you aren't prepared for is the way Shaun T. is going to push your limits and get you to break through plateaus. Get ready because we are turning up the heat with Transform 20 Week 4 workouts. Use these tips to help you succeed and reach your fitness goals. Losing weight is easier with a little help.
The goal of Transform 20 isn't just to transform your body but to transform your way of thinking when it comes to workouts and fitness. Living a healthy lifestyle is key to the goals you want to reach, and the proof of that is right here in Transform 20 Week 4 workouts.
These workouts are intense, but your body should be ready if you've made it this far!
Transform 20 Week 4 Workouts | BURN
Your Monday cardio is going to pull you out of that rest day. The first block of work is knee-up/overstep, squat off and on the step with a kick out, and a v-up shuffle across. Transformer 1 is rapid taps. The second block gets moving quickly with alternating front and rear lunges with a foot on the step, repeater knee with a twist over the step, then up and down one arm planks with a reach.
Transformer 2 is twists oblique kicks. A burpee-style push-up gets block 3 going, followed by 8-count floor sprints on and off the step, then seated on the step with arms straight up while you pulse your abs. Transformer 3 is the rocketman.
Tip: Look at your transformer numbers compared to the last three weeks. Do this every day this week. If you notice that any numbers have actually gone down, think about whether it may be that you are doing the transformer with better form. Sometimes, it's the quality of the work that matters.
Transform 20 Week 4 Workouts | FASTER
This week gets you moving right away. Block 1 is a jog with one foot up and over, in and out, with one foot on the step, and a shuffle over the top with a bear crawl back over the step. Transformer 1 is over-the-top X jacks.
Record that number quickly, maybe in a fitness bullet journal, and you are up center, back, center shuffle with a tap up, then four repeater knees with a punch and a burpee on the step, then a speed tabletop shuffle across back and up the step. It's over before you can catch your breath. Transformer 2 is the L reach.
The last block is 2 tricep dips with four kicks alternating, an up and back switch step, and finally rising plank front and side of the step. Transformer 3 is ski abs in/out.
Tip: Remember to wipe down your step so that you don't slip! The moves are quick and only get quicker!
Transform 20 Week 4 Workouts | STRONGER
It's hump day, and that means it's time to get stronger! Your first set is a three-count squat, touch-the-floor hop to the step, touch step, then three rear-lunge pulses off the step with an arm reach and one arm on the step push up with a twist to the outside. The first Transformer is 90-degree ab trapper.
Your second block is squats traveling around the end of the step with a heel raise on the step, three pulse rear off-the-step lunges with a leg lift, and a three-count tricep push-up with knees in and out. Simple but hard. Transformer 2 is hover ab kicks.
The third and final set is a squat behind the step, hands to step, and kick up and across, then alternating lunges off the end of the step and in-and-out ab pulses. You end the Stronger day with burpee hop Transformers.
Tip: You are over halfway through the last week of Climb. If you are feeling tired, hang in there and don't focus too much on the finish line. It's how you get to the finish that counts.
Transform 20 Week 4 Workouts | POWERFUL
Powerful comes with a longer warm-up. Enjoy it — you will work for it! The workout format is longer as well, with four exercises per block of work (no repeats).
The first set is four jump squats in a U pattern around the step, plank jacks off, on, and off the step, rising planks with a squat tap, and two star jumps with a side shuffle. Transformer 1 is the parkour. Your next block of work is a floor hop over the step and lunge forward, four count in-and-out abs on the floor and over the step, an uneven plank over the step with arm raise, and seated scissor kick abs.
Then for a little twist, Shaun T. introduces a new recovery tap for the rest of the workout. Over-the-step planks with foot tap-ups! Then your second Transformer is the TS squat reach. Your last block is a squat behind, on, and in front of a step, then back and the other side, three wide in-and-out abs, traveling around the corner of the step, a straddle squat hop to front and back, and ends with four seated knee-up crunches with four tricep dips.
You will do that new recovery taps again before your final Transformer, the lunge punch.
Tip: Do you need to slow down and look at your step before you jump up or across? That is perfectly OK. You do not need to keep up at the pace Shaun T. is moving. Look around at the cast. There is always someone moving slower, either taking the impact out or modifying the exercises.
Transform 20 Week 4 Workouts | CUT
Thursday's Cut class is here. Get ready to define and strengthen. You will begin block 1 with a hop up and back shuffle overs, three counts of uneven push up with a knee in, and cross arm V ups. Transformer 1 is an over-the-step jump.
Block 2 is a jack with feet in a straddle with a tap-up, a three-count straddle push-up with a feet hop to step, and a plank over the top with a push-up and wide arm reach. Transformer 2 is a hand re-push-up. The final set consists of four wide knee ups and over-the-step shuffle, an eight-count push-up with an in-and-out ab, and a tabletop walkover with feet on the step. The last Transformer is the triangle.
Tip: Today, before you start the Cut class, look at your Transformers from all your previous cut classes and make a commitment to beat those numbers. Setting short-term goals for each workout can help you stay focused for the entire 20 minutes, even when you want to quit.
Transform 20 Week 4 Workouts | BALANCED
The longer warm-ups and stretching of a Balanced day are things you should never skip! The work is slower but necessary.
The first block is a 7 countdown rear lunge with a tap up and down dog feet on a step with wide-leg spider taps and a bridge on the step to a V uphold. Slow off the step recovery taps will take you to Transformer 1 and climb push-ups.
Set 2 is a quad stretch on the step to a hamstring stretch off, plank out and into a wide squat and a hip and thigh stretch, then a bridge with alternating kick outs down to a V up. Transformer 2 is the plank oblique trap.
Finish your week with the last block, which is a long hamstring stretch off the step to a slow squat hold on the step, a floor-hop over the end of the step with a chest opening stretch, and bicycle abs on the step, pushing your knees back as they come up to your chest. The final Transformer is balanced dips.
Tip: Congratulations! You have completed the Climb chapter. The Conquer zone has arrived, and, as Shaun T. says, "Consistency over time equals results!" Stay consistent, and you will transform!
More Transform 20
Transform 20 Workout FAQ | Beachbody | Transform 20 is one of the many different workouts available from Beachbody, but it is not the same as the rest.
Transform 20 Calendar Schedule and Workout Tips | Following a tight schedule for your workouts is important. You can use the calendar in Transform 20 to get the schedule you need.
Week 1 Workouts and Tips | Your workouts will get easier if you implement a few tips.
Transform 20 Week 2 Workouts and Tips | Every workout week is different, which means a different set of tips.
Transform 20 BONUS with Weights, Workouts, and Tips | Are you ready for the bonus rounds from Transform 20?