Snacks at Universal Orlando Worth Every Bite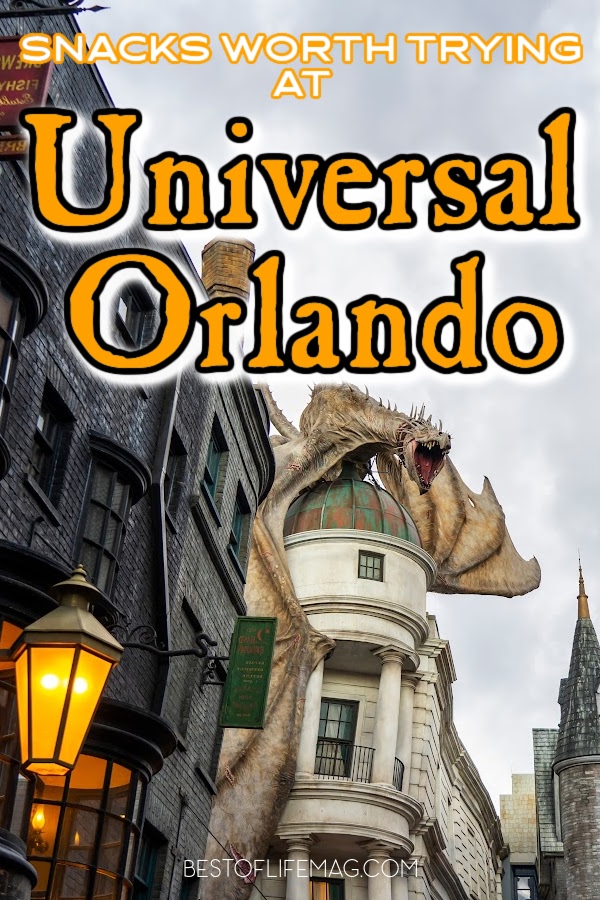 When you head to a theme park like Universal Studios Orlando, finding the best snacks is on everyone's agenda. With countless snack options that look good and reflect your favorite ride, it can be hard to choose. The best snacks at Universal Orlando are spread throughout the park, so keep an eye out for these snacks that are worth every bite.
Try some of the best snacks at Universal Orlando, and you won't regret forgetting that little snack bag in your hotel room. When we travel, we aim to have an experience we can't have every day. Theme parks are popular travel destinations because they build entire experiences from the ground up.
Every little detail, from the buildings to the rides and more, is part of that experience. At Universal Orlando, the experience is to visit the world of the movies we love from Universal. Where else can you escape from Gringotts Bank or hang out with the Simpsons in Springfield?
While visiting those movies, part of the experience is eating like your favorite characters. Snacks at Universal Orlando take the entire experience and put a nice, tasty cherry on top.
Toothsome Chocolate Emporium
Toothsome Chocolate Emporium is a full-service restaurant, but there are hidden gems here as well. You can indulge in the savory, classic dishes like steak or brunch menus, but you can also try something new. Toothsome is quickly becoming known for its culinary alchemy chocolates.
These chocolates are included in many different desserts like brownie bark and bacon brittle. But we loved the artisanal milkshakes, and you will too.

The Watering Hole
Okay, clearly, this is for those 21 and over, but we count, too, right? This is a hidden gem for anyone over 21. Most may walk right by, not knowing that they have a mighty nice bar here fully capable of a Cadillac Margarita and other nice cocktails to relax your day.
The Watering Hole can be found in Islands of Adventure near Jurassic Park if you look for it. When you find the stand, you can show off that you knew there were delicious adult drinks within arms reach.
Snacks at Universal Orlando | Croissant Moon Bakery
The perfect place to start your day at Universal Orlando is Croissant Moon Bakery. Here, you'll find pastries of all sorts, but you'll want to try the mini donuts. These mini donuts aren't just any mini donuts from the grocery.
These mini donuts are the best mini donuts you'll ever eat. The bakery also serves other breakfast pastries and sandwiches you'll love.
Lard Lad Donuts
There is only one other place that gives Croissant Moon Bakery a run for its donuts: Lard Lad Donuts. Seriously, can a name get better than this? Talk about variety and some pretty crazy ones. There are dozens of donuts, including the famous pink-covered donuts from Springfield.
The hardest part will be deciding which ones to try first. Our fave? The Fruity Pebble donuts, of course!
Snacks at Universal Orlando | Florean Fortescue's Ice Cream Parlor
A visit to Universal Orlando would not be complete without getting your hands on some Butterbeer ice cream. Many of us know Butterbeer from a little movie franchise called Harry Potter; you may have heard of it.
Butterbeer is not an alcoholic beverage at Universal and is served best in frozen form at this ice cream Parlour. Of course, a Parlour would signify that there are more options and plenty. However, our favorite of all the snacks at Universal Orlando is the Butterbeer ice cream.
More Travel Ideas
Rides at Universal Orlando: Your Must Do Rides at Universal | You will need to work off the calories you take in, while at the resort. Luckily, there are plenty of things to do.
Best Restaurants in Fort Lauderdale | Florida has a lot of wonderful places to eat, not just at theme parks.
Experience Caribbean Luxury at Sandals Negril Jamaica | Take a trip to the Caribbean and stay at one of the top resorts.
Best Beach Resorts in the US Virgin Islands | The US Virgin Islands are perfect for a summer trip with the family.
Napa History | How to Connect in Downtown Napa | We all know that Napa is known for its wine, but we can dig even deeper past the grapevines.