15 Smoothie Recipes to Reduce Bloating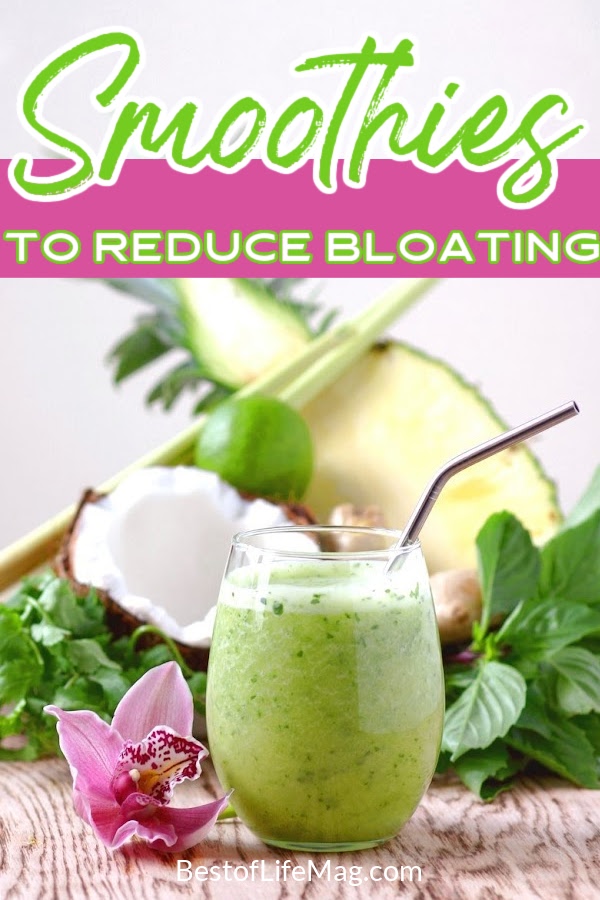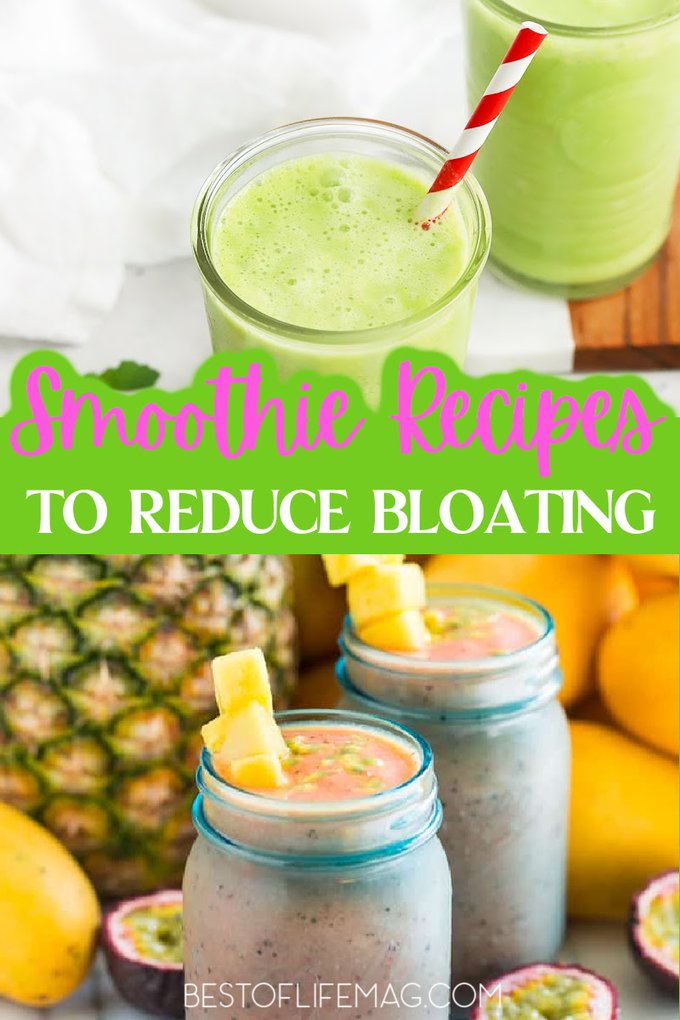 We've rounded up a list of our favorite bloat-reducing smoothies below. They will support your healthy eating habits, keep bloating to a minimum, and delight your palate. So, grab your bullet blender (we're big fans of the Nutri Ninja Pro bullet blender), a jumbo-size smoothie straw, and get blending!
Are you trying to incorporate healthier eating habits for yourself or your family? If so, you may already be familiar with the bloating that can come with eating healthy foods (steamed broccoli, anyone?). Luckily, there are healthy options you can incorporate to reduce that bloating without sacrificing nutrients.
In fact, most of them can be added to smoothie recipes. Use the best smoothie recipes to reduce bloating and keep you on track with your healthy diet and keep you from giving up altogether. Many of the foods that can help fight bloating are healthy options already like bananas, ginger, and everyone's favorite, apple cider vinegar.
When these things are combined into a smoothie, they are easier to consume and could replace a snack or even a meal. (Bonus: If you make a double portion in the morning, you can pour the extra smoothie into a wide-mouth glass bottle for lunchtime.)
Best of all, you can mix them with other ingredients, add other flavors (like a drop of organic, safe-to-ingest ginger essential oil) and make some amazing weight loss smoothie recipes to reduce bloating. Follow it up with some fennel tea for extra bloat-fighting power.
Purple Pecan Power Shake | Vegan When Sober
Creamy Green Detox Juice | The Fitchen
Bloat-Busting Banana Smoothie | Doctor OZ
Pineapple Mint Smoothie | One Lovely Life
Orange Coconut Blueberry Green Smoothie | Vegetarian Gastronomy
Smoothie Recipes to Reduce Bloating
Smoothies actually can make a difference in bloating. The difference is in the bacteria in our gut. Bacteria play a big role in our health. In fact, the bacteria changes in our bodies depending on what we eat regularly. For example, eating processed food puts different bacteria in our guts that make it harder to lose weight.
Smoothies put good bacteria in our guts to help change the environment. The goal is to use the right bacteria to help fight off the bad bacteria and improve our gut health. The side effect is less bloating and more enjoyable lunches and dinners.
Bangkok Smoothie | Lands & Flavors
Debloating Smoothie | Peanut Butter & Peppers
Brett Hoebel's Flat Belly Anti-Bloat Smoothie | Blender Babes
DIY Fresh Pineapple DOLE Whip | Healthy Happy Life
Reduce Bloating Smoothie | Protein Recipes
Weight Loss Smoothie Recipes
People experience a lot of benefits from drinking smoothies that help with weight loss. However, things can get dangerous when they start experiencing success. Smoothies for weight loss are not meant to give your body the nutrients it needs so you don't have to eat.
We need to make sure that we space these out so that we eat real food from time to time. Real food would be meat, veggies, and even snacks are important. But these smoothies are the perfect way to skip a meal here and there and reach our health goals in a delicious way.
Basil Kiwi Smoothie | Veggie Primer
Golden Turmeric Smoothie | Two City Vegans
Tropical Passion Berry Smoothie | Get Inspired Everyday
Cleansing Smoothie | Step to Health
6-Ingredient Bloat-Busting Pineapple Smoothie | Hello Glow
More Healthy Recipes
Healthy Vegetarian Crockpot Recipes | Vegetarians can enjoy the magic of a slow cooker as well. They just need the right recipes to get started.
Oatmeal Apple Crisp Recipe | Coach's Oats Apple Crisp | There is something American about apples and oatmeal.
Shredded Chicken Tacos Crockpot Recipe (Dairy Free & Ketogenic) | Tacos just got better with the help of a simple crockpot recipe.
Low Carb Breakfast Recipes for a Keto Diet | Breakfast can be enjoyed more often when you use a crockpot to get the job done.
Healthy Zucchini Noodle Recipes | Healthy Zoodle Recipes | Zucchini noodles are still the healthiest alternative to spaghetti.
15 Quinoa Breakfast Bowl Recipes to Start Your Day | Take your breakfast to the next level with the help of a bowl of quinoa.