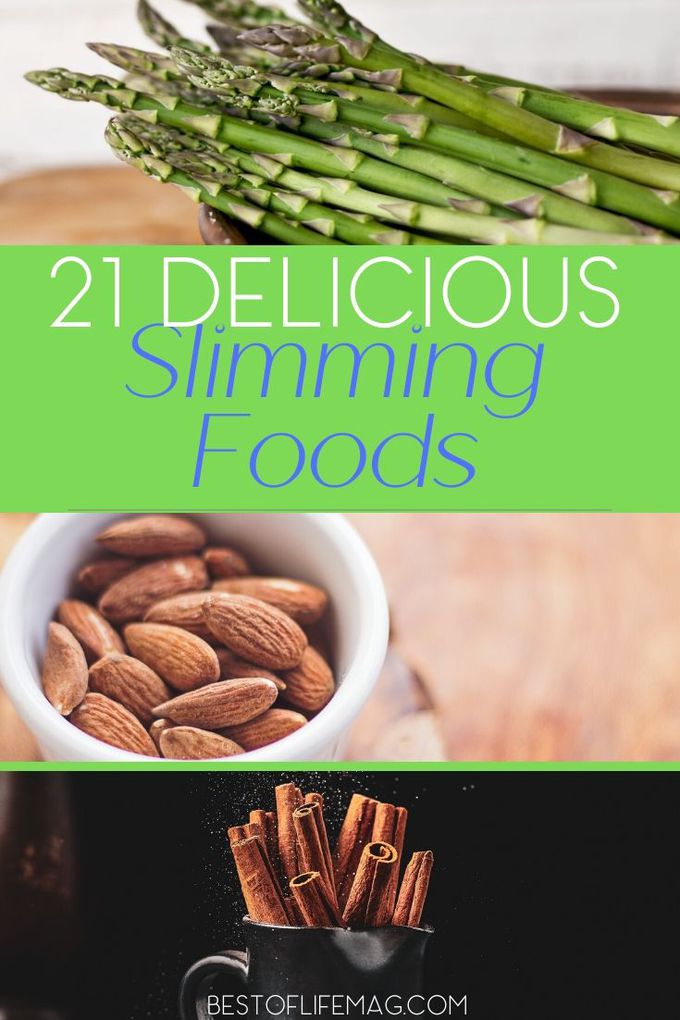 Tech jobs are at their all-time highest, and that means there are plenty of people whose job is to sit at a computer. Sitting for 8-10 hours a day can take its toll, especially on a diet. Luckily, some of the bigger tech companies factor health into how they run their day to day operations. All you need to do is drive around Google headquarters in Mountain View, and you'll find employees playing sports, riding colorful bikes, and just staying active as much as possible. You will also find that they eat healthy in the cafes as well. Maybe the foods aren't slimming foods, but healthy nonetheless.

Slimming foods will not only fill you up but help you lose weight or keep it off naturally. Even if your job requires you to sit for hours.
For those of us not working for Google, we need to find ways to stay healthy and sit at our desk. It comes down to what we eat.
Eating healthy is a big part of losing weight. In fact, some may even say that you would get to a good weight by doing nothing but eating the right foods.
Of course, exercise is part of living healthy though. But you can combine exercise with the best slimming foods to help you stay fit.
Almonds
Almonds are a super easy snack to have on hand. They come packed with vitamins that help you in many different ways.
The slimming factor comes with high fiber content. The fiber found in almonds helps you fight that empty feeling with ease.
Pistachios
If you combine pistachios with almonds, then you will be in good shape. Many nuts have high-fat content, and it's existent in pistachios. However, the fat content here is less than most, and the vitamins and proteins are still just as high.
Greens
Greens aren't as easy to keep on hand but are a perfect side dish or main course to any meal. The vitamins and minerals that are present in greens like spinach, romaine, and kale help fight hunger.
Another side effect is a lack of a side effect; you don't get bloated with greens.
More Slimming Foods | Olive Oil
Yes, Olive Oil can be considered fat, but don't click away just yet. There is a natural chemical in Olive Oil that helps you break down fats naturally. That chemical is called oleic acid, and it outweighs the fat content in Olive Oil.
Beans
Burritos are one of America's favorite and most eaten meal options. Guess what? The beans in the burrito are full of fiber, protein, and slow-release energy! That means that you will feel full and use that slow-release protein to keep your muscles toned.
Kelp
Want to improve your metabolism? One natural way to regulate your metabolism is to eat kelp. Kelp has a high iodine content. That iodine creates thyroid hormones, and those regulate your metabolism.
Even More Slimming Foods | Teas
There are more than a few health benefits of tea no matter what type of tea you drink. Two of the best tea options are mint and green teas. The peppermint tea will help your digestive system, and green tea will help reduce water retention and bloatedness.
Asparagus
Did you know that you can treat inflammation in the body with asparagus? The vegetable is not a cure for arthritis, but it does have a multitude of vitamins that help reduce water weight, as well as reduce inflammation.
Bananas
Forget what you think you know about bananas. The high potassium levels in bananas help do so much for your body that the saying should be a banana a day keeps the fat away. Get rid of water retention by eating a banana a day.
Fresh Slimming Foods | Cranberry Juice
Instead of orange juice which is more hyped up for its health benefits than it actually has; try cranberry juice. The juice is very healthy for you and helps get rid of excess fluid in your body.
Yes, you will be getting rid of that fluid in the bathroom, but better there than inside your body.
Tomatoes
Leptin is a protein that helps your metabolism. Over time, your body absorbs less and less leptin, and tomatoes reverse that occurrence. Also, tomatoes are delicious.
Garlic
Garlic has a fascinating history and vampires hate it a lot. However, vampires should appreciate garlic more because there is an allicin in garlic.
Allicin helps cleanse the blood of bacteria and other harmful viruses. Many of these bacteria and viruses can be found in your digestive tract.
Easy to Find Slimming Foods | Apple Cider Vinegar
I will never recommend drinking a couple of capfuls of apple cider vinegar simply because the taste isn't great. However, you can add a few capfuls to vegetables or on top of a salad, and you're ready to go.
So why add apple cider vinegar at all? Just a few capfuls a day will act as a detox, cleaning out your intestines and digestive tract.
Cucumber
Water weight is what most people suffer from, and cucumbers will help cure that issue. The cucumber will reduce water retention and bloating in the body.
You can even just slice a cucumber up and add it to your leafy greens salad for a genuinely healthy meal.
Berries
Berries are super easy to eat or add to a salad, bowl of cereal or oats. These fruits have a lot of fiber and vitamins. We know what fiber can do for our bodies now, but the antioxidants will help boost that power.
Dry Slimming Foods | Fennel
The easiest way to add fennel to your diet is in tea form. Fennel has a fiber content that will help you feel full, promotes digestion, and flush out excess fluids and toxins.
Cinnamon
I love cinnamon and you should too. Not only is cinnamon delicious when added to almost everything but there is the insulin. Insulin isn't found in cinnamon, but it promotes insulin in the body. As if it was planned, cinnamon also helps make fat cells more responsive to insulin.
Brown Rice
Remember those burritos we talked about earlier? Here is another ingredient to add to that recipe that will help you get those abs you want. Brown rice is full of b vitamins that help you reduce fat faster. You can also use brown rice to strengthen muscles. Basically, eating brown rice and exercising could be the key you've been looking for all of this time.
Healthy Slimming Foods | Quinoa
If you don't want to eat brown rice for whatever reason, try quinoa. The vitamins, protein, fiber, and carbohydrates found in quinoa will help you lose weight fast.
Low Fat Yogurt
Many of us already know that low-fat yogurt is a healthy option. Consider this to be a reminder. The live bacteria in yogurt will help your stomach digest foods and relieve bloating. The low-fat option is just to help reduce fats in the yogurt.
Papaya
Papaya has a natural mineral called papain. Papain will help your digestive system but also relieve bloating. Save