This site contains affiliate links. Please read our Policies for information.
I am working with Microsoft throughout 2015 and as part of the program we received my longtime desired device – the Surface Pro 3.
Tablet after tablet has come up short over the years in actually being able to replace a laptop. I wanted to test the Microsoft Surface Pro 3 and see if it could truly do as they claimed and replace a laptop.
After working my Surface Pro 3 hard as a 2 in 1 device, meaning both as a tablet and laptop, the results are in.
The Microsoft Surface Pro 3 CAN replace your laptop and here's the scoop.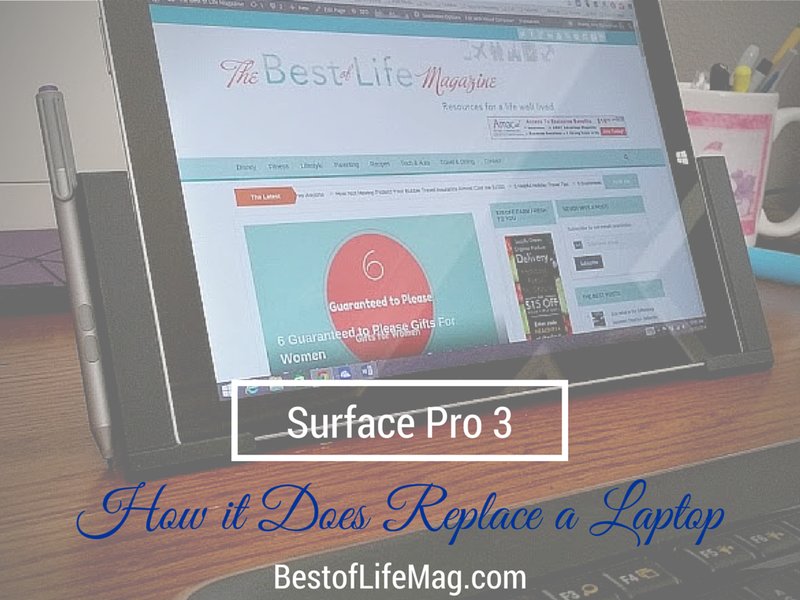 Power and Storage
With models ranging from 64GB to 512 GB and either 4 or 8GB of RAM along with a solid state drive and Intel processors, the Surface Pro 3 is packed with power and built to perform. What sets the Surface Pro 3 apart from the pack is that the power and performance come in a lightweight and streamlined design that transforms from a high end laptop to a top of the line tablet in a simple click.
Size and Form Factor
The Surface Pro 3 is incredibly thin and lightweight weighing only 1.76 pounds. It measures 11.50 x 7.93 x 0.36 but the natural comparison is that the Surface Pro 3 feels very similar to a standard single subject notebook.
As a tablet, the Surface Pro 3 is the perfect size and the graphics are crystal clear. The Surface Pro 3 has a microSD card reader and Mini DisplayPort; there is only one USB port, but it does come with the Surface Pen allowing you to write naturally on the device and take notes or draw.  Super useful for meetings!
The Full Monty of Software
Let's face it…in order for a tablet to truly replace a laptop it has to run the full software programs we are used to running on our computers. Because the Surface Pro 3 runs on Windows, you don't need to deal with dumbed down software. I have installed every program on my Surface Pro 3 and each runs perfectly allowing me to anything and everything I want. From Adobe Photo shop to financial management software and the full Office suite, it's nice to have everything I need at my fingertips in a device that flexes to meet both my tablet and laptop needs.
Fully Adjustable Kickstand
The Surface Pro 3 finally delivers on a fully adjustable kickstand which means users can adjust the tilt of the screen to whatever angle they prefer.
In the morning it ends up almost flat as I sip coffee and read on the coffee table. It sits in a fairly standard laptop position when I am working at my desk and as I go mobile it tilts to fit on my lap on the chair.
The only time I find it a little difficult to get positioned is when I am sitting at the edge of the couch and have it on my lap. With limited lap space the edge of the kickstand can slide off my knees. I do think that adding a textured grippy edge on the kickstand would alleviate this issue.
Ease of Use
While all of the other items in this article are important, this is where the rubber meets the road for me.  Ease of use can make an average device excellent or make an average device awful. Or in the case of the Surface Pro 3, the ease of use takes an exceptional device and makes it the one to beat.
It excels in tablet mode, offers flexibility as a 2 in 1 that can meet varying work styles, and goes into laptop mode with a simple snap of the Type Cover, and handles the full load you could place on any laptop.  There is nothing I can do on my old laptop that can't be done on the Microsoft Surface Pro 3.
To optimize your use of the Surface Pro 3, be sure to check out the Surface Pro 3 accessories I bought to take my productivity to the optimal level.