Ketogenic Coffee Creamers – Which Creamers to Use on a Keto Diet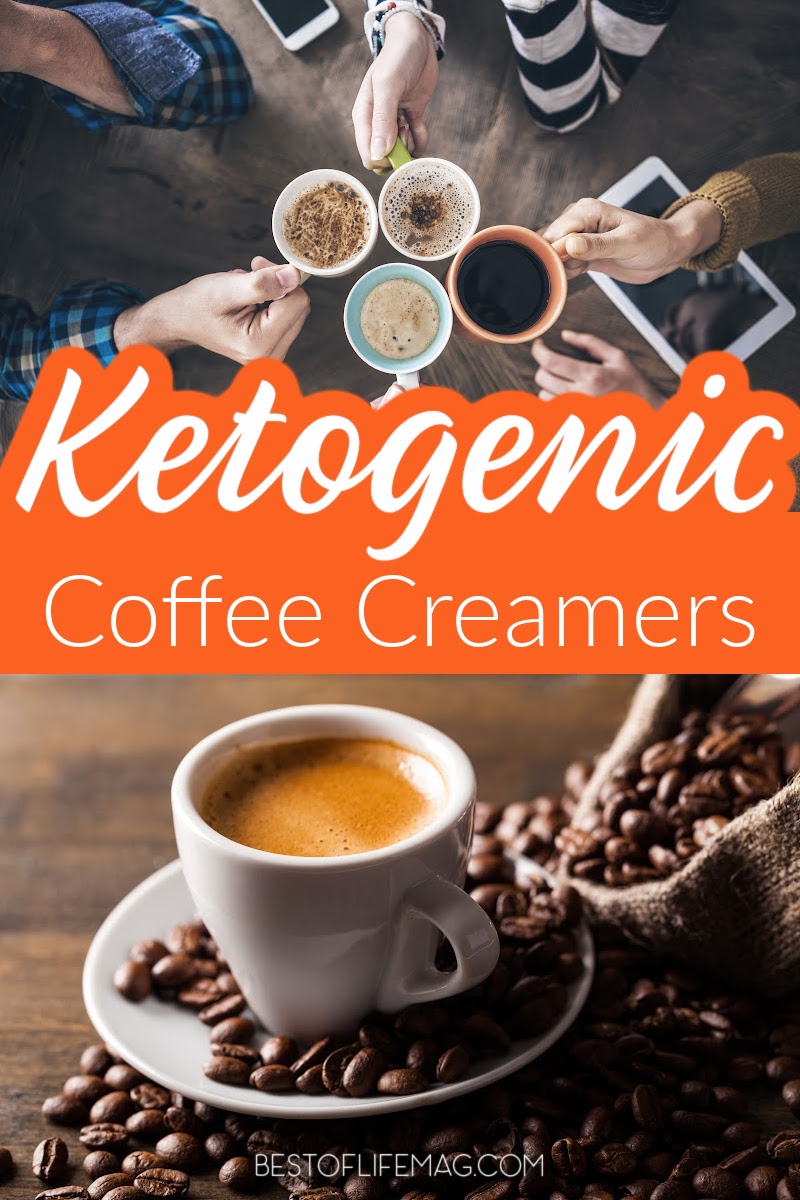 You don't need to give up coffee on a keto diet and it may even help you get through the rough days. But you WILL need to switch things up when it comes to coffee creamers. You will want to use ketogenic coffee creamers and there are a few things to look for.
You start a keto diet and by day 2, BAM, you are tired. Maybe even downright lethargic. You know this is just a phase of the diet, but don't forget that a little coffee is not a bad thing! As long as you prepare your coffee the right way, your daily caffeine fix is something you can continue on your keto diet with these ketogenic coffee creamers.
Black (not flavored) coffee is your safest choice. However, if you like a little flavor and a creamier texture to your cup of joe you can still find a suitable option that will satisfy and won't kick you out of ketosis. Not all coffee creamers are keto compliant so reading labels is really important.
If your favorite creamer contains high carb additives, sugar or syrups this is a sign that your morning routine is going to sabotage all of your good intentions before the day begins. A good keto creamer can help you feel full, boost your energy and maybe even provide a nutritional boost that will help your ketosis.
These 10 ketogenic coffee creamers are diet-friendly and pre-screened for you. Some are simple keto diet staples that may already be in your kitchen and others have been developed with keto dieters in mind. Ditch the donut shop creamers (which are mostly sugar) and choose one of these instead.
Ketogenic Coffee Creamers | Alternatives
Grass-Fed Butter
Also known as a cup of bulletproof coffee, adding grass-fed butter not only will help you feel full but might slow down your body's ability to metabolize caffeine. The benefit here would be fewer jitters and longer increased energy. You may already have grass-fed butter in your Keto kitchen, so it's a great choice.
MCT Oil
Keto dieters use MCT oil for its purported numerous health benefits. MCT's may help boost energy, help endurance and assist in overall weight management. If you need to get your MCT's this is a good way to do it.
Coconut Oil
Coconut oil is an MCT. It may boost metabolism and help you burn more calories. It also tastes like coconut which is great news for anyone who loves flavored coffee. 1 to 2 tablespoons is enough for your cup or travel mug.
It works best when you add the coconut oil first and then pour hot coffee over it. Let it sit for a minute before stirring to allow the oil to melt.
Ketogenic Coffee Creamers | Pre-Made
Califia Farms Betterhalf Creamer
This ready to pour creamer by Califia Farms is made from Coconut and Almond milk and is not just keto but soy-free, dairy-free, gluten-free, carrageenan-free and non-GMO.
Laird Superfood Creamer
This powdered creamer is sustainably sourced with a full range of MCT's and comes in several flavors. Laird Superfood Creamer is a great option for your diet and for your health.
Bulletproof Creamer
As the name says, this gives you all the benefit of grass-fed butter and MCT oil, but without the hassle of mixing it yourself. Just scoop or empty the premeasured packet of Bulletproof Creamer into your coffee.
Ketogenic Coffee Creamers | Pre-Made
Vital Proteins Coconut Collagen Creamer
This powdered creamer adds 10 grams of collagen to your coffee per serving and it is responsibly sourced from grass-fed cattle.
Prymal Coffee Creamer
Prymal Coffee Creamer comes in an assortment of flavors like birthday cake and salted caramel. It might sound far from Keto but with sweeteners like monk fruit and stevia, you are good to go.
Left Coast Performance
With MCT Oil, ghee and cocoa butter, this zero carb creamer tastes chocolatey and is still bulletproof.
Nut Pods
This creamer is plant-based, made from a combination of almond and coconut milk, and comes in a 4 or 12 pack. It's dairy-free and full of MCT's thanks to coconut oil.
More Keto Tips
Keto Chocolate Chip Cookies Recipe | Keto diets are a fantastic way to lose weight because you still get to enjoy things like cookies!
Keto Granola Recipe Ideas for a Quick Snack | In fact, there are plenty of quick snacks you can enjoy while staying within your keto diet plan.
21 Tasty Ketogenic Chicken Strips Recipes | Keto Chicken Tenders | Chicken strips make the perfect lunch option for those who are trying to eat a healthy keto diet.
Dairy Free Keto Fat Bombs to Curb Cravings | Fat bombs really make a difference in weight loss because they let your body know, there is no shortage of fat. No need to store more.
On the Go Keto Snacks | Grab and Go Low Carb Snacks | You can even stick with your keto diet as you travel around the state, country, or world!