This site contains affiliate links. Please read our Policies for information.
After a year of preparation including choreography, band practices, costume designs, sound checks, lighting, dress rehearsals and too many flights to count, Jennifer Lopez took the Vegas stage starting her residency at The Axis at Planet Hollywood on January 20, 2016.
Jennifer Lopez took The Axis by storm on opening night of her residency.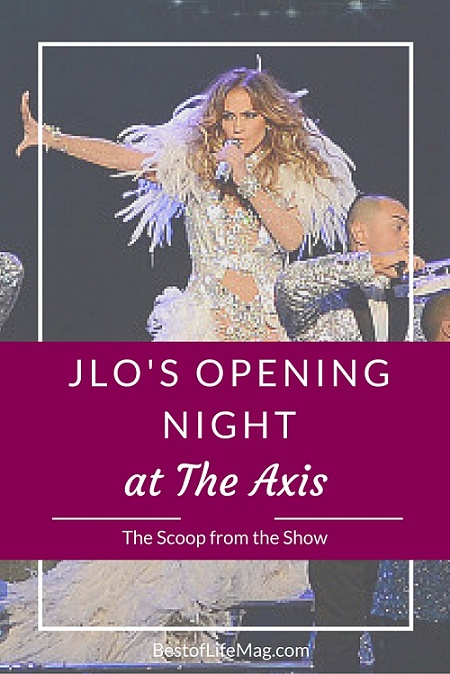 JLo's Show
I was lucky enough to be there as JLo started off the evening with her 1999 #1 song "If You Had My Love" and followed up with one hit song after another. At 46, Lopez danced around like the Fly Girl she was in her twenties. The hour and a half cardio workouts she did every night leading up to the opening have clearly paid off. The barely there costumes didn't leave much to the imagination and her famous booty shakes made the crowd leap out of their seats screaming with excitement.
Making the night even more amazing, Ja Rule, Ne-Yo and Pitbull joined her onstage for collaborations. It was sexy from the start and for sure has some naughty bits, so if you are bringing a child, be ready to cover their eyes. Lopez's children, twins Max and Emma (6), were there to see their mommy's big night with her mother Guadalupe. During the steamy parts, she turned their heads and held them to her bosom.
The Costumes and Set
The costumes were dazzling, Vegas glamour. Twelve costume changes from robes to the skimpy and then skimpier still were done in spectacular JLo style. Every piece of fabric was embellished with shiny, Swarovski Crystal rhinestones. Even the mics, mic stands, boots, fishnet stockings, back round singers and dancers sparkled like the stars in the night sky.
Celebrities
Speaking of stars, there were plenty of big ones in the audience. Justin Bieber, Kelly Osbourne, Nicole Scherzinger, Vanessa Hudgens, Gina Rodriguez, Rebel Wilson, Wilmer Valderrama, Derek Hough, Ryan Seacrest, Hoda Kotb, T.I., Cheryl Burke and JLo's boyfriend Casper Smart took in the amazing force of nature. Also showing up for their girl, long-time friend Leah Remini and Shades of Blue co-star Ray Liotta and his daughter. If that wasn't enough, Extra's hot, hot, hot Mario Lopez was there to interview celebrities on the red carpet.
All-in-all, JLos's opening night at The Axis was an entertaining and unforgettable evening.
Jennifer Lopez Opening Night at The Axiz Playlist:
If You Had My Love
Love Don't Cost a Thing
Got a Lot o' Livin' to Do
Get Right
I'm Real (with Ja Rule)
Feelin' So Good
Jenny From the Block
I'm Into You
Girls
Booty
Feel the Light
I Hope You Dance
Ain't It Funny (with Ja Rule)
Very Special/All I Have (with Ne-Yo)
Hold It Don't Drop It
Quimbara
Quien Sera
Let's Get Loud
Waiting for Tonight
Dance Again
On the Floor (with Pitbull)