DIY Closet Doors – Ideas for Every Budget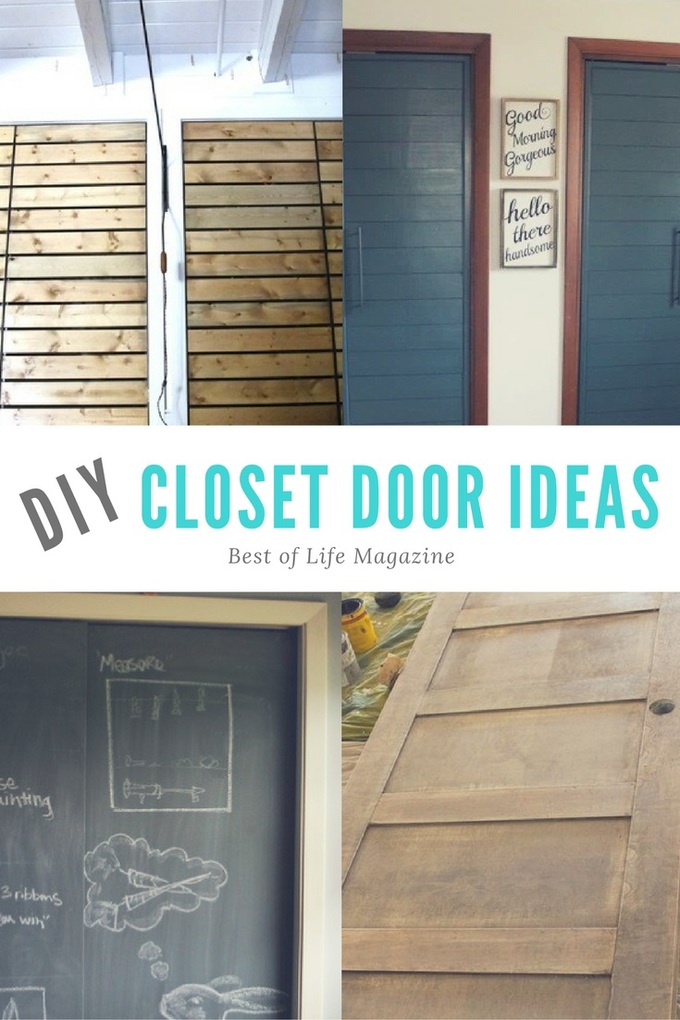 There are so many ways to DIY your way through self-expression in your home. One part of our home that doesn't get a lot of attention is our closet doors. We use our closet doors every day and most of the time never really pay attention to how they look. However, if you DIY your closet doors, you will find that you love them a lot more, especially with these DIY closet doors as inspiration.
DIY closet doors can help transform your entire room and make you pay more attention to an often forgotten space we use every day.
DIY projects can be fun but also a bit scary. Working on your home is an entirely different level of scary as it is your home. But you have something that can help, DIY walkthroughs.
These DIY projects all come with step-by-step plans and some even include videos. You can use DIY closet doors to change up the entire feeling of a room and know that you're doing it right.
All you need to do is pick your favorite and get started. You may even be surprised just how talented you actually are when everything is finished.
10-Minute Closet Doors | The Best of Life Magazine
Contemporary 4-Panel Barn Door | Paper Daisy Design
5-Panel Door | Remodelaholic
Bi-Fold to Faux Shiplap French Closet Doors | Bright Green Door
Bypass Barn Doors | Vintage Revivals

Self Expression
Self-expression is something we all do mostly in the home. However, we seem to forget a few places and go with trends. Use material and colors that express who you are and make your ordinary closet door a reflection of you.
Closet Makeover | Beneath My Heart
Fancy Bi-Folds | Room For Tuesday
Barn Door Bi-Folds | Simpsonized Crafts and Then Some
Farmhouse Hollow Core Doors | Instructables
Mirrored Closet Doors | The Lettered Cottage
DIY Closet Doors Time
A lot of the time, you won't even need to be new doors. Use the closet doors you have already and make them look like you spent hundreds of dollars.
Chalkboard Closet Doors | Cassie Marie Edwards
Steel Frame Slatted Closet Doors | One Forty Three
Styled Closet Doors | One Kings Lane
Painted and Patterned Doors | Rain On A Tin Roof
Pallet Sliding Door | Lehman Lane
Recycling
One of the best parts of DIY closet doors is recycling old materials and giving them new life. Take advantage of this opportunity and turn something old into something new.
Closet Transformation | Apartment Therapy
Faux Trim Closet Doors | Home Talk
Wood Painted Doors | Debbie Doo's
Cork Board Closet Doors | Driven By Decor
Dutch Barn Doors | The Bar ToolBox
Supplies
You will definitely need some basic tools and supplies for projects like these. Sandpaper, paint, scrapers, paint brushes, paint tape, and even some stencils can come in handy when you are doing home DIY projects!
More DIY Projects
DIY Christmas Door Decorations | Holiday Door Decor
DIY Wine Cork Wreaths that Make Great Gifts
Margarita Bar Decorations and Ideas | Best DIY Margarita Bar Ideas
DIY Room Decor Ideas for Teens Girls will Love