How to Set a Table for your Child's Birthday Party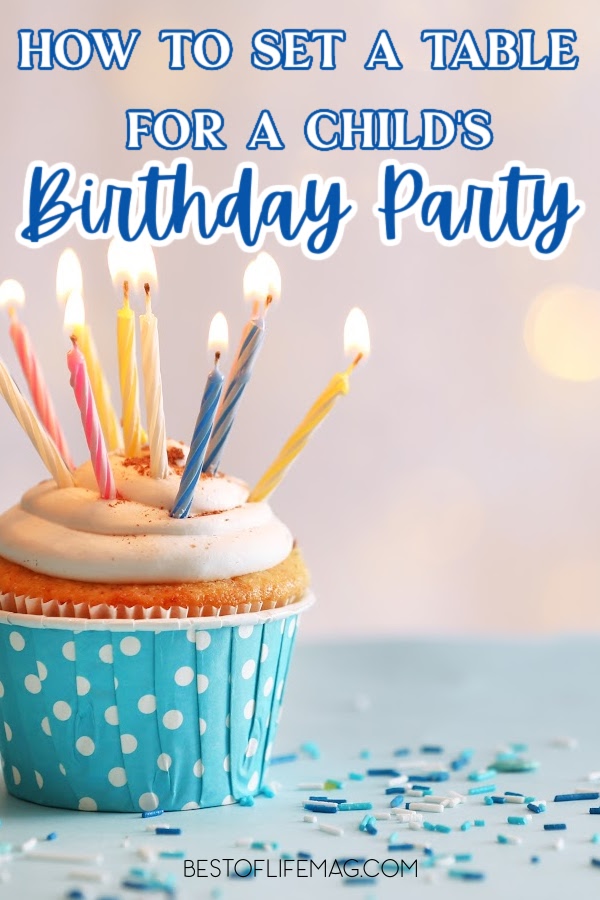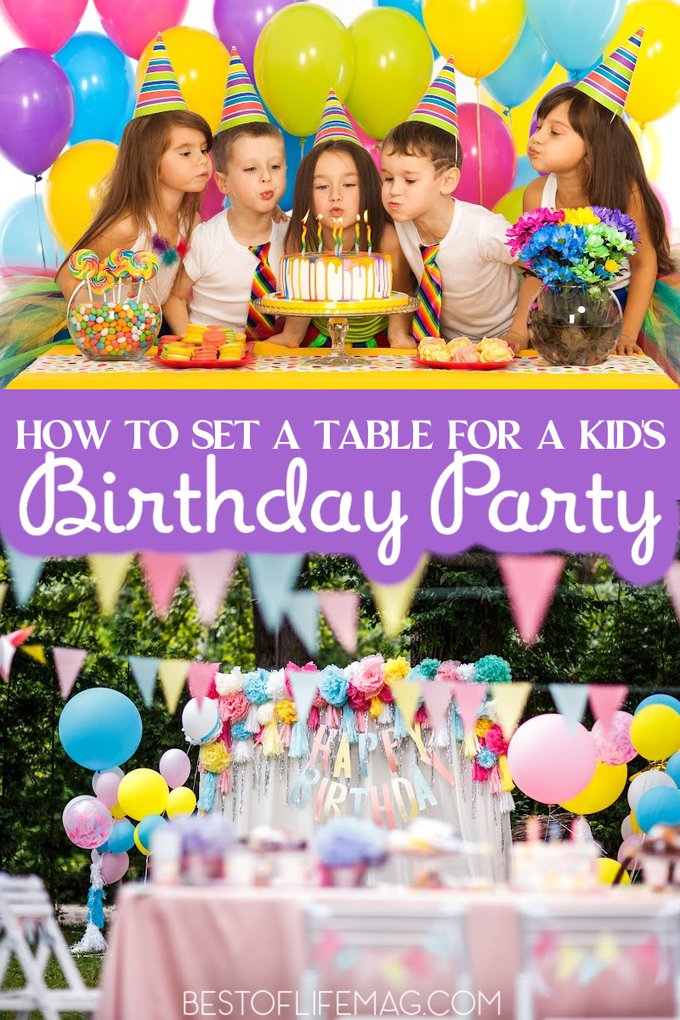 The table setting is perhaps the most neglected among all the decorating aspects. A fascinating table is more pleasing to the eyes and adds a charming touch to the festivities. Here are a few ideas on how to set a table for the best party ever.
Decorating for a child's birthday party involves plenty of preparation. Games, gifts, and entertainment all need to be arranged weeks in advance. Decorating for a party is pretty simple once you settle on the theme.
You'll need the essentials: plates, cups, napkins, and flatware all in colors and designs that match the theme. Then you can also get decorations that match your theme. It's never a bad idea to have some extra treat bags and favors on hand too for game prizes and take home surprises for the guests!
Decorating for a child's birthday party involves plenty of preparation. Here is how to set a table for your child's birthday party. When you know how to set a table for your children's party, everything else just falls into place.
The theme is taking care of with the table, the activities can be set on the table, and of course, the food. While the actual party may get hectic at times, setting everything up doesn't have to be as well. Throw a child's party like a pro and utilize our knowledge to help you get there.
How to Set a Table – Party Theme
Select a theme for your table decor. Even if you don't have a theme for the party, it's nice to have a motif for the table setting. This makes the selection of decor a lot easier since you already know what to include in the design.
This could be anything that your child is interested in–cartoon characters, animals or fantasy movie inspired.
Protect the Table
Use a tablecloth to protect the surface of the table from spills and scratches. Whether you're renting tables or using your own, it's a good idea to use a tablecloth as a barrier against party spatters and scuffs. It also makes your table setting more sophisticated even if you're hosting a children's party.
Once the party is over, you can just pull out the tablecloths and throw them into the washing machine.
How to Set a Table | Artistic
Place white paper over the cloth to double as a canvas for children's artwork. Children love to draw, so put a white butcher paper on top of the tablecloth. The kids can then doodle and color their drawings with crayons.
This way, you keep them entertained while waiting for their food. Alternatively, you can also use newspaper comic strips (make sure they're kid-friendly) as placements.
The Centerpiece
A table setting is incomplete without a proper centerpiece. You can place a balloon bouquet at the center of each table for a festive look. Candy trees or topiaries also make for eye-catching table centerpieces. The kids can just take candies or balloons from the table once the party is over.
Another idea is to place a few of your children's toys at the center of each table. The children can socialize with each other by playing with the toys on the table.

How to Set a Table | Table Space
Decorate the rest of the table. To add pizazz to your table decor, add a few knick-knacks here and there. Use candy necklaces or string colorful loop cereals to make a garland and pin it to the tablecloth. You may want to use a safety pin instead of push pins to make sure they don't prick the little ones.
No Limits
Table decorations should not be restricted to the table. You can also hang pompoms or ribbons from a light fixture above the tables to add color and style to the design. Scatter some confetti (before serving food, of course) for a splash of color.
How to Set a Table | Plates and Utensils
Arrange party plates, utensils, and napkins. Usually, these are arranged before serving food, but you can go ahead and place them before visitors arrive. Aside from making your table setting look adorable, they also help you with the head count. Place colorful napkins on the plates to complete the setting.
Gift and Cake Table
What's a birthday party without gifts and cakes? Most of the guests will probably bring gifts, and you'll need a separate table for those. The cake is your main attraction, so it deserves a table of its own. Decorating a table is a fun way of adding character to the overall look and feel of your child's party.
Remember that you need only a few key elements to make the table setting stand out. Thank you, Jessica, for this great guest post. It is full of wonderful ideas that are sure to help all parents! Jessica Phan is a designer for Balsamhill.com a purveyor of high-end artificial Christmas Trees.
Living in the San Francisco Bay Area is perfect for her because she has a broad range of interests, including art & design, fashion, photography, painting, and thrift store shopping.
More Party Ideas
4th of July Party Ideas | You can host the most patriotic celebration in your yard with the right decorations.
Wasa Crispbread Recipes | Every party needs food. These Wasa Crispbread recipes are perfect for parties all year round.
12 Downloads for your Halloween Playlist | You can set a spooky mood during Halloween with some creepy sounds.
Upcycling Craft Ideas | Home Decor Tips | Save money on decor for parties and your home by upcycling what you have.
Unicorn Birthday Party Decorations to Make a Party Magical | The unicorn theme for parties is not going away anytime soon.Save