This site contains affiliate links. Please read our Policies for information.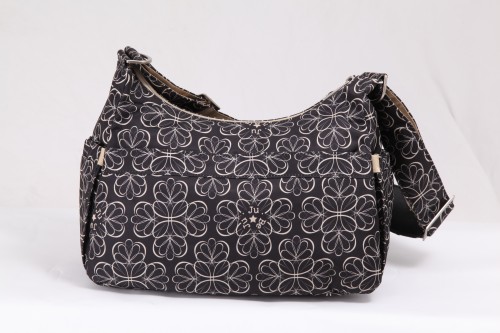 You know me…I love my bags! Regardless of style or purpose, I have a talent for researching and finding the best ones.
Today I wanted to share a fabulous gift guide item with you for the women in your life…
The HoboBe from Ju-Ju-Be, where they make smart bags for smart people.
The HoboBe is a purse that has all of the amazing organization we moms and women appreciate.
In this video, I walk you through the entire HoboBe and show you how it can pack.  I also show you how the drop of the HoboBe is and model wearing it so you can see how it will work for you.
The HoboBe from Ju-Ju-Be can be a purse or a diaper bag as it can pack up well for a baby, but when it is time…
Simply ditch the changing pad and you have a full-fledged purse with impeccable organization and features.  The
HoboBe
 comes in about ten amazing prints and measures a comfortable 13.5 inches wide, 9.5 inches high and is my perfect depth…5.5 inches.  (Did I mention I like to research these things? :))
The
HoboBe from Ju-Ju-Be
gets my official  Gift Guide stamp because it is so versatile that you will surely make any female happy with it!  Additionally, the people behind the Ju-Ju-Be company are simply good people with good hearts.  They listen to their customers in a way that very few companies do…and implement changes based on them.  So not only do you get a
great product
but you are supporting a
good company
who values their customers.
There is a style for everyone! There are several collections like
Nautical
,
Legacy
,
Classic
, even one with a
space
theme. Don't forget you can also check out some of the other Ju-Ju-Be
products
as well!
Do you have anyone you think would love the HoboBe from Ju-Ju-Be?  
Save